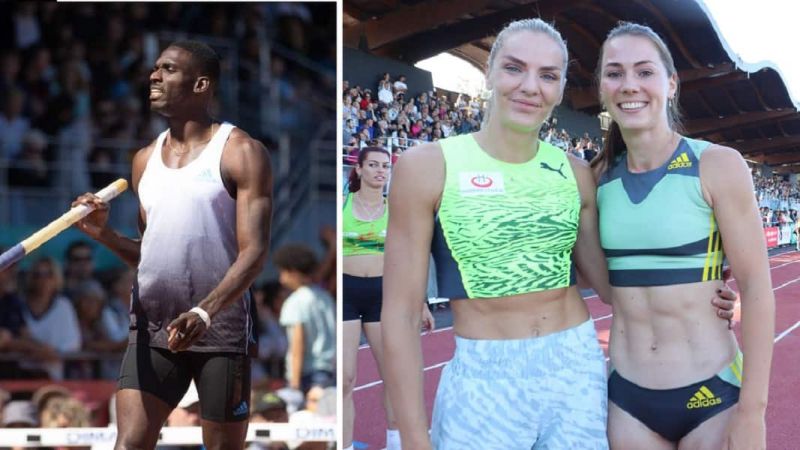 This year's Commonwealth gold medallist Lindon Victor improved his Grenadan record to 8550 points to claim the win at the Decastar in Talence and the overall men's title in the World Athletics Combined Events Tour.
Men's decathlon:
Overnight leader Victor started the second day with 14.70 in the 110 metres hurdles.
Finley Gaio from Switzerland, who finished fifth in the 110 metres hurdles at the European Championships in Munich, clocked 13.68 to take a brief overall lead.
Victor threw the discus to 51.00m to regain the overall lead. The Grenadan athlete equaled his seasonal best with 4.80m in the pole vault before throwing 66.01m in the javelin throw to take a lead of almost 400 points before the 1500m. Manuel Eitel remained in second place after clearing 4.80m in the pole vault and throwing the javelin to 60.51m.
Estonia's Risto Lillemets moved up to third in the overall standing after his 5.00m clearance in the pole vault and his throw of 59.82m in the javelin.
Malik Diakite from Germany won the 1500m in 4:21.93. Victor clocked 4:43.74 to improve his national record by 11 points to 8550.
Eitel finished second with 8193 points ahead of Lillemets (8149) and Mackenson Gletty from France (8141).
Women's heptathlon:
Olympic Games bronze medalist Emma Oosterwegel from the Netherlands and Ivona Dadic tied the win in a very close women's heptathlon competition with the same score of 6233 points.
Overnight leader Ivona Dadic leaped to 6.01m in the long jump to extend her lead in the overall standing.
Oosterwegel set a lifetime best of 55.47m to move into the lead by 9 points over Dadic, who produced a best throw of 43.92m.
Dadic clocked 2:11.12 in the 800 metres to Oosterwegel's 2:11.78.
Bianca Salming finished third with 6028 points.
Day one Report (Saturday, September 18)
Grenada's Lindon Victor and Austria's Ivona Dadic were the overnight leaders at Decastar at the Stade Pierre Paul Bernard in Talence, the final meeting of the World Athletics Combined Events Gold series of the season.
Victor scored 4438 points after five events, leading by 128 points over Finley Gaio. Eitel is ranked third with 4259 points ahead of Bastien (4246 points).
The 29-year-old Grenadan decathlete started the competition with second place in the 100 metres in a wind-assisted 10"61 (+3.1 m/s) behind Manuel Eitel from Germany (10"44). Finley Gaio from Switzerland, who set his decathlon PB of 7949 points in Goetzis and finished fifth in the 110 metres hurdles at the European Championships in Munich last August, took third place in 10.63.
Gaio moved into the lead after leaping to 7.76m in the long jump. US Steven Bastien improved his PB to 7-69m. Victor leapt to 7.49m.
Victor won the shot put with 15.75m beating Makenson Gletty from France (14.88m) and Manuel Eitel, who improved his PB to 14.86m.
Edgaras Benskunsas from Lithuania claimed the high jump with 2.08m. Risto Lillemets and Jack Flood cleared 2.05m. Victor jumped 2.02m.
Victor improved his PB to 48.20 in the 400 metres to finish third behind Malik Diakite (47.74) and Gaio (48.19)
Women's heptathlon:
Ivona Dadic scored 3689 points after four events ahead of Salming (3577), Zamzow Mahler (3553), Turpin (3524), and Oosterwegel (3503).
Dadic, who won the world indoor silver medal in Birmingham 2018, started with fifth place in the 100 metres in 13.81. Esther Turpin from France won in 13.51 ahead of Olympic bronze medallist Emma Oosterwegel (13.66).
Bianca Salming from Sweden cleared 1.86m to win the women's high jump. Ashtin Zamzow Mahler placed runner-up with 1.80m. Dadic and Turpin both cleared 1.77m.
Former European Under 23 Geraldine Ruckstuhul improved her PB by 10 cm to 14.68m in the shot put. Salming produced the second-best performance with 14.41m. Oosterwegel and Dadic threw 13.75m and 13.68m, respectively.
Italian indoor record holder Sveva Gerevini won the 200 metres in 24.05 ahead of Dadic (24.11).
-->