Results for the Munster Marathon 2022: Jelagat (2:27:39) and Serbessa (2:10:11) are winners

Posted by:
Watch Athletics
Sunday, 11 September 2022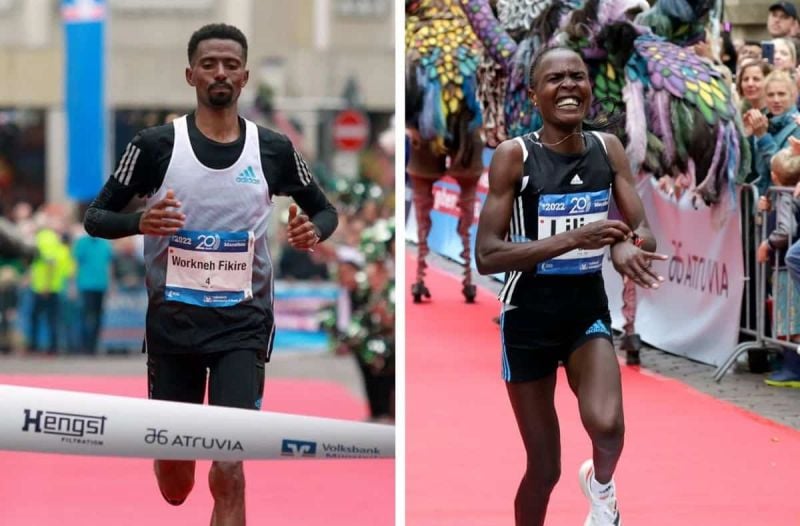 Results for the 2022 Volksbank Munster Marathon. Workneh Fikire Serbessa and Lilian Jelagat beat strong fields to win 2022 Munster Marathon on Sunday, September 11.
Serbessa broke away from the lead pack in the later stages to win the men's race in 2:10:11. It was the biggest victory for the the 34-year-old Ethiopian in his marathon career.
Kenya's Lilian Jelagat defeated a very strong field to win the women's race in a huge personal best time of 2:27:39. She shaved almost three minutes from her previous personal best time.
Top Results Women
| POS | Name | Nation | RESULT |
| --- | --- | --- | --- |
| 1 | Lilian Jelagat | KEN | 02:27:39 |
| 2 | Peris Jerono | KEN | 02:28:53 |
| 3 | Gladys Jeruto Kiptoo | KEN | 02:29:18 |
| 4 | Naomy Chepkorir Tuei | KEN | 02:30:19 |
| 5 | Brenda Jerotich Kiprono | KEN | 02:32:10 |
| 6 | Yeshimebet Tadesse Bifa | ETH | 02:37:21 |
| 7 | Naum Jepchirchir | KEN | 02:45:18 |
| 8 | Jana Kappenberg | GER | 02:49:06 |
| 9 | Doris Marquardt | GER | 02:55:59 |
| 10 | Lavinia Jürgens | GER | 02:57:41 |
Top Results men
| POS | Name | Nation | RESULT |
| --- | --- | --- | --- |
| 1 | Workneh Fikire Serbessa | ETH | 02:10:11 |
| 2 | Andrew Ben Kimtai | KEN | 02:10:40 |
| 3 | Cheshari Kirui Jacob | KEN | 02:11:18 |
| 4 | Julius Kiprono Tarus | KEN | 02:11:33 |
| 5 | Duncan Cheruiyot Koech | KEN | 02:12:42 |
| 6 | Justus Kiprotich | KEN | 02:13:29 |
| 7 | Francis Cheruiyot | KEN | 02:17:09 |
| 8 | Marcel Bräutigam | GER | 02:25:27 |
| 9 | Elias Sansar | GER | 02:25:42 |
| 10 | Manuel Kruse | GER | 02:25:48 |
-->