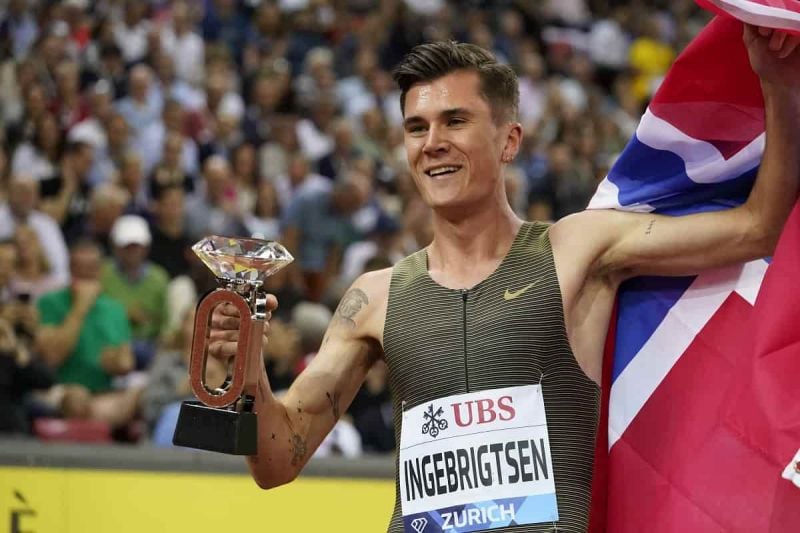 The Weltklasse Zurich meeting in front of 25000 spectators in the sold-out Letzigrund Stadium was highlighted by meeting records set by Noah Lyles in the 200 metres (19.51), Shelly Ann Fraser Pryce in the 100m (10.65), Armand Duplantis (6.07m) and Tobi Amusan in the women's 100 metres hurdles and world leading times set by Jakob Ingebrigtsen in the men's 1500m (3:29.02), Marileidy Paulino in the women's 400 metres, (48.99).
Ingebrigtsen won his first Diamond League title. The other first-time Diamond League winners are Alison Dos Santos in the men's 400 metres hurdles, Neeraj Chopra in the men's javelin throw and Shericka Jackson in the women's 200 metres.
Duplantis, Femke Bol (women's 400m hurdles) and Yulimar Rojas (women's triple jump) successfully defended their Diamond League titles.
Men's 200 metres:
Double world champion Noah Lyles broke a 10-year-old meeting record held by Usain Bolt clocking 19.51 to win his fifth Diamond League title. Canada's Aaron Brown finished second edging Alexander Ogando with the same time of 20.02. Erriyon Knighton took fourth place in 20.20.
Bolt set the previous meeting record of 19.66 in 2012
Noah Lyles: "I do no like uneven numbers. I have to come back to get another trophy. It was a great race. It is feeling special today. All year it was about running faster and faster. It is everything. Breaking the meeting record and beating the fastest sprinters in the world, that it all about it. It just takes another year to run even faster. It has been my best ever season. That is exactly what I was set to do this year".
Women's 100 metres:
Shelly Ann Fraser Pryce won the fifth Diamond Trophy of her career in the women's 100 metres dipping under the 10.7 barrier for the seventh time this season with 10.65. World 200m champion Shericka Jackson placed second with 10.81. Marie Josée Ta Lou continued her consistent season with a third place in 10.91.
Shelly Ann Fraser Pryce: "I am really looking forward to my next season. I would love to cone again. I am excited to be here and to have won. I am feeling good to be able to come here and compete. This was remarkable and I am very proud that I came away with 10.65. I started the season with a 10,6 and I finished it with another 10.6 so there is nothing more I could ask for. When I came out here, and I saw the crowd, I said to myself: "Oh my God. There is a lot of people. But that is what track and field is about."
Women's 200 metres:
Shericka Jackson won her third Diamond League race this season in the 200m in 21.80 to claim her first Diamond Trophy. Olympic bronze medallist Gabrielle Thomas took second place in 22.38 ahead of Tamara Clarke (22.42)
Shericka Jackson: "I just wanted to come out here and take the win and run as fast as possible. I had the 100m in my leg. My season was magnificent. It is a wonderful year. I am just grateful for everything".
Men's pole vault:
World record holder Armand Duplantis improved his Weltklasse meeting record by 1 cm to 6.07m in his second attempt to claim his second consecutive Diamond Trophy. Duplantis had a clean sheet clearing 5.62m, 5.81m and 5.91m in his first attempt before clearing 6.07m at the second time of asking.
Norway's Sondre Guttormsen equaled the national record with 5.86m in his third attempt before making three unsuccessful attempts at 5.91m. Christopher Nilsen had a clean sheet until 5.72m before clearing 5.81m at the second time of asking.
Armand Duplantis: "This is everything. If I come into this competition and I don't perform well, the whole season, which was so amazing, idoes not feel as good as it should feel. To end like this and be able and be able to walk with a win, my second Diamond League trophy and another meeting record, it is the perfect cherry on top"
Men's 400 metres hurdles:
World champion Alison Dos Santos set a meeting record in the men's 400 metres hurdles with 46.98. The Brazilian hurdler set his third fastest time of the season after his PB of 46.29 set at the World Championships in Eugene and 46.80 in the Stockholm Diamond League meeting.
Alison Dos Santos: "I am nearly invincible, I want to keep doing that. I believe in myself. I have a lot of confidence. After Eugene, my life has changed. Now I am the world champion. Now everyone wants to beat me and I want to fight for the win. I love this energy. This is my first Diamond Trophy. Zurich is amazing.It has been a great season. I will have one last race in Bellinzona. Next year Karsten Warholm will come back stronger".
Men's 1500 metres:
Olympic champion Jakob Ingebrigtsen improved his world seasonal best to 3:59.02 to claim the first Diamond League of his career. Timothy Cheruiyot from Kenya, who won four consecutive Diamond League titles from 2017 to 2021, finished second with 3:30.27 holding off this year's Commonwealth Games champion Oliver Hoare (3:30.59). Abel Kipsang took fourth place in 3:31.36 beating Stewart McSweyn (3:31.45) and Olympic bronze medallist Josh Kerr (3:31.85).
Jakob Ingebrigtsen: ""This has been a good Diamond League final. I have been doing a lot of mileage in between. There has not so many races this season in the Diamond League. We had a lot of championships. I would love to have had the chance of running more races, so I could run faster. However, I have been able to run some good race like Lausanne and Zurich".
Men's 800 metres:
World and Olympic champion Emmanuel Korir chased down Marco Arop in the final straight to defend his Diamond League title setting a world leading time of 1:43.26. Arop took second place improving his seasonal best with 1:43.38. World 1500m champion Jake Wightman finished third in 1.44.10.beating Wycliffe Kynamal (1:44.47).
Women's 100 metres hurdles:
World champion and record holder Tobi Amusan defended her Diamond League title with a meeting record of 12.29. Last year Amusan won on the Letzigrund track with 12.40.
Women's 400 metres hurdles:
Femke Bol defended her Diamond League title with her fifth Diamond League win this season in 53.03.
Femke Bol: "I will go on holiday with this prize. I always say that if I win a lot of money, I will put it all towards a holiday. I am going to Greece. It is already booked. Nothing luxurious, just a nice holiday to lay on the beach for two weeks. It is hard to evaluate the season, because last year I called it my dream season. I am still in he clouds, like I am dreaming. I have been challenging myself to do the double at the Europeans with the 400m flat and the hurdles. I am pushing my boundaries"
Men's 110 metres hurdles:
Double world champion Grant Holloway held off Rasheed Broadbell to win the men's 110 metres in 13.02 claiming his first Diamond League title. Broadbell placed second in 13.06 ahead of his compatriot Hansle Parchment (13.26).
Grant Holloway: "My start was good and I kept my composure all race through. I was very consistent. This win means a lot to me. It is huge. This year was perfect for me. This was my first year in the Diamond League circuit., my first Diamond League final. Zurich is amazing. I find here everything I love. I am excited. I cannot wait fr next year"
Women's triple jump:
World record holder Yulimar Rojas bounded out to 15.28m in the second round to claim her second consecutive win in the women's triple jump. After three consecutive fouls the Venezuelan jumper produced a second best jump of 14.99m in the sixth round.
Maryna Beck Romanchuk set the second best performance of her career with 14.96m in the fourth round to take second place ahead of world silver medallist Shanieka Ricketts (14.85m) and Tori Franklin (14.75m). Thea Lafond equaled her PB with 14.56m to finish fifth.
Women's 1500 metres:
Double Olympic and world champion Faith Kipyegon won her third Diamond League title in the women's 1500 metres in 4:00.44. Clara Mageean followed her win in Brussels with a runner-up spot in Zurich in 4:01.68 ahead of Freweyni Hailu (4:01.73), Diribe Welteji (4:01.79) and Laura Muir (4:02.31) and Gudaf Tsegay (4.02.41).
Faith Kipyegon: "This was a really strong field, but then I kept thinking this was the last race of the season, and I took the opportunity to end it a nice way. It has been a long season. My legs are tired, but I still managed to run a good time all things considered. It was strong field, and I was hoping that when I pushed, they would come with me and it would be a tough race. It is special to race here, this is Zurich."
Men's 100 metres:
World bronze medallist Trayvon Bromell won his first Diamond League title in the 100 metres clocking 9.94 into a slight headwind of -0.3 m/s. Yohan Blake took his runner-up spot in 10.05 edging Aaron Brown.
Women's high jump:
World indoor champion Yaroslava Mahuchik cleared 2.03m in the third attempt to win the women's high jump. The Ukrainian star made three unsuccessful attempts at the meeting record height of 2.06m.
Women's 400 metres:
Olympic and world silver medallist Marileidy Paulino from Dominican Republic won the women's 400 metres breaking the 49 seconds barrier with a world leading time and a national record of 48.99. Dominican Republic scored the double with Fiordaliza Cofil, who finished second with with 49.93. World bronze medallist Sada Williams finished third in 49.98 beating Jamaica's Candice McLeod (50.03)
Men's 400 metres:
Former world and Olympic champion Kirani James from Grenada won the men's 400 metres in 44.26 to clinch the third Diamond League of his career. Bryce Deadmon improved his seasonal best to 44.47 to take second place ahead of Vernon Norwood (44.66). Nene Zakhiti from South South Africa finished fourth setting his PB with 44.74.
Women's 800 metres:
World bronze medallist May Moraa took the women's 800 metres in 1:57.63 holding off Jamaican record holder Natoya Goule (1:57.85) and US Sage Hurta (1:58.47), Halimah Nakaaayi (1:58.82) and defending Diamond League champion Keely Hodgkinson(1:59.05).
Women's long jump.
Ivana Vuleta claimed her fifth Diamond League title with 6.97m in the first round. The Serbian jumper defended her title won on Sechselatutenplatz last year.
Ivana Vuleta: "I am really thankful. It is the last competition of the season. It was hard. I just confirmed the most successful season of my career with my European gold medal in Munich. I am overwhelmed. I feel so blessed. I knew that 7m would be needed to win. I was focused on not to get a foul. My family is here. Then we will go on holiday".
Men's long jump:
Olympic champion Miltadis Tentoglou led with 8.33m in the fifth round and improved his best mark to 8.42m in the the sixth round to win his first Diamond Trophy. Marquis Dendy placed second with 8.18m.
Miltiadis Tentoglou: "It was a very good performance. One of the best in my career. I am just happy to end the season like that. I did not start the competition very strong. My plan was just to do three jumps and finish, but it did not go like that. I continued slowly and every jump was better and better"
Men's javelin throw:
Neeraj Chropra has become the first Indian athlete to win the Diamond Trophy with 88.44m in the men's javelin throw just two weeks after his first ever win in the circuit in Lausanne with 89.08m
Women's javelin throw:
Kara Winger won her second consecutive Diamond League competition with 64.98m following her victory in Brussels last week with her national record of 68.11m. World champion Kelsey Lee Barber finished second with 63.72m.
Men's discus throw:
World champion Krjstian Ceh took the lead with a throw of 64.42m in the first round. The Slovenian thrower improved his best mark to 66.79m in the second round. He held the lead until the end of the competition and produced his best mark of the day of 67.10m in the sixth round.
Women's discus throw:
A second round effort of 67.77m was enough for Olympic champion Valarie Allman to defend her Diamond League title in the women's discus throw.
Men's triple jump:
Cuba's Andy Diaz improved his PB to 17.70 in the first round to win the Diamond Trophy in the men's triple jump. Olympic champion Pedro Pablo Pichardo from Portugal leapt to 17.63m to take second place. Jordan Diaz Fortun produced two excellent jumps of 17.55m and 17.60m to take third place. Fabrice Zango leapt to 17.43m to finish fourth.
Women's 3000 metres steeplechase:
World silver medallist Werkuha Getachew won her first Diamond Trophy in the women's 3000 metres steeplechase clocking 9:03.57 ahead of Barhein's Winfred Mutile Yavi (9:04.47). Faith Cherotich from Kenya took third place in a PB of 9:06.14 beating Zerfe Wondemagegn (PB 9:06.37).
Men's 400 metres (pre-programme)
World record holder Wayde Van Niekerk won the men's 400 metres in a seasonal best of 44.39. Wil London finished second in 44.78 ahead of European finalist Lionel Spitz (45.53) and Italian record holder Davide Re (45.59).
-->