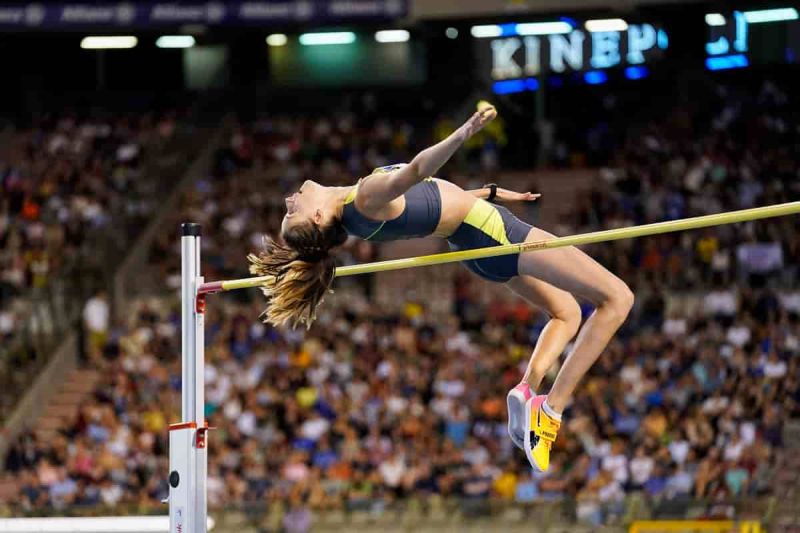 Jacob Krop, Yaroslava Mahuchik and Kara Winger set three world leads at the 46th edition of the Memorial Ivo Van Damme at the King Baudouin in Brussels in the final meeting of the Wanda Diamond League before the finals in Zurich next week.
The Memorial Van Damme was also highlighted by three meeting records set by Jasmine Camacho Quinn in the women's 100m hurdles, Kara Winger and Yaaroslava Mahuchik.
Men's 5000 metres:
Jacob Krop won the men's 5000 metres setting the world seasonal lead with 12.45.71. Krop moved up into sixth place in the world all-time list. Grant Fisher took second place improving the North American record with 12:46.96. Six men dipped under the 13 minutes barrier in a world class race. Nicholas Kipkorir from Kenya finished third in 12:50.97. Domnic Lobalu from South Sudan set a national record of 12:52.15 to finish fourth. Daniel Ebenyo from Kenya and Stewart McSweyn from Australia also improved their PBs clocking 12:54.90 and 12:56.50. Oscar Chelimo crossed the finish-line in seventh place with a PB of 13:00.42.
Jacob Krop: "I met most of the competitors in Monaco, when we ran the 3000m. I knew them a bit better. Today was the second time running with them and I knew what to do. The race was tough today, but I tried my best and took the win.
Women's high jump:
Yaroslava Mahuchik won the women's high jump setting a PB and a world lead with 2.05m in the second attempt.
Mahuchik also equalled the national record and tied the meeting record held by Anna Chicherova since 2014. She made three unsuccessful attempts at Stefka Kostadinova's world record at 2.10m, but this height does not appear out of reach for the 20-year-old Ukrainian jumper.
Yaroslava Mahuchik: "It is joyful that I jumped my PB because my previous record of 2.04m was from 2019.That is a long time to improve my jump. I tried 2.10m today but for now that is a bit too high. For a long time nobody even attempted that height, so I feel very good. My agent said that I can jump more than 2.10m, so maybe if the conditions are right. Next up is Zurich, my last of this season. It was definitely the most difficult season so far because of the war in my country. Today I jumped for all the Ukrainian people. I know that they smile now"
Eleanor Patterson from Australia took second place with 1.94m beating her compatriot Nicola Olyslagers (1.91m).
Women's javelin throw:
World silver medallist Kara Winger threw the javelin to a world lead of 68.11m in the final round, improving her lifetime best. Thanks to this win Winger booked her spot in the Diamond League final. The previous meeting record had been held by Barbora Spotakova with 67.99m since 2014. Haruka Kitaguchi from Japan finished second with 63.45m ahead of last year's world under 20 champion Adriana Vilagos (63.00m).
Women's 100 metres hurdles:
Olympic champion Jasmine Camacho Quinn won her sixth Diamond League race of the season in the women's 100m hurdles setting a meeting record and a seasonal best of 12.27.
The previous meeting record had been held by Yordanka Donkova with 12.42 since 1986.
Jasmine Camacho Quinn: "I felt really good in the warm up and actually ran the race that I wanted. I feel that I have more to give.I still want to fix it up. Hopefully, I can do that in the next couple of trainings before Zurich. Other than that I am very happy with the race and the result. It has been a tough year for me physically and mentally. Just to be able to come so far and to compete at this level proves how strong I am".
Tia Jones took second place in 12.38 ahead of Kendra Harrison (12.40) and world silver medallist Britany Anderson (12.44). Olympic bronze medallist Megan Tapper took fifth place setting a PB of 12.51.
Women's 100 metres:
World 200m champion Shericka Jackson just edged five-time world champion Shelly Ann Fraser Pryce by 0.01 in 10.73 in a close photo-finish to win the women's 100m race. Jackson was 0.01 shy of the meeting record held by Fraser Pryce and Elaine Thompson Herah.
Shericka Jackson: "It takes a lot of work to beat Shelly Ann Fraser. She is a tough cookie to beat. You need to keep working hard if you want to win. Tonight I had a good execution of my race, so I am happy with that".
Marie Josée Ta Lou placed third in 10.79. US sprinters Aleia Hobbs and Sha'Carri Richardson also dipped under the 11 seconds clocking 10.91 and 10.93.
Women's 1500 metres:
European silver medallist Clara Mageean took a surprising win in the women's 1500 metres in a PB of 3:56.63. Mageean broke Sonia O'Sullivan's national record of 3:58.85. Laura Muir and Freweyni Hailu also dipped under the 3:57 barrier clocking 3:56.86 and 3:56.94. Seven women broke the 4 minutes in a great race. Diribe Welteji from Ethiopia took fourth place in 3:57.82 ahead of Heather MaClean (3:58.76) and Elise Cranny (3:59.61) and Winnie Nanyondo (3:59.81).
Clara Mageean: "I expected to run fast and I actually had the national record held by Sonia O'Sullivan on my mind. I thought that I had in me. to beat that record and maybe run 3:57. Before this race I never ran under 4 minutes, so to run a time of 3:56.63 is something that blows my mind.
Men's pole vault:
World bronze medallist Ernest John Obiena cleared 5.91m in the third attempt to take an upset win in the men's pole vault ahead of world record holder Armand Duplantis. The Swede needed two attempts to clear the opening height of 5.61m before clearing 5.81m in the first attempt, but he failed three attempts at 5.91m.
Ernest John Obiena: "It took a lot of luck, a good day, and some excellent calls to beat Mondo today. It's always my goal to win, but I have the magic number of 6.00m on my mind. That's what I am training for".
Armand Duplantis: "I did not as I would have liked for sure. I thnk that I could have jumped higher. I am human and I make mistakes and I did some today. I did not find the good rhythm on the runway.In Zurich I try to come back a little stronger than here".
Christopher Nilsen had a clean sheet until 5.71m before failing his three attempts at 5.81m to take third place on a countback over Rutger Koppelaar from the Netherlands and Thiago Braz Da Silva from Brazil.
Men's 400 metres hurdles:
Allison Dos Santos won his sixth Diamond League race this year in 47.54 missing André Phillips' meeting record by just 0.03. Khallifah Rosser finished second in 47.88 breaking the 48 seconds for the fifth time this season. European silver medallist Wilfried Happio took third place in 48.61 holding off Julien Watrin by 0.05.
Alison Dos Santos: "It's the second time that I ran here in Brussels and it's my second win here. It was a very competitive field and I am very happy with the win. This year has been incredible for me".
Men's 800 metres:
World 1500 metres Jake Wightman set a PB of 1:43.65 to win the men's 800 metres ahead of Algeria's Djamel Sedjati and world champion Emmanuel Korir, who clocked the same time of 1:44.12. Eliott Crestan from Belgium improved his PB to 1:44.24 to finish fourth ahead of Marco Arop (1:44.48), Wycliffe Kinyamal (1:44.49) and Marianp Garca (1:44.86).
Jake Wightman: "I was not sure if I had won. I really wanted to run under 1:43.80., which is the Scottish record, and I did. To win a race like this, I am very pleased with that. In Zurich I will run the 800m as well and then a road mile in New York to finish off this long season".
Women's 400 metres:
World Championships finalist Firdaliza Cofil improved her PB to 49.80 to win the first Diamond League race of her career. World bronze medallist Sada Williams took second place in 50.15 ahead of Cynthiia Bolingo, who set the national record with 50.19 in third place. Mary Moraa from Kenya took fourth place improving the national record of 50.67.
Men's 200 metres:
World bronze medallist Erryion Knighton won his first Diamond League race in the men's 200 metres in 20.07 into a strong headwind of -2.9 m/s beating world finalist Alexander Ogando (20.18) and Aaron Brown (20.22).
Erriyon Knighton: ""There was a lot of wind tonight, when I ccame out of the bend, the wind just hit me. How much wind was there ? -2.9 m/s. I really felt that coming into the straight line. I got the victory, so that's good because I came to win. That was the main goal. I don't care about the times. The atmosphere was great here tonight. Next up is Zurich, hopefully with some less wind."
Women's 3000 metres steeplechase:
This year's Commonwealth Games champion Jackline Chepkoech improved her PB to 9:02.43 to win the women's 3000 metres steeplechase ahead of Winfred Yavi Mutile from Barhein (9:03.44) and world silver medalist Werkuha Getachew (9:08.03).
Men's triple jump:
Lazaro Martinez from Cuba won the men's triple jump with 17.49m despite an injury in the second round. Fabrice Zango came close to the win with a jump of 17.40m in the final 3. Almir Dos Santos finished third with 16.81m.
Women's long jump:
World silver medallist Ese Brume won the women's long jump with 6.83m. Quanesha Burks took second place with 6.54m ahead of Italian champion Larissa Iapichino (6.52m) and world, Olympic and European champion Nafissatou Thiam (6.46m).
Men's 1 hour run:
Sebastian Sawe set a new world record on the intermediate distances in the 15 km and 10 miles on the one hour run. Sawe, who won two half marathon races the Rome Ostia with 58:02 and Seville with 59:02 this year, improved the 15 km time of 42:18.70 set by Haile Gebrselassie in Ostrava in 2007 . Gebrselassie also held the previous 10 miles world record with 45:23.80. Sawe then missed the 20 km world record set by Bashir Abdi by 0.53 with 56:20.53. The Kenyan runner came 80 metres short of Mo Farah's world hour record.
Men's 400 metres:
Former European champion Kevin Borlée won the men's 400 metres in 45.72 ahead of Christopher O'Donnell from Ireland (45.78) and Alexander Doom from Belgium (45.82).
-->