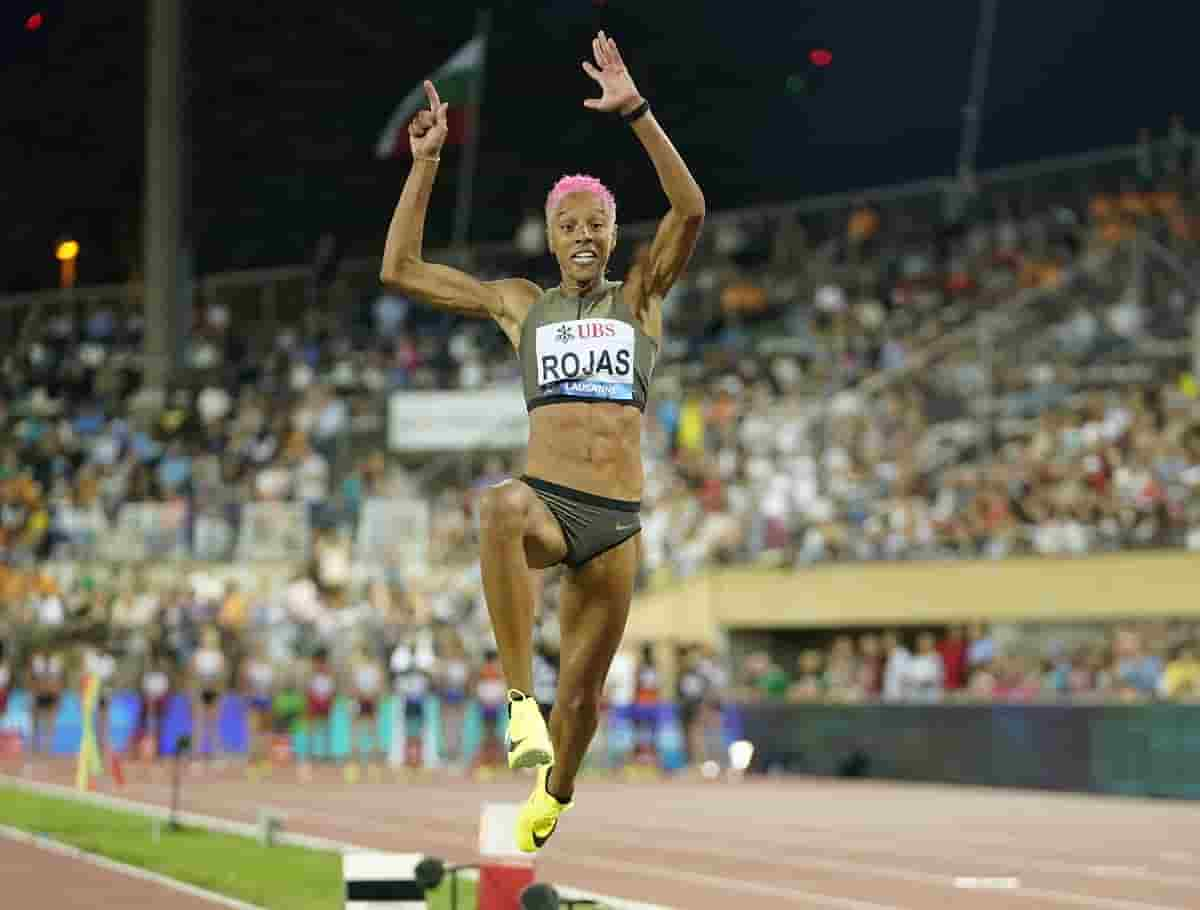 Noah Lyles, Yulimar Rojas, Jakob Ingebrigtsen, Joe Kovacs highlighted fantastic night of Athletics at the Lausanne Diamond League meet on Friday (26).
Lyles beats Norman in the 200 metres in Lausanne
Noah Lyles and Michael Norman ran a neck and neck race in the final 40 metres. Lyles pulled away in the final metres to claim the win in 19.56, missing his meeting record by just 0.06. Norman placed second, improving his seasonal best to 19.76. Fresh Commonwealth Games champion Jereem Richards took third place with 19.95. Alexander Ogando finished fourth in 20.09 ahead of Erryion Knighton (20.13).
Noah Lyles: "I would have taken anything under 19.60, so 19.56 is alright for me tonight. I could have run faster, but I am not going to fret too much about it. I will run the 100m in Berlin and the 200m in Zurich, so there will be a few meetings in the coming weeks. I am in good physical shape and very capable of producing fast races. I have not run the 100m in a while, so I look forward to doing that in Berlin. I feel if I have a 19.30 in me, I will not be too far from 9.70 in the 100m."
Women's triple jump:
Olympic and world champion Yulimar Rojas opened the competition with 14.99m in the first round. After three fouls, Rojas bounded out to 15.31m in the fifth round to seal the win. Shanieka Ricketts from Jamaica took second place with 14.64m ahead of Maryna Beck Romanchuk (14.31m).
Yulimar Rojas: "It was a lovely night in Lausanne. I managed to improve my jumps. I love the atmosphere. It was nice to compete here. I had a fantastic season. I happy to be regular around the 15 metres.
I look forward to having some jumps and hopefully a Diamond League win in Zurich."
Men's 1500 metres:
Olympic and European champion Jakob Ingebrigtsen broke away with one lap to go to win the men's 1500 metres in a world-leading time of 3:29.05. Abel Kipsgang finished runner-up, dipping under the 3:30 barrier with 3:29.05. Stewart McSweyn from Australia finished third in a seasonal best of 3:30.18.
Jakob Ingebrigtsen: "It was a pretty good race. Luckily the pacemaker was pushing in the first 700 metres. The risk was that the pace would slow down when the pacemaker quits, so I had to push, and it turned out well. I could have run faster. Overall I had a good season. I was disappointed in Eugene. There are always things I can do better, and it does not always go as planned. For the end of the season and next year, I have to put in a lot of work to get faster and break records. Next year it will be easier with just one Championship."
Women's 3000 metres:
Last year's Diamond League champion Francine Nyonsaba from Burundi came from behind in the final 50 metres to edge Alicia Monson by just 0.01 in a close final sprint in a meeting record of 8:26.80. Monson improved her PB to 8:26.81. Beatrice Chebet from Kenya finished third in 8:27.14 ahead of double Olympic champion Sifan Hassan (8.28.28), and Margaret Kipkemboi Chebet (8:29.05). Elise Cranny and Laura Muir improved their PBs, clocking 8:29.05 and 8:30.53, respectively.
Women's 100 metres hurdles:
Olympic champion Jasmine Camacho Quinn won her fifth Diamond League race this season, breaking Gail Devers' meeting record of 12.34, beating world champion and record holder Tobi Amusan (12.45), Tia Jones (12.47) and Nia Ali (12.59).
Jasmine Camacho Quinn: "the field was stacked and the girls all have great talent, so I am very happy to win. 12.34 is good for me. This event is fierce; It's been a tough year with challenges on and off the track. This event is fierce. You always have to bring your A-game every time. The winner changes often, so I am happy that I could win today. My message to the young girls is just to put your heart into it and follow your dreams".
Men's 110 metres hurdles:
Commonwealth Games champion Rasheed Broadbell broke the 13 seconds barrier for the first time in his career to win the men's 110 m hurdles in 12.99 ahead of Trey Cunningham (13.10), double world champion Grant Holloway (13.11) and Olympic champion Hansle Parchment from Jamaica (13.13).
Rasheed Broadbill: "I am thanking God right now. I will never forget this race. It's my first race under 13 seconds. I am very happy for it. Everyone comes here to do their best, so I focus on my race and try to execute what I have practiced in training. I started the season with injuries, but I am progressing. I am happy with how things are going now".
Women's 100 metres:
World Championships finalist Aleia Hobbs won a very close women's 100 metres in 10.87, edging out 200m world champion Shericka Jackson (10.88) and Marie Josée Ta Lou (10.89). Tamari Davis also dipped under the 11 seconds with 10.94 to finish ahead of Twanisha Terry (11.13) and Mujinga Kambundji (11.15).
Shelly-Ann Fraser Pryce had to pull out of the race due to a muscle strain. Elaine Thompson Herah was disqualified due to a false start.
Aleia Hobbs: "I had a good start today, and I know if I start well, I can get great times. I am happy with 10.87. It's another sub-10.9 time. This Is my first time in Lausanne. I was supposed to do my professional debut here, but I got injured, and I could not race."
Women's 400 metres hurdles
World silver medallist and European champion Femke Bol improved her PB to 52.95 to win her fourth Diamond League race this season. Janieve Russell from Jamaica finished second with 53.92 ahead of her compatriot Andreanette Knight (54.33).
Femke Bol: "I saw Lea Sprunger on television in the call room. I told myself I had to do well in her garden. It's amazing to set a meeting record and run another 52 times, especially in this beautiful city. The second part is my better part of the season. I am getting tired. I am glad that I have some days rest until my last race of the season in Zurich."
Women's 400 metres:
Olympic silver medallist Marileidy Paulino from the Dominican Republic repeated her last year's win in Lausanne in 49.87, holding off world bronze medallist Sada Williams, who also dipped under 50 seconds with 49.94. Paulino's compatriot Fiordaliza Cofil finished third in a lifetime of 50.13.
Marileidy Paulino: "It was a great atmosphere in the stadium tonight. There was a nice breeze that kept it cool without impacting the performance. I m grateful to my coach as I managed to deliver on the plan we had tonight."
Men's shot put:
Joe Kovacs produced a best throw of 22.65m in the second round to clinch the win in the men's shot put. Olympic and world champion Ryan Crouser with 22.05m in the third round ahead of Jacko Gill from New Zealand (21.70m).
Joe Kovacs: "I am pretty happy, especially with my series of throws, perhaps even more so than the nig one. It's important that I throw far consistently and I was able to do that today. Throwing over 23 metres is on my mind. I think it's about time. I will have to trust myself and start taking more risks to get it. I have a few more meetings before Zurich. I am hoping t work my way into form and set a new PB."
Men's javelin throw:
Olympic champion Neeraj Chopra from India threw the javelin to 89.08m in the opening round to claim the first Diamond League of his career in the men's javelin.
Thanks to this win, Chopra has secured his spot in the Diamond League final in Zurich. Jakub Vadlejch from the Czech Republic took the runner-up spot with 85.88m ahead of Curtis Thompson (83.72m).
Neeraj Chopra: "I am delighted with my result today. 89m Is a great performance today. I am pleased as I am coming back from an injury. Today was a good indicator that I have recovered well."
Men's 3000 metres steeplechase:
Olympic and world champion Soufiane El Bakkali won the men's 3000 metres steeplechase in 8:02.45, beating Hailemariyam Amare from Ethiopia (8:12.07) and Leonard Bett from Kenya (8:12.08). Ryuji Miura from Japan finished fourth in a seasonal best of 8:13.06.
Women's pole vault:
World indoor bronze medallist Tina Sutej from Slovenia cleared 4.70m in her second attempt to beat world bronze medallist Nina Kennedy from Australia on countback. European champion Wilma Murto from Finland finished third with 4.60m to beat Italian record holder Roberta Bruni on countback.
Men's triple jump:
Andy Diaz Hernandez from Cuba jumped to 17.67m in the second round to win his second Diamond League competition of the season following his victory in Chorzow. Lazaro Martinez set his PB of 17.50m in the first round to take second place. Martinez produced a consistent series that included two more jumps of 17.50m and 17.38m. Jordan Fortun Diaz completed the Cuban sweep by finishing third with 17.44m.
Men's high jump:
World and European bronze medallist Andy Protsenko had a clean sheet until 2.15m, 2.20m, and 2.24m to take the win on countback over Mutaz Barshim and Ju'Vaughn Harrison on countback.
Men's 400 metres hurdles:
World Championships finalist Khalifah Rosser won the non-DL 400m hurdles in 47.58, beating world championships fourth placer Wilfried Happy (48.58).
Women's 800 metres:
Three-time European silver medallist Renelle Lamote from France improved her PB to 1:57.85 to win the non-DL women's 800 metres ahead of Allie Wilson (1:58.09) and Olympic fourth placer Jemma Reekie from Great Britain (1:59.00).
Women's 4x100 relay:
The swiss 4x100 relay formed by Geraldine Frey, Mujinga Kambundji, Salome Kora, and Ajla Del Ponte triumphed in 42.91 ahead of the Netherlands (43.02), bouncing back from the disappointment of failing to qualify for the European Championships in Munich last week.
Mujinga Kambundji; "The start was excellent. In the end, I could not push anymore, but overall I am satisfied. It is cool to race in front of a home crowd after winning a medal in Munich. I have some meetings in Switzerland left."
-->