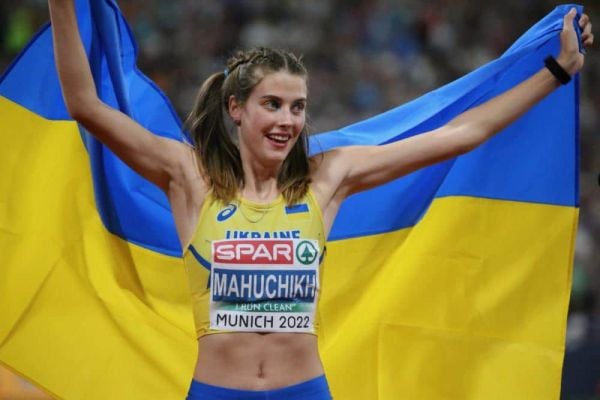 Pia Skrzyszowska from Poland stormed to the European gold medal in the women's 100 metres hurdles in 12.53 on the final day of the European Championships in Munich, coming very close to her PB of 12.51 set in the Diamond League meeting in Chorzow. The Polish hurdler set the fastest times at the European Championships since Yordanka Donkova in Stuttgart in 1986.
Luca Kozak from Hungary equaled her national record to 12.69 to win the silver medal. Ditaji Kambundji from Switzerland claimed the bronze medal in 12.74, holding off Nadine Visser by 0.01. The Kambundji sisters won a total of three medals (two for Mujinga and one for Ditaji) at this edition of the European Championships.
Pia Skrzyszowska: "It is amazing. I did what I should have done. I started very fast and kept the rhythm until the end. The job is done. I am so happy with the two medals in the 100m hurdles and in the 4x100 relay in one evening. I had enough energy because after my individual race, I felt lot of emotions. I was taken away to the relay after the finish, so I did not have the time to realize what had just happened. That was crazy."
Women's 100 metres hurdles semifinal:
Double European indoor 100m hurdles Nadine Visser won the first semifinal in 12.74 ahead of Ditaji Kambundji (12.78).
Pia Skrzyszowska claimed first place in the second semifinal in 12.66, beating Luca Kozak from Hungary, who improved the national record to 12.69.
British record holder Cindy Sember set the fastest overall time with 12.62 in the third semifinal beating Cyrena Mayela Samba (12.82).
Men's 4x100 final:
The British men's 4x100 team formed by Jeremiah Azu, Zharnel Hughes, Jona Efoloko and Nethanel Mitchell Blake won the gold medal in the men's 4x100 relay in a championship record of 37.67. Hughes won his third medal at these championships after gold in the 200m and silver in the 100m.
Zharnel Hughes: "It hurts a little bit. We wanted to celebrate with the women's 4x100 team. Sometimes things don't go the way we had planned, but we are one team, and always look out for each other. We are very happy for our medal, but we are going to be there for the girls".
Nethaneel Mitchell Blake: "We feel that we all deserve. We knew we had the quartet to do it. The championship record was definitely a bonus, but put a lot of work into this.
Jimmy Vicaut anchored France to a silver medal in 37.94 ahead of Poland, who claimed bronze in a national record of 38.15.
Switzerland finished fifth, setting the national record of 38.36.
Women's 4x100 relay:
The German team formed by Alexandra Burghardt, Lisa Mayer, EGina Luckenkemper and Rebekka Haase triumphed in 42.34. Fresh European 100m champion Luckenkemper crowned a memorable week with her second gold medal.
Germany finished at the top of the medal table with seven gold medals, one more than Great Britain.
Gina Luckenkemper: "If someone would have told me before the championships that I would have come home with two gold medals, I would have said he is crazy. I cannot yet seize what happened this week with my gold med in the 100m. It makes me happy to be able again tonight with the girls. This was real teamwork, also from Jessica Bianca Wessoly, who helped in the 4x100 first round when I could not run. She merits the team player award because she the 4x400 heat. German sprint is amazing. This gold medal is more important than the bronze medal in Eugene.
Pia Skrzyszowska returned to the track 40 minutes after her gold medal in the 100m hurdles to run the first leg of the 4x100 relay for the Polish team, who won the silver medal in a national record of 42.61. The other members of the Polish team were 400m sprinter Anna Kielbasinska, Marika Popwicz Drapala and Ewa Swoboda.
The Italian team formed by Zaynab Dosso, Dalia Kaddari, Anna Bongiorni and Alessia Pavese claimed the bronze medal in 42.84, beating the Netherlands (43.03)
Great Britain failed to get the baton round.
Women's high jump:
Yaroslava Mahuchik won her first European outdoor senior gold medal with 1.95m beating Marija Vukovic from Montenegro on countback. Mahuchik and Vukovic had a clean sheet until 1.93m. Mahuchik cleared 1.95m on her first attempt, while Vukovic needed three attempts to jump over this height.
Mahuchik added the European outdoor gold medal to the world indoor title in Belgrade last March, the European Indoor gold medal in Torun 2021, two consecutive world outdoor silver medals in Doha 2019 and Eugene 2021 and the Olympic bronze medal in Tokyo 2021.
Yaroslava Mahuchik: "I would like to dedicate the medal to the Ukrainian people. This is my first gold medal a major championship. I left my home in March and it has been difficult since then. Since then I want to do something for my country. Our people wait for news. It is a pleasure for them to see my medal."
Seventeen-year-old Serbian rising star Angelina Topic cleared all heights until 1.93m on her first attempt to win her first European senior medal 32 years after her father Dragutin Topic won the European gold medal in the high jump in Split 1990 as a teenager. Topic finished ahead of world under 20 silver medallist Britt Weermann on countback.
Men's javelin throw:
Julian Weber from Germany won the men's javelin throw with 87.66m to the delight of the home fans who packed the Olympic Stadium. Weber finished fourth at the Olympic Games in Tokyo last year and at the World Championships in Eugene last July.
Julian Weber: "I still cannot grasp what I have done. I cannot believe it. I am on cloud nine. I have been longing for this medal for a long time. I will celebrate in Munich in this stadium. The Munich crowd was really amazing. It was amazing to do a lap of honor. I will never forget it".
Olympic silver medallist Jakub Vadlejch from the Czech Republic took the lead with a throw of 87.28m in the second round and maintained his leading position until the fifth round when Weber sent the javelin out to 87.66m.
Lassi Etelatalo continued the Finnish tradition in the javelin by winning the bronze medal with 86.44m in the fifth round.
Men's 10000 metres:
Italian record holder Yeman Crippa won his first European senior gold medal in the 10000 metres in 27:46.13. Crippa won two bronze medals in the 10000m in Berlin 2018 and in the 5000m in Munich 2022. Crippa has become the fourth Italian runner to win the European 10000m gold medal, following in the footsteps of Alberto Cova in Athens 1982, Stefano Mei in Stuttgart 1986 and Salvatore Antibo in Split 1990.
Zerei Kbrom Mezgni, a Norwegian runner of Eritrean origin, won the silver medal, improving his PB to 27:46.94. Yann Schrub finished third in a PB of 27:47.13.
Frenchman Jimmy Gressier set a fast pace at the start of the race and went through the 3 km mark in 8:09.81. The pace dropped to 13:54.20 at halfway and 16:45.29 at 6 km and 16:45.29 at 6 km and 19:42.56 at 7 km. Crippa picked up the pace in the eighth km, but Kbrom built a solid lead with a lap of 61.99. The Norwegian increased his lead to 2 seconds at the bell. Crippa launched his kick and caught Kbrom around the final bend. The Italian clocked 55.99 in the final lap and 26:54 in the final 200 metres.
Yeman Crippa: "I am really happy with this gold medal tonight, especially after having won a medal in the past. Compared to four years ago in Berlin 2018. I feel I have changed a lot, especially my mindset. I have a much stronger mentality than in the past. I believed in myself and knew I could do what I did tonight. It was a special night, with this beautiful crowd watching me being the winner. This is a reward for my career so far. I would like to dedicate this medal to all my family and friends."
Men's 800 metres final:
Mariano Garcia from Spain won a close men's 800 metres in his lifetime best of 1:44.85, holding off world 1500m champion Jake Wightman, who set his PB of 1:44.91. Garcia claimed his second big international title this season year after winning the world indoor gold medal in Belgrade. Mark English from Ireland won his second European bronze medal in 1:45.19 ahead of Andreas Kramer (1:45.38).
Mariano Garcia: "I am very pleased with gold. I was expecting a much slower race, but it wasn't so. I just went with it and decided to control it from the start. When I decided to take the lead, I knew I had to give it my all, because, towards the end of the race, that's when you have less energy, so I need to get this right. The crowd helped me to go out fast and run this amazing race".
Jake Wightman:
"I was very close to the gold and I would be very glad to get that, but I am still pretty happy with the silver. I was not close enough in the last straight, and it is tough when you are not so close with strong opponents. I did not manage to stay strong enough to pass Garcia. This is a tough race with lots of tactics".
-->