Commonwealth Games 2022 Women's 10000m Results, McColgan wins gold with 30:48.60

Posted by:
Watch Athletics
Wednesday, 03 August 2022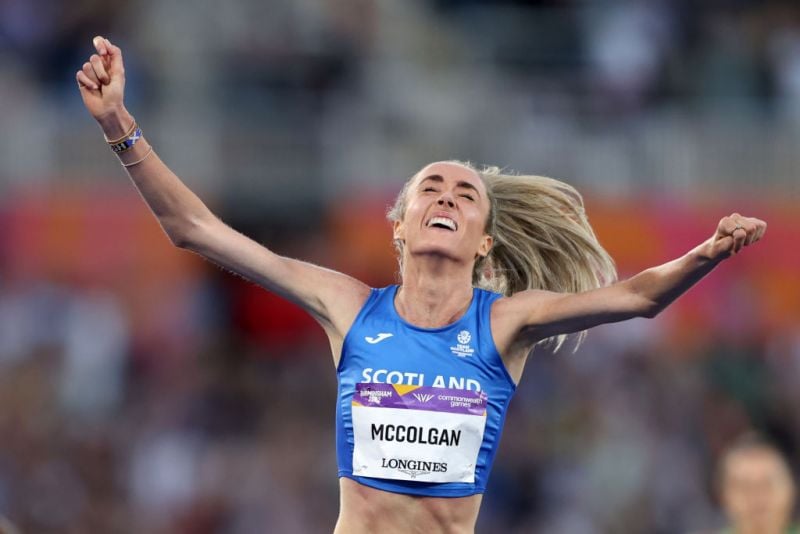 Eilish McColgan produced an impressive result to win the Commonwealth games 10,000m gold in Birmingham on Wednesday. The 31-year-old Scott, in a thriller last lap, defeated Kenya's Irene Cheptai by 0.9 seconds. McColgan set a new Games record of 30 minutes 48.60 seconds.
Kenya's Sheila Chepkirui took the bronze with a time of 31:09.46.
Eilish's mother, Liz, won the 10000m in Edinburgh in 1986.
Women's 10000m final results
| POS | CGA | Name | Time | |
| --- | --- | --- | --- | --- |
| 1 | SCO | Eilish McCOLGAN | 30:48.60 | GR |
| 2 | KEN | Irine Chepet CHEPTAI | 30:49.52 | SB |
| 3 | KEN | Sheila Chepkirui KIPROTICH | 31:09.46 | SB |
| 4 | UGA | Stella CHESANG | 31:14.14 | |
| 5 | ENG | Jessica JUDD | 31:18.47 | |
| 6 | ENG | Samantha HARRISON | 31:21.53 | PB |
| 7 | RSA | Dominique SCOTT | 31:25.18 | |
| 8 | AUS | Isobel BATT-DOYLE | 32:04.52 | |
| 9 | SCO | Sarah INGLIS | 32:04.74 | |
| 10 | UGA | Rachael Zena CHEBET | 32:30.95 | |
| 11 | RWA | Celine IRANZI | 32:48.60 | PB |
| 12 | LES | Neheng KHATALA | 33:27.35 | PB |
| 13 | LES | Mathakane LETSIE | | |
| DNF | NIR | Hannah IRWIN | | |
-->