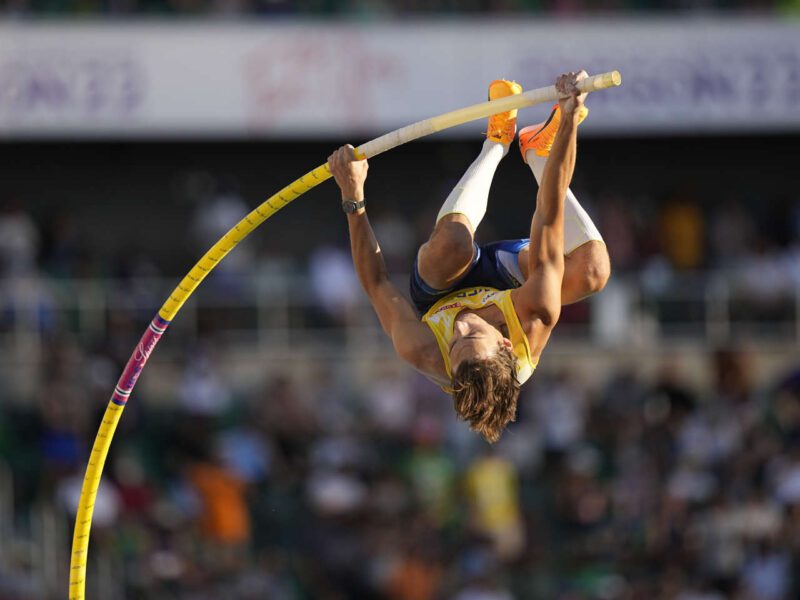 Armand "Mondo" Duplantis and Tobi Amusan broke world record on a fantastic final day at the World Championships on Sunday night at Hayward Field in Eugene. Kevin Mayer won the decathlon, Jacob Ingebrigsten topped the 5000m, USA men's and women's 4x400m quads dominated the 4x400m relay finals.
World Athletics Championships Results
Men's pole vault:
Olympic champion Armand Duplantis broke the men's pole vault record clearing 6.21m to win the first world outdoor gold medal of his career.
Duplantis had earlier won the title with 6.00m before setting the championship record with 6.06m on his his first attempt.
Duplantis has improved the world record for the fifth time in his career. He broke it for the first time in February 2020 when he cleared 6.17m in Torun.
Last March he set his world indoor record with 6.20m when he won the world indoor title in Belgrade.
It's the first time he has broken the world record outdoors. The last time an outdoor performance led to a world record dates back to July 1994, when Sergey Bubka cleared 6.14m, six years before Duplantis was born.
Duplantis set two world outdoor all-time best performances with 6.15m in Rome in September 2020 and 6.16m in Stockolm last June.
Duplantis has cleared the 6 metres barrier 48 times overtaking Bubka, who managed this height 46 times.
Duplantis cleared his opening height of 5.70m and decided to pass 5.80m. He failed his first attempt at 5.87m, but he cleared this height with a huge margin over the bar at the second time of asking. The 22-year-old Swede cleared 5.94m on his first attempt, sharing the first place with Nilsen. The US indoor record holder needed two attempts to clear 5.87m and managed 5.94m at the first time of asking.
Duplantis cleared his first attempt at 6.00m and secured his first world title when Nilsen and Obiena failed their third attempts at this height. The Scandinavian star cleared 6.06m on his first attempt with a big margin over the bar adding 1 cm to the previous championships record set by Dimitri Markov in Edmonton 2001.
Duplantis broke the world record at 6.21m in his second attempt.
Armand Duplantis: "It was the medal I was missing. Usually, the world record is in the back of my mind, but today I was focused on the win. I did not think about the record so much today. You get a lot of pressure on you when you are the only person competing in the entire track. It's an honour when people stay in their seats and it's literally only me on the track. I love jumping in Eugene and it was amazing here. I was getting a bit tired towards the end, but I really appreciate the crowd. You guys lifted me and gave me the energy I needed to get over the bar. I cannot figure the next heights right now. I am going to have a bit time off with my family and my friends".
US indoor record holder Chris Nilsen won the silver medal with 5.94m in front of his home fans one year after placing second to Duplantis at the Olympic Games in Tokyo with 5.97m. Nilsen also won the world indoor bronze medal in Belgrade last March.
Chris Nilsen: "Mondo is going to keep breaking records and I am just going to keep doing my thing. This medal means that I am very consistent in what I am doing, to be the top three in the world".
Ernest John Obiena claimed the bronze medal on countback improving his own Asian record by 1 cm to 5.94. Obiena won the first ever World Championships medal for the Philippines.
Obiena, who placed 11th in last year's Olympic final in Tokyo, cleared the Asian record at 5.94m on his second attempt. Obiena secured the bronze medal when 2012 Olympic champion Renaud Lavillenie and Bo Kanda Lita Baehre failed their third attempts at 5.94m. Thiago Braz Da Silva passed his third and final attempt at 5.94m before failing his clearance at 6.00m.
Ernest Obiena: "I did not expect that I would jump that height. I would not expect that it would actually take that height to win a medal. I am definitely happy".
Braz placed fourth 5.87m on countback ahead of Oleg Zernikel from Germany, Lavillenie and Lita Baehre. It was the deepest men's pole vault competition in history. Seven vaulters cleared 5.87m or higher and nine went beyond 5.80m.
Women's 100 metres hurdles:
Tobi Amusan from Nigeria broke Kendra Harrison's world record in the 100m hurdles semifinal with 12.12 (+0.9 m/s). Amusan later won the world gold medal in the final in a wind-assisted 12.06 (+2.5 m/s) beating Jamaica's Britany Anderson, who clocked 12.23 edging Olympic champion Jasmine Camacho Quinn from Puerto Rico by just five thousands of a second. Aila Armstrong was the top US hurdler in fourth place in 12.31.
Amusan had previously equalled her own African record clocking 12.40 in the heats on Saturday. Amusan finished fourth in both the World Championships in Doha 2019 and at the Olympic Games in Tokyo. Last September Amusan won the Diamond League final in Zurich setting the previous African record of 12.42 and improved her area record by 0.01 in Paris last June with 12.41.
Tobi Amusan: "I believe in my abilities but I was not expecting a world record at these championships. It's a dream come true. I knew I had it in me, but I could not believe it when I saw it on the screen after the semifinals. It was just a matter of time".
Women's 800 metres:
Athing Mu added the world outdoor title to last year's Olympic gold medal in a world-leading 1:56.30 edging Keely Hodgkinson (1:56.38) in a repeat of last year's Olympic final after a very close head-to-head battle in the home straight. Kenyan champion Mary Moora came through to win the bronze medal improving her PB to 1:56.71. beating Diribe Welteji, who finished fourth setting a PB of 1:57.02.
Athing Mu: "I love competing against other fast women. I really just wanted to be consistent this year and to continue with the wins that I have been having. Today, it was a little bit harder for me. The next goal is just to continue competing and hopefully to get faster and faster".
Keely Hodgkinson paid tribute to Athing Mu after the final.
Keely Hodgkinson: "Athing Mu is a great athlete. We are both 20 and have many years ahead of us. We will meet on a world podium again".
Men's 5000 metres final:
Olympic 1500 metres champion Jakob Ingebrigtsen bounced back from the disappointment for his silver medal in the 1500 metres with a gold medal in the 5000 metres in 13:09.24.
The 15-men group went through at 3000m in a slow 8:04.50. Ingebrigtsen went to the lead with two laps to go and pulled away from the rest of the field with 53.93 in the final lap to win the first world title of his career.
Jakob Ingebrigtsen: "It feels amazing to win the gold medal. This is already my fifth attempt to become a world champion outdoors and my third World Championships. Finally I became the world champion. I did not want a sprint finish because I wanted to prove that I am better than the other guys. I wanted and I needed the gold medal. It has been very difficult after the 1500m. I knew I would not get beaten by the others in the last laps, but the 5 km is a very tough race".
Jacob Krop from Kenya won silver medal in 13:09.98 ahead of Uganda's Oscar Chelimo, who finished third in a seasonal best of 13:10.20.
Jacob Krop: "In the end, it looked like everybody wanted to get to the podium. I had my position and when I kicked, I wanted to maintain the spot, but Jakob had a strong kick too".
Oscar Chelimo: "I had some difficult times in the past years, I was happy last year to qualify in Tokyo, but then I came last so I had to ask why. My coach told me that I am a champion. He said: 'forget about the past, just continue racing".
Luis Grijalva from Guatemala finished fourth in a seasonal best of 13:10.44, achieving the best result for his country in any event in the history of the World Championships.
Luis Grijalva: "It feels amazing. I have always run a PB in the races. I almost won a medal, the first for Central America".
World 10000m champion Joshua Cheptegei from Uganda had to settle with ninth place with 13:13.12. Olympic 10000m champion Selemon Barega crossed the finish-line in 13:19.12.
Women's long jump:
Germany's Malaika Mihambo successfully defended her world outdoor title in the women's long jump with 7.12m. Mihambo faced a very tough opposition from Nigeria's Ese Brume, who went to the lead with 7.02m in the third round.
Mihambo felt pressure when she started the competition with two fouls, but she leapt to 6.98m in the third round. The German long jump star moved to the lead with a leap to 7.09m in the fourth round. She later improved her best mark to 7.12m in the sixth round to win her third global gold medal after the world title in Doha 2019 with her lifetime best of 7.30m and the Olympic gold medal in Tokyo 2021 with 7.00m.
Malaika Mihambo: "I am having some technical issues, just making the last two steps too long and did faults. I knew that I could make a valid third attempt. I made two faults, but I am used to these situations and I know that I can do better and just had to push myself".
Brume won the silver medal with 7.02m following her bronze medals at the World Championships in Doha 2019 and at the Olympic Games in Tokyo 2021. Brume crowned a very successful day for Nigeria following Tobi Amusan's triumph in the 100 metres hurdles.
Ese Brume: "Tobi Amusan is my best friend, everybody knows. It was amazing for us because this is what we are trained for. She deserved it so much. In the last Championships, we just got one medal. Now we are getting out with two medals. It is a wonderful night for Nigeria, for all of us".
Leticia Oro Melo from Brazil won the bronze medal with a PB of 6.89m beating US champion Quanesha Burks by just one cm in a very close competition. The 24-year-old Brazilian long jumper won the first medal in this event for her country.
Australia's Brooke Buschkuehl, who entered the World Championships with the world leading mark with 7.13m, took fifth place with 6.87m achieving the best ever placing by Australia in the women's long jump since her sixth place in London 2017. Buschkuhel beat Khaddi Sagnia from Sweden on countback. Ivana Vuleta and Maryna Beck Romanchuk rounded out the top eight with 6.84m and 6.82m.
Just seven centimetres separated third from seventh place in a very close competition.
Men's decathlon:
France's Kevin Mayer won his second world title with 8816 points beating Canada's Pierce LePage (8701 points) and USA's Zachary Ziemek (8676 points). Damian Warner pulled up injured during the 400 metres.
Mayer started his second day with 13.92 in the 110 metres hurdles. The Frenchman followed it up with 49.44m in the discus throw, a clearance of 5.40m in the pole vault and a big throw of 70.31m in the javelin throw.
LePage set the fastest time in the 110 metres hurdles with 13.78. Ayden Owens Delerme and Mayer clocked 13.88 and 13.92 respectively.
Jiri Sykora from Czech Republic set a championship decathlon record in the discus throw with 54.39m. Lindon Victor moved up tp fifth in the overall ranking with his best throw of 53.92m. LePage improved his PB to 53.26m. Mayer moved up to fourth in the overall standing with his best throw of 49.44m.
Ziemek and Mayer both cleared 5.40m to move into second and third place in the overall standing with 7256 and 7251 points respectively. LePage cleared 5.00m to maintain his overall lead with 7337 points.
Mayer won the javelin throw sending his spear out to 70.31m, moving up into the lead with a lead of 107 points over LePage before the final 1500 metres. Ziemek threw the javelin to 62.18m to move into third place. Owens Delerme ended his dream to win a medal after a throw of 50.98m.
Mayer secured the gold medal with 8816 points after clocking 4:41.44 in the 1500 metres. LePage ran 4:42.77 finishing ahead of Ziemek (4:44.97).
Kevin Mayer: "I don't want to sleep now. I want to drink right now".
Owens Delerme gave it all in the 1500 metres race and crossed the finish-line in 4:13.02 ahead of 2019 world champion Nicklas Kaul (4:13.81). The Puerto Rican athlete placed fourth with a national record of 8532 points beating Lindon Victor (8474), Nicklas Kaul (8434 points) and 2019 world silver medallist Maicel Uibo (8425 points).
Women's 4x400 relay final:
The US team formed by Talitha Diggs, Abby Steiner, Britton Wilson and Sydney McLaughlin triumphed in front of their home fans in 3:17.79. McLaughlin ran the final leg in a sensational time of 47.91 two days after breaking the world record in the 400m hurdles with 50.68.
Jamaica won the silver medal in 3:17.79 beating Great Britain, who claimed third place in 3:22.64.
Sydney McLaughlin: "It was unreal. We had such a young team. All these girls are from teams out college. It was put together at the last minute and to see them all come together after such a long collegiate season, I am so grateful to be part of it. This is the next generation of Team USA stepping up the plate. No better way to end the meet".
Men's 4x400 relay final:
The US team formed by Elija Godwin, Michael Norman, Bryce Deadmon and Champion Allison won the men's 4x400 in 2:56.17 ahead of Jamaica (2:58.58). Jamaica's Christopher Taylor clocked 43.98 in his leg. The US team have won their eighth 4x400 relay gold medal in the last nine editions of the World Championships and their overall 11th title.
Godwin led off with a 44.28 split in the opening leg. Norman clocked 43.88 in the second leg to increase the US Lead. Deadmon ran another sub-44 leg with 43.82. Allison rounded out the race with a split in 44.43 in the final leg.
Michael Norman: "It has been a great championships for the team USA. Especially on the men's side, after some disappointing championships, it was like a turnaround. I definitely felt the energy today. It was a great experience and Number 1 in terms of interaction with the fans".
Champion Allison: "I was hungry and blessed to bring it home for my team".
Bryce Deadmon: "It was definitely a help to have a home crowd here. All our transitions went smooth. Pace was good. Time was good. I mean it felt like we came out to win".
The Belgian team featuring brothers Dylan and Kevin Borlée won the bronze medal with 2:58.72 repeating the same result achieved three years ago in Doha. Japan finished fourth setting the Asian record of 2:59.51.
Kevin Borlée: "It was a great race at a great stadium. To get another medal, that is great for our country. We were very well prepared and tried to stay focused to keep the rhythm. For such a small country, we keep on going for so many years. It is awesome"
Men's 35 km walking race:
Reigning 20 km Olympic champion Massimo Stano from Italy won the first world 35 km title in the history of the World Championships, crossing the finish-line in 2:23:14. Stano held off Japan's Masatora Kawano by 1 second in a very close finish. Kawano set the Asian record with 2:23:15. Perseus Karlstrom from Sweden, who finished third in the 20 km at the start of these championships, won his second bronze improving his lifetime best to 2:23:44 and celebrated this medal with a blue and yellow Viking hat.
Brian Pintado from Ecuador finished fourth setting a South American record of 2:24:37. China's He Xianghong crossed the finish-line in an Asian record of 2:24:45 ahead of 50 km Olympic bronze medal Evan Dunfee, who set a North American record of 2:25:02.
Stano has won the first gold medal for Italy at the World Championships since 2003 when Giuseppe Gibilisco won the pole vault in Paris.
Massimo Stano: "You would think being Olympic champion, you could take this win as granted, but it is not. I am happy to win this gold medal in a different distance and show that I can compete in other distances".
World Athletics Championships Results
-->