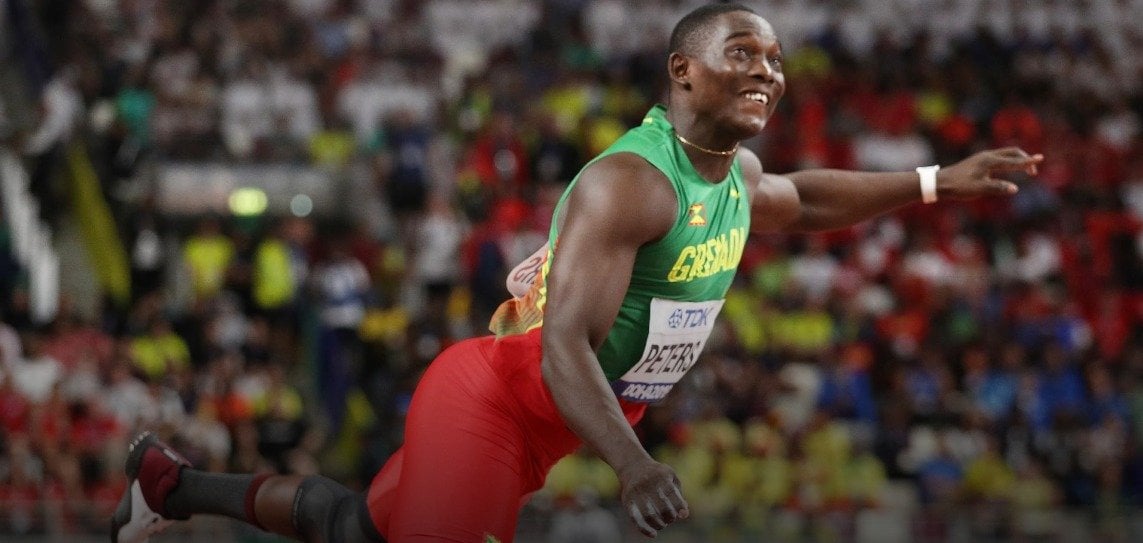 Highlights from the 2022 World Athletics Championships day 9 which took place on Saturday, July 23 at the historic Hayward Field in Eugene, Oregon.
Portugal's Pedro Pablo Pichardo added the first world title in his career in the men's triple jump to last year's Olympic gold medal, setting a world leading mark of 17.95m in his first attempt. Pichardo had previously won two silver medals at two consecutive editions of the World Championships in Moscow 2013 and Beijing 2015.
Pichado backed up the winning mark with a second best jump of 17.92m in the second round and two jumps of 17.57m and 17.51m.
Pedro Pablo Pichardo: "I opened strongly. Since I left my residence, my mindset was focused on the 18 metres. It did not come out today, but more importantly, I won gold. The world title was elusive to me. I had two silver medals and tried to win gold ".
Fabrice Hugues Zango from Burkina Faso placed second with 17.55m following his bronze medals at the World Championships in Doha 2019 and at the Olympic Games in Tokyo 2021.
Fabrice Zango: "I was motivated to win gold, but there is not much left in my legs. Looking at the season I was a bit off my regular performance. I went out there to explore. To manage 17.55m is good".
Zhu Yaming from China won the bronze medal with 17.31m. The same athletes, who won the medals at the Olympic Games in Tokyo, reached the podium again in Eugene. Zhu won the Olympic silver in Tokyo with 17.57m beating Zango last year. This time Zango reversed the order earning silver.
Zhu Yaming: "I am pretty happy with the medal. However, I am not satisfied with my performance today. It was a bit below average. The preparation did not go as well as I planned".
Reigning European Under 23 champion Andrea Dallavalle from Italy leapt to 17.25m to place fourth. Dallavalle backed this marks with 17.16m in the second round and 17.12m in the fourth round. Emmanuel Ihemeje from Italy, who won the NCAA outdoor title last year in Eugene competing for the local team Oregon Ducks, jumped a wind-assisted 17.17m (+2.6 m/s) to move into fifth place ahead of US champion Donald Scott, who leapt to 17.14m in the opening round.
Men's javelin throw:
Anderson Peters from Grenada won his back-to-back title in the men's javelin with a winning mark of 90.54m and two more throws over the 90 metres barrier.
Peters started his competition with a throw of 90.21m in the opening round and improved to 90.46m in the second round. The Grenadan thrower sent his javelin out to 90.54m in the sixth round to cap an impressive series which also included three more valid throws of 87.21m, 88.11m and 85.83m.
Anderson Peters: "Defending a title is not an easy task. I had to push myself. I was pretty happy that I managed to do it, although I was hoping for longer throws today. I just wanted to go out and enjoy the event and put on a show. This is my second gold medal, so I am very grateful for that. Most throwers prefer the wind from behind, but today we had a head wind, so it was a bit challenging but I pulled it off. It was not really important to beat anyone in particular but it was good to go out and have fun"
Jakub Vadlejch from Czech Republic started the competition with 85.52m and 87.23m in the first two throws to take second place. Olympic champion Neeraj Chopra from India moved into fourth place with a throw of 86.37m in the third round.
Vadlejch set his best mark of the evening with 88.09m. Chopra moved into second place with 88.13m overtaking Vadlejch and took the silver medal.
Neeraj Chopra: "I have to congratulate Peters and Vadlejch. I did not feel good during my first three throws. My warm-up was not good. I felt something in my groin during my throw, but I think it is OK. Throwing in this wind was also a learning experience. I will try to do better at the World Championships in Budapest next year".
Peters, who held a previous PB of 87.31m before this year, has thrown the javelin over the 90 metres barrier seven times this year.
Julian Weber from Germany started the competition with a throw of 86.86m in the first round. This mark remained his best throw of the evening and the German thrower had to settle with fourth place.
Arshed Nadem finished fifth with 86.16m becoming the first athlete from Pakistan to achieve a top-eight finish at the World Championships.
Lassi Etelatalo from Finland placed sixth with 82.70m. Andrian Mardare from Moldova and Oliver Helander from Finland also threw beyond the 82 metres with 82.26m and 82.24m.
Women's 4x100 relay final:
The US team by Melissa Jefferson, Abby Steiner, Jenna Prandini and Twanisha Terry won the world gold medal in 41.14 clocking a world leading time, the fifth fastest time in history and the fastest ever time on US soil.
Terry held off 200m world champion Shericka Jackson on the anchor leg to edge Jamaica, who won silver medal in 41.18, setting the sixth fastest time in history.
It was a surprising win for the home team, who had not won any medals in the individual events. Jefferson placed eighth in the 100m final. Steiner finished fifth in the 200m final. Prandini and Terry did not reach the 200m and the 100m finals respectively.
Jefferson clocked the fastest lead-off leg of 11.35. Steiner ran 9.86m on the second leg followed by Prandini (10.05) and Terry (9.88).
Melissa Jefferson: "It was not expected of us today and I am glad that we pulled it through".
Jamaica fielded last year's NCAA 60 metres indoor champin Kemba Nelson on the lead-off lead, 100m and 200m Olympic gold medallist Elaine Thompson Herah, five-time 100m world champion Shelly Ann Fraser Pryce and world 200m champion Shericka Jackson, who won a total of five individual medals between them at this edition of the World Championships.
Nelson clocked 11.45 on the lead-off leg, but she had a messy exchange with Thompson Herah, who had to slow to stay in the leg and clocked 10.10 in the second leg. Fraser Pryce clocked 9.97 and Jackson produced an anchor leg of 9.66. Jamaica has won the 16th medal in the history of the 4x100m in the history of the World Championships.
Fraser Pryce won her third medal at these championships after the gold medal in the 100m and the silver in the 200m to improve her total to 14 World Championships medals in her career.
The German team formed by Tatjana Pinto, Alexandra Burghardt, Gina Luckenkemper and Rebekka Hasse won the first medal for their country at these championships finishing third in 42.03. Nigeria placed fourth setting the African record with 42.22.
Dina Asher Smith pulled up with an injury in the final 15 metres ahead of the hand-off. Great Britain slipped back to eighth as Asher Smith slow. Darryil Neita clocked the fastest split with 9.57 on the anchor leg to move Great Britain into sixth place in 42.75 ahead of Switzerland (42.81) and Italy (42.92).
Men's 4x100 relay final:
Canada won the third 4x100 relay world title in the history of the World Championships and the first gold medal since 1997. The Canadian team formed by Aaron Brown, Jerome Blake, Brandon Rodney and André De Grasse crossed the finish-line in a world leading time of 37.48.
André De Grasse took the baton from Brandon Rodney and clocked the anchor leg in 8.79 to earn the first gold medal for Canada at this edition of the World Championships.
De Grasse bounced back from a difficult period in which he suffered from an injury and a bout of Covid-19. The 200m Olympic champion did not get through to the final in the 100m and pulled out of the 200m.
Canada won the Olympic silver medal in 37.70 behind Italy in Tokyo last year.
André De Grasse: "After injuries and Covid, it was great to finish the championships like this. We had the team chemistry. It's special to win here. There are many Canadians cheering us on. It's not on home soil, but it felt like this".
The US team formed by Christian Coleman, Noah Lyles, Elijah Hall and Marvin Bracy Williams set a seasonal best of 37.55 to win the silver medal.
Marvin Bracy Williams: "We have a few things to clean up, the changes. Mine was not very good and that may have cost us the race. Nonetheless, we got a medal, got the stick around. We will win next time".
The British team formed by Jona Efoloko, Zharnel Hughes, Nethaneel Mitchel Blake and Reece Prescod claimed the bronze medal in 37.83.
Jamaica placed fourth in 38.06 edging Ghana, who set the national record with 38.07.
Women's 5000 metres:
World indoor 1500m champion Gudaf Tsegay won the 5000 metres gold medal a few days after the silver medal in the 1500 metres.
Tsegay won a tactical race in 14:46.29 ahead of 2018 world under 20 champion Beatrice Chebet, who claimed silver medal in 14:46.75. Ethiopia's world indoor silver medallist Dawit Seyaum took bronze medal in 14:47.36.
Tsegay clocked 4:14.59 in the final 1500 metres and the last 400 in 59.95 and pulled away from Chebet and Seyaum in the final straight.
Tsegay won the world under 20 silver medal in the 1500m in Eugene in 2014.
Gudaf Tsegay: "The hard times were at the Olympic Games, because I was injured there. I have been training well for the 1500m and this helps sprint on the home straight".
Margaret Kipkemboi Chelimo, who won the world silver medal in the 5000m in Doha to Hellen Obiri in 2019 and the bronze medal in the 10000m a few days ago in this edition of the World Championships, finished fourth in 14:47.71 ahead of fresh 10000m world champion Letesenbet Gidey (14:47.98) and double Olympic champion Sifan Hassan (14:48.12).
Men's 800 metres:
Olympic champion Emmanuel Korir from Kenya won the first world title for Kenya in the men's 800 metres since David Rudisha in Beijing 2015.
Korir, who entered the World Championships with a wild card as the 2021 Diamond League winner, clocked a seasonal best of 1:45.85 in Stockolm, but he returned to his best form in Eugene. He had won the NCAA title in the 800m on the Eugene track in 2017.
Emmanuel Korir: "It was tough. I was expecting a faster race, but I won and I am very happy for this result. I knew there were some guys close behind me in the last 100 metres. I was expecting someone to come, but no one did".
Korir surged past Canada's Marco Arop in the final straight with 50 metres to go to cross the finish-line in a seasonal best of 1:43.71. Djamel Sedjati, who clocked 1:43.69 last April and won the Mediterranean Games on home soil in Oran last June, moved from fifth to second with a strong finish to claim silver medal in 1:44.14. Sedjati became the first Algerian 800m middle-distance runner to win a world medal since Djabir Said Guerni in Paris 2003.
Arop won the bronze medal in 1:44.28. The athlete of Sudanese origin has become the second Canadian 800m middle-distance runner to win a world medal since Gary Reed took silver in Osaka 2007.
Marco Arop: "This feels like redemption, to able to right some of the wrongs from last year. Last year was a big learning lesson and I am glad I was able to come back from that. In the final 100 metres I just wanted to leave it all there and felt I had nothing else in the tank. I gave it my all. Unfortunately, It was not enough to win gold, but good enough to come back with a medal".
Last year's world under 20 champion Emmanuel Wanyonyi, who will turn 18 on August, finished fourth in 1:44.54.
Men's decathlon (first day):
Olympic champion Damian Warner held first place in the overall standing after four events. Warner had a lead of 62 points over US Zachary Ziemek before the 400 metres race, but he pulled up injured during the one-lap even and fell to the track.
Ayden Owens Delerme from Puerto Rico clocked an impressive 45.07 to move into the lead after five events with 4606 points. He set the fastest time in a 400m in a decathlon competition and a national record for the one-lap event.
Owens Delerme started the first day with 10.52 in the 100m before improving to 7.64m in the long jump. He then produced 14.97m in the shot put and improved his PB to 2.02m in the high jump.
Commonwealth silver medallist Pierce LePage ran the second fastest time of 46.86 to end the first day in second place with 4485 points.
Earlier in the first day Warner clocked the fastest time in the 100m with 10.27 and set the best long jump with 7.87m. The Canadian athlete set.a seasonal best of 14.99m in the shot put and cleared 2.05m in the high jump.
Zachery Ziemek is ranked third in the overall ranking with 4469 points. Ziemek placed in the top five in the first four disciplines. The US athlete came close to his PBs in in the 100m with 10.57 and in the long jump with 7.70m and set a lifetime best of 15.37m in the shot put. Kyle Garland is ranked fourth with 4413 points after clearing 2.14m in the high jump.
Ashleigh Moloney is ranked fifth with 4378 points after 10.49 in the 100 metres, 7.46m in the long jump, 14.28m in the shot point, 1.96m in the high jump and 46.88 in the 400 metres. Moloney has a gap of six points over Kevin Mayer, who produced 10.62 in the 100m, 7.54m in the long jump, 14.98m in the shot put, 2.05m in the high jump and 49.40 in the 400 metres.
Sander Skotheim from Norway ended the first day in seventh place with 4331 points after a solid first day highlighted by a PB in the high jump of 2.17m.
Defending champion Nicklas Kaul ended the first day in eight place with 4147 points, but he is not far off his first day score set three years ago in Doha, when he won the world title with 8691 points.
Women's 4x400 relay heats:
Allyson Felix clocked the fastest split of 50.61 in the second leg of the 4x400 to help the US team win the first heat in 3:23.38.
Great Britain ran the second fastest qualifying time of 3:23.92. Jamaica won the second heat setting the third fastest time of 3:24.23
Men's 4x400 relay heats:
The US team set the fastest qualifying time in the men's 4x400 heats with 2:58.96. Japan finished second in 3:01.53 beating Jamaica (3:01.59).
The Belgian team, that included brothers Kevin and Dylan Borlée won the second heat in 3:01.96 beating Czech Republic, who set the national record with 3.02.42.
Women's 100 metres heats:
Tobi Amusan won the third 100m heat setting the fastest qualifying time equaling the African record of 12.40 beating Danielle Williams (12.87).
Aila Armstrong missed her PB by 0.01 to win the fifth heat with 12.48 ahead of Olympic bronze medallist Megan Tapper (12.83).
Olympic champion Jasmine Camacho Quinn set the third fastest qualifying time with 12.52. Olympic and world silver medallist Kendra Harrison won the sixth heat in 12.60 beating Cindy Sember by 0.07.
Pia Skrzyszowska claimed the win in the fourth heat in 12.70 beating European indoor silver medallist Nadine Visser (12.76).
Women's long jump:
US champion Quanesha Burks set the best qualifying mark with 6.86m. The other automatic qualifiers are Malaika Mihambo (6.84m), Ese Brume (6.82m), Maryna Beck Romanchuk (6.81m), Khaddi Sagnia (6.78m) and Brooke Busckuehl (6.76m).
Here is how to follow the World Athletics Championships live.
-->