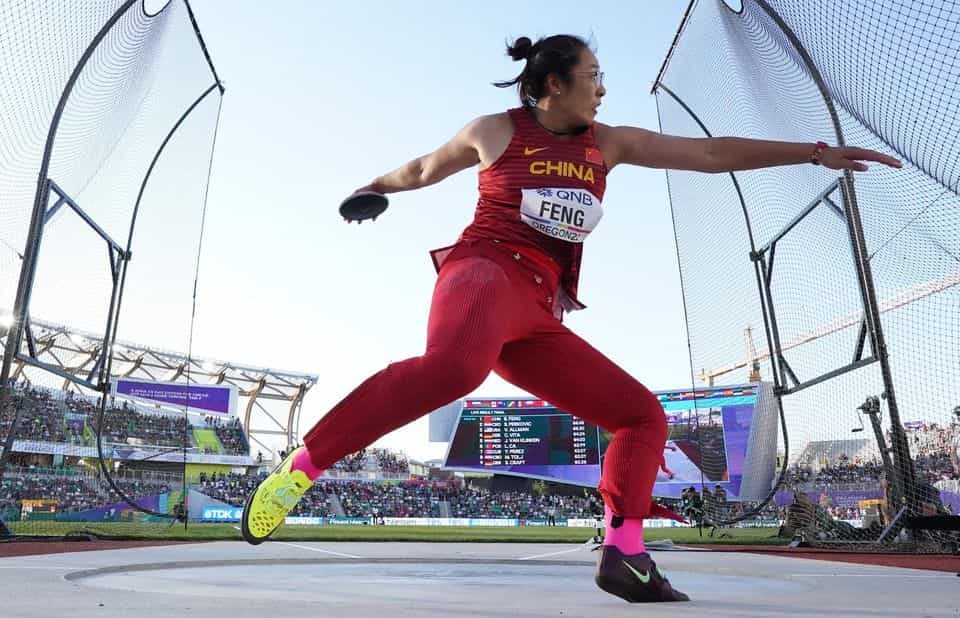 Complete highlights from the 2022 World Athletics Championships day six, Wednesday, July 20 at Hayward Field in Eugene, Oregon.
China's Feng Bin improved her PB by more three metres to 69.12m to win a surprising world gold medal. Bin had set a lifetime best of 66.00m last April.
Feng becomes the second best Chinese discus thrower to win the world title after Li Yangfeng in Daegu 2011.
Feng Bin: "I am so excited and I have to say all opponents did a very good job today. I did not expect this result coming to Eugene. I just wanted to show my best. After failing to reach the Olympic final in Tokyo, my coach gave me the support and courage. He pushed me to move forward and to work hard. He taught me how to not give up. I have a huge respect to all my rivals in this final. I would like to catch them up in the future and to be more stable with my results ".
Double Olympic champion Sandra Perkovic from Croatia set a seasonal best of 68.45m on her second attempt to win the silver medal. Perkovic also produced a second best attempt of 67.74m in the fifth round. The Croatian thrower has become the first woman to win five world championships medals following her world gold medals in Moscow 2013 and London 2017, silver in Beijing 2015 and bronze in Doha 2019.
Sandra Perkovic: "We did not expect the Chinese thrower to beat us all. Today I know that I have more in my hand, but I could not reach it. I am glad that after 2009, when I first managed going in the final in Berlin, I am still here and taking the silver medal. I am pleased"
Olympic gold medallist Valarie Allman clinched the bronze medal with a throw of 68.30m in the third round to become the first US athlete to reach the podium in the discus throw in World Championships history. Allman produced a second best over the 68 metres barrier with 68.05m in the fifth round. Allman entered the final with a world lead of 71.46m set last April.
Valarie Allman: "It was bittersweet today. I feel that I had so much that I could have shown today and it would have been so special to do it at home. Sometimes you need extra motivation to take away a lot from not being at the top of the podium and I am excited to use that going forward".
Jorinde Van Klinken from the Netherlands placed fourth with 64.97m.
Women's 3000m steeplechase
Norah Jeruto from Kazakhstan won the world gold medal in the women's 3000 metres steeplechase setting the championships record of 8:53.02. The former Kenyan runner set the third fastest time in the world all-time list. She had set her previous PB of 8:53.65 in the Eugene Diamond League meeting last year.
Jeruto had previously won the heat in 9:01.54 setting the second fastest time in the history of the World Championships, including finals.
For the first time in history the top three all broke the 9 minutes barrier in a 3000 metres steeplechase race.
African champion Werkuha Getachew from Ethiopia won the silver medal setting a national record of 8:54.61. Last year's Olympic fourth placer Mekides Abebe from Ethiopia claimed the third place improving her PB to 8:56.08. Getachew and Abebe moved to fourth and fifth behind Jeruto in the world all-time list.
Winfried Yavi from Barhein finished fourth in 9:01.31 ahead of Albania's Luiza Gega, who set the national record with 9:10.04. US Olympic silver medallist took sixth place with 9.10.59. Aimee Pratt set a British record of 9:15.64 to finish seventh ahead of 2017 world champion Emma Coburn (9:16.49).
Kazakhstan won the first ever gold medal in the history of the World Athletics Championships.
Jeruto made her debut on the international stage when she won the world under 18 gold medal in the 2000m steeplechase for Kenya. She switched allegiance to Kazakhstan last year but she missed the Olympic Games.
Norah Jeruto's sister Daisy Jepkemei finished sixth in her 3000m steeplechase heat in 9:23.07.
Norah Jeruto: "At the start line I was afraid of my friends from Ethiopia. They are also champions like me, so I was scared of them. I tried my best to win the race and it was not easy. I decided to be at the front because I like to control the race, to make sure I can fight for medals. I have to thank my father and my mother, my coach and opponents, and my my manager and my sister. She missed out on qualifying for the final but I want to tell her that she is the next champion".
Women's 400 metres hurdles semifinals:
Reigning world champion Dalilah Muhammad won the first 400m hurdles semifinal in 53.28 ahead of Olympic finalist Anna Ryzhykova (54.51). Jamaican champion Janieve Russell finished third in 54.66, but it was not enough to advance to the final.
Olympic bronze medallist and European record holder medallist Femke Bol won the second semifinal in 52.84, setting the second fastest semifinal time ever at a World Championships. Shamier Little improved her seasonal best to 53.61 to reach the final. Jamaica's Rushell Clayton and NCAA champion Rushell Clayton are the fastest non-automatic qualifiers with 53.63 and 53.72.
World record holder Sydney McLaughlin won the third semifinal in 52.17, setting the second fastest ever time in the history of the World Championships, just 0.01 slower than Muhamad's winning time in the final of the World Championships in Doha 2019. Gianna Woodruff from Panama set the area record of 53.69 to reach the final in second place ahead Shiann Salmon from Jamaica (54.16) and Viktoria Tkachuk (54.24). Ayomide Folorunso broke Yadis Pedroso's Italian record with 54.34, but she did not advance to the final.
Sydney McLaughlin: "I felt it was good to get faster. I just had to shake off some of the nerves and get ready for Friday. I can't wait to have my teammates join in the final. I just want to be free, give all I have and leave it all on the track".
Women's 400 metres semifinals:
Double Olympic champion Shaunae Miller Uibo clocked the fastest semifinal time in a seasonal best of 49.55 beating Olympic finalist Candice McLeod (50.05). Anna Kielbasinska from Poland advanced to the final as the fastest non automatic qualifier in third place with 50.65.
Olympic silver medallist Marileidy Paulino from Dominican Republic won her semifinal in 49.98 beating Sada Williams from Barbados (50.12). This year's US champion Tallitha Diggs did not get through to the final in third place 50.84.
Paulino's compatriot Fiordaliza Cofil set her PB with 50.14 to win the second semifinal ahear of Lieke Klaver, who broke the Dutch record for the second time at these Championships with 50.18. Stephanie Ann McPherson was the second fastest non-automatic qualifier with 50.56.
Men's 400 metres semifinal:
Two-time US champion Michael Norman won his semifinal setting the fastest time with 44.30, holding off British record holder Matthew Hudson Smith, who narrowly missed Thomas Schoenlebe's European record by 0.05 with 44.38. Christopher Taylor was the second fastest non-automatic qualifier with 44.97.
Former world and Olympic champion Kirani James from Grenada won the second semifinal in 44.74 ahead of Olympic 4x400 silver medallist Bayapo Ndori from Botswana (44.94).
US Championships second placer Champion Allison claimed the win in the third semifinal in 44.71 holding off world record holder Wayde Van Niekerk from South Africa (44.75). Jonathan Jones from Barbados was the fastest no-automatic qualifier in third place with 44.78.
Men's 800 metres heats:
Marco Arop from Canada ran the fastest 800m time with 1:44.56 beating Jesus Tonatiu Lopez from Mexico (1:44.67), Mark English from Ireland (1:44.76) and Catalin Tecuceanu from Italy (1:44.83 PB).
Peter Bol from Australia won the second heat in 1:45.50 holding off Kyle Langford from Great Britain (1.45.68) and Mariano Garcia from Spain (1:45.74). Mohad Zahafi from Morocco took first place in 1:46.15 beating Olympic finalist Gabriel Tual from France (1:46.34) and world under 20 champion Emmanuel Wanyonyi (1:46.45). Bryce Hoppel did not advance to the semifinal after finishing fifth in 1:46.98.
Slimane Moula from Algeria dipped under the 1:45 barrier with 1:44.90 to win the sixth heat ahead of Wycliffe Kinyamal (1:45.08).
Donovan Brazier also did not get through to the semifinal after placing sixth in his heat in 1:46.72 and will undergo surgery next week to remove a small bone in his foot.
Women's 5000 metres heats:
Ethiopia's Letesenbet Gidey ran the fastest time of the two heats with 14:52.27 just four days after winning the 10000m world gold medal. Caroline Chepkoech Kipkirui from Kazakhstan finished second in this heat with 14:52.54 ahead of Olympic champion Sifan Hassan (14:52.89).
World 1500m bronze medallist Gudaf Tsegay from Ethiopia won the second heat in 14:52.64 beating her compatriot Dawit Seyaum (14:53.06) and Beatrice Chebet from Kenya (14:53.54).
Women's javelin throw qualifying round:
Japan's Haruka Kitaguchhi led the qualifying round with 64.32m. Olympic champion Liu Shiying from China produced the second best throw with 63.86m. Liveta Jasiunaite from Latvia was among the three automatic qualifiers with 63.86m. US Kara Winger and defending world champion Kelsey Lee Barber also advanced to the final with 61.30m and 61.27m respectively.
Here is how to follow the World Athletics Championships live.
-->