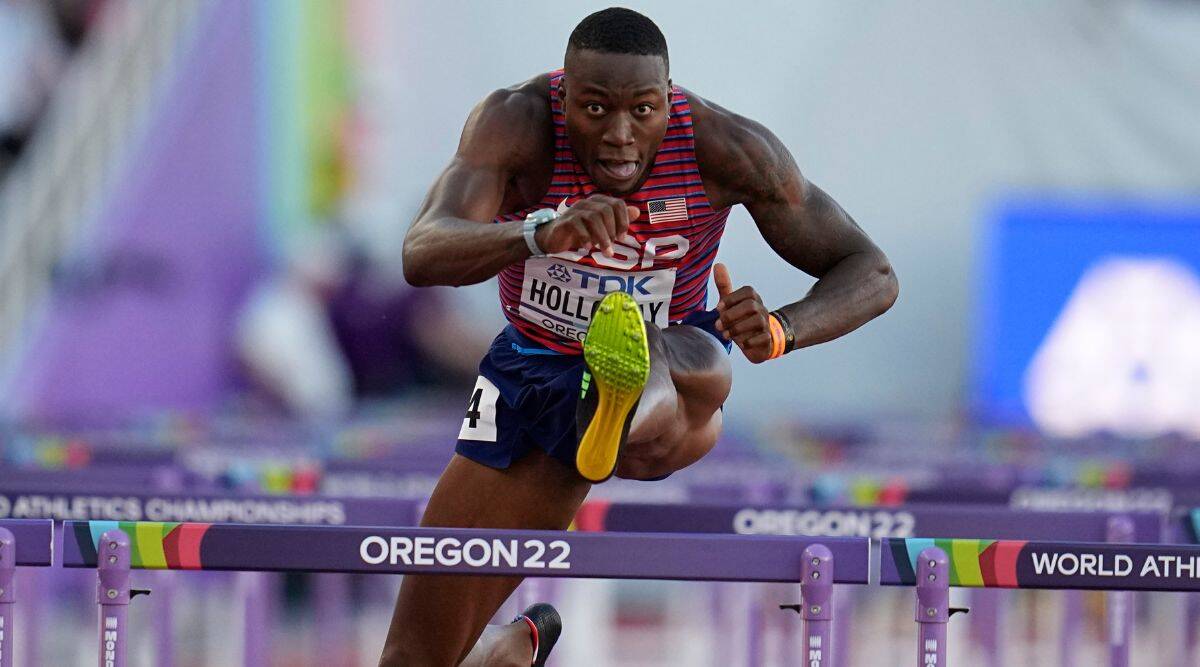 Jamaican 100m sweep, American Shot Put Sweep and wild 110m hurdles final highlighted the World Athletics Championships day 3 on Sunday night.
Shelly Ann Fraser Pryce won the fifth world gold medal in the women's 100 metres in a championship record of 10.67 with a tailwind of +0.8 m/s, leading a Jamaican medal sweep. Fraser Pryce missed her lifetime best of 10.60 by 0.07.
The 35-year-old Jamaican sprint legend becomes the fifth athlete to win five world titles in an individual event.
Shelly Ann Fraser Pryce: "I can't even imagine the amount of times I have had setbacks and I have bounced back and I am back here again. I continue to remind myself that you don't have the ability, but it's the right time. Today was the right time. I feel blessed to have this talent and continue to do it at 35, after having a baby, still going, and hopefully inspiring women that they can make their own journey ".
Shericka Jackson set a PB of 10.73 to win the silver medal adding it to her collection at this event that includes two 400 metres bronze medals in Beijing 2015 and Doha 2019.
Shericka Jackson: "I am just grateful. When I switched to the 100m last year, I was scared, but I took my time and I am today. I am feeling good to be part of history, and coming for more".
Elaine Thompson Herah won her first 100m world medal by finishing third in 10.81. The five-time Olympic champion is still chasing her first world gold medal.
Elaine Thompson Herah: "I am happy to get my first 100m medal and be on the podium for the first time. I have been working really hard, even though I had some struggles during the season".
Seven of the eight finalists dipped under the 11 seconds barrier. World 200m champion Dina Asher Smith placed fourth in 10.83 equalling her own British record set three years ago at the World Championships in Doha 2019 when she won the silver medal. Asher Smith clocked 10.84 in the heats setting the second fastest 100 m heat time in World Championships history.
World 60m indoor champion Mujinga Kambundji finished fifth in 10.91 missing her Swiss record by 0.02. Aleia Hobbs took sixth place in 10.92 ahead of Marie Josée Ta Lou from Ivory Coast (10.93) and this year's US champion Melissa Jefferson (11.03).
Men's shot put:
Double Olympic champion Ryan Crouser won his first world outdoor gold with a championship record of 22.94m in the sixth round.
Crouser produced five valid throws over the 22 metres barrier. He started the competition with 22.21m to take the early lead, but reigning world champion Joe Kovacs responded with a throw of 22.63m. Josh Awotunde improved his PB by 24 cm to take second place with 22.24m ahead of Crouser.
Crouser moved to the lead with 22.71m in the second round. Reigning world indoor champion Darlan Romani improved to 21.90m to take fourth place.
Crouser produced two more throws of 22.58m and 22.16m. Kovacs also threw twice over the 22 metres barrier with 22.17m and 22.16m. Romani improved to 21.92m in the fourth attempt.
Former world champion Tom Walsh moved into fourth place with 22.08m. Awotunde improved his lifetime best to 22.29m in the penultimate attempt. Kovacs threw to 22.89m to take the lead In the fifth round.
Crouser sent his shot flying out to 22.94m in the final round to break the championship record set by Kovacs in 2019, when he won the world gold medal in Doha with 22.91m.
Kovacs ended the competition with 22.42m in the sixth round producing his fifth throw over the 22 metres barrier.
Ryan Crouser: "It was so special to do it here, my home state. I remember throwing in this ring when I was 12 years old. Seventeen years later, this is more than I could have ever dreamed of. This is a special night, being part of the US sweep in the shot put at the first World Championships on home soil. This is something I will never forget. It's probably the proudest moment of my shot putting career. The USA has so much depth and has been dominant for so long. We have been talking about a sweep for a long time and we have finally done it. Congratulations to Joe Kovacs, who competed fantastically as always. Josh also had an amazing night, he had one hell of a night. The atmosphere was amazing and the crowd was so energetic. This is a night I will never forget".
Men's 110 metres hurdles:
Grant Holloway successfully defended his 110m hurdles title in 13.03 to lead a US top-two place. Holloway has become the first hurdler to win back-to-back gold medals since Allen Johnson achieved this feat in 2001 and 2003.
Grant Holloway: "I am excited to get a world title in America. This sport, this atmosphere is what I live for. This is my first world title, so it is even more special for me this time".
Holloway edged Trey Cunningham, who won his first world medal in 13.08. Cunningham set the second fastest time of the year in the world with 13.00 on the Hayward Field track when he won the NCAA title last month.
Trey Cunningham: "I came here for a shinier medal. I don't like to settle, but it's the World Championships, and everyone brings their best. Coming out second is not bad".
Last year's Asler Martinez from Spain claimed the bronze medal in 13.17 at the age of 22 after finishing sixth at the 2021 World Championships and fourth at the 2022 World Indoor Championships in Belgrade.
Asler Martinez: "I can't believe it. It has not sunk in yet. This is a dream and I am having a hard time to wake up from it. It was weird after a disqualification. This is incredible. Athletics is growing in Spain. We are becoming a leading sport in Spain and results back this up".
The USA have won the 11th gold medal and the 25th overall medal in the 18 editions of the World Championships.
Devon Allen was disqualified due to a false start because he had a reaction time of 0.099, just one thousandth of a second faster than allowed.
Devon Allen: "There is not much I can do it. It's just one race, but it's frustrating. Track and field is difficult because you train the whole year for a race that lasts 13 seconds. Your identity is based on one competition, which is frustrating. It happens and I will learn from it and not react as fast next time".
Holloway won the semifinal In 13.01, setting the fastest semifinal time in World Championships history. Olympic champion Hansle Parchment won the other semifinal in his seasonal best of 13.02m, but he picked an injury, while he was warming up on the track a few minutes before the final and he was forced to withdraw from the competition.
Women's pole vault:
Katie Nageotte won the women's pole vault final with 4.85m beating Sandi Morris on countback. Nageotte became the third pole vaulter to win the world title in this discipline one year after clinching the Olympic gold medal. Both Nageotte and Morris set the world leading mark. Morris had set the best performance in the world with her 4.82m mark in the US Championships in the Hayward Field last month.
Morris won her third consecutive World Championships outdoor silver medal. She also placed second at the Olympic Games in Rio 2016.
The USA have won their first pole vault world title since Stacy Dragila won two consecutive in Seville 1999 and Edmonton 2001.
Morris lost her first competition after a streak of eleven consecutive wins. Morris beat her training partner Nageotte at the World Indoor Championships in Belgrade.
Sandi Morris: "Today is a little bittersweet. I really wanted that gold medal, but I am so happy for Katie. Katie is my training partner. I watched her fight through so much. I knew what I had to do. I had really good shots at it, but at least got the season's best. It is hard to be disappointed at that, but it is hard to take another silver medal".
Morris had a clean sheet by clearing all heights until 4.80m in the first attempt, but she failed her first-time clearance a 4.85m.
Nageotte needed two attempts to clear 4.70m and 4.80m but she vaulted 4.85m at the first time of asking to take the lead. Morris needed a clearance at 4.90m to regain the first position, but she failed all her attempts.
Australia's Nina Kennedy needed three attempts to clear the opening height of 4.45m, but she bounced back to clear 4.80m winning the world bronze medal. Australia has won the first world championships since Tatiana Grigorieva finished third in Seville 1999. Kennedy passed her third attempt at 4.85m before failing her only try at 4.90m. The Australian vaulter placed fourth at the 2014 World Under 20 Championships in Eugene.
Nina Kennedy: "I was not going to come fourth again. So to get the medal was incredible. It was such a packed field out there"
Slovenian record holder Tina Sutej cleared 4.70m to place fourth beating 2016 Olympic champion Katerina Stefanidi on countback.
Men's 10000 metres:
World record holder Joshua Cheptegei from Uganda held off Kenya's Charles Waithaka Mburu and another Ugandan Jacob Kiplimo on the final lap to win his second consecutive 10000m title in 27:27.43.
Mburu took the silver medal half a second behind Cheptegei in 27:27.90 edging Kiplimo, who completed the podium in third place in 27:27.97. US champion Grant Fisher ran a strong race to edge Olympic champion Selemon Barega in a close sprint for fourth place in the final 50 metres.
Barega and Mburu went to the front with two laps to go. Eight men were still in contention at the bell. Cheptegei clocked 53.42 in the final 400 metres to claim the world gold medal.
Joshua Cheptegei: "I knew that if I get into the last fight, I can control it and I could speed it up. I was able to get stronger and keep it faster and faster. It was very emotional for me to come back to the USA where I started my international career in 2014. Now I want to continue my dominance in the long distance running and I hope I will manage it".
Men's marathon:
Tamirat Tola won the world marathon title in 2:05:36 improving the previous championships record set by Kenya's Abel Kirui with 2:06:54 in Berlin 2009. Tola broke away from the rest of the field with a decisive split between 30 and 40 km in 28:22.
Tola won his third global medal after winning Olympic bronze medal in the 10000m in Rio de Janeiro 2016 and World Championships silver in London 2017.
Tamirat Tola: "It was a dream come true. I learned from my mistake in 2017 and I made sure it did not happen again".
Ethiopia's Mosinet Geremew repeated the silver medal won in Doha 2019 clocking 2:06:45, finishing inside the old championship record.
Olympic bronze medallist Bashir Abdi from Belgium finished third again in 2:06:49. Cameron Levins, who won two NCAA titles Southern Utah University in 2012, placed fourth breaking the Canadian record of 2:07:09. Three-time world half marathon champion Geoffrey Kamworor placed fifth in 2:07:14.
Two-time Olympic medallist Galen Rupp was the first US finisher placing 19th in 2:09:37.
A large pack of 32 athletes went through halfway in 1:04:08. Tola covered the 30 km to 35 km split in 14:10 and the section between 35 and 40 km in 14:12.
Tola had a lead of seven seconds by the 34 km and increased it to 17 seconds at 36 km and 26 seconds at 37 km.
Behind Tola, Geremew and Abdi broke away from Levins and two-time New York Marathon champion Geoffrey Kamworor. Abdi took a lead on Geremew at 41 km, but Geremew launched his kick to pull away from Abdi in the final km and claimed his second consecutive world silver medal.
Final women's hammer throw:
US champion and Pan American silver medallist Brooke Anderson won the world gold medal in the women's hammer throw with 78.96m in the sixth round missing her world lead by just six cm.
Anderson produced two more throws over the 77 metres barrier with 77.42m and 77.56m in the fifth and sixth attempts.
Brooke Anderson: "I have not really quite sunk in yet. I was looking out across the field and I thought: 'I am a world champion. I am just very fortunate I have had the competition I did have. I knew if I had stayed in it and focused on the little things I could control, hopefully the performance would get better and be a gold medal".
Canadian record holder Camryn Rogers won the silver medal with 75.52m. Rogers, who won the NCAA title a national record of 77.67m, produced a consistent series that included two more throws over the 75 metres (75.18m and 75.08m) and a final throw of 75.36m.
Camryn Rogers: "Being able to bring home this medal means the world for me".
Janee Kassanavoid took the bronze medal with a throw of 74.86m in the second round completing the North-American sweep. Kassanavoid threw over the 74 metres barrier three more times with 74.75m, 7424m and 74.75m.
Italian record holder Sara Fantini took fourth place with a best throw of 73.18m in the second round achieving the best ever result by an Italian woman in throwing events at the World Championships. Fantini, who improved the Italian record four times this year, threw over the 70 metres four more times with 71.45m, 70.80m, 71.05m and 71.04m.
Women's heptathlon (first day):
Two-time Olympic champion Nafissatou Thiam leads overnight with 4071 points producing her best ever day-one in a major championship. Anouk Vetter from the Netherlands is ranked second overnight with 4010, setting her best day-one score. Anna Hall is third with 3991 points ahead of Adrianna Sulek (3982) and Noor Vidts (3921). Defending world champion Katarina Johnson Thompson ended day one in sixth place with 3798 points ahead of Emma Osterwegel (3761).
Thiam got off to a flying start improving her PB to 13.21 in the 100 metres hurdles. The Belgian star set her seasonal best of 1.95m in the high jump to move up into the overall lead after two attempts.
World indoor silver medallist Adrianna Sulek clocked 13.28 in the 100 metres hurdles and cleared 1.89m in the high jump to take overallsecond place.
Olympic silver medallist and this year's Goetzis winner Anouk Vetter improved her PB to 16.25m in the shot put beating Thiam (15.03m) to climb from seventh into second place. World Indoor champion Noor Vidts improved her PB to 14.43m to maintain her fourth place.
This year's NCAA champion Anna Hall won the 200 metres setting her lifetime best of 23.08. Vetter clocked her fastest ever time in a major championship with 23.73. Thiam clocked her fastest time in a heptathlon with 24.39m.
Women's 400 metres heats:
Jamaica's Stephanie Ann McPherson clocked the fastest time of the opening round with 50.15 beating Natalia Kaczmarek from Poland (50.21). Lieke Klaver from the Netherlands, who won the world silver medal in the 4x400 mixed relay in Eugene, placed third breaking the Dutch record of 50.24.
Double Olympic champion Shaunae Miller Uibo from Bahamas cruised through to a comfortable 51.10 in the first heat.
Olympic silver medallist Marileidy Paulino took the win in the fourth heat in 50.76 beating European under 20 champion Rhasidat Adeleke (51"39).
Anna Kielnasinska won her heat in 50.63 ahead of Candice McLeod from Jamaica (50.76). Victoria Ohuruogu, younger sister of 2008 Olympic champion Christine Ohuruogu, got through to the semifinals in third place with 51.07.
World 4x400 mixed relay champion Fiordaliza Cofil from Dominican Republic took the win in her heat in 51.19 beating this year's US and NCAA Championships Talitha Diggs (51.54).
Men's 1500 metres semifinali:
In the first semifinal which featured all three Olympic medallists from last year Josh Kerr took the win in 3:36.92 beating Mario Garcia from Spain (3:37.01) Olympic gold medallist Jakob Ingebrigtsen (3:37.02) and Timothy Cheruiyot (3:37.04). Abel Kipsang ran faster to win the second semifinal in 3:33.68 beating Mohamed Katir (3:34.45) and Jake Wightman (3:34.48).
Men's 400 metres heats:
Bayapo Ndori from Botswana clocked the fastest time of all heats clocking 44.87m in the fifth heat beating Kirani James from Grenada (45.29) and Nathon Allen from Jamaica (45.61). Ndori won the Olympic 4x400 silver medal in Tokyo last year.
Two-time world champion and 2016 Olympic gold medallist Wayde Van Niekerk won the first heat in 45.18 beating Jonathan Jones from Barbados (45.46).
Olympic 4x400 relay gold medallist Michael Norman took a comfortable win in the second set in 45.37 beating Jamaica's Christopher Taylor (45.68). The other US 400m sprinters Champion Allison and Michael Cherry won their respective heats clocking 45.56 and 45.82 respectively.
British record holder Matthew Hudson Smith eased down to win the final heat in 45.49.
World Athletics Championships Live Stream
-->