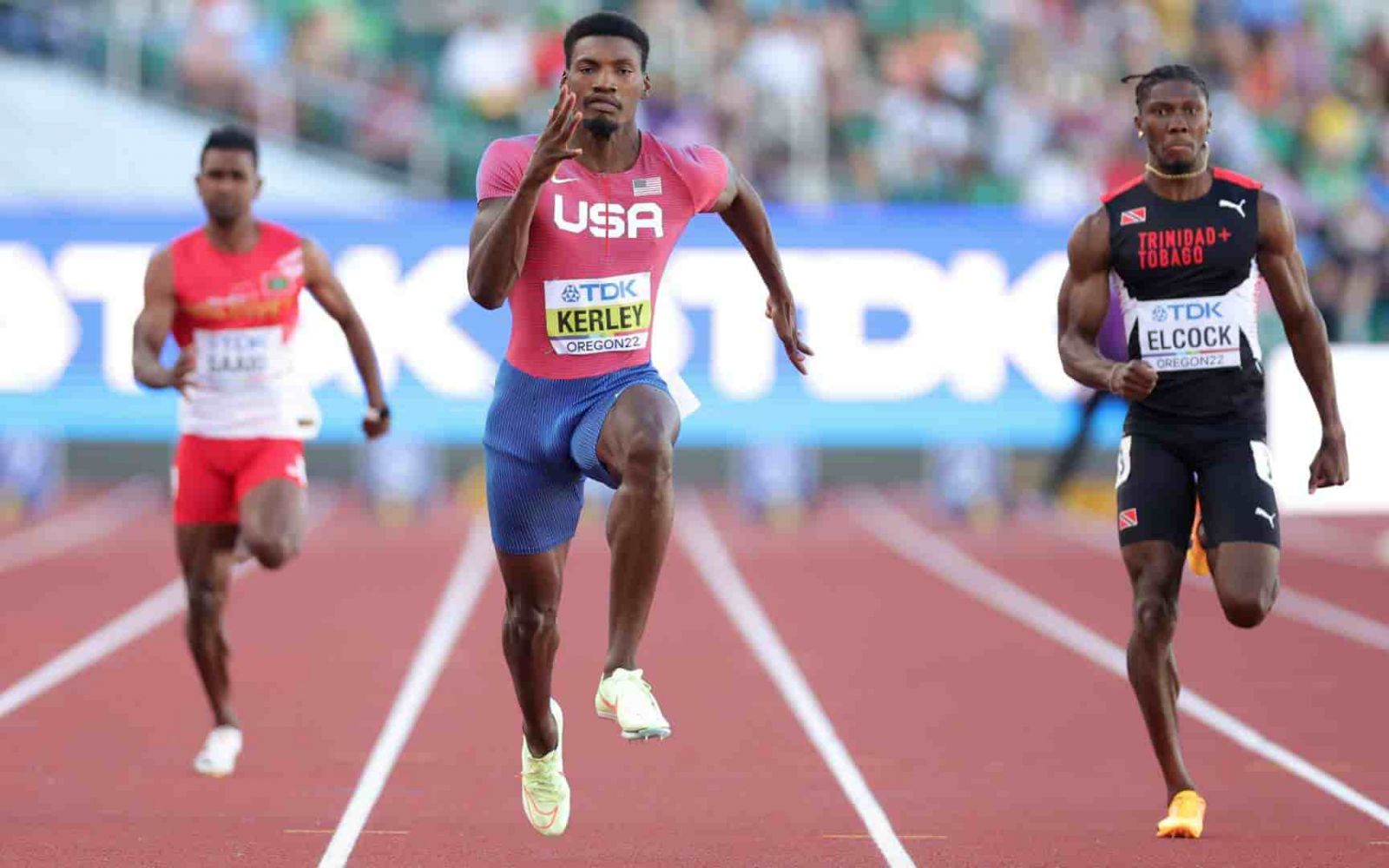 Fred Kerley won the 100m world title in 9.86 leading a US podium sweep in front of the home crowd in the first edition of the World Championships held on US soil.
Kerley set the fastest ever time in a heat with 9.79 before winning the semifinal in 10.02.
Three years ago Kerley won the world bronze medal in the 400 metres in Doha 2019 in 44.17, but he switched to 100m and 200m at the start of the 2021 season. Kerley will return to the track to run the 200 metres heats.
World Athletics Championships Live Stream
Fred Kerley: "We said we were going to do it and we did it. The gold medal means more than anything. It's amazing to do it on home soil, with the home crowd behind us. It's a wonderful blessing to get a clean sweep. This win means that I can do 100m, 200m and 400m. I have got a medal in the 400m and 100m. There is only one next.".
Marvin Bracy Williams and Trayvon Bromell won silver and bronze medal sharing the same time of 9.88.
The USA scored the third sweep in the history of the World Championships and the first one since 1991, when Carl Lewis beat Leroy Burrell and Dennis Mitchell in Tokyo 1991.
Coleman had the best start from the blocks. Bracy Williams moved to the front through the 70 metres. Kerley edged out Bracy Williams in the final five metres to take the world title.
Trayvon Bromell: "All three of us wanted the gold. I am just happy we could get the sweep at home. It's been seven years since I got a medal through my injuries and everything I dealt with. I know so many people counted me out".
Bracy won his first world outdoor medal after claiming the bronze in the 60m at the World Indoor Championships in Belgrade in 6.44.
Marvin Bracy: "It feels great to get my first medal at home and with an American sweep. What else could I ask for ? All the hard work has paid off with the injuries. This shows me I have got what it takes to get it done".
Four of the eight finalists dipped under the 10 seconds barrier. Jamaica's Oblique Seville clocked 9.97 to place fourth after clocking the fastest time in the semifinals in 9.90. South Africa's Akani Simbine finished fifth in 10.01 reaching his fifth consecutive top-five finish at a global championships. The South African sprinter had previously won the semifinal in 9.97 edging Bromell with the same time.
Defending champion Christian Coleman placed sixth in 10.01 ahead of Japan's Abdul Hakim Sani Brown (10.06) and Canada's Aaron Brown (10.08).
Former 100m world champion Yohan Blake did not get through to the final after placing fourth in his semifinal in 10.12. Olympic 200m champion André De Grasse finished fifth in his semifinal in 10.21 after an injury and a bout a covid-19. Ferdinand Omanyala, who arrived in Eugene just a few hours before the start of the 100m heats due to delays in getting his US visa, placed fifth in his semifinal.
Olympic 100m champion Marcell Jacobs pulled out of the championships before the semifinals. The Italian sprinter has not fully recovered from the harmstring injury which has sidelined him for most of the season.
Marcell Jacobs: "It was a painful choice. I am forced to stop. I am a fighter and this is why I decided to be in Eugene. In order not to compromise the rest of the season by risking a more serious injury, I have to postpone the challenge. I promise I will do my best to make you dream".
Women's 10000 metres:
Ethiopia's Letesenbet Gidey set the world leading time of 30:09.94 to win her first 10000m world title in cool weather conditions, that were perfect for distance running. Gidey had previously won the silver medal at the World Championships in Doha 2019 and the bronze medal in the Olympic Games in Tokyo 2021. Last year Gidey broke Sifan Hassan's world record with 29:01.03 at the Ethiopian Olympic Trials in Hengelo. She is the first runner since Ingrid Kristiansen to hold 5000m and 10000m world records. She set a world half marathon record of 62:52 in Valencia and will return to the Spanish city to make her marathon debut next December.
Gidey held off double 5000m world champion Hellen Obiri and 2019 world silver medallist Margaret Chelimo Kipkemboi in a thrilling finish.
Gidey ran at the front for most of the race and she pulled clear on the final lap. Obiri and Kipkemboi looked as if they could overtake Gidey in the final 30 metres, but the Ethiopian runner held on to take the win ahead of Obiri, who won the silver medal in a lifetime best of 30:10.02 after finishing fifth In the World Championships In Doha 2019 and fourth in the Olympic Games in Doha 2019. Kipkemboi also improved her PB to 30:10.07 to win the bronze medal.
Sifan Hassan, who took time off to recover from her successful 2021 season, finished fourth in 30:10.56 ahead of Eritrea's Rahel Daniel, who improved the national record to 30:12.15. Ejgayehu Taye from Ethiopia took sixth place in a PB of 30:12.45.
Men's hammer throw:
Pawel Fajdek won his fifth world gold medal with a world lead of 81.98m in an outstanding competition where four athletes threw over the 80 metres barrier.
Only former pole vault world record holder Sergey Bubka has won more world titles in a single discipline.
Reigning Olympic champion Wojciech Nowicki also threw beyond the 81 metres barrier to win the silver medal. Norwegian record holder Elvind Henriksen repeated the bronze medal from the Olympic Games in Tokyo by taking third place with a seasonal best of 80.87m. The same three throwers went to the podium, but in a different order.
Nowicki threw the hammer to 80.07m to take the lead. Henrksen responded to 80.87m to overtake Nowicki in first place. Fajdek moved up to second place with a throw of 80.58m. Nowicki threw to 81.03m to take first place, but Fajdek produced a throw of 81.98m in the third round.
Pawel Fajdek: "This was the competition that matters the most this year, so I am glad that the major gold is in my hand for the fifth time. It's no secret that I was aiming to break the championship record of 83.63m, but next year I will have another chance in Budapest".
Quentin Bigot from France threw 80.24m in the third round to take fourth place. Bence Halasz from Hungary improved his PB for fifth place. US throwers Rudy Winkler and Daniel Haugh placed sixth and seventh respectively with 78.99m and 78.10m. Mykhaylo Kokhan from the Ukraine ranked eighth with 78.83m.
Women's shot put:
Chase Ealey became the first US world champion in the women's shot put with a throw of 20.49m in her first attempt.
Ealey won the world silver medal at the World Indoor Championships in Belgrade last March. The US shot putter won the US title with 20.51m and three Diamond League competitions in Doha (19.51m), Oslo (20.13m) and Stockolm (20.48m).
Ealey bounced back from a difficult 2021 season, in which she suffered from a bout of covid and missed the US Olympic team after finishing fifth in the US Olympic Trials.
Chase Ealey: "I felt like I could not control my last throw with these emotions. Since the moment I walked out, I felt this day was so important. The cheering and the support of the fans was unforgettable. It will stay deep in my heart".
Defending champion Gong Lijao from China threw 20.39m on her fifth attempt to win the silver medal. Jessica Schilder from the Netherlands improved her national record to 19.77m on her third attempt to claim the bronze medal. Gong equalled Nadine Kleinert Schmitt's record for most appearances at this event with eight consecutive World Championships. She won two consecutive world titles in London 2017 and Doha 2019, a silver in Beijing 2015 and three bronze medals in Berlin 2009, Daegu 2011 and Moscow 2013.
Gong Lijao: "I knew that I took huge responsibility as defending champion. Chinese people always expect a lot from me. I am not satisfied with this silver medal. I fulfilled all the work we planned before, and expected more".
Men's long jump:
Chinese 25-year-old jumper Wang Jianan won the men's long jump world title with 8.36m in the sixth round eight years after claiming the world under 20 gold medal in the same Hayward Field venue.
Wang was ranked in sixth place with two jumps of 8.03m in the third and fifth rounds, but he moved up into first place with a leap of 8.36m in the final round. Wang missed his national record by 11 centimetres.
Wang won his second world medal after placing third on home soil in Beijing 2015. He also finished fifth at the Olympic Games in 2016 and sixth at the World Championships in Doha 2019.
Wang Jianan: "I came to Eugene with the biggest aim of making the podium here. That is why I was a little bit disappointed after five rounds, having a best result of 8.03m. Seeing 8.36m on the screen, I could not believe that it was possible. Then I recognised that my gold in Eugene Is the greatest achievement ever for a Chinese long jumper at the World Championships. These thoughts made me really proud. It looks like Eugene isn't only a lucky town for me, but something like a second home".
Wang started his career as a combined events specialist and scored 7063 points in the decathlon at the age of 15.
Miltiadis Tentoglou from Greece, who was aiming to complete his gold medal collection after winning Olympic and European indoor and outdoor titles and the World Indoor gold, placed second with 8.32m. The Greek sprinter leapt to 8.30m and had a consistent series which included jumps of 8.29m, 8.24m and 8.32m.
Miltiadis Tentoglou: "I came here for the gold. Nothing worked for me. I am still Olympic and world indoor champion, but I am really sad that I lost my greatest chance to become world champion. On the other hand, we don't need to wait two years for another World Championships. I am looking forward to Budapest 2023. It's only one year away".
Simon Ehammer from Switzerland leapt to 8.16m in the second round to become the first decathlete to win a senior individual global medal in another discipline. Ehammer will return to decathlon at the European Championships in Munich. The Swiss athlete leapt to 8.45m in the long jump in the Goetzis Hypo Meeting en route to a third place with a Swiss decathlon record of 8377 points.
Olympic bronze medallist Maykel Massò from Cuba leapt to 8.15m coming close to the third place by just one cm. US jumper Steffin McCarter placed fifth with 8.04m beating 2016 world indoor champion Marquis Dendy (8.02m). Sreshankar finished seventh equalling the best ever result by an Indian long jumper in the history of the world championships.
Women's 100 metres heats:
Reigning world 200m champion Dina Asher Smith set the fastest time in the women's 100m heats with 10.84. The British sprinter was just 0.01 off her national record she set when she won the world silver medal in Doha 2019. Last year Asher Smith missed out on the 100 metres final and pulled out of the 200m due to a harmstring injury.
Dina Asher Smith: "I had some very talented and up and coming women in my heat, so I had to execute my race but conserve a little bit. I wasn't thinking about time but I was happy to win my heat. I need to recover to run fast with the girls tomorrow"
Four-time world 100m champion Shelly Ann Fraser Pryce cruised through to a comfortable win in her heat in 10.87.
Shelly Ann Fraser Pryce: "The first round is usually one of the hardest races because you want to make sure everything is working well and qualify. I wanted to qualify as easy as possible. I tried that. When we go back to the room, my coach will look at the race and we will see if there is anything that we need to change".
Three-time world medallist Marie Josée Ta Lou also showed good form clocking 10.92 in her heat. Mujinga Kambundji also broke the 11 seconds barrier with 10.97.
Shericka Jackson and Elaine Thompson Herah won their respective heats in 11.02 and 11.15.
Women's high jump qualifying round:
Elena Vallortigara from Italy, Olympic bronze medallist and world indoor gold champion Yaroslava Mahuchik from the Ukraine, Safina Sadullayeva from Uzbekistan, Iryna Gerashchenko from the Ukraine and world indoor silver medallist Eleanor Patterson from Australia cleared all heights until 1.93m in the first attempt to cruise into the final. Former world silver medallist Yuliya Levchenko and 2016 world indoor champion Vashti Cunningham did not advance to the final after clearing 1.90m and 1.86m.
Elena Vallortigara: "I am very proud to qualify for the final. It's a great result to qualify with a clean sheet until 1.93m. I have dreamed to win a medal for a long time. This result is weight off my shoulder. Everything is possible. I thank my coach and my whole team for their support. Without them, I would not have achieved these results"
Heats women's 3000 metres steeplechase
Norah Jeruto from Kazakhstan ran the second fastest ever time in the history of the World Athletics Championships with 9:01.54. Hayward Field is a lucky venue for Jeruto, who won the 3000m steeplechase in the past two editions of the Prefontaine Classic in 2021 with 8:53.65 and in 2022 with 8:57.97. Yerkuha Getachew from Ethiopia finished runner-up in 9:11.25 ahead of Marwa Bouzayani from Tunisia, who improved her PB to 9:12.14.
Alice Finot improved the French record to 9:14.34 to win the second heat ahead of Ethiopia's Mekides Abebe (9:14.83) and Albanian record holder Luiza Gega (9:14.91).
Celliphine Chepsol, who set the world under 20 record on the Eugene track with 8:58.78 in the 2017 edition of the Prefontaine Classic, won the third set with 9:16.78 beating Marusa Mismas Zrimsek from Slovenia (9:17.14) and Winfred Yavi Mutile from Barhein (9:17.32).
Olympic champion Peruth Chemutai from Uganda and 2017 world champion Emma Coburn get through to the final as non-automatic qualifiers.
Men's 110 metres hurdles:
Reigning world champion Grant Holloway won the second heat in 13.14 setting the fastest qualifying time. Olympic champion Hansle Parchment won the fourth heat in 13.17 holding off South American record holder Rafael Pereira by 0.06. Trey Cunningham and Devon Allen won their respective heats in 13.28 and 13.47.
Men's 400 metres hurdles:
Olympic champion and world record holder Karsten Warholm cruised through to the semifinal with a win in the third heat in 49.34 in his first 400m hurdles race since his harmstring injury during the Rabat Diamond League race.
Karsten Warholm: "The 400m hurdles was longer than I was remembered, but it was good. It's tough to say about my chances of defending my title, it's tough to say, when you have not raced before this year. We will just have to wait and see".
Khalifah Rosser set the fastest time of all heats with 48.62. Raj Benjamin and Alison Dos Santos won their heats with the greatest ease clocking 49.06 and 49.41 respectively.
Women's triple jump:
Olympic and world champion Yulimar Rojas set the best qualifying mark of 14.73m in the first round to secure her spot in the final. World indoor triple jump silver medallist Maryna Beck Romanchuk from the Ukraine leapt to 14.54m in the first round. Ana Lucia Tima set a Dominican Republic record with 14.52m to take third place in the qualifying round ahead of Kristina Makela from Finland (14.48m) and 2019 world silver medallist Shanieka Ricketts (14.45m).
Women's 1500 metres heats:
Gudaf Tsegay clocked the fastest time in the 1500m semifinals with 4:01.28 beating Olympic silver medallist Laura Muir, who set her seasonal best of 4:01.78. Double Olympic champion Faith Kipyegon secured her spot in the final with a win In the second semifinal in 4:03.98 ahead Hiru Meshesha (4:04.05).
Laura Muir: "This is my fifth World Championships, and my fifth world final. Hopefully it's fifth time lucky for getting on the podium"
Men's 1500 metres heats:
Australia's Stewart McSweyn ran the fastest qualifying time clocking 3:34.91 to win the second heat ahead of Charles Philibert Thiboutot (3:35.02) and Olympic champion Jacob Ingebrigtsen (3:35.12). Oliver Hoare from Australia and Josh Kerr from Great Britain won the other two heats clocking 3:38.04 and 3:38.94 respectively.