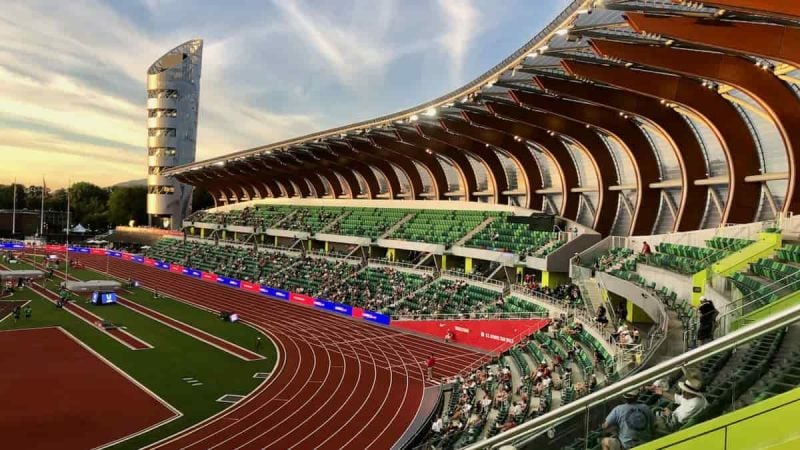 BBC television networks and digital platforms will provide complete coverage of the 2022 World Athletics Championships in the United Kingdom.
The United States hosts the outdoor championships for the first time. The event will take place from July 15-24 at the historic Hayward Field in Eugene, Oregon.
Here is the complete BBC player live coverage and here you can find BBC Sports website live broadcast.
Here is World Athletics Championships live stream coverage by country
Below is complete BBC Schedule by day (time British Standard GMT +1)
Friday, 15 July
Live coverage
18:00-19:15 – BBC Two
19:15-21:00 – BBC Four
21:00-01:00 – BBC Red Button
01:00-04:25 (Saturday morning) – BBC One
Saturday, 16 July
Repeat
13:15-16:40 – BBC One
Live coverage
19:00-22:15 – BBC Three
01:05-04:35 (Sunday morning) – BBC One
Sunday, 17 July
Repeat
10:20-13:50 – BBC Two
Live coverage
13:50-16:45 – BBC One
18:30-23:00 – BBC iPlayer
01:00-04:30 (Monday morning) – BBC One
Monday, 18 July
Repeat
08:45-12:15 – BBC Two
Live coverage
13:45-17:00 – BBC Two
17:00-19:30 – BBC Two
19:30-21:00 – BBC Three
00:55-04:25 (Tuesday morning) – BBC One
Tuesday, 19 July
Repeat
13:45-17:15 – BBC Two
Highlights
18:00-19:00 – BBC Two
Live coverage
01:10-04:40 (Wednesday morning) – BBC One
Wednesday, 20 July
Repeat
13:45-17:15 – BBC Two
Highlights
18:00-19:00 – BBC Two
Live coverage
01:20-04:50 (Thursday morning) – BBC One
Thursday, 21 July
Repeat
13:45-17:15 – BBC Two
Highlights
18:00-19:00 – BBC Two
Live coverage
01:05-04:35 (Friday morning) – BBC One
Friday, 22 July
Repeat
13:45-17:15 – BBC Two
Live coverage
14:00-17:30 – BBC Red Button
Highlights
18:30-19:30 – BBC Two
Live coverage
01:05-04:35 (Saturday morning) – BBC One
Saturday, 23 July
Repeat
13:15-16:45 – BBC One
Live coverage
18:30-20:00 – BBC Two
20:00-21:30 – BBC Three
01:00-04:30 (Sunday morning) – BBC One
Sunday, 24 July
Repeat
14:00-17:30 – BBC One
Live coverage
14:00-20:00 – BBC Red Button
20:00-21:00 – BBC Two
21:00-22:00 – BBC Three
22:00-23:30 – BBC Red Button
01:00-04:30 (Monday morning) – BBC One
Monday, 25 July
Repeat
10:15-13:45 – BBC One
Highlights
16:30-18:00 – BBC Two
-->