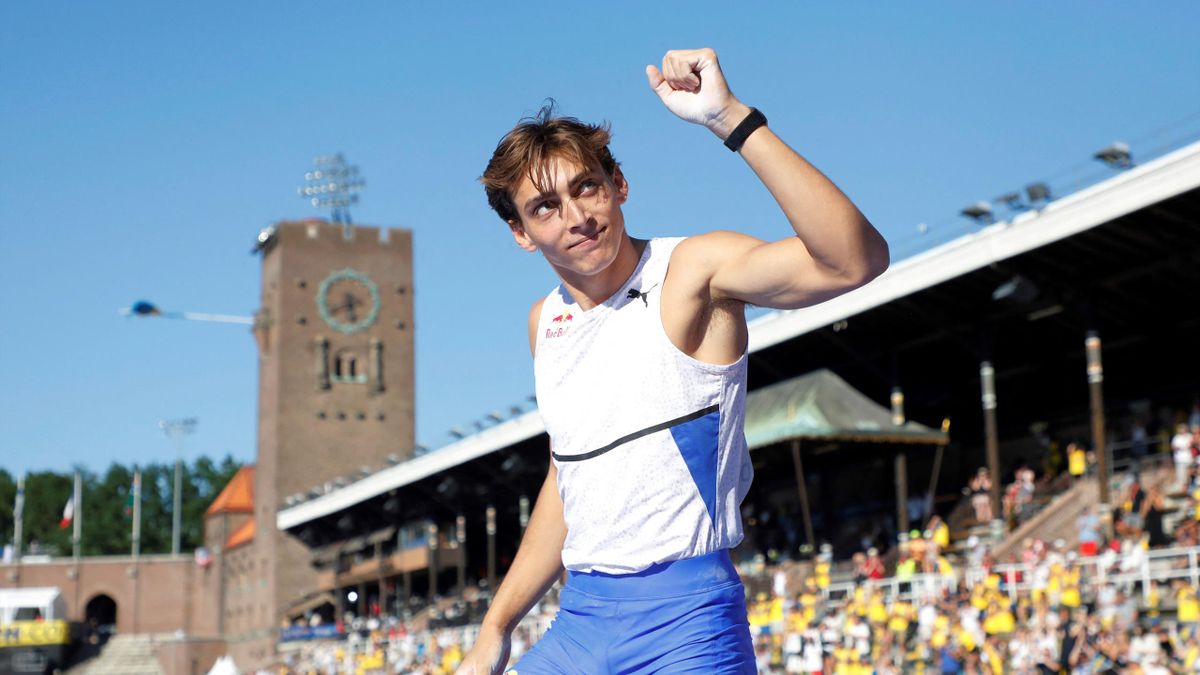 Armand "Mondo" Duplantis set the world outdoor all-time best, a Diamond League record, national record and meeting record in the men's pole vault with 6.16m in his second attempt at the Bauhaus Galan in Stockolm in front of 10000 enthusiastic spectators, who packed the historic Olympic Stadium.
The Swedish pole vault star added one cm to his previous world outdoor all-time best set at the Golden Gala in Rome in September 2020.
Stockholm Diamond League full results
Duplantis had a clean sheet at all previous heights at 5.63m, 5.83m, 5.93m and 6.03m. Duplantis scored the fourth win at the Bauhaus Galan in front of his home fans after his previous victories in 2018 (5.86m), 2020 (6.01m) and 2021 (6.02).
Olympic silver medallist Christopher Nilsen cleared 5.93m in his first attempt to take second place beating Thiago Braz Da Silva on countback. Pal Haugen Lillefosse cleared 5.83m to finish fourth on countback over former Olympic champion and Diamond League seven-time champion Renaud Lavillenie, who set a seasonal best of 5.83m.
Armand Duplantis: "It feels quite OK. I cannot complain. I wanted to come here today and try to do something special. I felt I was in shape. I have a great support in Stockolm, where I live now. That means extra more. I had a huge advantage of competing on my home turf. It is hard to describe. It is all about building to the World Championships. I think I could go high in Oregon".
Men's 400 metres hurdles:
Olympic bronze medallist Alison Dos Santos broke Karsten Warholm's meeting record in the men's 400 metres hurdles with 46.80 setting the fifth best performance in history. Warholm set the previous meeting record in 2020 clocking 46.87.
CJ Allen, who finished fourth at the US Championships in Eugene last weekend, took second place with 48.28 ahead of Olympic fourth placer Kyron McMaster (48.58).
Alison Dos Santos: "I am so proud about this performance. My performance went well and this result shows it. I am so excited for the worlds. I just tried to have fun and to run fast. My coach said: 'Just go there and run'. I just did it. I was expecting such time and I feel ready for the championships now. It will be exciting in Eugene. I think about the world record every day, every night".
Women's 400 metres hurdles:
Olympic bronze medallist and European record holder Femke Bol won the women's 400 metres hurdles setting the meeting record with 52.27. Bol had already improved meeting records in Oslo with 52.61 and Rome with 53.02m.
Femke Bol: "I am very glad to come back to this stadium, which I really love and I am glad I managed to win again. I am hoping to do something very special in Eugene. It was a good race today, but not perfect. In the end I am glad with this time. I do not remember anything from the race but I think the first five, six hurdles went really nice, but I hit the last hurdle. I am used to that by now, so I can be happy I can still finish like this. I am so excited before Eugene. When you see the results from Hayward Field, I am so excited to go there and I have some great competitors out there".
World bronze medallist Rushell Chayton took second place in 53.90 beating Olympic finalist Anna Ryzykova (54.33). Ayomid Folorunso finished fourth in 54.66 missing Yadis Pedroso's Italian record by 0.12.
Men's javelin throw:
Olympic champion Neeraj Chopra set a PB and meeting and Indian record with 89.94m in the opening round. World gold medallist Anderson Peters stole the lead and the meeting record from Chopra in the third round with 90.31m claiming his second Diamond League win this season. The previous meeting record had been held by Norwegian legend Andreas Thorkildsen since 2006 with 89.78m. This year's German champion Julian Weber finished third with a throw of 89.08m in the third round. Jakub Vadlejch from Czech Republic threw the javelin over the 88 metres with 88.59m. Oliver Helander from Finland finished fifth with 85.46m.
Anderson Peters: "I am not really in great shape. I have suffered a back injury. It is still getting better, but I hope to be back in a really good shape now. Getting the 90m throw was really good. I was really much motivated by Neeraj to get a 90 metres throw because he started the competition with a PB and a national record. That was pretty good for a start".
Men's discus throw:
World under 20 champion Mykolas Alekna broke the meeting record in the first round in the men's discus throw with 69.81m. Kristjan Ceh overtook Alekna with 70.02m in the fifth round to take his fourth Diamond League competition of the season. Daniel Stahl qualified for the Final 3 with a throw of 67.57m in the fifth round overtaking former world champion Andrius Gudzius, who produced a best throw of 67.37m in the first round.
Mykolas Alekna: "I am not sure but I just broke the world best mark in my age category. Honestly, I did not expect to throw so far. It was just perfect. This is a beautiful stadium with a great crowd and it just pushed me forward to throw very far. This was a great experience for me. I tried to stay calm and enjoyed the moment".
Women's 100m hurdles:
Olympic champion Jasmin Camacho Quinn won her third Diamond League race of the season in the women's 100 metres hurdles in 12.46 into a slight headwind of -0.5 m/s holding off last year's Diamond League champion Tobi Amusan, who finished second in 12.50. Nia Ali clocked 12.53 to take third place in 12.53m ahead of Danielle Williams, who equalled her seasonal best of 12.59.
Jasmine Camacho Quinn: "I take the win but I feel a bit under the weather. Coming to the stadium I knew what I had to do today despite the feelings. The hurdles between 4 and 8 were a bit slappy. The World Championships are another event. So I go back, start the training, and I am looking forward to it. It is not far away so I do not have to travel too far. The world record would mean a lot to me. When it happens, it happens. It hopefully happens this year, but if not, I still have years to go".
Women's 200 metres:
Reigning world champion Dina Asher Smith held off world bronze medallist Mujinga Kambundji by 0.003 in a close photo-finish in the women's 200 metres in 22.37.
Men's 100 metres:
Former African record holder Akani Simbine scored his first Diamond League win of the season with 10.02. Olympic champion Marcell Jacobs pulled out of what would have been his first Diamond League appearance of the season.
Women's 800 metres:
Kenya's Mary Moraa followed up her win at the National Trials in Nairobi in 1:57.45 with the first Diamond League victory of her career in 1:57.88. Moraa beat Olympic silver medallist Keely Hodgkinson, who had to settle with second place with 1:58.18. Australia's Catriona Bisset set her seasonal best to finish third with 1:58.54 ahead of world champion Halimah Naakayi (1:58.85) and US Sage Hurta(1:58.95).
Mary Moraa: "I am very happy with the win and the way I ran. I came here to win, but it wasn't easy. I am looking forward to running with medallists at the World Championships.I qualified for the 400m and the 800".
Men's 3000 metres:
Domnic Loninyomo Lobalu from Sud Sudan edged Ugandan record holder Jakob Kiplimo in a thrilling sprint to win the men's 3000 metres in a world leading time of 7:29.48. Kiplimo also dipped under the 7:30 barrier to take the third place with 7:29.55. Cornelius Kemboi finished third with 7:31.26 ahead of Oceanian record holder Stewart McSweyn, who improved his seasonal best to 7:31.93. Thierry Ndikumenayo improved the national record to 7:34.91. Luis Grijalva from Guatemala finished sixth with a national record with 7:38.67.
Women's long jump:
Agate De Sousa took first place with 6.73m in the second round but both Maryna Beck Romanchuk and Malaika Mihambo jumped 6.72m in a very close competition. Beck Romanchuk moved into the lead with 6.76m in the fifth round. Khaddi Sagnia from Sweden made the final three with 6.74m in the fifth round. Lorraine Ugen from Great Britain clinched the win with a seasonal best of 6.81m
Women's shot put:
Chase Ealey won her third Diamond League competition of the season with 20.48m missing her fresh PB of 20.51m set the US Championships by just three cm.
Women's high jump:
World indoor silver medallist Eleanor Patterson from Australia cleared 1.96m in her second attempt to take the win in the women's high jump. Yuliya Levchenko had a clean sheet until 1.93m to take the lead, but she failed three attempts at 1.96m. Iryna Gerashchenko cleared 1.89m in her third attempt before clearing 1.93m in her first attempt to take third place on countback over Nadezhda Dubovitskaya. World Indoor champion Yaroslava Mahuchik cleared 1.89m in the first attempt in her opening height but she failed to clear her three attempts at 1.96m.
Eleanor Patterson: "It was not my best preparation for today with a lot of niggle picked up in the warm-up at a previous Diamond League event so I have started my season late. To come away with a win on my season opener is great especially given I made it difficult for myself by taking three jumps to clear 1.93m. I really wanted to get a competition under my belt and what better place than Stockolm ! I love it here. I fly to America now for a training base with the Australian team to acclimatise. After Oregon I have the Commonwealth Games which I love as it was my first international competition. Then I will return to the Diamond League aiming to make the finals. That will be difficult because of starting late the season".
Women's 3000 metres steeplechase:
Daisy Chepkemei won the women's 3000 metres steeplechase setting a seasonal best of 9:15.77. France's Alice Finot finished runner-up improving the national record to 9.19.59. Chiara Scherrer took third place with 9.24.16 two weeks after setting the Swiss record of 9:20.28 in Paris. Nataliya Strebkova improved the national record clocking 9:24.54.
Men's 800 metres:
Algeria's Slimane Moula took the win in the men's 800 metres in 1:44.60 beating this year's Paris Diamond League winner Benjamin Robert (1:45.11), Olympic finalist Gabriel Tual (1:45.29) and European silver medallist Andreas Kramer from Sweden (1:45.42).
Men's long jump:
Olympic and world indoor champion Miltiadis Tentoglou produced the only jump of the evening over the 8 metres leaping to 8.31m in the fifth round. World indoor silver medallist Thobias Montler jumped 7.98m into a headwind of -1.7 m/s to take the second place.
Stockholm Diamond League full results
-->