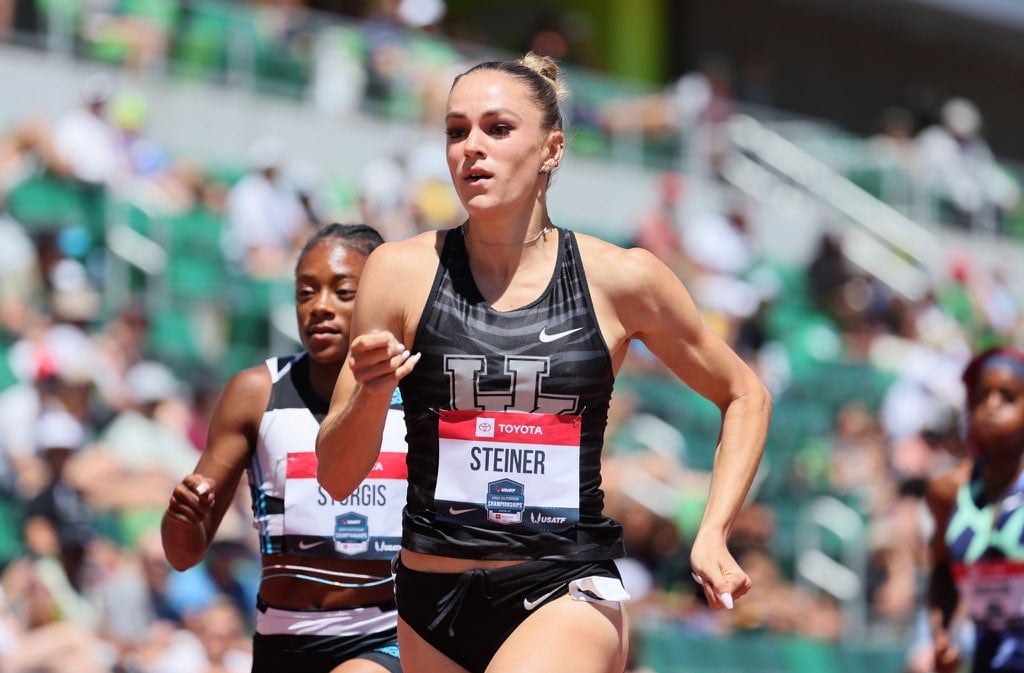 Abby Steiner won her first US title women's 200 metres final at the US Championships in Eugene setting a lifetime best of 21.77 at Hayward Field in Eugene.
Just 15 days ago Steiner won the NCAA outdoor title in a collegiate record of 21.80. The University of Kentucky sprinter equaled this time in the US Championships semifinal.
Tamara Clarke improved her PB to 21.92 to finish second ahead of Jenna Prandini, who secured the third qualifying spot with her seasonal best of 22.01.
Shericka Jackson later improved Steiner's world lead by setting the third best performance in history with 21.55 at the Jamaican Championships in Kingston.
Abby Steiner: "This win means everything. The main focus was just to come away with a win and make the team. It was nice having had NCAAs at this track. It was a familiar environment so I knew if I replicated my race that I had at the NCAAs with nicer weather, we were going to walk away with a PB. Coming off the collegiate season, a lot of people want to put limitations on you and say you are going to be burnt out. ".
Men's 200 metres:
Reigning 200 metres world champion Noah Lyles won the 200 metres final in 19.67 edging out world under 18 record holder Erriyon Knighton, who clocked 19.69. Lyles has the bye into the World Championships as defending champion, but he decided to run the 200m final, meaning that the fourth placer at the US Championships also had the chance to qualfy for the World Championships in Eugene.
Fred Kerley secured the third qualifying spot with 19.83 two days after winning the 100 metres in 9.76. Olympic silver medallist Kenny Bednarek also made the US team for the World Championships in Eugene by finishing fourth in a seasonal best of 19.87. Josephus Lyles, brother of Noah, finished fifth setting a PB of 19.93.
Noah Lyles: "I saw that Knighton reached the top speed and got the best of me on the turn, but I refused to panic. I said: 'Mine is faster'. I am going to catch him".
Erryion Knighton: "I just want to come back and win. The job is not finished. It's never finished".
Men's 400 metres hurdles:
Olympic silver medallist Raj Benjamin won his third 400 metres hurdles title setting the world lead with 47.04. Benjamin improved his previous seasonal best by 0.45. Benjamin has recovered from a bout of Covid.
Raj Benjamin: "I have not been able to train as much as I would have liked. I feel banged up. It feels iike a weight has been lifted off my shoulders. Making the US team is the hardest part in all honesty. The World Championships are the easiest part. I still have a lot of work to do. I know what i have in store. It's a matter of getting healthy and putting my best foot forward".
World indoor 400m silver medallist Trevor Bassitt took second place in 47.47 ahead of Khallifah Rosser, who improved his PB to 47.65.
110 metres hurdles:
Daniel Roberts claimed his second US title setting a seasonal best of 13.03. This year's NCAA champion took second place with 13.08 beating three-time US champion Devon Allen, who edged Jamal Britt by three thousands of a second.
Women's 800 metres:
Olympic 800 metres and 4x400 relay champion Athing Mu held off world indoor gold medallist Ajée Wilson in 1:57.16 to continue her winning streak in the women's 800 metres. Mu has not lost a race outdoors at any distance since she was 17.
Wilson started her kick too early but she had to settle with second place in 1:57.53. Olympic bronze medallist Raevyn Rogers was in sixth place with 100m to go but she caught up positions in the final straight to take third place with 1:57.96.
Athing Mu: "I am glad that I fought. I am happy that I still had in my legs to come back to come back and run. I am glad that I was able to replicate what I had to do two days ago even though it wasn't a super fast time".
Men's 800 metres:
World indoor bronze medallist Bryce Hoppel held off Jonah Koech to win the men's 800 metres in 1:44.60. Koech improved his PB to 1:44.73. Brandon Miller secured the third qualifying spot in 1:45.19 edging 2016 olympic bronze medallist Clayton Murphy, who crossed the finish-line in a seasonal best of 1:45.23.
Men's 5000 metres:
Grant Fisher won the men's 5000 metres setting a championships record of 13:03.86. Woody Kincard moved from fourth to second place in 13:06.70 with a final lap in 54 seconds. Abdihamid Nur booked the third spot in the World Championships team in 13:08.63.
Women's 3000 metres steeplechase:
Former world champion Emma Coburn won the women's 3000m steeplechase in 9:10.63 ahead of Courtney Wayment (9:12.10) and Olympic silver medallist Courney Frerichs (9:16.18).
Men's high jump:
Shelby McEwen cleared a PB of 2.33m to take the win in the men's high jump. "Mr. Jump" Ju'Vaughn Harrison qualified for the World Championships in Eugene by taking second place with 2.30m bouncing back from his 11th place in the long jump.
Women's shot put:
World Indoor silver medallist Chase Ealey set the world lead of 20.51m on her second attempt overtaking China's Song Jiayuan (20.38m) and Canada's Sarah Mitton (20.33m) in the world seasonal list.
Ealey produced a second best attempt of 20.19m and three more throws over the 19 metres (19.30m, 19.46m and 19.80m). Adelaide Aquilla finished second with 19.45m beating Jessica Woodard (19.40m). Olympic silver medallist Raven Saunders did not make the US team despite a seasonal best of 18.95m.
Results 2022 USA Track and Field Championships
-->