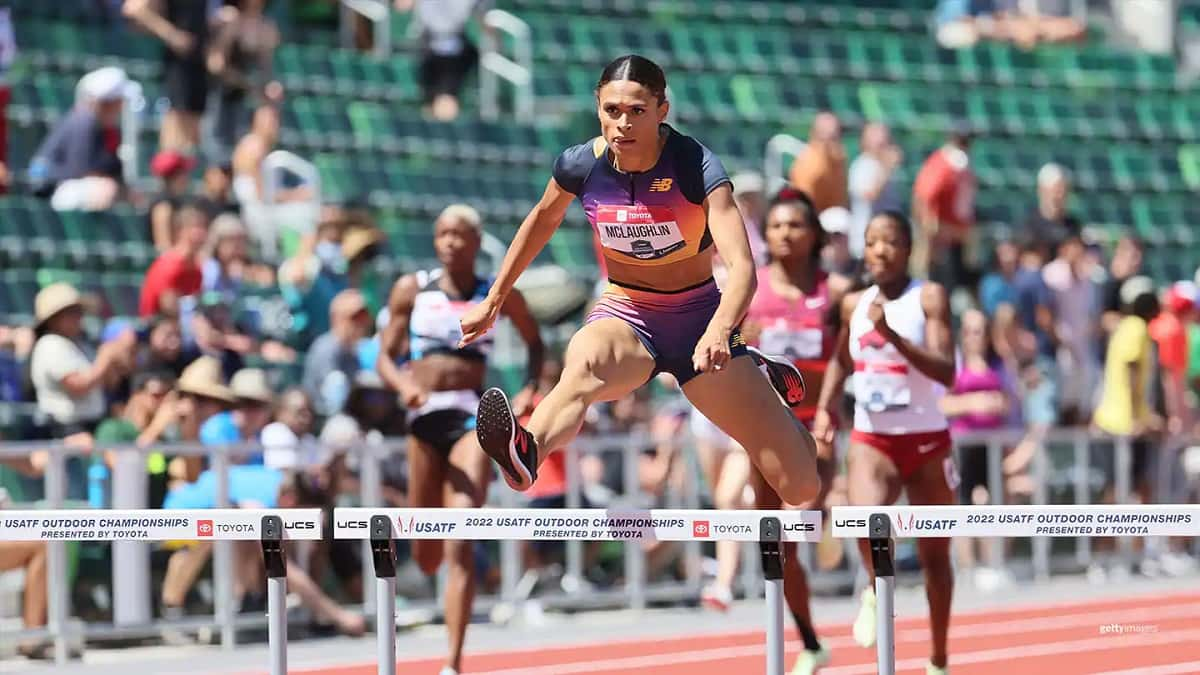 Olympic champion Sydney McLaughlin broke her own world record to win the women's 400 metres hurdles in 51.41 on day three of the US Track and Field Championships at Hayward Field in Eugene.
Mclaughlin has now set world records in three of her past four 400m hurdles finals. She was competing on the Hayward Field track on which she set her first world record at last year's US Olympic Trials clocking 51.90 in June 2021. McLaughlin went on to win the Olympic gold medal in Tokyo smashing her world record with 51.46.
Mclaughlin had won her heat in 54.11 on Thursday and the semifinal in 52.90 on Friday. In the final she build a big lead in the back straight and entered the home straight with a lead of about six metres.
McLaughlin won by a huge margin over this year's NCAA champion Britton Wilson, who improved her PB to 53.08. Former world silver medallist Shamier Little secured the third qualifying spot in 53.92.
Sydney McLaughlin: "I knew it was going to be fast. I looked at the time and I was really happy with it, being able to slowly progress towards lower and lower times. I think there are things I could work on. I think there is more in the tank there. At the World Championships I want to put on a show to the world".
Earlier this season McLaughlin clocked 12.75 in the 100m hurdles and 51.61 in the 400m hurdles and withdrew from the Continental Tour Gold meeting in New York to focus on the US Championships.
Men's 400 metres:
Olympic 4x400 relay champion Michael Norman set a world leading time of 43.56 to win the men's 400 metres. Norman improved his own Hayward Field record of 43.60 set at this year's edition of the Prefontaine Classic in Eugene. Norman owns the three fastest fastest times at Hayward Field, having also run 43.61 in 2018.
Champion Allison finished runner-up smashing his PB to 43.60. Two-time NCAA champion Randolph Ross booked the third qualifying spot in 44.17.
Michael Norman: "I think I am in pretty good shape. I am excited to go back and figure out what areas I need to fine tune. I know it was nowhere near a perfect race".
Norman did not reach the final at the World Championships in Doha and finished fifth at the Olympic Games in Tokyo.
"It gives me a little bit more comfort knowing that I have gone through the process and know what experience is like. I just want a different experience", said Norman.
Diggs wins the women's 400 metres
This year's NCAA champion Talitha Diggs won the women's 400 metres in 50"22 beating Olympic 4x400 gold medallists Kendall Ellis (50.35) and Lynna Irby (50.67). World finalist Wadeline Jonathas finished fourth in 50.84.
Diggs is the daughter of four-time Olympian and former 800m middle-distance runner Joetta Clarke and niece of former Olympic 800m finalist Hazel Clarke.
Diggs won the NCAA title in Eugene and is the only US 400m sprinter to break the 50 seconds with 49.99. She is currently ranked fourth on the world list this season.
Talitha Diggs: "To see my mom and my aunt win so many of these titles, for me to get my own is a blessing".
Allyson Felix finished sixth in 51.24 and is now in a position to be considered for one of the relays at the World Championships in Eugene. It would be the 10th appearance at the World Championships for Felix in her farewell season. Felix has won 13 gold medals, three silvers and two bronzes at the World Championships.
Allyson Felix: "I am happy I have no more open 400s ever in life. I wanted to come here, put myself in a position to be considered for one of the relays, so I can't be upset. I am grateful for all the memories and happy. I did it one more time" .
Harrison wins the 100m hurdles
World and Olympic silver medallist Kendra Harrison won the 100m hurdles final in a seasonal best of 12.34 holding off Alaysha Johnson, who improved her PB to 12.35. Aila Armstrong secured the third qualifying spot for the World championships with with 12.47. Tonea Marshall finished fourth in 12.55 ahead of Tia Jones (12.59).
Nia Ali clocked 12.49 in the semifinals, but she withdrew because she has a bye into the World Championships as the defending world champion from Doha 2019.
Men's pole vault:
Olympic silver medallist Chris Nilsen won the men's pole vault with 5.70m beating surprise Luke Winder on countback. Andrew Irwin finished third with 5.60m beating Jacob Wooten on countback.
Women's triple jump:
Two-time Olympic finalist Keturah Orji won her sixth US title in the women's triple jump with 14.79m moving up into second in the world seasonal list. Orji set the third best performance in US triple jump history after her own national record of 14.92m from 2021 and Tori Franklin's 14.84m from 2018. Franklin finished second with 14.59m ahead of this year's NCAA long jump and triple jump champion Jasmine Moore (14.15m).
Women's javelin throw:
Kara Winger won her ninth US national title in the women's javelin throw with a seasonal best of 64.26m. US record holder and this year's US leader Maggie Malone made three fouls.
Men's 3000 steeplechase:
World and Olympic finalist Hillary Bor won his third US title in the 3000m steeplechase in 8:15.76 ahead of 2016 Olympic silver medallist Evan Jager (8:17.29) and Benard Keter (8:19.16).
Hillary Bor "I am glad Evan Jager made the team. I am happy for Jager now, more than me"
Evan Jager: "It's been a real hard long journey to build back my body and my confidence. I am really proud of myself being able to get back and making the team".
Men's hammer throw:
Daniel Haugh won the men's hammer throw with 80.18m becoming the sixth US man to throw beyond the 80 metres.
Men's 1500 metres:
5000m specialist Cooper Teare won a tactical 1500m final in 3:45.86 holding off Jonathan Davis (3:46.01) and Jonathan Davis (3:46.07).
Women's 1500 metres:
Sinclaire Johnson claimed the win in the women's 1500 metres in 4:03.29 beating Cory McGee (4:04.52) and Elle Purrier St. Pierre (4:05.14).
-->