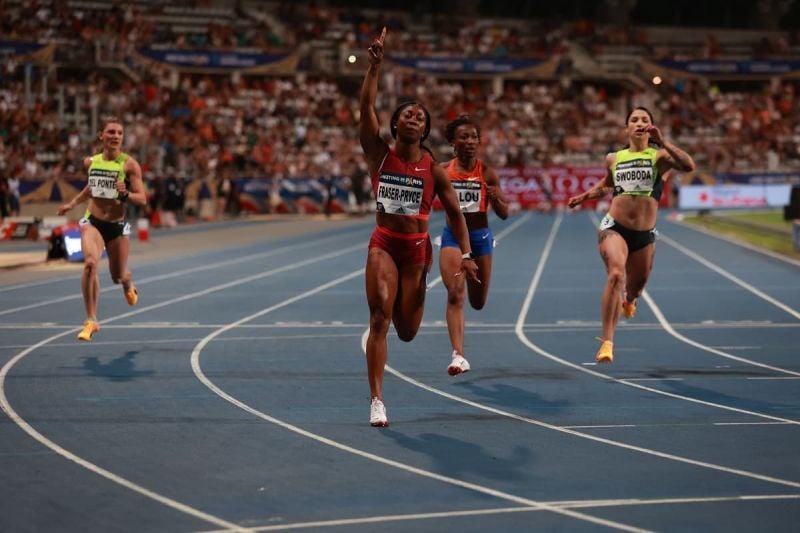 Double 100m olympic champion Shelly Ann Fraser Pryce stormed to a win in the women's 100 metres in 10.67 on a very hot evening in the Paris Diamond League meeting on the fast track of the Charlety Stadium equalling her own world lead to the delight of Jamaican fans, who attended the meeting. The Jamaican sprint legend improved the meeting record set by Elaine Thompson Herah, who won last year's edition with 10.72.
Shelly Ann Fraser Pryce: "I cannot be disappointed. I am still training hard, so I am now looking forward to the national championships. The fans were so nice here. I enjoyed tonight. The plan and the aim is to make sure that I am able to run 10.60 sustainibly".
Daryil Neita broke the 11 seconds barrier to finish second with 10.99 ahead of Marie Josée Ta Lou (11.01). Ewa Swoboda finished fourth improving her PB to 11.05.
Women's 100m hurdles:
Last year's Diamond League champion Tobi Amusan stormed to a win in the women's 100m hurdles in a new African record of 12.41 beating world indoor silver medallist Devynne Charlton from the Bahamas (12.63) and Cindy Sember from Great Britain (12.73). World Indoor champion Cyrena Samba Mayela set a seasonal best of 12.76.
Toby Amusan: "Definitely, I have been well prepared for this competition because I have been training really hard. I came to execute well and to get the win and it worked. I am not the best starter but I tried to stay with the girls: I have the national Trials coming up next week, so I am leaving home to Nigeria tomorrow. Then I have the Stockolm Diamond League and will get ready for the World Championships".
Men's 200 metres:
Luxolo Adams claimed his first Diamond League win over the 200 metres setting a lifetime best of 19.82. Alexander Ogando from Dominican Republic finished second setting a PB of 20.03. Mouhammadou Fall from France improved his lifetime best to 20.26 in third place ahead of Olympic champion André De Grasse (20.36).
Luxolo Adams: "I managed to run to run the curve well, and then in the last 80 I saw that there was none around. I kicked again. I was trying to run sub 20 and it finally came today".
Men's triple jump:
Alejandro Jordan Diaz Fortun from Cuba leapt to 17.66m in the fourth round to take a very close win over Andy Diaz, who improved his PB by 1 cm to 17.65m and backed it up with two more jumps of 17.57m and 17.51m.
Jordan Diaz produced an impressive series which included 17.44m, 17.64m, 17.66 and 17.40.
Olympic champion Pedro Pablo Pichardo improved his seasonal PB to 17.49m in the third round to finish third with 17.49m and a second best jump of 17.48m. The Portuguese athlete produced a very long jump in the final attempt, but it was registered as a foul. World and olympic bronze medallist Fabrice Hugues Zango set his seasonal best with 17.25 in fourth place. Christian Taylor finished seventh with a seasonal best of 16.54 in his first Diamond League competition.
Men's 5000 metres:
Olympic 10000m champion Selemon Barega dominated the 5000m race in 12:56.19 with a margin of nearly ten seconds over Thierry Ndikumenayo, who claimed second place with 13:05.24 one week after breaking the national record with 12:59.39 in Rome. Double world champion Muktar Edris finished third in 13:06.54. Frenchman Jimmy Gressier improved his lifetime best to 13:08.75.
Women's 3000 metres steeplechase:
Winfred Yavi Mutile pulled away from the rest of the field to set a PB and a world leading time of 8:56.55. Sambo Alemayehu from Ethiopia finished second in a PB of 9:09.19 ahead of her compatriot Mekides Abebe (9:11.09). Elizabeth Bird broke the British record with 9:19.46.Chiara Scherrer from Switzerland produced the surprise of the evening setting the national record with 9:20.28.
Women's discus throw:
Olympic champion Valarie Allman set a meeting record of 68.68m in the fourth round to win a tight battle in the women's discus throw against Sandra Perkovic, who took second place with a throw of 68.19m in the sixth round.
Valarie Allman: "Paris is one of my favourite competitions. I am happy I managed to show this result today. At my last meet in Oslo, I finished second behind Perkovic, so I was very excited to compete again. In Texas, it is hot and humid so I felt like at home. I like this weather. I will do more training and heading to the trials before the world championships. Sandra is a great competitor and athlete. After Oslo, this win feels especially good".
Women's high jump:
Yaroslava Mahuchik cleared a world leading mark of 2.01m in the second attempt to win her third Diamond League competition of the season after Eugene and Birmingham.
Yaroslava Mahuchik: "It is a pleasure to jump 2.01m and I had good attempts at 2.05m. I know I am ready to jump so high because I trained for it and can manage it. It is very hard to train and get ready for the competitions as I need to stay focused on training despite all these things happenng back home".
Men's 800 metres:
France's Benjamin Robert squeezed through a very narrow gap to win a thrilling 800m race in 1:43.75 in a close sprint holding off Australia's Peter Bol, who set the Oceanian record clocking 1:44.00. Robert was initially disqualified for hindering one of his opponents in the final metres, but he was later reinstated. Robert is now ranked third in the world seasonal list behind Max Burgin (1:43.52) and Mohad Zahafi (1:43.69).
The race produced PBs for Tony Van Diepen from the Netherlands (1:44.14), Gabriel Tual from France (1:44.23), Ali Mohamed Gouaned from Algeria (1:44.43) and a seasonal best for Pierre Ambroise Bosse (1:44.54).
Benjamin Robert: "In the last 200m I was burnt. It's going to be hard to finish. Then something happened in the last 50 metres. It's my first win in the Diamond League. And it happened in Paris".
Men's 110 metres hurdles:
Devon Allen won his third consecutive race in six days in 13.16 holding off Rafael Pereira from Brazil, who equalled his lifetime best with 13.25. Just Kwaou Mathey took third place with 13.27.
Devon Allen: "My start was the best I have ever had this year. It was something we were really working on because it used the weakest part of my race. It became an issue that I came too close to the hurdles. It is just about a little bit of a practice. I just have to have to figure out because I am moving really fast right now and I think I can go much faster. The hot weather feels good, just had to keep my energy up between the rounds. I was not worried about as the break was only something more than an hour. I just laid down, listened to a couple of songs. If we put it all together, maybe 12.65 is possible in the future".
Men's pole vault:
Belgian record holder Ben Broeders took the win in the men's pole vault, beating Renaud Lavillenie on countback. Both vaulters cleared 5.80, but Broeders cleared this height on his first attempt. Lavillenie needed two attempts to clear this height. Thibaut Collet finished third with 5.75m. Euopean under 20 champion Anthony Ammirati took fourth place with 5.65m beating Kurtis Marshall and Valentin Lavillenie on countback.
Women's 400 metres:
Shaunae Miller Uibo won her first Diamond League race of the season in 50.10, but she had to hold off the attack from Natalia Kaczmarek in the final straight. Kaczmarek took second place in 50.24 ahead of her compatriot Anna Kielbasinska (50.28) and Fiordaliza Cofil from Dominican Republic (50.76).
Shaunae Miller Uibo: "I had a great race tonight. I did a strong start. I pushed a lot in the first 300 metres. Then I managed to stay on the lead. I had some gas in the tank to finish strong. I am quite happy about the model of 400m I want to execute this season. I am quite confident abou my chances to succeed in Eugene".
Men's 400 metres:
Olympic and world champion Steven Gardiner from Bahamas cruised through to a win in the men's 400 metres in 44.21 in his first Diamond League race this season. Lidio Andres Feliz finished second with 44.92m. Zakiti Nene from South Africa broke the 45 seconds barrier clocking 44.99 in third place.
Steven Gardiner: "It was amazing today. My first time in Paris and I set a seasonal best. I won the race, so it feels good. I am ready to see what is next for me. I am now planning Jamaican Champs. I am definitely on the way to defend my title"
Women's javelin throw:
Haruta Kitaguchi from Japan took a surprising win in the women's javelin throw with 63.13m beating Lina Muze from Latvia (62.56m) and Liveta Jasiunaite from Lithuania (62.09m).
Men's hammer throw:
Olympic champion Wojchiech Nowicki won the men's hammer throw setting the Diamond League record with 81.25m in the fourth round. Nowicki produced three more throws over the 80 metres barrier (80.45m, 80.09m and 80.77m). Four-time world champion Pawel Fajdek took second place with a throw of 80.11m in the fourth round.
Wojchiech Nowicki: "I am still in training for the World Championships, so this competition was a good step forward in this process. It is a very good moment for me because it shows that we are going in a good direction".
Women's hammer throw:
Olympic bronze medallist Malwina Kopron took the win in the women's hammer throw with 71.33m in the third round.
Men's triathlon:
World decathlon record holder Kevin Mayer won the shot put with 15.61. In the long jump he made two fouls before earning second place with his third round of 7.38m behind his compatriot Theo Bastien, who jumped 7.44m. Mayer, who has suffered from an achilles tendon since the indoor season, has pulled out the competition before the 110m hurdles. Mekenson letty won the 110m hurdles in 14.25.
Kevin Mayer: "I did not want to do the hurdles today. There was not point doing it. It's too risky. I have not done hurdles on competition since last winter. I did a 150m on the warm-up track at a 400m pace to simulate a last event of the first day of decathlon. I am quite satisfied with my results on shpt put and long jump. Three weeks ago I could not sprint and jump at training. So things are going better".
Men's 100 metres:
National record holder Benjamin Azamati won the men's 100 metres in 10.25 into a headwind of -1.5 m/s beating French sprinters Mouhammadou Fall (10.32) and Jimmy Vicaut (10.34).
-->