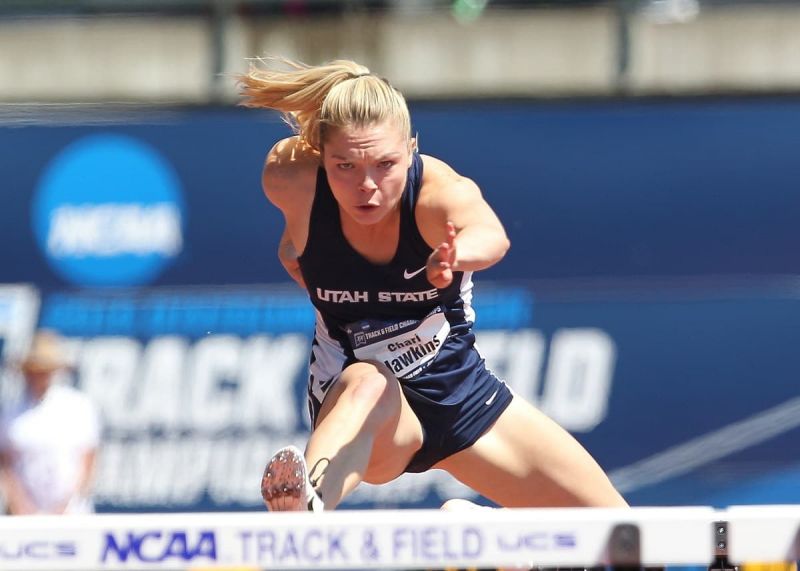 Chari Hawkins from the USA and Marcus Nilsson from Sweden were the winners at the Meeting Internacional Arona Pruebas Combinadas Tenerife, the Spanish leg of the World Athletics Combined Events Tour Gold.
Women's heptathlon:
Overnight leader Chari Hawkins won the women's heptathlon with a PB of 6243 points. European Under 23 silver medallist Claudia Conte from Spain finished second with 6174 points beating Marjke Esselink from the Netherlands (6087) and Yekaterina Voronina from Uzbekistan (6072).
Solene Ndama from France won the 100 metres hurdles in 13.24 ahead of Hawkins (13.30) and Ashtin Zamzow-Mahler (13.52). Naimh Emerson from Great Britain, who won the world under 20 title in Tampere 2018. set her seasonal best of 14.23 before winning the high jump with 1.85m in her strongest event after a clean-sheet from 1.73m to 1.82m.
Emerson won the shot put by 17 cm to 13.82m to finish first in the shot put. Esselink finished second with 13.72m. Hawkins finished third with 13.67m to hold on her lead in the overall ranking.
Hawkins clocked 24.69 in the 200 metres to strengthen her overall lead after four events with 3808 points. The US heptathlete had a lead of 158 points over Emerson, who ran the half-lap event with 25.06. Emerson was four points ahead of Esselink at the end of the first day.
Conte leapt to 6.18m in her third attempt to win the long jump ahead of Voronina (6.02m). Hawkins and Emerson jumped respectively 5.98m and 5.93m. Emerson withdrew from the competition after a harmstring injury during the long jump.
Hawkins threw the javelin to 42.88m to hold on to her lead with a gap of 142 points over Conte, who produced a throw of 44.70m. Voronina moved up from fifth to fourth in the overall standing after her throw of 50.45m.
In the final 800 metres Conte went through the first lap in 1:02.70, but she finished second in 2:11.58. Hawkins clocked 2:16.66 to end the heptathlon competition in first place with the final score of 6243 points.
Men's decathlon:
Marcus Nilsson, who won the world under 20 bronze medal in Moncton 2010, won the men's decathlon with 8115 points ahead of Italian indoor record holder Dario Dester (7903 points).
Felipe Dos Santos from Brazil started the decathlon competition with two individual wins in the 100m with 10.64 and in the long jump with 7.33m. Jannis Wolf from Germany finished second in the 100m in 10.83 ahead of Dester (10.93). Nilsson was back in 13th position with 11.43 and was half a metre off his PB in the long jump with 6.83m.
Dester moved up to second in the overall standing after leaping to 7.29m in the long jump.
Nillson produced a release of 15.37m in the shot put to climb to ninth place in the overall standing, 200 points off leader Dos Santos, who threw 13.60m.
Dos Santos cleared 1.98m in the high jump to hold on his lead. Gerson Izaguirre from Venezuela tied this height to move into second ahead of Dester, who jumped 1.95m.
Dester improved his 400m PB to 47.70 to move up to the lead in the overnight standing with 4144 points after five events ahead of Dos Santos (4098) and Izaguirre (4046). Nilsson ended the first day in sixth place with 3931 points.
Izaguirre won the 110 metres hurdles in 14.21 holding off Dos Santos by just 0.01. Dester finished third in 14.43 to maintain his overall lead.
Nilsson clocked 14.73, but he won the discus throw by almost four points with 47.61m. Dos Santos returned to the lead after his best throw of 40.33m.
Nilsson equalled his PB to 5.10m in the pole vault to take the overall lead. Izaguirre and Dester cleared respectively 4.90m and 4.80m to stay in contention for the win. Just 41 points separated the top four before the final javelin throw and 1500 metres.
Nilsson strengthened his lead after winning the javelin throw with 59.28m. Dester and Dos Santos threw the javelin to 56.61m and 56.03m to hold on second and third respectively in the overall standing.
Nilsson would need to run 4:19.32 in the 1500 metres to achieve his goal to improve his PB of 8120 points. He crossed the finish-line in 4:19.83 to end the decathlon with a final score of 8115 points. Dester clocked 4.39.70 to take second place with 7903 points. Izaguirre finished third with 7812 points.