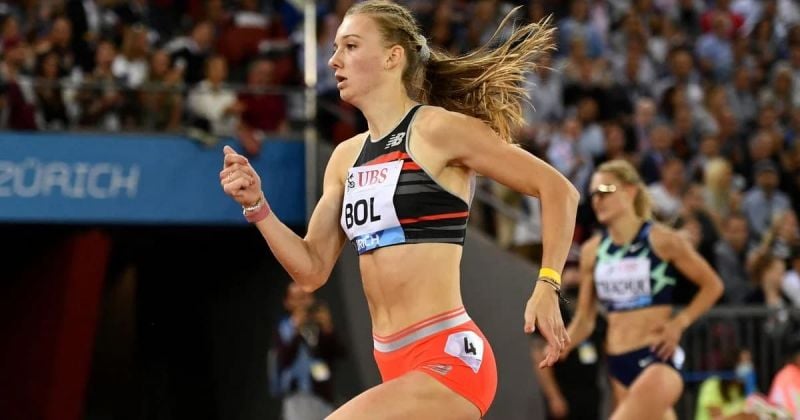 Olympic 400m hurdles bronze medallist Femke Bol from the Netherlands broke the 300m hurdles record with a sensational 36.86 on a warm and sunny evening at the Golden Spike in Ostrava, a World Athletics Continental Tour meeting. Bol took more than one second off Zuzana Hejnova's previous world best.
Hejnova, who bid farewell from athletics during this meeting, had set the previous world best with 38.16 in Cheb in 2013.
Bol had already won the 300m hurdles in Ostrava in 38"55 in 2020.
Femke Bol: "I was really surprised to be so fast tonight. I expected that I could run 37 seconds. It's just the beginning of the season. That is why I still cannot believe that an all-time world best was possible to do in the first race this summer. I am more tired than usual, but I am really excited".
Viktoriya Tkachuk finished second in 38.24 beating Olympic fifth placer Anna Rhykikova (38.36). Four national records were set. Viivi Lehikonen from Finland and Jessie Knight from Great Britain broke the 39 seconds barrier with 38.50 and 38.84 respectively.
Watch video: Bol sets new 300m hurdles world record
Men's 3000 metres steeplechase:
World and olympic silver medallist Lemecha Girma from Ethiopia won the men's 3000m steeplechase in a new Ethiopian record of 7:58.58 setting the 12th fastest time in history. He has become the first 3000 steeplechase specialist to break the 8 minutes barrier since 2018.
His compatriot Hailemaryam Amare Tegegn finished runner-up in 8:07.70. Ahmed Abdelwahhed from Italy finished third in 8:14.53 setting the third fastest time in his career.
Men's 100 metres:
European 100m silver medallist Reece Prescod from Great Britain won the men's 100 metres in 9.93 into a headwind of -1.2 m/s with a strong final 20 metres. Prescod improved his previous PB set in 2018
Yohan Blake from Jamaica finished second in 10.05 edging Zharnel Hughes from Great Britain with the same time. Former African record holder Akani Simbine from South Africa took fourth place in 10.06 ahead of Yupun Abeykoon, who narrowly missed his lifetime best by 0.02 clocking 10.08. Nethaneel Mitchell Blake won the 100m B race in 10.10.
Reece Prescod: "I saw Nethaneel's race just before and fired me up. He ran well and that motivated me. I feel in good place. It was a great race. I am really happy about that. I have worked very hard in the past two years. I am reaping the rewards of my hard work. I will compete in Slovakia and hopefully get myself into some hot races now after running that time".
Men's 200 metres:
Olympic 4x100 silver medallist Jerome Blake from Canada won the 200 metres in 20.14 into a headwind of -0.2 m/s sharing the same time as Elijah Hall. Zharnell Hughes finished third in 20.29.
Men's 4x100 relay:
Mitchell Blake anchored the British 4x100 relay team to a meeting record of 38.43. The British team was also formed by Jeremiah Azu, Zharnell Hughes and Richard Kilty. The Czech Republic finished runner-up in 38.98.
Women's 1500 metres:
Diribe Welteji from Ethiopia won the women's 1500m setting the second-fastest time in the world in 3:59.19. Her compatriot Ayal Dagnachew finished second in 3:59.87 ahead of Netsanet Desta (4:05.93).
Men's javelin throw:
World javelin throw champion Anderson Peters from Grenada threw the javelin to 87.88m in the first round to take the win. The Grenadan thrower produced three throws of 87.75m, 85.12m and 84.55m, which would have been to win the competition, as Keshorn Walcott from Trinidad and Tobago threw 84.47m in the second round.
Peters continued his unbeaten streak winning his fifth competition of the season.
Men's shot put:
Reigning world outdoor champion Joe Kovacs won the men's shot put with 22.25m in the fourth round. Kovacs produced two more throws of 22.00m and three attempts over the 21 metres (21.52m, 21.99m and 21.39m). Tomas Walsh from New Zealand took second place with 21.68m in the sixth round ahead of Filip Mihaljevic from Croatia (20.89m).
Joe Kovacs: "I am very happy not only because of the win, but also because I almost had three throws over the 22 metres even in those circumstances. We got to Prague last night at 2 am and woke up today just a couple of hours ago".
Men's high jump:
Olympic champion Gianmarco Tamberi returned to winning ways the day before his 30th birthday by clearing a seasonal best of 2.30m. Tamberi, who sported his -half-shave look, had a clean sheet at 2.15m, 2.20m and 2.24m before clearing the next heights of 2.27m and 2.30m at the second time of asking. The Italian star bounced back from his sixth place in Trieste, where he jumped 2.15m in very windy weather conditions.
Tamberi failed three attempts at 2.34m. Fernando Ferreira from Brazil cleared 2.27m in the second attempt to finish second before failing three attempts at 2.30m. Majd Eddin Ghazal from Syria had a clean sheet until 2.24m to take third spot.
Gianmarco Tamberi: "We still have six or seven hours until my birthday, so I am still 29. I am still young. Because I was struggling a bit at the beginning of the season, I wanted to push myself so I did the halfshaved face again. I needed to fight, and this is my weapon".
Women's 100 metres hurdles:
Olympic 100 metres hurdles Jasmine Camacho Quinn won the women's 100m hurdles in 12.56 into a headwind of -1.0 m/s missing the meeting record by just 0.01. European Under 23 champion Pia Skryszowska from Poland finished second improving her PB for the second time in five days by 0.03. World outdoor champion Nia Ali from the USA took third in 12.68.
Jasmine Camacho Quinn: "It was not a perfect race. I don't know what happened. I had a good finish".
Women's 200 metres:
Aminatou Seyni from Niger won the women's 200 metres setting a national record of 22.21 ahead of multiple olympic and world champion Allyson Felix, who clocked 22.78 in her farewell race on the Ostrava track.
Aminatou Seyni: "I am very glad for the victory, because the field was very strong. I feel confident and it was a big honour to run against Felix on her last circuit".
Allyson Felix: "This is my last race in Ostrava. I am enjoying every moment in every race".
Vittoria Fontana from Italy, who won the European Under 20 title in the 100m in 2019, finished third improving her PB to 22.97.
Men's 800 metres:
World under 20 champion Emmanuel Wanyonyi took a close win in the final sprint in 1:44.15 holding off Silmane Moula by 0.04. Max Burgin from Great Britain finished third in 1:44.54 in the same meeting where he set the European Under 20 record with 1:44.14 last year. World indoor silver medallist Noah Kibet and 2012 olympic silver medallist Nijel Amos also dipped under the 1:45 barrier clocking respectively 1:44.89 and 1:44.92. Collins Kipruto from Kenya won the B race in 1:44.58.
Women's 400 metres:
Olympic 4x400 relay silver medallist Natalia Kaczmarek improved her PB to 50.16 to beat Jamaica's Olympic finalist Candice McLeod (50.38). Anna Kielbasinska clocked the same time as McLeod equalling her PB.
Women's pole vault:
World indoor bronze medallist Tina Sutej won the women's pole vault with 4.65m beating Lene Onsrud Retzius on countback. Retzius, who vaulted 4.52m in Grosseto on 22 May, improved her previous national record twice to 4.60m before jumping 4.65m on her third attempt.
Women's javelin throw:
Elina Tzenggo from Greece threw the javelin to 65.40m in the second attempt improving her PB by more than a metre to take the win in the women's javelin throw. Nikola Ogrodnikova from Czech Republic threw 62.70m in the final attempt to finish ahead of Serbia's Adriana Vilagos (59.80m). Tzenggo won the world under 20 title in Nairobi and the European under gold medal in Tallin in 2021.
Men's long jump:
Cuba's Maykel Massò won the men's long jump with 8.14m in the fifth round. Massò went beyond the 8 metres barrier in each of his four valid attempts. Radek Juska from Czech Republic took the runner-up spot with 8.11m beating Augustin Bey from France (8.00m).
Men's 400 metres:
Alexander Ogando from the Dominican Republic won the men's 400 metres in 45.37 beating Olympic 4x400 silver medallist Liemarvin Bonevacia from the Netherlands (45.55) and Benjamin Lobo Vedel from Denmark (45.90).
-->