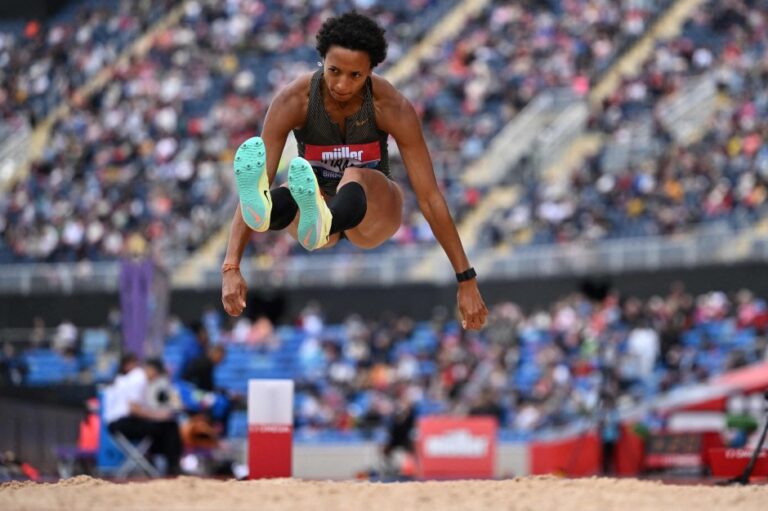 Four meeting records and six world-leading performances were set at the Muller Birmingham Diamond League meetings in the renovated Alexander Stadium, which will host the athletics competitions at the Commonwealth Games next August.
Video Birmingham Diamond League Video Highlights
Men's discus throw:
European under 23 champion and record holder Kristjan Ceh set the Diamond League record, meeting record, national record and world-leading mark with an impressive throw of 71.27m to take the win in the men's discus throw. Ceh's impressive series featured throws of 69.33m, 69.10m, 66.77m, 65.28m and 63.11m. Four of his best throws would have been enough to take the win. Former world champion Andrius Gudzius produced his best throw of 66.40m in the second round to finish second ahead of Olympic and world champion Daniel Stahl, who had to settle with third place with 65.97m.
Kristjan Ceh: "That was totally unexpected. To get a world lead, national record, meeting record and Diamond League record is amazing. In the warm-up I wasn't in great shape. I missed all my throws and they all went to the left, but once the competition started it all came together. The conditions were great today. This is my first goal of the season, to get a PB so now I need to raise the bar of my goals. I have a few more competitions, all the Diamond League plus some in Slovenia throughout the season but the World Championships are my focus".
Women's long jump:
Olympic, world and European champion Malaika Mihambo set a meeting record and a world-leading mark of 7.09m in the fourth round to take the win. The German star backed it up with a second-best jump of 7.06m in the sixth round.
Malaika Mihambo: "It was really good. It was my season opener so I didn't have too many expectations. I am feeling really happy because it seems like we are on the right way. I have had some struggles with my approach for the last two years so it's nice to be back now and I feel at least as good as 2019 when I dominated. I think it's a really good start and I am looking forward to the next competition"
European Indoor champion Maryna Beck Romanchuk took second place with 6.66m beating Lorraine Ugen from Great Britain by 1 cm. Jazmin Sawyers finished fourth with 6.60m ahead of two-time world indoor gold medallist Ivana Vuleta (6.54m).
Women's discus throw:
Olympic champion Valarie Allman took the lead with 67.85m in the second round and maintained the first place until the end. Two-time Olympic champion Sandra Perkovic from Croatia produced her final throw of 67.26m in the final round to take the second place. Laulaga Tausaga took third place with 60.80m.
Valarie Allman: "The Diamond League is critical to me this season. Going up against the best can help you find your footing before a major championship which makes it easier to execute and focus on yourself. These last few weeks have been very exciting and it's given me a lot of confidence going into this year. Having the championships at home has been very motivating and I really want that competition with my family being there"
Women's 100 metres:
Reigning world 200m champion Dina Asher Smith won the women's 100 metres in 11.11 into a headwind of -0.1 m/s beating three-time Tokyo Olympic medallist Shericka Jackson from Jamaica by 0.01. Darryl Neita from Great Britain took third place in 11.14 beating US sprinters Mikiah Brisco (11.25) and Gabrielle Thomas (11.31).
Dina Asher Smith: "It was good for my first 100 metres race of the season against a very strong field. It's a long season ahead so we are easing our way into it and it was good. I could have done a few things differently if I am being picky but I am very happy to win against this field and in this wind. We are targeting the World Championships but also to perform at all three championships this summer so you have to ease into it. I will take that for an opener although I am sure on Monday my coach will come with about 100 millions things that could have been better. Being British I wanted to come to Birmingham in this beautiful new stadium and put on a show. When other girls have done three or four races, you are like: 'I hope my opener is sharp enough to beat everyone', and it was so all good".
Women's pole vault:
Two-time world indoor champion Sandi Morris cleared a world leading mark of 4.73m in her third attempt to win the women's pole vault. Former olympic champion Katerina Stefanidi equalled her seasonal best with 4.65m to take second place on countback over Tina Sutej from Slovenia.
Sandi Morris: "I was pleased to get that as it is always hard to come and perform 48 hours after getting off the plane but that is part of our job. We have to shake it off and get going. It took a couple of rounds to get my rhythm going but I kept going and focused on the execution of each jump and if I knew if I could get a good take-off, then I knew I could get through. It is great to be here and competing with all the other vaulters as we are such a great team. I was at university with Katerina Stefanidi and so it is lovely to compete with her and Katie Nageotte".
Women's 1500 metres:
Olympic silver medallist Laura Muir started her season with a win in 4:02.81 with her front-running tactic ahead of Jessica Hull from Australia (4:03.42) and Kenya's Winnie Chebet (4:05.56) in a preview of next July's Commonwealth Games, which will be held in the Birmingham Alexander Stadium.
Laura Muir: "I am so happy I am here. I didn't think I would be. I have had the biggest week of training since January and hoped my legs would be OK. I am not quite 100%, but I am happy, especially because the wind was nasty".
Men's 1500 metres:
World indoor bronze medallist Abel Kipsang claimed the win in the men's 1500 metres in 3:35.15 holding off Spanish record holder Mohamed Katir (3:35.62) and Oliver Hoare from Australia (3:35.76) in a close sprint in the final straight. Michal Rozmys from Poland and Olympic bronze medallist Josh Kerr also dipped under the 3:36 barrier clocking 3:35.88 and 3:35.92 respectively.
Abel Kipsang: "I am happy to win today. The track was nice. I am very pleased with the performance".
Women's 800 metres:
Olympic silver medallist Keely Hodgkinson took the win in the women's 800 metres in 1:58.63 ahead of Renelle Lamote from France (1:59.53). Hodgkinson went from the gun and did not look back. Hodgkinson looked fully recovered from the quad injury that forced her to pull out of the World Indoor Championships.
Keely Hodgkinson: "It's early days but it's exciting. It's a confidence booster and I want to build on it with two months to go before the World Championships. I am heading to the Prefontaine Classic, but it will be a great experience for me".
Women's 5000 metres:
Dawit Seyaum from Ethiopia beat a world-class field to win the women's 5000 metres in 14:47.55 ahead of her compatriots Hawi Feysa (14:48.94) and Fantu Worku (14:49.84). Karoline Bjerkeli Grovdal was the first European finisher in fourth place in 14:51.38.
Men's 110 metres hurdles:
Jamaica took the first two spots in the 110m hurdles. Olympic champion Hansle Parchment crossed the finish-line in first place in 13.09 ahead of 2016 Olympic champion Omar McLeod (13.17). Last year's European Under 23 champion Asler Martinez finished third in 13.32.
Hansle Parchment: "As Olympic champion, I do not feel any pressure but I just tried to execute my own race, but also to feel less tense and help others to relax. I am pleased with the world lead but it's very early in the season, so you can't read too much into at the moment. It was a great turnout, more than I expected, and there will be even more here at the Commonwealth Games with more Jamaicans making some more noise and bringing there own vibes. Now I am concentrating on the Trials so I will take a break to prepare".
Men's high jump:
Canada's Django Lovett took the win in the men's high jump with 2.28m in the first attempt ahead of olympic champion Gianmarco Tamberi, who cleared 2.25m in the first attempt before failing to jump his three attempts at 2.28m. Tamberi beat Norbert Kobielski on countback. Lovett was not able to jump over 2.31m.
Django Lovett: "I am definitely happy with that. To pick up the scalp of Gianmarco Tamberi is a great start to the season for me. To come away with the win at a Diamond League meeting does not happen too frequently but I still think I could jump higher. I am not denying it is special to beat Tamberi as I know what he is capable of but I know my abilities and I am confident coming into the competition especially after finishing third last week".
Gianmarco Tamberi: "It wasn't my best competition, but not the worst. After Doha, I just tried to restart today. I fixed some things, the technical aspect, but we still have to work a lot, because when I try to jump higher to push more I do more mistakes, so it is not a good condition to compete but competition helps. The conditions are totally different to Doha, going from 35 degrees to 17, but I am just going to keep working and I am going to be back competing again next weekend in Trieste".
Women's 400 metres hurdles:
World champion and olympic silver medallist Dalilah Muhammad won the women's 400 metres hurdles in 54.54 in the opening race of the meeting. Viktoriya Tkachuk from the Ukraine finished second in 55.25 holding off her compatriot Anna Ryzhykova (55.37) and Lina Nielsen from Great Britain (55.40).
Dalilah Muhammad: "I gave it all I had in the race but it wasn't the best. I cannot be too disappointed with the win. I really wanted to get the best out of the race that I could. Sometimes it is hard if you are the favourite and you can play it safe but today I thought I am not going to play it safe but I am going to try something else. So I really worked hard for the win out there. It wasn't 100% according to plan but I am very happy overall. Preparation has gone well and I feel I can go faster. The focus starts to move now to the US Championships".
Men's 100 metres:
After two false stars of Trayvon Bromell and Zharnell Hughes, Olympic 4x100 silver medallist Aaron Brown from Canada took the win in the men's 100 metres in 10.13 beating former world champion and olympic silver medallist Yohan Blake from Jamaica (10.18) and Jerome Blake (10.20). Olympic 200m champion André De Grasse finished fourth in 10.24.
Aaron Brown: "Originally I was just coming to the relay and then it just so happened I asked to get into the 100m and they put me in the B race. Then the A race opened up so I did all three and it paid off".
Men's 800 metres:
Canada's Marco Arop won the third Diamond League 800m race of his career in 1:45.41 ahead of Benjamin Robert from France (1:46.22) and 2019 world championships fourth placer Bryce Hoppel (1:46.33).
Men's 400 metres:
Reigning European 400m champion Matthew Hudson Smith from Great Britain continued his good start to the season with a win in 45.32 in front of his home fans ahead of Olympic 4x400 relay champion Bryce Deadmon (45.51) and Kahmari (45.52).
Men's 4x100 relay:
The Canadian team formed by Aaron Brown, Jerome Blake, Brendon Rodney and André De Grasse won the men's 4x100 relay in 38.31 beating France (38.41) and Great Britain (38.66).
Women's 4x100 relay:
The British 4x100 relay formed by Beth Dobbin, Imani Lansiquot, Dina Asher Smith and Darryl Neita set the meeting record and the world leading time clocking 42.29.
-->