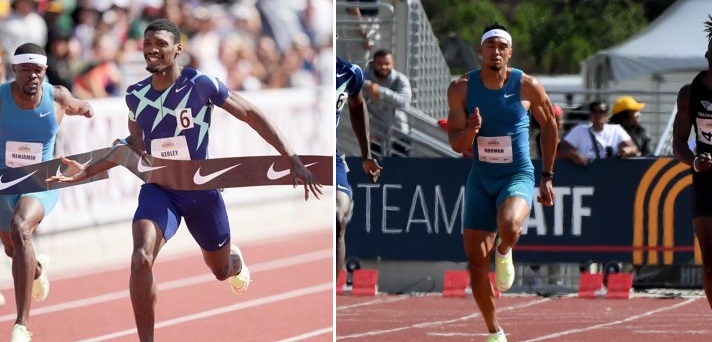 World-leading times set by Fred Kerley in the 200 metres (19"80) and Michael Cherry in the 400 metres (44"28) highlighted the USATF Golden Games at Mt. SAC Hilmer Lodge Stadium in Walnut.
Men's 200 metres:
Olympic silver medallist Fred Kerley won a neck-and-neck race with Michael Norman by 0.03 setting the fastest time in the world this year with 19.80 with a legal wind of +1.6 m/s.
Fred Kerley: "I came in pretty confident. The race felt good and I finished strong. I got the win".
Norman set the second fastest time in his career with 19.83 missing his PB by 0.13. Olympic silver medallist Raj Benjamin took third place missing his PB by 0.02 with 20.01. Canada's Jerome Blake improved his PB to 20.04 one week after his win in the 100m at the USATF Bermuda Games in Devonshire.
Michael Norman: "I did not run a good race, but it was a good opener, so I just need to make the adjustments".
Women's 200 metres:
Just 24 minutes after placing third in the 100 metres, Olympic 200 metres bronze medallist Gabby Thomas set the second fastest time in the world this year with 22.02 to win the women's 200 metres ahead of world silver medallist Brittany Brown (22.29), Jenna Prandini (22.59) and three-time world medallist Marie Josée Ta Lou (22.64). Only Favour Ofili ran faster this year with her PB of 21.96 in Gainesville this weekend.
Gabby Thomas: "The 100m race was a good warm-up for the 200m. I would have liked to dip under 22 seconds, but you get what you get".
Women's 100 metres heats:
Five-time Olympic champion Elaine Thompson Herah started her outdoor season with a win in the women's 100 metres heats in 10.94.
Briana Williams won the second heat in a wind-assisted 10.97.
Women's 100 metres final:
US sprinter Twanisha Terry won the 100m final in a wind-assisted 10.77 (+3.3 m/s) edging Aleia Hobbs (10.80) and olympic 200m bronze medallist Gabby Thomas (10.86), olympic and world finalist Tehana Daniels (10.91) and Briana Williams (10.97). Thompson Herah did not run the final.
Twanisha Terry: "At least the wind was at my back this time. It was in my face when I ran the 200m in Bermuda last week. I told myself to stay patient and everything else fall into place"
Men's 100m heats:
Micah Williams clocked the fastest time in the men's 100m heats with a wind-assisted 9.96.
Men's 100 metres final:
Micah Williams won the men's 100 metres in a wind-assisted 9.83 (+2.5 m/s) ahead of Brandon Carnes (9.93), Frenchman Mouhamad Fall and Liberia's Emmanuel Matadi, who shared the same time of 10.07.
Men's 400 metres:
Last year's Diamond League champion Michael Cherry set the fastest time in the world this year with 44.28 to win the men's 400 metres ahead of olympic 400m hurdles bronze medallist Alison Dos Santos, who improved his PB to 44.54.
Michael Cherry: "I have been training super hard. I am glad I can come out and show it off today. Last year I opened with 45.9 and finished the season at 44.03. This year I started with 44.2. Hopefully I will finish at 43.2".
Women's 100m hurdles heats:
World record holder Kendra Harrison clocked the fastest time with a wind-assisted 12.42 (+2.4 m/s) to win the second heat ahead of Chanell Brissett (12.73). Tonea Marshall won the first heat in 12.57 edging last year's Diamond League champion Tobi Amusan from Nigeria with the same time.
Women's 100m hurdles final:
Tonea Marshall took an upset win in the 100m hurdles final setting the second time in the world this year with 12.46 beating Kendra Harrison (12.56), Tia Jones (12.59) Tobi Amusan (12.61), Cindy Sember (12.63) and Christina Clemons (12.68). Only olympic champion Jasmine Camacho Quinn ran faster this year with 12.39 in Gainesville this weekend.
Tonea Marshall: "You have legends in this race, but I am glad that I was able to come out on top and do what I do best, which is focus on me"
Men's 110 metres hurdles:
Last year's Diamond League winner Devon Allen clocked 13.36 into a head-wind of -0.5 m/s beating Jamal Britt (13.44) and Aaron Mallett (13.48).
Devon Allen: "I was hoping to go under 10 seconds in the 100m heats. I thought I wasn't going to be as tired as I was from the 100m to that race, but it's OK. It's the first of the race of the season and I have got plenty of time to get my fitness up".
Men's shot put:
Five men threw beyond the 21 metres barrier in a high-quality competition. Darrell Hill improved his seasonal best to 21.68m in the fifth round to take a close win over Josh Awotunde, who took the second place with 21.63m after a consistent series that included four more throws over the 21 metres barrier (21.34m, 21.34m, 21.61m and 21.11m). Adrian Piperi finished third with 21.52m ahead of Payton Otterdhal (21.14m) and Italian outdoor and indoor champion Nick Ponzio (21.04m).
Men's discus throw:
Olympic and world champion Daniel Stahl from Sweden won his fourth competition this year in the men's discus throw with 67.65m in the third round. Stahl also produced the second best throw of 66.96m in the second round. Mykolas Alekna (the son of double Olympic champion Virgilius Alekna) took second place with 66.61m.
Women's discus throw:
Olympic gold medallist Valarie Allman won her third consecutive competition this season in the women's discus throw with 69.46m in the fourth round. Allman produced a second best throw of 68.83m in the sixth round and three more attempts over 66 metres (66.88m, 67.09m, 66.60m).
Valarie Allman: "I am very happy to be part of the incredibly rich history at Mt. Sac. After training in calm conditions in Texas, I did not adjust as well to the wind as I would have liked. My goal is to reach my potential. It's a journey, but I am hoping one of these days I can find it when I am in the ring"
Women's high jump:
World bronze medallist Vashti Cunningham cleared 1.96m in the third attempt to win the women's high jump. Cunningham then failed her three attempts at 1.98m.
Women's triple jump:
Keturah Orji won the women's triple jump with a wind-assisted 14.53m (+2.8m/s).
Men's pole vault:
Clayton Fritch had a clean sheet until 5.80m to beat Jacob Wooten, who cleared the same height in his third attempt.
Women's 800 metres:
Olympic bronze medallist Raevyn Rogers dominated the women's 800 metres setting the second fastest time in the world this year with 1:58.77.
Men's 800 metres:
World championships fourth placer Bryce Hoppel came from behind in the final straight to take the win in 1:47.27 ahead of front runner Ryan Sanchez from Puerto Rico (1:47.58).
Women's 400 metres:
Jaide Stepter Baines took the win in the women's 400 metres in 51.45 beating 400m hurdles specialist Shamier Little (51"65) and Nicole Yeargin from Great Britain (51.81). Former 400m hurdles record holder Dalilah Muhammad finished fifth in 52.60.
Women's hammer throw:
US Brooke Andersen won the women's hammer throw with 76.76m in the sixth round beating Canada's Camryn Rogers, who equalled the national record with 75.73m. Janee Kassanavoid finished third with 73.76m.
Women's shot put:
Danniel Thomas Dodd from Jamaica produced her best throw of 18.92m in the second round to beat Jessica Woodard (18.77m) and Jessica Ramsey (18.71m)
Women's pole vault:
Olivia Gruver and Rachel Baxter shared the win after producing a clean sheet until the same height of 4.50m. Bridget Williams cleared 4.50 in her third attempt to finish third.
Men's long jump:
Laqquan Nairn from the Bahamas improved his PB to 8.22m in the sixth round to take a close win over Will Williams, who jumped 8.18m.
Men's hammer throw:
US Olympic Trials champion Rudy Winkler produced the four best throws of 79.11m, 78.90m, 78.19m and 77.46m to take a comfortable win over Swede Ragnar Carlsson (76.18m) and Mexico's Diego Del Real (75.78m).
-->