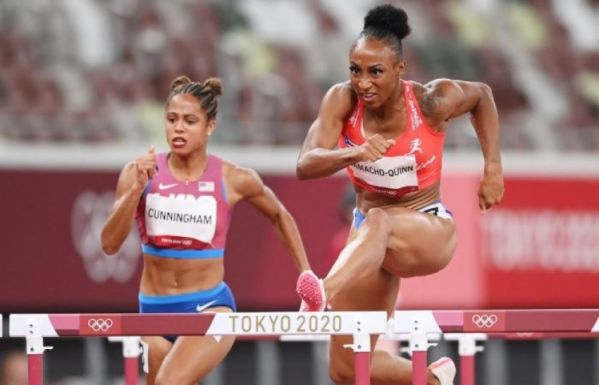 Olympic champions Jasmine Camacho Quinn and Steven Gardiner battled the wind by producing strong performances at the USATF Bermuda Games in the Bermudan capital of Hamilton, the opening meeting of the World Athletics Continental Tour Gold circuit.
Women's 100 metres hurdles:
Jasmine Camacho Quinn pulled away in the second half of the race to win the 100m hurdles in a solid 12.67, setting the fastest time in the world this year into a headwind of -2.5 m/s in her first competition over her favourite distance since her Olympic gold medal in Tokyo. Chanel Brisset, who finished runner-up at the NCAA Championships in 2019, took second place in 13.06. Camacho Quinn set a PB of 22.27 in the 200 metres, but she decided not to run over this sprint distance.
Jasmine Camacho Quinn: "This was my first hurdles race of the year, so I am trying to adjust. I am happy with what I did, especially into a -2.5 m/s wind. I will take it. After winning in Tokyo, I knew it meant I would have a target on my back and now people expect a lot from me. Going into training this year was a little more intense. I know what I want to do this year. I want to accomplish a good couple of things".
Men's 200 metres:
Olympic and world 400m champion Steven Gardiner from the Bahamas came from behind to take a close win in 20.79 into a headwind of -4.7 m/s with a strong finish in the final straight ahead of world indoor 400m champion Jereem Richards (20.86)
Steven Gardiner: "The wind was crazy, but I had to fight. I did not get a good start, but I just did what I could to get to the line".
Men's 100 metres final:
Jerome Blake from Canada took a surprising win in the 100 metres in 10.38 into a headwind of -5.6 m/s edging 200m world under 20 record holder Erryion Knighton and world 200m champion Noah Lyles, who shared the same time of 10.39. Knighton was running his first race since missing the Olympic 200m medal by one place.
Former 100m world champion Yohan Blake from Jamaica took fourth place in 10.45.
Blake won the Olympic silver medal in the 4x100 in 37.70 and improved his PBs to 10.06 in the 100m and 20.20 in the 200m after the Olympic Games showing his potential.
Jerome Blake: "In training we have been working a lot on my last 20 metres. I just trusted my coach and this performance was the result".
Women's 100 metres final:
Olympic and world seventh placer Tehana Daniels won the women's 100 metres final in 11.45 edging Olympic 200m bronze medallist Gabby Thomas (11.49) and Javianne Oliver (11.62) into a headwind of -5.2 m/s.
Tehana Daniels: "I wanted to have fun with it. I am happy to come out with a win. It's an experience, and it helps to get ready for the rest of the season".
Men's 400 metres:
Three-time Olympic medallist Kirani James from Grenada started his season with a win in the 400 metres in 45.63 ahead of Alex Haydock Wilson from Great Britain (46.05) and Jaheel Hyde from Jamaica (46.27). James fought off a strong challenge from Haydock Wilson, who was in the lead on the final bend.
Kirani James: "I was here for the Carifta Games and it was amazing. The Caribbeans have vibes for it. It was a hard race because it was very windy. It was amazing to run this race at Bermuda. It's very important to have international meetings in the Caribbean countries".
Women's 200 metres:
Double 100m and 200m world under 20 champion Antonique Strachan from the Bahamas won the women's 200 metres in 23.24 into a strong headwind of -5.0 m/s beating US Dezerea Bryant (23.72) and 4x100 relay Olympic champion Briana Williams (23.82).
Antonique Strachan: "The headwind was very strong. I don't know where I found the strength at the end to take the wind".
Women's 400 metres:
Olympic 100m bronze medallist Shericka Jackson from Jamaica returned to her original specialist event taking the win in the final straight in 51.40 ahead of her compatriot Candice McLeod (51.57) and US Jaide Stepter Baines (51.93). McLeod took the lead, but Jackson came through in the final metres.
Men's 110 metres hurdles:
Shane Brathwaite won the men's 110 metres hurdles in 13.78 into a strong headwind of -3.8 m/s beating US Michael Dickson (13.85). World indoor record holder Grant Holloway pulled out of the race because of gusting wind.
Grant Holloway: "It's as high as -4.6 m/s. I don't think that is great for the hurdles event. I am trying to do consistency. That is the main cue for this season, so I decided to pull out of this race. I am looking forward to going back home next week and hopefully opening up there".
Women's 400 metres hurdles:
Jamaica took the first three spots. Shiann Salmon produced a strong finish to win in 55.35 ahead of 2019 world bronze medallist Rushell Clayton (55.89) and olympic fourth placer Janieve Russell (56.56).
Shiann Salmon: "I knew the headwind was coming, so I tried to conserve a bit, so I would not be tired coming home".
Women's 800 metres:
Ajée Wilson won the women's 800 metres in 2:03.09 in her first race since her world indoor gold medal in Belgrade last month. Chrisann Gordon Powell from Jamaica finished second in 2:04.19 ahead of US Charlene Lipsey (2:04.50).
Men's 1500 metres:
Kenyan 19-year-old middle distance runner Kamar Etiang held on to take the win ahead of German Amos Bertelsmeyer in 3:45.26 in his first race outside Africa. Etiang built up a lead of three seconds. Bertelsmeyer came back to close the gap in the final straight, but Etiang held off the German athlete in the final metres. Bermuda's Dage Minors finished third in 3:46.82, missing his PB by little more than a second.
Etiang finished second at last year's Kenyan Olympic Trials in his PB of 3:33.02 beating world champion Timothy Cheruiyot and Abel Kipsang.
Kamar Etiang: "It was so tough because of the wind."
Women's long jump:
US Quanesha Burks leapt to 6.77m with a tailwnd of +3.5 m/s to overtake Chanice Porter, who opened her competition with a wind-assisted 6.70m (+2.8 m/s).
Women's triple jump:
World outdoor silver medallist Shanieka Ricketts won the women's triple jump with a wind-legal jump of 14.15m in the third round beating Great Britain's Naomi Metger (14.00m).
Men's triple jump:
US Chris Benard jumped 16.57m in the fourth round with a tailwind of +5.0 m/s to beat Jamaica's Jordan Scott, who leapt to 16.37m in the first round.
-->