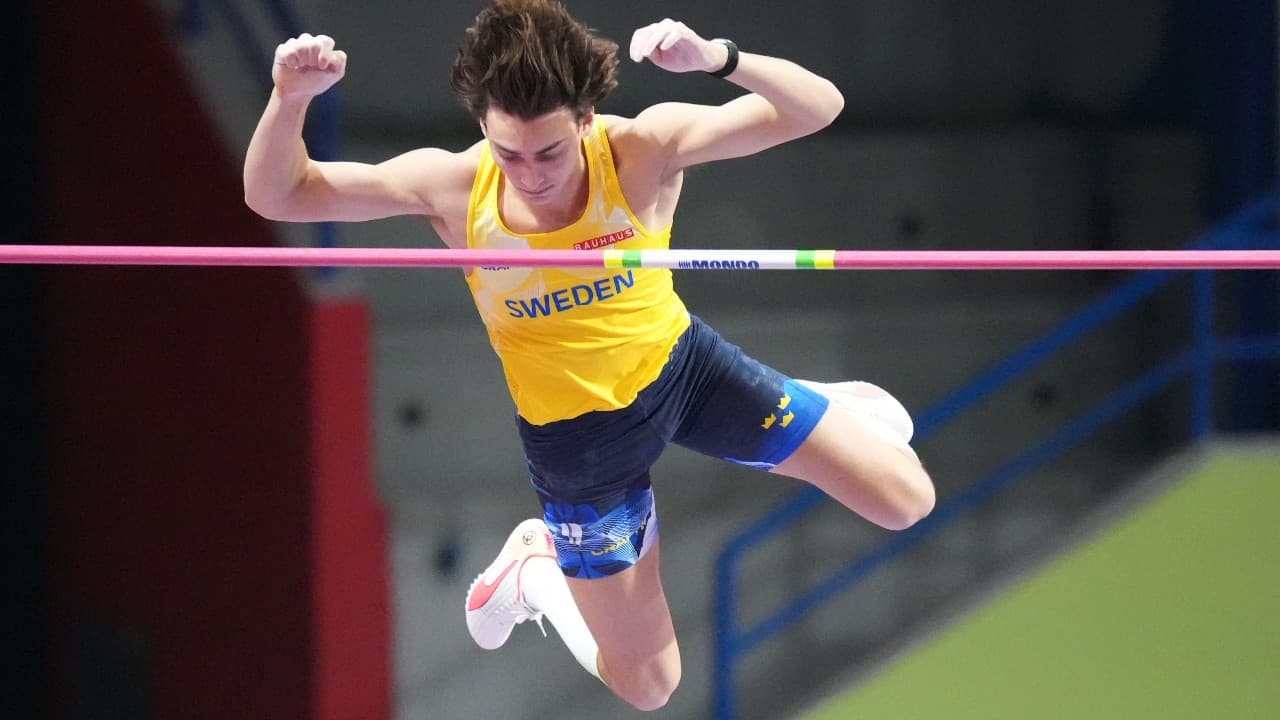 Armand "Mondo" Duplantis cleared 6.20m in his third attempt to break his own pole vault world indoor record in the final day of the World Indoor Championships in Belgrade. The 22-year-old Swedish vaulter had already secured his first world indoor title with 6.05m in his first attempt.
Duplantis had a clean sheet clearing 5.60m, 5.85m, 5.95m and 6.05m at the first time of asking before adding one cm to his recent world indoor record of 6.19m set in the Stark Arena in Belgrade at the World Indoor Tour Silver meeting on 7 March. Duplantis has set four world indoor records (6.17m in Torun and 6.18m in Glasgow in 2020, 6.19m and 6.20m in Belgrade in 2022) and one world outdoor record in Rome with 6.15m in 2020.
Armand Duplantis: "To break the world record two times in two weeks, I can't complain. Sometimes there are just things that you can't explain. They are just feelings and it seems like when I am in Belgrade I have this feeling that I am going to go high and do something really special. I was able to break the world record for a second time. I feel like Belgrade is going to be a special place in my heart forever. I am a pretty happy man. I have something special going on here, two world records and a world championships title. That's more than I can dream of. There are no limits. The sky is the limit. Another title, another record. Going over 6.20m for the first time, it's hard to explain. It's something that you can dream of".
Thiago Braz Da Silva from Brazil cleared 5.95m in his third attempt to win the silver medal before failing three attempts at 6.05m. Da Silva reached a global podium for the third time in his career after winning two medals gold in Rio de Janeiro 2016 and bronze in Tokyo 2021.
Chris Nilsen had a clean sheet until 5.85m before clearing 5.90m in his second attempt.
Valentin Lavillenie improved his PB to 5.85m to finish fourth.
Holloway equals world indoor record in the 60m hurdles semifinal
Grant Holloway equaled his own world indoor record in the men's 60 metres semifinal with 7.29. Holloway ran exactly this time last year at the World Indoor Tour meeting in Madrid.
Holloway hit the third hurdle in the final but he won the final in 7.39 adding this title to the 110m hurdles world outdoor title won in Doha 2019. Pascal Martinot Lagarde finished second in 7.50 winning the fourth medal of his career at the World Indoor Championships. Holloway has extended his winning streak to 57 consecutive indoor races since 2014 when he was 16.
Holloway also broke Dayron Robles' championship record of 7.34 set 12 years ago.
Grant Holloway: "I know what I am capable of, so the time in the semifinals was not a shock to me. To come and run a world, to win a title and name myself world champion again is a great feeling.
US hurdler Jarret Eaton reached the world indoor podium for the second consecutive edition by winning the bronze in 7.53 ahead of European Under 23 champion Asler Martinez from Spain (7.57).
Defending world indoor champion Andy Pozzi did not get through to the final after finishing fourth in 7.60 in the first semifinal.
Both Japan's Shusei Nomoto and Great Britain's David King finished third respectively in the first and third heat, clocking the same time of 7.565. King was the lucky winner of a name draw to decide the final qualifying spot.
Women's long jump:
Serbian Ivana Vuleta won her second consecutive world indoor title setting the world-leading mark of 7.06m in the fourth round in the same venue where she won the European Indoor gold medal in 2017 under the maiden name of Spanovic setting the third-best indoor mark with 7.24m.
Vuleta produced only one more valid jump of 6.89m in the second attempt.
Ivana Vuleta: "I had a duty to defend the world title. My medal was like a cherry on the cake. It was incredible. It was like an out-of-body experience. I did not have an easy task jumping in front of my home crowd. Being world indoor champion I now feel fulfilled. I am really happy I gave my home fans a good show"
Ese Brume from Nigeria won a silver medal with 6.85m in the third round to reach a global podium for the third time in her career after finishing third at the World Championships in Doha 2019 and at the Olympic Games in Tokyo 2021.
Lorraine Ugen from Great Britain produced only two valid jumps of 6.82m and 6.7.8m to win the bronze medal five years after finishing runner-up to Spanovic in the same arena at the 2017 European Indoor Championships.
Final men's 1500 metres:
Samuel Tefera from Ethiopia won his second consecutive world indoor gold medal in a championships record in 3:32.77 holding off Olympic gold medallist and world indoor record holder Jakob Ingebrigtsen, who had to settle with silver medal in 3:33.02. Abel Kipsang finished third in a seasonal best of 3:33.36 ahead of Teddesse Lemi from Ethiopia (3:33.59) and Oliver Hoare (3:34.36).
Tefera held the previous world indoor record of 3:31.04 until Ingebrigtsen broke it with 3:30.60 in Liévin last February. Ingebrigtsen had won all his previous 11 head-to-head races against Tefera.
Ingebrigtsen went to the lead in the second lap and went through 400m in 55.81, 800m in 1:53.9 and 1200m in 2:51.16, but Tefera edged past the Norwegian athlete in the final straight to retain world indoor title.
Samuel Tefera: "The race was very tough, but I feel very happy now because I became the champion. I had surgery on my Achilles tendon last year. I picked it up the injury during the Olympic Games. I could not do many activities within the training but I am now completely fit. I feel normal and I am now ready for any kind of race".
Jakob Ingebrigtsen: "I came here to fight for the gold and it was a good fight. I did not feel so great. Usually, I feel great from 600m to 800m , then it starts to loosen up but that didn't happen tonight, so I am not 100%. Tefera was better than me tonight. I thought I was better than him, having run the record".
Final women's 800 metres:
US middle-distance running star Ajée Wilson won the first world indoor gold medal of her career in 1:59.09 after her two consecutive silver medals in Portland 2016 and Birmingham 2018. Ethiopia's Freweyni Hailu, who finished fourth in the 1500m at the Olympic Games in Tokyo, took silver medal in 2:00.54 ahead of Uganda's Halimah Nakaayi (2:00.66).
Wilson unleashed her decisive kick at the bell and clocked the final 200 metres in 29.19. The New Jersey native won the world under 18 title in Lille 2011 and the world under 20 gold in Barcelona and two world outdoor bronze medals in London 2017 and Doha 2019.
Ajée Wilson: "It feels amazing to finally come home with the gold after coming close so many times. It's such an emotional win. I keep thinking about all the family and friends, who have supported me over the years. I have been working hard this season, so to be able to finish how I did is exciting. It feels like this is the end of a couple of difficult years"
Women's 4x400 relay:
Stephanie Ann McPherson anchored Jamaica to world indoor gold medal in the women's 4x400 relay in 3:28.40. Femke Bol took on the baton in fourth place and came through on the inside to cross the finish line in 3:28.57. Justyna Swiety Ersetic anchored the Polish team to bronze medal in 3:28.59.
The US team, who won the women's 4x400 relay on four of the past five editions of the World Indoor Championships, finished fourth in 3:28.63. Great Britain, who got through to the final as non-automatic qualifiers, finished fifth in 3:29.82 ahead of Belgium (3:33.61).
Men's 4x400 relay:
Kevin Borlée anchored Belgium to world indoor gold medal in 3:06.52 with his final leg in 46.06. The Belgian team was formed by three of the four athletes, who finished fourth in the Olympic final in Tokyo: Julien Watrin in the lead-off leg, Alexander Doom on leg two, Jonathan Sacoor on the third leg and Kevin Borléee in the anchor leg.
Bernat Erta took the lead for Spain on the anchor leg, but Borlée closed the gap before unleashing his kick in the final straight to earn Belgium the win. Erta held on to secure Belgium the silver medal in 3:06.82 ahead of the Netherlands (3:06.90).
-->