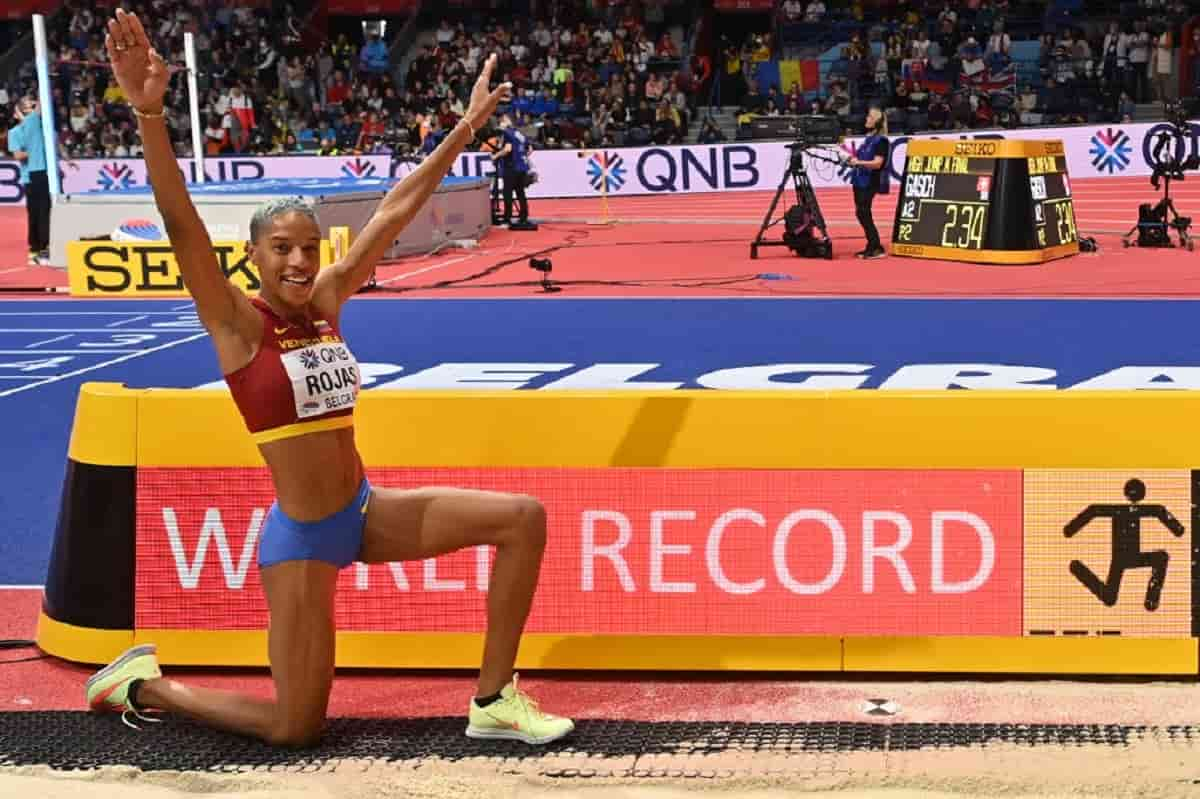 Yulimar Rojas soared to a sensational outright world record of 15.74m in the final round to become the first athlete to win three world indoor titles in the women's triple jump in the morning session of the final day at the World Athletics Indoor Championships at the Stark Arena in Belgrade.
Rojas improved her own world outdoor record of 15.67m she set in the Olympic final in Tokyo last August. The 26-year-old Venezuelan star had already set the previous world indoor record with 15.43m in the World Indoor Tour Gold meeting.
The Olympic champion bounded out to 15.19m in the opening round and fouled in the second round. She leapt to 15.04m in the third round before producing another big jump in round four near her own world leading mark, but it was foul.
In the fifth round Rojas equalled the championship record of 15.36m held by Tatyana Lebedeva since the edition of Budapest 2004. With this jump Rojas missed her own world indoor record by just 7 cm. Rojas took to the runway for the sixth time and leapt to 15.76m.
Rojas claimed her sixth consecutive global gold medal following her Olympic title in Tokyo last summer, her two world outdoor gold medals in London 2017 and Doha 2019, and her two previous world indoor titles in Portland 2016 and Birmingham 2018.
Yulimar Rojas: "Every day is a big challenge for me and every day I try to become a better person. Not only as an athlete, but also as a person, to be a stronger technically and also mentally. That is my strongest part. I achieved my third world indoor title here which is crowned with the world record. I cannot be more thankful. It was the right time to achieve this and I took the chance. I did not want to miss the opportunity today. I have a big understanding for all my opponents and the hard work they are doing. I try to become a role model for them. Looking back to the 2018 world indoor title, I am the same person, but I have improved a lot technically. The mental strength is one of my important characters. I want to focus on the world outdoor championships in Oregon and I think there is a big chance of making a double, long jump and triple jump. If I am in good shape and the conditions are good, I can do both. The 16m is my best mark. Everyday, I am trying to add one more centimetre to get closer to it".
World outdoor long jump silver medallist Maryna Bekh Romanchuk from the Ukraine leapt to 14.74m in the sixth round to move from eighth to second in the standing.
Maryna Beck Romanchuk: "I am overemotional now. It was my first triple jump competition at the international level and I was lucky to be part of a world record event and to win the silver for my country. I devote this medal to all Ukrainian people, to the Ukrainian armed forces defending my country. I could prove today that we are a really strong and unbeatable country. This year we did not get to compete indoors at all, so I decided to change things and do the triple jump as well as the long jump. When we heard that we could come to the world indoors, I decided to double up and do both. My first foul was near 15 metres. That was the crucial moment when I knew I could fight for a medal. I don't know if I will continue with triple jump but I really enjoyed it today. Anything is possible".
Kimberly Williams from Jamaica set an indoor PB of 14.62m in the sixth round to win the bronze medal. Williams backed it up with a second best of 14.59m in the opening round.
For the second time in any indoor competition ten women have jumped over the 14 metres barrier.
Men's high jump:
Woo Sanghyeok won South Korea's first ever gold medal with 2.34m in the first attempt. Loic Gasch from Switzerland won the silver medal with 2.31m on countback beating Olympic champion Gianmarco Tamberi from Italy and Hamish Kerr from New Zealand, who shared the bronze medal at the same height.
Woo became the second Asian winner of the men's high jump in the history of the World Championships after Mutaz Barshim in Sopot 2014. The 25-year-old jumper had a clean sheet clearing 2.20m, 2.24m and 2.28m at the first time of asking, but he needed three attempts to clear 2.31m.
Gasch jumped all heights until 2.28m at the first attempt before clearing 2.31m at the second attempt to take the first position over Tamberi. The Italian needed two attempts at 2.24m and went over 2.28m at his first attempt before sailing over 2.31m on his second attempt to move to second place.
Woo had a first-time clearance at 2.34m to win the world indoor gold medal.
Kerr and Thiago Moura from Brazil cleared 2.31m at the second attempt, improving the national indoor record and area indoor records respectively.
Tamberi shared another global medal after his epic win in the Olympic final in Tokyo after taking a last minute decision to compete at the World Indoor Championships. The Italian showman dedicated his world indoor to his Ukrainian rivals and friends Bogdan Bondarenko and Andiy Protsenko to pay tribute to Ukraine. The Italian jumper showed a Ukrainian flag drawn on his shoulder with the names of Bondarenko and Protsenko written underneath.
Gianmarco Tamberi: "I am happy with my bronze medal. It was a big challenge to compete after just a jumping session in training. Usually I prepare these competitions with 30 or 40 technique sessions. It was a crazy decision to compete here, but I found extra motivation from competing here. My rivals raised their level today. A medal in such high-level competitions is more worth than a medal with a modest result".
Men's 3000 metres:
Selemon Barega won the 3000m world indoor title in 7:41.38 beating Olympic and world 3000m steeplechase silver medallist Lemecha Girma (7:41.63).
Selemon Barega: "We came to Belgrade aiming to make history for Ethiopian long distance running. I have a nice winter season with many fast races, so I was ready both physically and mentally to fight for gold at world indoors. With Girma we discussed the possibility to do the team work to help each other to make the podium. Our tactic has paid off. It was a tough race in which we were focused mostly on the Kenyan guys. I decided to lead the race from the beginning because too many runners in the final were 1500m specialists. I just wanted to make the pace fast and comfortable. I have to slow down to keep more power for the finish kick. It was a very good plan and another great experience for me".
Seven athletes were still in contention for a medal at the bell. Barega launched his kick with 200m to go and held on to win the gold medal.
Marc Scott ran a great last lap to win the bronze medal in a seasonal best of 7:42.02 ahead of Kenya's Daniel Simiu Ebenyo (7:42.97). Scott, who set the European 5000m indoor record clocking 12:57.08 earlier this year, earned the first medal for Great Britain at these championships.
Marc Scott: "It's a great feeling. I wanted to do something for the British team. We have a young squad here. I wanted to get a medal and show everyone we can do it. The race was choppy but I was ready for whatever was going to be thrown at me. I know I am strong and I am quick as well, and I displayed that over the last 200 metres. I knew it was a possibility today and I am glad to do it on a big stage".
Barega added this title to the Olympic gold medal in the 10000 metres in Tokyo, the world outdoor silver in the 5000m in Doha 2019 and the world indoor silver in the 3000m in Birmingham 2018.
Men's 60 metres hurdles:
World indoor record holder Grant Holloway ran the fastest time of all qualifiers with 7.40 in the fifth heat beating defending champion Andy Pozzi, who recovered from a slow start to take the second of three automatic qualifying spots in 7.60.
European indoor champion Wilhem Belocian from France set the second fastest time of all heats with 7.55. Petr Svoboda from Czech Republic was the only other hurdler to dip under the 7.60 barrier with 7.59. Olympic bronze medallist Ronald Levy from Jamaica did not get through to the semifinal.
Men's 4x400 relay heats:
Spain led all the qualifiers with the fastest time of the three heats with 3:06.89 in the second heat ahead of Czech Republic (3:07.25). Belgium claimed the automatic qualifying spot in 3:07.43 in the first heat.
The US team did not get through to the final after anchorman Isaiah Harris suffered from a harmstring problem in the final 100 metres, but he held on to cross the finish-line in 3:09.11.
Women's 4x400 relay heats:
The US team ran the fastest time of the two heats with 3:28.82 ahead of the Netherlarlands (3:29.36) and Poland (3:30.51).