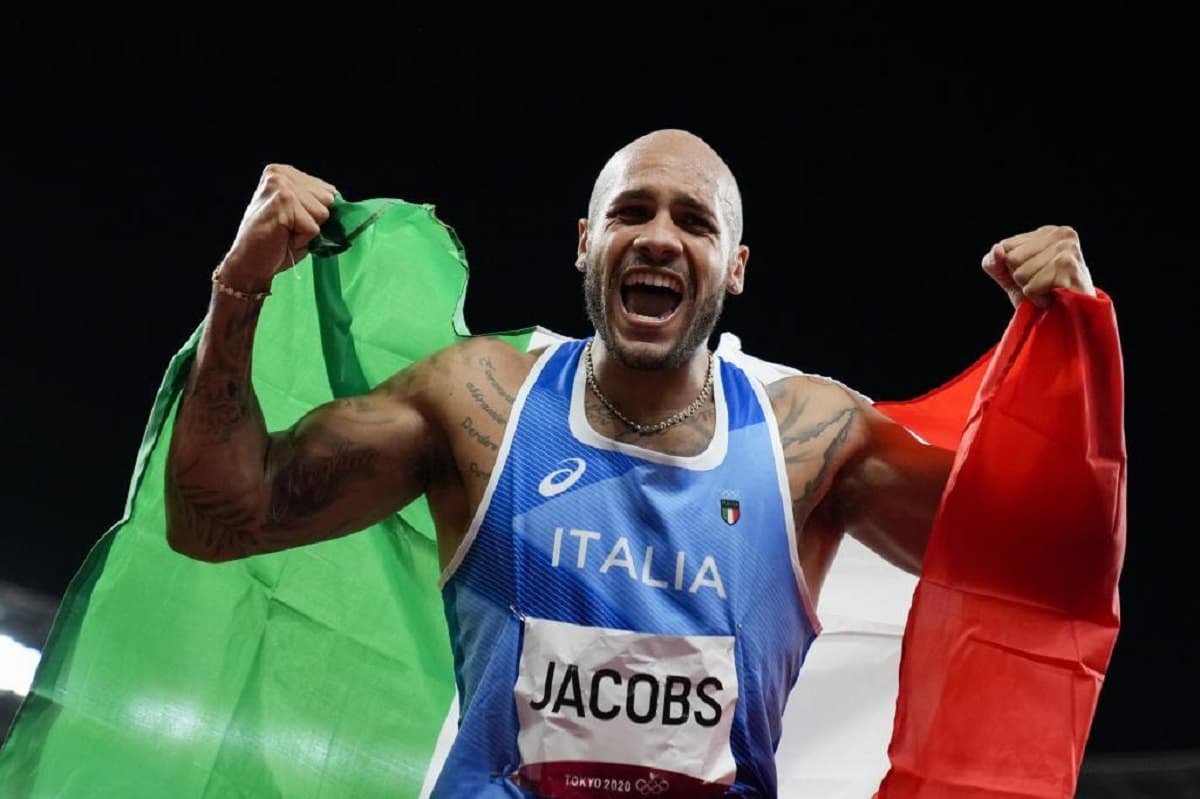 Marcell Lamont Jacobs won the men's 60 metres final in 6.41 beating defending world indoor champion Christian Coleman by 0.003 in a very close photo-finish. Marvin Bracy won his second world indoor medal improving his PB by 0.02.
Jacobs broke the European indoor record held by Dwain Chambers by 0.01 becoming the fourth fastest sprinter in the world over this distance behind Coleman (6.34), Maurice Greene (6.39) and Ronnie Baker (6.40).
He set his second continental record after his 9.80 set in the Olympic 100 metres final last August.
The 27-year-old Italian sprint star added the world indoor gold medal to the European Indoor title in Torun and the Olympic titles in the 100m and the 4x100 relay in Tokyo won last year. He becomes the first Olympic 100m champion in history to win the world indoor title.
Jacobs beat Coleman for the first time in their four head-to-head races. He celebrates his world indoor gold medal 21 years after his coach Paolo Camossi won the men's world indoor triple jump title in Lisbon 2001 beating Jonathan Edwards.
Marcell Jacobs: "This is fantastic to be Olympic champion and now world indoor champion. It's amazing to have the European record. I can't wait to go to the outdoors with the US sprinters. They are great athletes. We will try to compete fast outdoors".
Coleman paid tribute to Jacobs after the final. The US sprinter lost for the first time in the 60m since 2016, when he finished third behind Ronnie Baker and Cameron Burrell in the NCAA Finals.
Christian Coleman: "You want to come out and win, but we put on a good show. We will be head-to-head outdoors as well. Jacobs is a great athlete. It was a seasonal best. I executed a good race. I am just excited about carrying this momentum to the outdoor season".
Men's 60 semifinals:
Jacobs improved his own Italian record by 0.02 to 6.45 in the semifinal of the 60 metres. Jacobs also equalled the world leading time set by Christian Coleman.
Bracy cruised through to the final with a win in the first semifinal in 6.51. Defending world indoor champion Coleman clocked the same time to take the win in the third semifinal.
Women's 400 metres:
Shaunae Miller Uibo won the eagerly-awaited clash with European indoor champion Femke Bol with 50.31. The Bahamian sprinter missed her own area record by 0.10. Bol won the silver medal medal in 50.57 after the double European Indoor gold medals in the 400m and in the 4x400 relay and the Olympic bronze medal in the 400 metres hurdles.
Miller Uibo added the world indoor gold medal in the 400m to her collection after the two consecutive Olympic gold medals in Rio de Janeiro 2016 and Tokyo 2021 and the two world outdoor silver medals in Beijing 2015 and Doha 2019. She had already won a world indoor medal in Sopot 2014 when she was a junior.
Stephanie Ann McPherson from Jamaica took the bronze medal in 50.79. Justyna Swiety Ersetic crossed the finish-line in 51.40, repeating her fourth-place finishes of Sopot 2014 and Portland 2016.
Shaunae Miller Uibo: "To be able to finish victorious, I am glad how it's all turned out. The goal was to get the break and control the race from there. It's my first time out in the season. Three rounds was tough. The 400 metres is a brutal race. I can feel it now".
Men's shot put:
Darlan Romani from Brazil won his first world indoor title with a new championships record of 22.53m after finishing fourth at the World outdoor Championships in Doha 2019 and in the Olympic Games in Tokyo 2021. Romani broke his South American record by 82 cm.
Romani beat olympic champion Ryan Crouser, who had to settle with silver with 22.44m. Two-time world indoor champion Tom Walsh from New Zealand took the bronze medal with a national indoor record of 22.31m. Filip Mihaljevic from Croatia finished fourth with 21.83m missing his national indoor record by 1 cm. US Indoor championship second placer Josh Awotunde ranked fifth with 21.70. Olympic fifth placer Zane Weir improved Italian Indoor record by six cm to 21.67m to finish sixth. Nick Ponzio, who set the previous Italian record with 21.61 on 7 March at the Belgrade World Indoor Tour Silver meeting, threw over the 21 metres for the seventh time this year to finish seventh with 21.30m
Men's eptathlon:
Canada's Damian Warner won his second global title following the Olympic gold medal moving to second in the world indoor list with 6489 points behind double Olympic champion Ashton Eaton (6645 points) and ahead of Kevin Mayer. Warner also set the national and the Commonwealth records.
Warner was pushed by Simon Ehammer, who broke his own Swiss record with 6363 points. Olympic bronze medallist Ashley Moloney became the first athlete from Oceania to score more 6000 points, breaking the continental record with 6344 points.
Warner won the 60m hurdles in a new championships best of 7.61. Ehammer clocked 7.75 beating Moloney (7.88).
Warner equalled his lifetime best in the pole vault with 4.90m, but Ehammer set his PB of 5.10m to take the overall lead before the final 1000m race. Moloney also cleared a lifetime best of 5.10m, but Estonia's Hans Christian Hausenberg cleared 5.30 to move to fourth in the overall standing, just six points behind Moloney.
Warner started very fast alongside US Steve Bastien and Estonia's Karel Tilga in the final 1000 metres. Bastien finished first, but Warner held on to cross the finish line in 2:39.56 to seal the win after a hard-fought competition.
Damian Warner: "When the competition started, I thought back to the 2018 World Indoors when I was up against Kevin Mayer and came away with a silver medal. I wanted to give my all in this competition".
Eight men scored more than 6000 points. The next three athletes set PBs: Hausenberg (6191), Andri Oberholzer from Switzerland (6099) and Bastien (6074).
Women's pole vault:
Sandi Morris won her second consecutive world indoor title in the women's pole vault with 4.80m. Morris needed two attempts to clear 4.60m before clearing the next two heights of 4.70m and 4.75m at the first time of asking. The 2016 olympic silver medallist vaulted her seasonal best of 4.80m to seal the win.
Olympic champion Katie Nageotte had a clean sheet clearing all heights until 4.75m in her first attempt to beat Tina Sutej from Slovenia on countback. Both Nageotte and Sutej made three unsuccessful attempts at 4.80m.
Sandi Morris: "After a year like last year, when I was injured for the Olympics, you feel you have to prove yourself again. We are so hard on ourselves and I wanted to go out and prove it to myself that I could still do it at this level. Doing it back to back was amazing, and doing it with my teammate and now training partner Katie was really special".
Women's 1500 metres:
World indoor record holder Gudaf Tsegay won a gun-to-tape race breaking the championships record with 3:57.19. Her compatriot Gelete Burka had held the previous with 3:59.75 in Valencia 2008.
Tsegay led an Ethiopian sweep of medals beating Axumawit Embaye, who won her second world indoor silver medal with 4:02.29, and African Games champion Hirut Meshesha (4:03.39). Ugandan Winnie Nanyondo finished fourth in 4:04.60 ahead of US Josette Norris (4:04.71).
Tsegay had previously won three bronze medals in the 2016 world indoor 1500m final, in the world 1500m final in Doha 2019 and in the 5000m at the Olympic Games in Tokyo.
Women's 60 metres hurdles:
French 21-year-old Cyrena Samba Mayela won the women's 60 metres hurdles final in a national record of 7.78. Devynne Charlton from the Bahamas, who set the fastest time in the semifinal with 7.81, equalled this time to win silver ahead of Gabrielle Cunningham, who clocked 7.87. Ditaji Kambundji crashed into the second hurdle
Women's 60 metres hurdles semifinal:
Olympic 100m hurdles Devynne Charlton from the Bahamas improved her national record to 7.81 to win the first 60m hurdles. Jamaica's Brittany Anderson finished second with 7.85 ahead of Noemi Zbaeren (8.01).
Cyrena Samba missed her indoor PB by 0.02 to win the second semifinal with 7.85 ahead of Ditaji Kambundji, who improved her own Swiss record to 7.89.
Zoe Sedney from the Netherlands equalled her PB with 7.95 to take the win in the third semifinal ahead of Sarah Lavin from Ireland, who secured her spot in the final with his lifetime best of 7.97.
Men's 400 metres:
Jereem Richards became the first athlete from Trinidad and Tobago to win the men's 400 metres setting a championships record of 45.00 edging US Indoor champion Trevor Bassitt by 0.05. Carl Bengstrom from Sweden broke the national record with 45.33 to win the the bronze medal ahead of Denmark's Benjamin Vedel, who also set the national record of 45.67.
Jereem Richards: "I did everything I needed to do to win. I knew going into the race these guys are quarter milers. What I had against them was my speed, and I used it to pull them out of their comfort zone. My training partner Wayde Van Niekerk helped me every single day. I want to thank him".
Richards, who won the 200m bronze medal and the gold medal at the World Championships in London 2017, dedicated his win to his close friend Deon Lendore, who died in a car accident two months ago.
Men's 800 metres final:
Mariano Garcia won the men's 800 metres final in 1:46.20 beating 17-year-old Kenyan rising star Noah Kibet (1:46.35) and US Bryce Hoppel (1:46.51).
Garcia arrived in Belgrade as the fastest 800 metres runner in the world this year with his win in 1:45.12 in Staten Island.
Kibet won his second big medal after taking the bronze medal at the World Under 20 on home soil in Nairobi last August.
Men's 60m Final Results
| POS | ATHLETE | NAT | MARK | MS |
| --- | --- | --- | --- | --- |
| 1 | Lamont Marcell JACOBS | ITA | 6.41 WL | .407 |
| 2 | Christian COLEMAN | USA | 6.41 WL | .410 |
| 3 | Marvin BRACY | USA | 6.44 PB | |
| 4 | Karl Erik NAZAROV | EST | 6.58 | |
| 5 | Adam THOMAS | GBR | 6.60 | |
| 6 | Jerod ELCOCK | TTO | 6.63 | .625 |
| 7 | Bolade AJOMALE | CAN | 6.63 | .627 |
| 8 | Arthur CISSÉ | CIV | 6.69 | |
-->