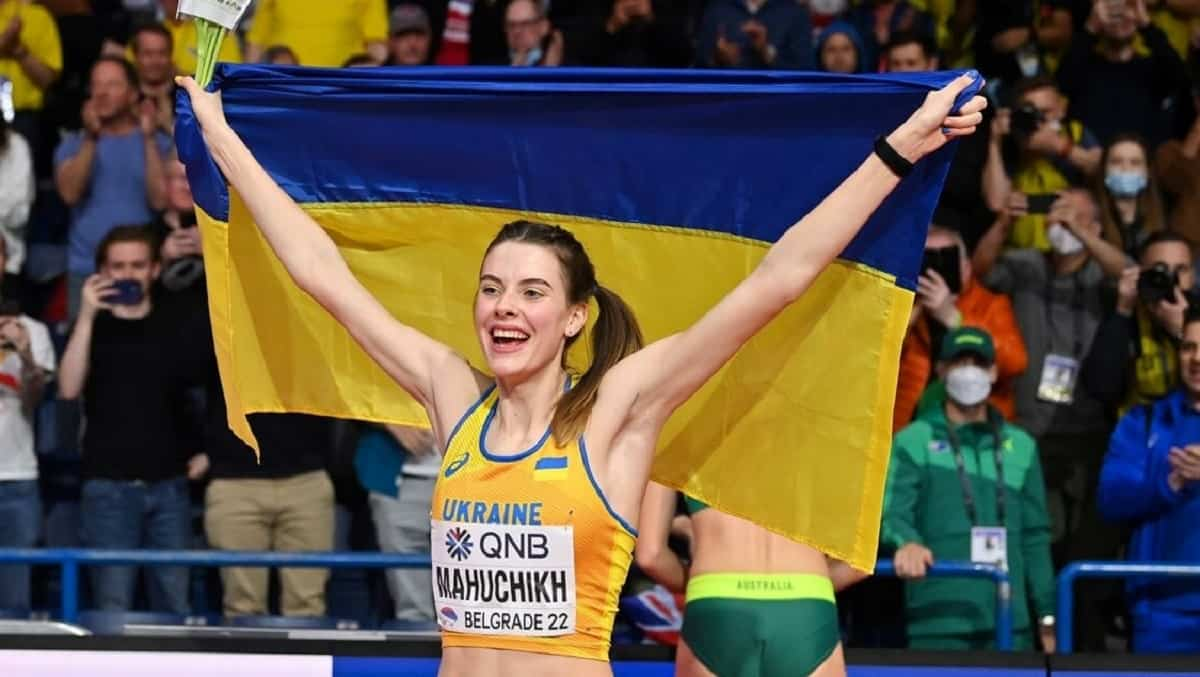 Ukraine's Yaroslava Mahuchik came from behind to take an emotional win in the women's high jump with a world-leading mark of 2.02m. The 20-year-old Ukrainian jumper added this win to the world outdoor silver medal in Doha in 2019, the Olympic bronze medal in Tokyo and the European indoor gold medal in 2021.
Australia's Eleanor Patterson claimed the silver medal improving her own Oceanian indoor record to 2.00m.
Mahuchik needed two attempts to clear 1.92m, but she jumped over 1.95m and 1.98m at the first time of asking. The Ukrainian jumper cleared 2.00m for the first time this season in her third attempt before sealing a well-deserved win with a first-time clearance at 2.02m. Mahuchik came very close to clearing 2.04m in her second attempt.
Patterson had a clean sheet until 1.95m before clearing the next heights of 1.98m and a personal best of 2.00m in her second attempt to remain in contention for the world title. The Australian jumper failed one attempt at 2.02m and her remaining two tries at 2.04m. Patterson, who won the world under 18 title in 2013 and the Commonwealth Games gold in 2014 at the age of 18, arrived in Belgrade with a world leading mark of 1.99m set in Banska Bystrica.
Nadezhda Dubovitskaya from Kazakhstan had a clean sheet until the Asian indoor record height of 1.98m to take the bronze medal. Dubovitskaya failed her three final attempts at 2.00m. Marija Vukovic cleared 1.95m in her first attempt to finish fourth, but she made three unsuccessful attempts at 1.98m. Iryna Gerashchenko had a clean sheet until 1.92m, but she made three failures at 1.95m and took fifth place ahead of Elena Vallortigara on countback.
It took three days for Mahuchik to travel from war-ravaged Ukraine to Belgrade and her win was very emotional.
Yaroslava Mahuchik: "It was a very important win for me, my country and my family. I don't think about competition, training. For me, coming here was very difficult, three days by car. To jump here was so tough psychologically because my country remains in my heart. It's so difficult but I think I have done very well for my country because I protect my country on the track. I think it's very important thing for my country".
Men's 60 metres:
Marvin Bracy was the fastest sprinter in the 60m heats with his PB of 6.46 beating Femi Ogunode from Qatar, who took second place with 6.52. Bracy won the world indoor silver medal in Sopot 2014 and finished runner-up to Coleman at the US Indoor Championships in Spokane.
World indoor champion Christian Coleman started his title defense with a comfortable 6.51 in the first heat.
Christian Coleman: "It felt pretty good. Perhaps a bit rusty, but I was taking it easy and smooth. I am going to pick it up for the semifinals and to be at my best for the finals. I am the defending champion but nobody is going to give me this as a favour. It could be anybody's race. I have got to go out there and try to execute it. We are here to compete against the best and I am looking forward to it".
Olympic champion Marcell Lamont Jacobs from Italy cruised through to the semifinal with a win in the fourth heat in 6.53. Jacobs won 14 consecutive indoor races before being disqualified for a false start at the Belgrade World Indoor Tour Silver meeting on 7 March.
Marcell Jacobs: "I want to thank you for all attention and support I have here in Belgrade. It is very nice to race in front of the cheering crowd. My life has not changed since my Olympic title in Tokyo. I live and train in the same city. Coleman is a great sprinter. He is a real challenge for me and the rest of the field. Coleman is really fast but Bracy is running very fast too. We will see how it goes on. In the final, everything is open. My shape was not the best this morning because I prefer to run in the evening, but I will try to do my best later on"
Coleman leads 3-0 in his three head-to-head clashes in the outdoor 100m against Jacobs and has remained unbeaten for 20 consecutive races since 2017. The US sprinter holds the three fastest times in history in the 60 metres and clocked 9.76 in the 100m at the World Championships in Doha 2019 setting the fastest time in the world in the past four year. Last month he won the 60m title in 6.45 at the US Indoor Championships in Spokane.
Ivory Coast's Arthur Cissé won the third heat in 6.55 beating Shuhei Tada from Japan (6.57) and world under 20 champion Lalu Muhamad Zohri from Indonesia (6.58).
Men's heptathlon:
Olympic champion Damian Warner from Canada won the 60m hurdles setting his PB with 7.61. Warner improved Ashton Eaton's championship best in this event by 0.03.
Warner, who led by just two points over 2019 European Under 20 champion Simon Ehammer overnight, extended his lead to 38 points after the 60m hurdles.
Ehammer took second place in 7.75 missing his PB by 0.03. Olympic bronze medallist Ashley Moloney also lowered his lifetime best to 7.88. Garrett Scantling withdrew from the competition due to food poisoning.
Ehammer cleared 5.10m in his third attempt in the pole vault to move to first in the overall standing with a score of 5634 points. After six events the Swiss athlete had a gap of 23 point over Warner, who needed three attempts to clear 4.90m. Moloney had a clean sheet until 5.10 to remain in third place with 5504 points.
Warner has a faster PB in the 1000m than Ehammer (2:37.12 to 2:51.14).
Women's 60 metres hurdles heats:
Cyrena Samba Mayela from France clocked the fastest time in the 60m hurdles first round with 7.91 beating European under 20 Ditaji Kambundji (7.97).
Cyrena Samba Mayela: "Running in the morning, I did not expect to run so fast. I did not expect a seasonal best.
Ditaj Kambundji: "I was really excited to run this morning. I am glad I managed to have a good race and qualify further so that I can show my form. Unfortunately I could not come to the arena to support my sister because we had to wake up very early in the morning. We are also sharing the same room but she arrived very late after the 60m final. I really tried to fall asleep early. I calmed down a bit, and then I just heard her coming, we hugged each other and we will celebrate later".
Olympic 100m hurdles finalist Gabriele Cunningham from the USA won the third heat in 7.93 ahead of Zoe Sedney from the Netherlands and Liz Clay from Australia, who broke the 8 seconds barrier clocking 7.98 and 7.99 respectively. Noemi Zbaeren from Switzerland improved her PB to 7.95 to win the fifth heat ahead of Olympic finalist Brittany Anderson (8.10). Danielle Williams bowed out after hitting the third hurdle with her third leg. Mette Graversgard from Denmark took a surprising win in 8.08.
Women's 800 metres heats:
Natoya Goule from Jamaica won the first heat in 2:01.65 beating Ethiopia's Freweyni Hailu from Ethiopia by 0.05. Habitam Alemu from Ethiopia led the qualifiers setting the fastest time of the three heats with 2:01.12 in the first heat beating Oceanian indoor record Catriona Bisset (2:01.24) and Halimah Nakaayi (2:01.47). World bronze medallist Ajée Wilson took the win in the slowest heat with 2:03.42.
Olympic silver medallist Keely Hodgkinson pulled out of the World Indoor Championships due to a tear to her right quadriceps.
Keely Hodgkinson: "It's all about looking at the bigger picture. There is a weakness there that I need to fix".
Men's 1500 metres heats:
Tedesse Lemi took the win in the 1500 metres in 3:38.25 ahead of Olympic champion Jakob Ingebrigtsen, who eased in the final 500 metres to easily advance to the final in 3:38.42.
Reigning world indoor champion Samuel Tefera ran the fastest overall time with 3:37.05 ahead of Italy's Pietro Arese, who finished second in 3:37.31, missing the fresh Italian indoor record by just 0.02.
Watch World Athletics Indoor Championships Live Stream
-->