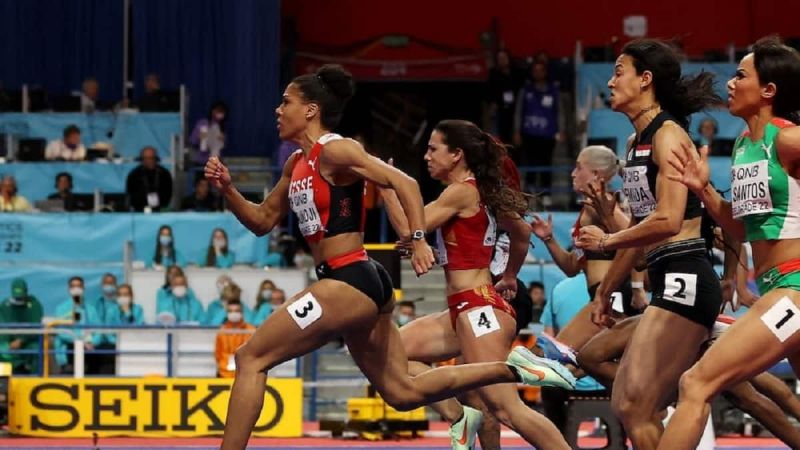 Twenty-nine year-old Swiss star Mujinga Kambundji won her first world indoor title in the women's 60 metres final with a world leading time and national record of 6.96 to move to fourth in the world all-time list equalling the same time of Merlene Ottey and Ekaterini Thanou. Only Irina Privalova (6.92), Gail Devers and Marion Jones (6.95) ran faster in history. Kambundji becomes the second Swiss athlete to win a world indoor title after Julie Baumann, who claimed the 60m hurdles gold medal in Toronto 1993.
Read also: Jacobs defeats Coleman in the men's 60m final
Mujinga Kambundji: "It's crazy. Everything is incredible. I have not sunk it in yet. My morning heat was not perfect. I ran a bit better in the semifinal, but I knew that I was in good form and I had to translate it on the track. I am looking forward to hearing the Swiss anthem. I have not had this feeling in my life. It will be a very special moment for me. I cannot believe that I am world champion. I was thinking that the gold medal was going to be won in sub-seven seconds, but I did not know what time I could run. I was ready for a PB, but I did not expect it to be so fast. To become the world champion, that sounds beautiful. The girls were showing great performances already in the morning, and I also have to congratulate them. I knew I had to put everything right at the right moment ".
Kambundji added this title to the bronze medals won in the 60 metres at the World indoor Championships in Birmiingham 2018 and in the 200 metres at the World outdoor Championships in Doha 2019.
In an outstanding 60 metres final the top six sprinters run under 7.05. US indoor champion Mikiah Brisco also broke the 7 seconds barrier to win the silver medal with 6.99. Her compatriot Marybeth Sant Price won her first global medal with 7.04 edging pre-event favourite Ewa Swoboda from Poland and olympic 4x100 relay champion Bianca Wiliams from Jamaica with the same time. It was a record depth, as 7.04 had been previously the best mark for a bronze medal.
Semifinals women's 60 metres:
Former European Indoor champion Ewa Swoboda won the first semifinal in 7.03 beating Margaret Sant Price by 0.02. Olympic 100m bronze medallist Sherika Jackson took third place with her indoor PB of 7.08.
US indoor champion Mikiah Brisco equalled her PB with 7.03 to beat Mujinga Kambundji, who clocked 7.08. Zoe Hobbs from New Zealand finished third edging Italian Indoor record holder Zaynab Dosso with the same time of 7.16.
Briana Williams from Jamaica won the third semifinal with 7.07.
Final men's long jump:
Miltadis Tentoglou from Greece lived up to his reputation as strong championship performer by winning the world indoor title with a world leading mark of 8.55m. Tentoglou jumped over the 8.50m barrier in the sixth attempt with a leap to 8.51m and another valid jump of 8.26m in the fourth round. He also produced a foul jump in the 8.50m region. Tentoglou missed the championships record held by five-time world indoor champion Ivan Pedroso by just seven cm.
Tentoglou won the Olympic gold medal with 8.41m, the Euopean outdoor gold medal in Berlin 2018 and two consecutive European Indoor titles in Glasgow 2019 and Torun 2021.
Thobias Montler from Sweden won his third consecutive silver medal after finishing second in the past two editions of the European Indoor Championships with a national record of 8.38m in the final attempt. US jumper Marquis Dendy won his third world indoor medal taking the bronze with 8.21m following gold in Portland 2016 and bronze in Birmingham 2018. US indoor champion Jarrion Lawson equalled his seasonal best to finish fourth with 8.19m.
Women's pentathlon:
Noor Vidts from Belgium broke Nafissatou Thiam's Belgian indoor record with a world leading mark of 4929 points to win the world indoor gold medal ahead of European Under 23 champion Adrianna Sulek, who smashed her PB to 4851 points. US Kendell Williams took the bronze medal with 4680 points beating Great Britain's Holly Mills by seven points.
Vidts improved two PBs in the long jump to 6.60m and in the 800 metres to 2:08.81. The Belgian combined events specialist took four wins in five events in the 60m hurdles, in the shot put, in the long jump and in the 800 metres and finished second in the high jump. She extended her lead in the long jump. Sulek set an outright PB of 6.43m. Williams broke the championships best mark with 6.69m.
Vidts had a lead of 67 points over Sulek before the 800 metres.
Holly Mills, who was fourth with one event to go, set off a very fast pace in the 800m in a bid to win the bronze medal and went through at 400m in 1:02.49. Vidts moved into the lead in the final lap and crossed the finish-line in 2:08.81. Sulek finished second in the 800m in 2:09.56 to win silver with a national record of 4851. Mills crossed the finish-line in the 800m with 2:09.97 ahead of Williams, but it was not enough to overtake the US athlete, who clocked 2:19.23 defending her third place with a seasonal best of 4680 points. Williams won her first senior world medal after finishing fifth at the 2019 World Championships in Doha 2019 and at the Olympic Games in Tokyo 2021.
Vidts followed in the footsteps of her compatriots Tia Hellebaut and Nafissatou Thiam. Hellebaut won the world indoor pentathlon title in Valencia 2008. Thiam triumphed at the European Indoor Championships in Belgrade in 2017 and won two consecutive editions of the Olympic Games in Rio de Janeiro 2016 and Tokyo 2021, the world outdoor gold medal in London 2017 and the European outdoor gold medal in Berlin 2018.
Noor Vidts: "The competition was really good, almost perfect. Only the shot put could have been a bit better. It's crazy what happened today. It was a nice competition with Adrianna Sulek. It was really close the whole way. Coming to these championships, I was not allowed to think about the result. I just wanted to think about what I needed to do in each event. I knew that the victory was maybe possible, but I did not want to think about it. I am already very excited about the championships in Oregon this summer. I have been there at the world juniors and it was really nice championships. So I am looking forward to coming back".
Women's shot put:
Auriol Dongmo from Portugal added the world indoor title to the European Indoor gold medal won last year in Torun with a world leading mark of 20.43m. US Chase Ealey took the lead with a North American Indoor record of 20.21m in the fifth round before Dongmo responded with 20.43m in her final attempt. Dutch record holder Jessica Schilder won the bronze medal with 19.48m.
Auriol Dongmo: "To go first time in my career over 20 metres is just an incredible feeling. I knew I was ready for this strong improvement. I was strongly prepared this winter. I wasn't sure when I am able to fulfil my potential. I managed to show my best result at the right place. Tonight I felt calm and was really confident. I have no words to describe this feeling of being the world champion, to be back on the top of the world again. This victory will motivate me even more to continue with shot put at the highest level. It motivates me to work hard to reach the podium at Oregon 2022. I have been dreaming about Olympic medal last summer, but it didn't happen".
Women's 3000 metres:
Twenty-year-old Ethiopian middle distance runner Lemlem Hailu triumphed in the women's 3000 metres in 8:41.82 with a decisive kick in the final lap. US runner Elinor Purrier St. Pierre broke the Ethiopian dominance by winning the silver medal in 8:42.04 ahead of Eygayehu Taye, who finished third in 8:42.23. Gabriela Debues Stafford from Canada took fourth place with 8.42.89 ahead of Dawit Seyaum (8:44.55) and Australia's Jessica Hull, sixth in 8:44.97. Ethiopia won the world indoor title over this distance for the ninth time in the past 10 editions.
Hailu had won the world under 18 title in the 1500m in 2017 and set a world under 20 indoor record of 4:01.57 in the 1500m in 2020.
Lemlem Hailu: "We were all preparing to win the gold medals before the championships. We have very good conditions and training in our country. We are cooperating together and competing at the same time. This helps us to achieve these performances. We also helped each other today, if I have the chance. I would like to say big thank you to my husband Jonas and my coach, who is here supporting me. This medal belongs to them. Before the summer, there are a couple of things we would like to improve in training and competition. I follow what my coach said".
Men's heptathlon:
Olympic champion Damian Warner defended his first place by a small margin of just 2 points over Simon Ehammer with a total of 3649 points after clearing 1.99m in the high jump. Ehammer improved his high jump PB to 2.05m. Olympic bronze medallist Ashleigh Moloney cleared 2.02m to end the first day in third place with 3551 points. Garrett Scantling ranks in fourth place with 3546 points after clearing 2.02m.
Semifinals women's 400 metres:
Jamaica's Stephanie Ann McPherson set her indoor PB of 51.26 to beat European Indoor champion Femke Bol by 0.02. Double Olympic champion Shaunae Miller Uibo from the Bahamas cruised through to the final with a win in the second heat in 51.38 ahead of European outdoor champion Justyna Swiety Ersetic from Poland (51.67).
Semifinals men's 400 metres:
Jereem Richards from Trinidad and Tobago won the first heat in 46.15 beating Benjamin Lobo Vedel from Denmark (46.30). Sweden's Carl Bengstrom ran the fastest time with 45.92 to win the second heat ahead of US Indoor champion Trevor Bassitt (46.25).