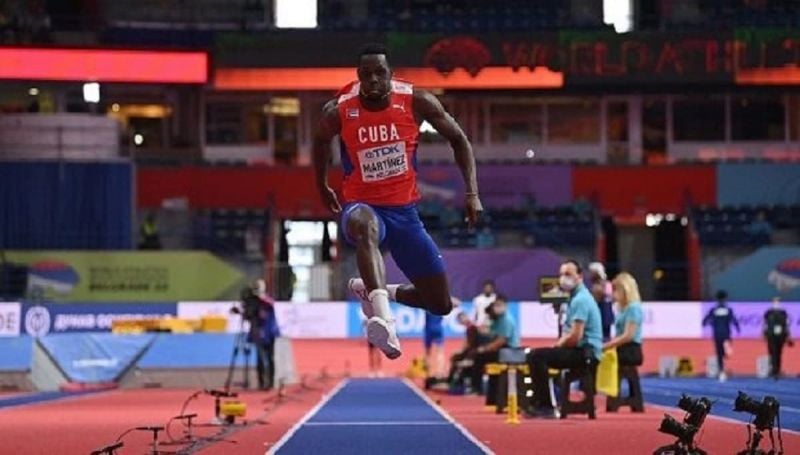 Day one morning session report of the World Athletics Indoor Championships Belgrade 2022.
Lazaro Martinez claimed the first title of the World Indoor Championships in Belgrade on a busy opening session at the Stark Arena.
Men's triple jump final:
Cuba's Lazaro Martinez won the gold medal in the men's triple jump with a world leading mark of 17.64m in the first round. Martinez improved his PB by 42 cm and backed up his winning mark with a second best of 17.62m in the fourth round and two more jumps over the 17 metres barrier (17.04m and 17.32m). The Cuban jumper added this title to his two world under 20 gold medals in Eugene 2014 and Bydgoszcz 2016. Earlier this year he won the World Indoor Tour standings thanks to his two victories in Liévin with 17.21m and Madrid with 17.12m.
Martinez's former compatriot Pedro Pablo Pichardo broke the Portuguese indoor record twice with 17.42m and 17.46m in the first two rounds.
US indoor champion Donald Scott won the bronze medal with 17.21m beating defending champion Will Claye by just 2 cm.
Men's heptathlon:
Olympic decathlon champion Damian Warner leads in the men's heptathlon with 2855 points ahead of Simon Ehammer from Switzerland (2797), Ashleigh Moloney from Australia (2729) and US indoor champion Garrett Scantling (2724).
Warner got off to a flying start by setting his indoor PB with 6.68 in the 60 metres. European under 20 decathlon champion Simon Ehammer from Switzerland finished second improving his PB to 6.72. US indoor champion Garrett Scantling also lowered his lifetime best to 6.84.
Warner set a national indoor long jump with 8.05m to beat Ehammer by 1 cm. Hans Christian Hausenberg from Estonia and olympic bronze medallist Ashley Moloney improved their indoor PB to 7.96m and 7.82m respectively. Warner had a margin of 17 points over Ehammer in the overall standing after two events with a total score of 2855 points.
Scantling improved his PB to 16.37m in the first attempt to win the shot put and repeated the same mark in the third round. Lindon Victor from Grenada finished second with 15.65m ahead of NCAA indoor and outdoor champion Karel Tilga from Estonia (15.36m) and Warner (14.89m).
Women's pentathlon:
European indoor silver medallist Noor Vidts from Belgium clocked the fastest time in the 60m hurdles with 8.15 sharing the same time with Holly Mills from Great Britain. Vidts improved her previous indoor PB of 8.24 set earlier this year. Mills also set her lifetime best in the hurdles event.
US Kendell Williams took third place with 8.20. In the second heat Italian indoor record holder Sveva Gerevini improved her lifetime best by 0.03 to 8.35 beating European Under 23 champion Adrianna Sulek from Poland by 0.01.
In the high jump Sulek cleared all heights until 1.86m in her first attempt before improving her PB to 1.89m at the second time of asking to move into leading position in the overall standing with 2907 points ahead of Vidts, who cleared 1.83m. US indoor champion Chari Hawkins finished third in the high jump with 1.83m on countback to move to third place in the overall standing.
Defending world indoor champion Katarina Johnson Thompson cleared 1.83m but she failed her three attempts to 1.86m. The British combined events star relocated to the USA to train under the guidance of combined events coach Petros Kyprianou.
Vidts moved into overall lead with 2907 points with two events to go after producing a best throw of 14.03m in the shot put. Sulek threw to 13.40m to rank second with 2895. Hawkins kept third place with 2886 after improving her seasonal best of 14.02m. Williams is ranked fourth with 2777, four points ahead of her training partner Johnson Thompson.
Women's 60 metres heats:
Marybeth Sant Price won the first 60m heat in 7.09 beating Zaynab Dosso, who broke her own Italian record by 0.02 to 7.14. Sant Price returned to her best form after two stress fractures to her leg.
Marybeth Sant Price: "That was a nice start to my competition. I am feeling good and happy to get through to the next round. I am usually very good at the start but we have been working on my top end and I am happy to come through so strongly in the second half. I was told by a doctor to retire a few years ago but my heart was still in it and I could not give up the sport. I am so happy to be back because I am now running for my country at the World Championships. It was the right decision".
Swiss indoor record holder Mujinga Kambundji, who won the world indoor bronze medal in Birmingham in 2018, recovered from a slow start to clinch the win in the second heat in 7.17.
US indoor champion Mikiah Brisco took the win in the third heat improving her PB by 0.01 to 7.03. Geraldine Frey from Switzerland became the second sprinter from her country to qualify for the semifinal with a PB of 7.11.
Mikiah Brisco: "I just wanted to qualify for the next round. I didn't think I was going to set a PB in round 1. What a bonus. I am excited. I believe this is a quick track. I think I can get a better time in the next round. I can have a better reaction".
Ewa Swoboda cruised through to the semifinals by winning the fourth heat in 7.10.
Olympic 4x100 relay gold medallist Briana Williams from Jamaica improved her PB by 0.02 to 7.07 to win the sixth heat.
Olympic 4x100 bronze medallist Darryil Neita won her heat in 7.13 beating three-time Tokyo Olympic medallist Shericka Jackson by 0.03.
Women's 400 metres:
Double 400m Olympic champion Shaunae Miller Uibo from Bahamas won the first heat in the 400m in 51.74 to ease through to the semifinals. European Indoor champion Femke Bol set the fastest time of all heats in a comfortable 51.48. Justyna Swiety Ersetic from Poland crossed the finish line first in the third heat in 52.37. British 400m hurdles champion Jessie Knight finished second in 52.93 beating Czech Republic's Lada Vondrova by 0.01.
Femke Bol: "It was good, clean and easy race. I just wanted to be in front to avoid any kind of unexpected situations and to save much energy for the next rounds as possible".
Women's 1500 metres heats:
Ethiopian middle distance runners dominated the three heats. Axumawit Embaye ran the fastest time of 4:04.63 to win the first heat ahead of Ugandan indoor record holder Winnie Nanyondo (4:06.11). Hirut Meshesha took the win in the second heat in 4:05.75 ahead of US Josette Norris (4:06.27). World indoor record holder Gudaf Tsegay eased through to 4:06.71 to win the third heat ahead of Lucia Stafford from Canada (4:07.95).
Men's 800 metres heats:
The two finishers advanced to tomorrow's 800 metres final. Seventeen year-old Kenyan middle distance runner Noah Kibet edged 2019 world fourth placer Bryce Hoppel to win the first heat in 1:48.31. Marco Arop from Canada, who won two Diamond League races last summer in Eugene and Lausanne, took first place in the second heat in 1:48.13 ahead of Andreas Kramer from Sweden (1:48.25).
World seasonal leader Mariano Garcia from Spain claimed the win in the third heat in 1:48.32.
Isaiah Harris from the USA ran the fastest time of 1:47.00 to win the fourth heat ahead of 2019 European indoor champion Alvaro De Arriba (1:47.97).
British Indoor record holder Elliot Giles pulled out of the World Indoor Championships due to an intercostal muscle injury during his warm-up.
Men's 400 metres:
Julien Watrin from Belgium broke the national record to 45.88 to win the first heat in the men's 400 metres ahead of US indoor champion Trevor Bassitt (46.47).
Carl Bengstrom from Sweden ran the second fastest time of all heats with 46.45 to win the fifth heat ahead of Olympic finalist Christopher Taylor from Jamaica (46.48) and Bruno Hortelano Roig from Spain (46.49).
Jereem Richards from Trinidad and Tobago won the second heat in 46.69 edging Mikhail Litvin by 0.03.
Patrik Sorm from Czech Republic took first place in the third heat in 46.49 beating Benjamin Lobo Vedel from Denmark (46.58).
Marquize Washington, who finished second at the US Indoor Championships, clocked 46.68 to win the fourth heat in 46.68.
Men's 3000 metres heats:
Olympic and world 3000m steeplechase silver medallist Lemecha Girma from Ethiopia won the first 3000m heat in 7:46.21. Jacob Krop finished second in 7:46.43 despite a heavy fall. Olympic 10000m champion Selemon Barega ran 7:51.42 to win his heat ahead of national record holder Geordie Beamish from New Zealand, who clocked 7:51.71. Last year's Diamond League 5000m champion Berihu Aregawi did not get through to the final after finishing sixth in 7:58.59 in the third heat won by Marc Scott from Great Britain in 7:54.90.
Watch World Athletics Indoor Championships Live Stream
-->