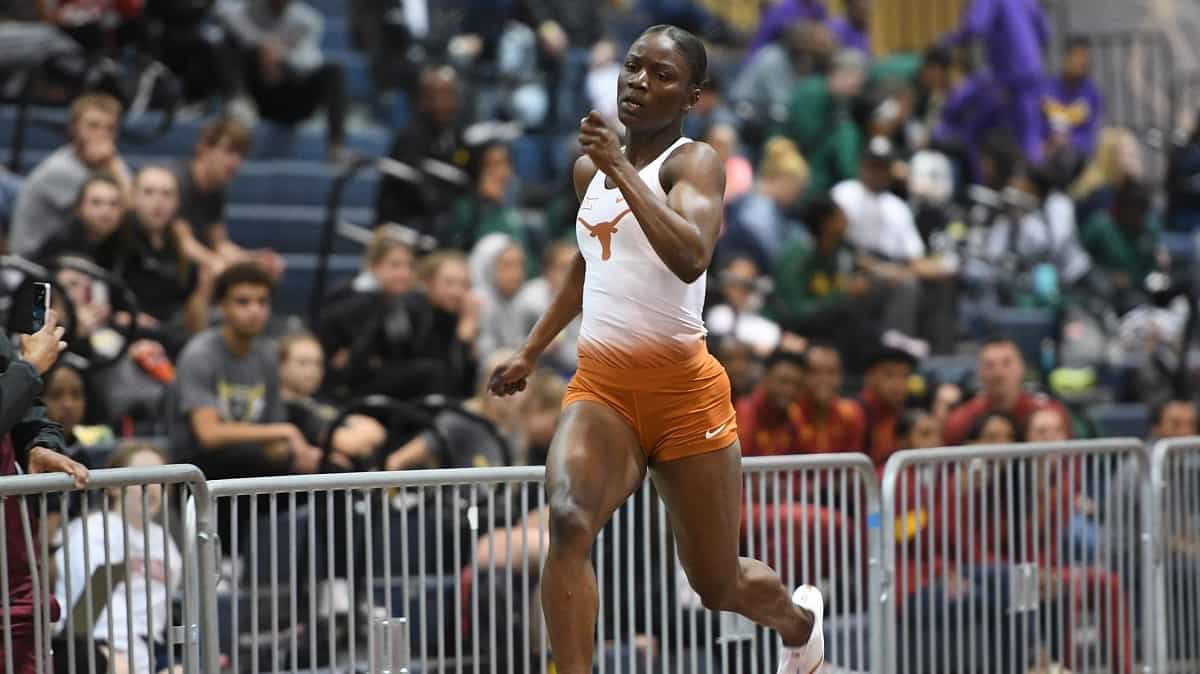 A Saint Lucia native Julien Alfred (University of Texas), clocked a new US collegiate 60m record of 7.04 seconds at the 2022 NCAA D1 Indoor Championships in Birmingham, Alabama, on Friday (3).
Alfred broke Kemba Nelson's (Oregon) NCAA record set last year by 0.01 seconds.
She arrived at completion with a seed time of 7.12 seconds, which was the 4th fastest time among the entrants.
Jady Mays of Oregon clocked 7.09 seconds, # 7th on the all-time collegiate list, to win 2nd heat, while Grace Stark of Florida prevailed in heat 3 with 7.10 seconds. Rhasidat Adeleke (Univ. Texas) who took third in heat 2 clocked a new Irish Record of 7.17 and passed to Saturday's final.
Women's 60m dash final will take place on Saturday (12) at 7:10pm CT.
Watch NCAA Indoor Championships live
Women's 60m dash prelims results
Pl
Athlete
Time
Heat (pl)
1
Julien ALFRED
Texas [JR]
7.04

Q
1 (1)
PB
2
Jadyn MAYS
Oregon [FR]
7.09

Q
1 (2)
PB
3
Grace STARK
Florida [SO]
7.10
(7.095)
q
1 (3)
PB
4
Melissa JEFFERSON
Coastal Carolina [SO]
7.10
(7.100)
Q
2 (1)
PB
5
Abby STEINER
Kentucky [JR]
7.14

Q
2 (2)
6
Rhasidat ADELEKE
Texas [FR]
7.17
q
2 (3)
PB
7
Favour OFILI
LSU [SO]
7.18
(7.177)
q
2 (4)
8
Semira KILLEBREW
Florida [SO]
7.18
(7.178)
q
1 (4)
PB
9
Alia ARMSTRONG
LSU [SO]
7.18
(7.180)
2 (5)
10
Jada BAYLARK
Arkansas [SR]
7.20

2 (6)
11
Rayniah JONES
UCF [SO]
7.21
(7.203)
1 (5)
PB
12
Kemba NELSON
Oregon [SR]
7.21
(7.205)
2 (7)
13
Rosemary CHUKWUMA
Texas Tech [SO]
7.21
(7.207)
1 (6)
14
Joella LLOYD
Tennessee [SO]
7.21
(7.208)
1 (7)
=SB
15
Madison MEREDITH
Missouri State [SR]
7.31

2 (8)
16
Edidiong ODIONG
Florida State [SR]
7.52

1 (8)
-->