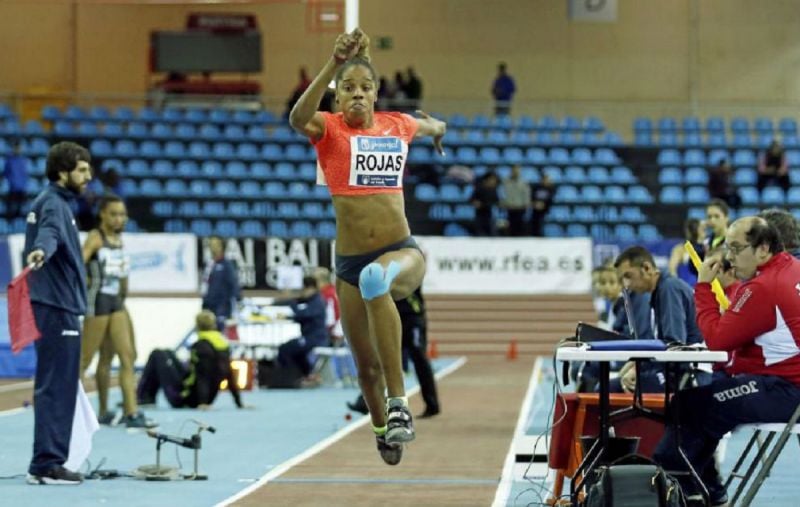 Full report: Villa de Madrid, a World Athletics Indoor Tour Gold level meeting, on Wednesday, March 2.
Yulimar Rojas leapt to a world leading mark of 15.41m missing her own world indoor record by just two cm. The Olympic champion set the world indoor record of 15.43m two years ago in the same arena at the Centro Deportivo Municipal de Gallur. The Venezuelan star produced two more valid jumps of 15.35m and 14.90m and three fouls.
Cuba's Lladagmis Povea took second place with 14.08m.
Yulimar Rojas: "It was very good, and for my first competition it went really well. There are small details we need to work on, but I felt really good and it was what we wanted. It's always great to compete in Madrid, with so many people in the stands making such a nice atmosphere".
Men's 3000 metres:
Olympic 10000m gold medallist Selemon Barega from Ethiopia won the men's 3000 metres in 7:34.03 holding off his compatriot Lemecha Girma by 0.06 in a close sprint finish. Barega avenged his recent defeats against Girma, who won their previous two head-to-head races in Liévin and Torun. European indoor record holder Adel Mechaal from Spain finished third in 7:35.26. Girma won the World Indoor Tour Standings with 27 points thanks to his wins in Liévin and Torun.
Selemon Barega: "After two times being second without any elite speed training, this week I was targeting a push a push from 150m out. The altitude is altitude here, so I decided it was not the time to run fast. After the Olympics it was just easy training, but I put in a hard month of training and the target now is to become world champion. I hope to double 1500m and 3000m at the World indoor Championships in Belgrade".
Women's 1500 metres:
World indoor record holder Gudaf Tsegay from Ethiopia won her third race at this year's World Indoor Tour improving the meeting record to 3:57.38. Tsegay finished first in the final World Athletics Indoor Tour Standings with 30 points. Hirut Meshesha finished a distant second with 4:02.22 beating another Ethiopian middle distance runner Freweyni Hailu (4:03.38). European Under 23 champion Gaia Sabbatini from Italy finished fourth with her indoor PB of 4:10.25 beating Ethiopia's Axumawit Embaye (4:10.32).
Men's shot put:
Konrad Bukowiecki took the win in the men's shot put setting the European leading mark and the meeting record of 21.91m. Bukowiecki went to the lead with 21.84m in the first round and improved his seasonal best to 21.91m in the fourth round. European Indoor bronze medallist Filip Mihaljevic from Croatia missed his national indoor record by just one cm to take second place with 21.83m. Bukowiecki avenged his recent defeat against Mihaljevic, who won their previous head-to-head contest by just one cm with 21.84m in Torun last week. Olympic fifth placer Zane Weir from Italy missed his indoor PB by 10 cm with 21.40m, beating Italian indoor and outdoor champion Nick Ponzio, who produced his third consecutive competition over the 21m barrier with 21.14m.
Bukowiecki claimed first place in the World Indoor Tour Standings with 20 points ahead of Mihaljevic (17 points) and Ponzio (13 points).
Konrad Bukowiecki: "I will compete at the Polish Championships in Torun next week before targeting a medal in Belgrade the week after. I am going there with one goal: to throw the furthest I can. I have good memories from Belgrade, being European Indoor champion. I just need to stay focused, do what I do and I hope I am going to throw far. I can't wait for it".
Men's 800 metres:
Elliot Giles from Great Britain secured the top spot in the World Indoor Tour Standings with his third win in this season's circuit with a meeting record of 1:45.43 over Mariano Garcia (1:45.82) and Alvaro De Arriba (1:45.97). Adrian Ben from Spain finished fourth with 1:46.17.
Elliot Giles: "The plan was to win, nothing but to win. I figured I race these boys all the time. I know how to beat them, and while it didn't quite happen the way I planned. It was great to get the win. That race with pacemakers is so different to a champs so these races don't give us any indication of it will go"
Men's triple jump:
Cuba's Lazaro Martinez leapt to 17.12m in his second attempt to win the men's triple jump ahead of Max Hess (16.85m) and Jean Marc Pontvianne from France (16.67m). Martinez secured the overall win with 20 points.
Women's high jump:
Eleanor Patterson from Australia had a clean sheet clearing all heights until 1.96m to win her second World Indoor Tour Gold competition. The Olympic fifth placer fouled her three attempts at the Oceanian indoor record mark of 2.00m. European indoor bronze medallist Ella Junnila from Finland cleared 1.90m to take second place, beating Marija Vukovic from Montenegro, who jumped 1.87m at the first time of asking before fouling her three attempts at 1.90m.
Women's 60m hurdles:
Zoe Sedney from the Netherlands improved her indoor PB by 0.03 to 7.95 to win her second 60m hurdles race at this year's World Indoor following her victory in Birmingham. Reetta Hurske from Finland took second place with 8.00.
Men's 60 metres:
US sprinter Elijah Hall won his second 60m race in this year's World Indoor Tour with 6.57 beating his compatriot Michael Rodgers (6.60) and 2013 European Indoor champion Jimmy Vicaut (6.62). Hall claimed the top spot in the World Indoor Tour Standings with 25 points securing the wild card for this year's World Indoor Championships in Belgrade.
Women's 800 metres:
Oceanian indoor record holder Catriona Bisset from Australia won her second consecutive 800m race at this year's edition of the World Indoor Tour with a win in 2:00.10 ahead of Adelle Tracey from Great Britain (2:01.89) and German champion Christina Hering (2:01.99).
Men's 60 metres hurdles:
European Under 23 champion Asler Martinez from Spain won a very close photo-finish race edging his compatriot Enrique Llopis with the same time of 7.56, while David King took third place with 7.57.
Women's 400 metres:
Reigning European 400m outdoor champion Justyna Swiety Ersetic from Poland set the meeting record with 51.21 to win the women's 400 metres ahead of Lithuania's Juste Mouraskaite from Lithuania and Phil Healy from Ireland, who improved their PBs to 51.63 and 51.66 respectively.
Women's long jump:
Lorraine Ugen from Great Britain won her second long jump competition at this year's World Indoor Tour equalling the meeting record with 6.67m in the fifth round. Fatima Diamé leapt to 6.51m to finish second ahead of world under 20 indoor record holder Larissa Iapichino, who jumped 6.45m bouncing back from her three fouls at last week's Italian Indoor Championships in Ancona. Khaddi Sagnia was a late withdrawal from the competition and finished with the same point as Ugen in the overall World Indoor Tour Standings. Ugen took the overall win thanks to her best mark during the this year's World Indoor Tour: the Briton jumped 6.71m in Staten Island edging Sagnia's 6.70m in Birmingham.
Lorraine Ugen: "I did by the skin of my teeth. The competition went okay. I was a bit shaky. I got one decent jump out there and the rest were a bit off. Once I get to the World Championships and have my coach to give my feedback, I should get some better distance out there. My runway needs to be fine-tuned a little bit more but once I get that right, the jumps will come".
-->