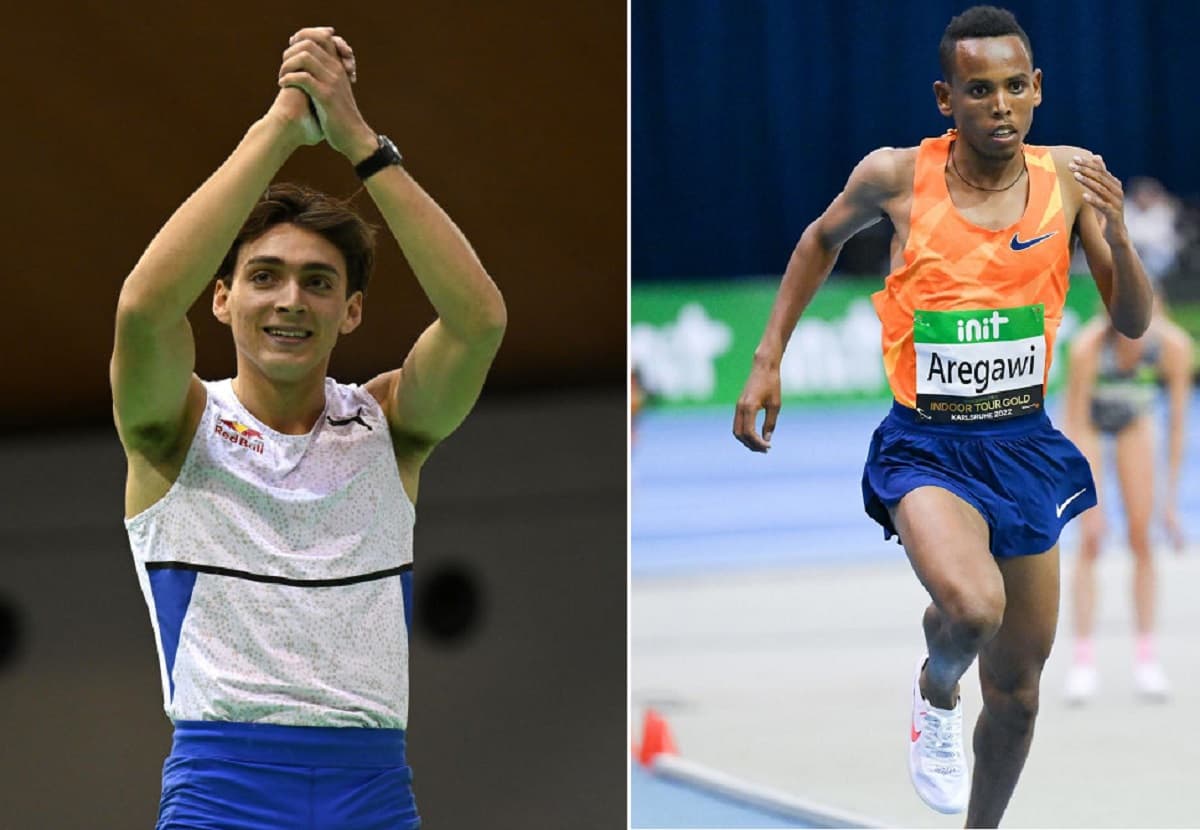 Armand Duplantis and Berihu Aregawi highlighted the INIT Indoor Meeting Karlsruhe, the World Athletics Continental tour gold-level event, on Friday (28).
Reigning Olympic champion Armand "Mondo" Duplantis picked up where he left off last year by winning his first men's pole vault competition of the indoor season with 6.02m in his first attempt. Duplantis needed just four first-attempt clearances at 5.51m, 5.71m, 5.89m and 6.02m to take the win ahead of KC Lightfoot, who cleared 5.81m in his first attempt and 5.89m at the third time of asking. Duplantis broke Renaud Lavillenie's meeting record of 5.95m set last year. He made a close attempt at the world record height of 6.19m in the first of his first tries.
European Indoor bronze medallist Valentin Lavillenie took third place with 5.71m beating German champion Oleg Zernikel on countback.
Armand Duplantis: "Tonight was really special. Mainly because we really have not had spectators in a few years. That fan interaction is a whole different experience. It is a new season, but I just think I am so in tune with my jumping that I have a lot of confidence, whether it is the first or the last meeting of the year. Going into competitions, I know that I am the favorite, the pressure will always be on me, but my young age does not matter in that situation. The only thing I can control is myself, so I try to go out there and jump as high as possible. Next week I am going to compete in Berlin. I have a lot of competitions in Germany, and I feel like I always do well there. It's probably about time for a world record in Germany. About the outdoor season: what makes more sense than to win a second European title in the same country where I won my first one ?
Men's 3000 metres: Aregawi sets the fifth-fastest time in history | WATCH RACE VIDEO
Berihu Aregawi set the fifth-fastest time in history in the men's 3000 meters with 7:26.20, beating 2017 European Indoor champion Adel Mechaal (7:36.57) and Jacob Krop from Kenya (7:38.15). Aregawi ran his previous PB of 7:29.24 last year in the World Indoor Tour Gold meeting in Liévin. The 20-year-old Ethiopian runner finished fourth in the 10000m at the Olympic Games in Tokyo and won the Wanda Diamond League final in the 5000 meters in Zurich last year.
Women's 60 meters hurdles: Williams takes the narrow win over Mayela Samba | WATCH VIDEO
Former 100m hurdles world champion Danielle Williams clinched a very narrow win in the women's 60m hurdles final, edging Cyrena Samba Mayela in a close photo-finish with the same time of 7.84, the second-fastest time in the world this year. Only Kendra Harrison ran faster in 2022 with 7.81 in Clemson on 14 January. Williams clocked 7.92 last week.
Danielle Williams: "It was fast, of course, but I am never satisfied. I always want to run faster. Nevertheless, the personal best gives me a good feeling for the upcoming season. It's been a while that I competed in front of so many spectators. My next meeting will be in Staten Island, and after that, I want to take a short break, but I will be back at the World Indoor Championships in Belgrade. My focus will be on that highlight".
Men's 60 meters hurdles final: Martinot Lagarde sets the world-leading time | WATCH VIDEO
World bronze medallist Pascal Martinot Lagarde set the world-leading time of 7.54 in the men's 60 metres hurdles final in the sixth appearance of his career at this meeting. Enrique Llopis from Spain and Jakub Szymanski improved their PBs to 7.59 and 7.60. European Under 23 champion Asler Martinez finished fourth in 7.61.
Pascal Martinot Lagarde: "Last year was horrible because of my injury. That destroyed my indoor season, which made the beginning of the season so difficult. I am glad I managed to get fit in time for the Olympic Games. I am super happy with today's race. I try to do my best every time in every championship. There are three of them this year. Rendez-vous in Eugene, in Munich and in Belgrade".
Men's 800 meters: Giles takes a close win over Kramer
British indoor record holder Elliot Giles took his second consecutive win in Karlsruhe in the men's 800 meters in 1:46.78, edging out European bronze medallist Andreas Kramer by 0.05 in a close 800 meters race. Mostafa Smaili from Morocco finished third in 1:47.00 ahead of 2019 European Indoor champion Alvaro De Arriba (1:47.44).
Elliot Giles: "Last year, I only arrived in Karlsruhe on the day of the race because I lost my passport the day before. That was a crazy race. That was a crazy one; this year was a bit more grounded. I just love this event. This crowd is amazing. We had not a crowd last year. I did not have a tactic for the race. I just figured out: 'Let's see, the first race of the season, you don't really know where you are.' It was really, really close in the end. I just had to keep my composure, and I had to dip. A win is a win. I will go for every one of the season highlights this year. I will have a go at the indoors and take it from there. I don't have any special goal, though. I can only focus on the next race. I want to win the world indoors, but I don't want to think too far ahead".
Women's 1500 meters: Embaye takes the narrow win over Meshesha
Ethiopia's Axumawit Embaye took a very close win in the women's 1500m in a world-leading time of 4:02.12, beating her compatriot Hirut Meshesha by just 0.02. Olympic fourth placer Freweyni Hailu completed the Ethiopian sweep finishing third in a lifetime best of 4:02.66.
Women's 60 meters:
Maria Isabel Perez from Spain equaled her national record in the 60m final, clocking 7.21 beating Patrizia Van der Veken from the Netherland (7.29). A few weeks ago, Perez broke the 27-year-old Spanish indoor record held by Sandra Myers clocking 7.21 in Antequera.
Men's long jump: Montler wins for the second time in Karlsruhe
Two-time European Indoor silver medallist Tobias Montler won the men's long jump in Karlsruhe for the second time in his career with 8.02m in his sixth attempt. The Swedish jumper produced the second-best jump of the evening with 8.00m in the third round. The world under 20 champion Erwan Konate came close to the 8 meters barrier improved his indoor PB to 7.98m in his third attempt to finish second ahead of Maximilian Entholzner (7.92m).
Thobias Montler: "I think this was a good start. You never know what to expect from the first competition of the year. It was a perfect competition. The atmosphere was good, and it was an excellent field. I had a jump over the board, so I talked to my coach to find my rhythm. I came fourth at the European Championships in Berlin 2018, so my goal is clear. Get on the podium this time".
Men's triple jump:
Andreas Pantazis from Greece scored a surprising win in the men's triple jump with a world-leading mark of 16.79m in the third attempt beating 2019 European Indoor champion Nazim Babayev (16.76m), 2016 European outdoor champion Max Hess (16.73m), and Finland's Simo Lipsanen (16.71m).
Andreas Pantazis: "I did not expect that. My previous best was 16.26m, so it is a huge improvement. I am pleased with this win. I come out of nothing, and it gives me pretty much confidence for the next weeks. After this surprise, I have to speak with my coach, and we have to plan the next competitions. Right now, I am only tired. I am exhausted. There will be no party today. I just want to eat something, and then I am going to sleep".
Women's 800 meters:
Uganda's Halimah Nakaayi won 800 meters in 2:02.81 in her seasonal debut ahead of seven-time German champion Christina Hering (2:03.73).
Halimah Nakaayi: "It was a good competition. I was enjoying to compete in front of such a big crowd. That pushed me very well. Thanks to all the supportive people here in Karlsruhe. The situation with coronavirus is bizarre, but we have to get used to it. We still have to give our best on the track. That's our job".
Women's 400 meters: WATCH VIDEO
Anna Kielbasinska from Poland clocked the fastest overall time with the world seasonal best with 51.92 holding off Phil Healy from Ireland by 0.05.
European Indoor 4x400 champion Lieke Klaver from the Netherlands won the B race in 52.41, beating Germany's Corinna Schwab (52.59).
-->