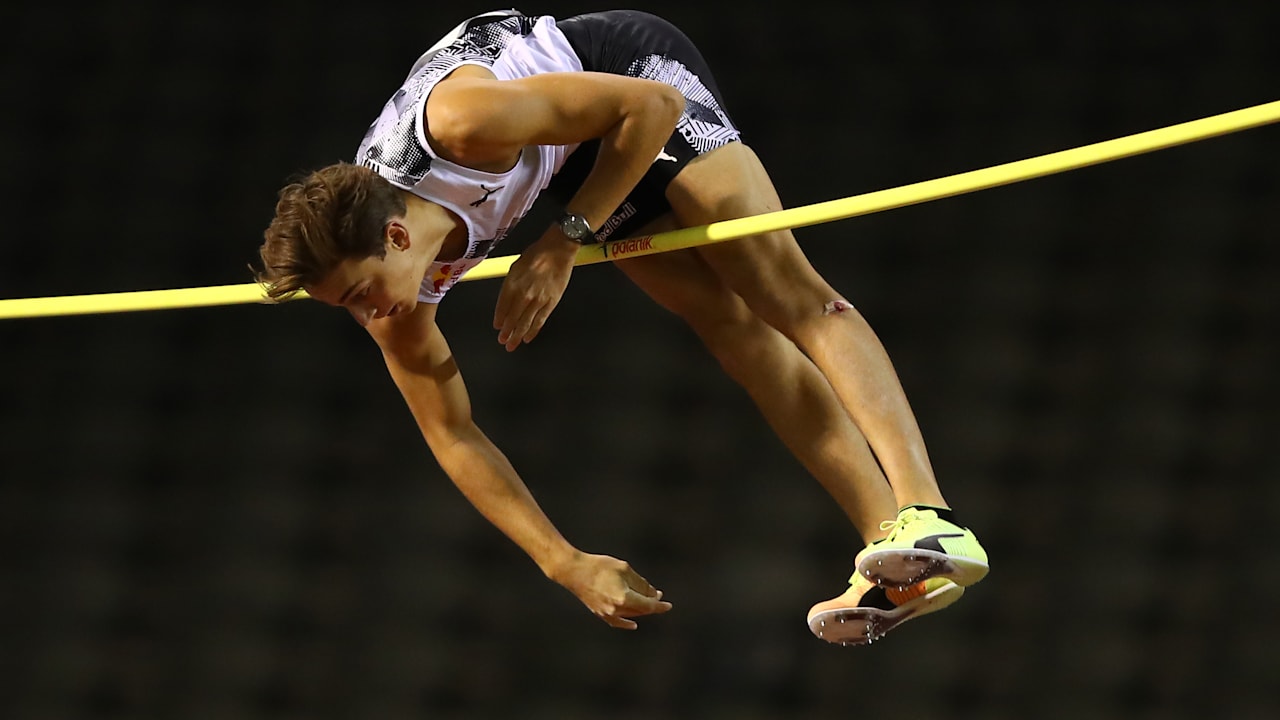 Many global stars will make their seasonal debut at the INIT Indoor Meeting at the Messe Halle in Karlsruhe on Friday 28 January. The German meeting opens the World Athletics Indoor Tour Gold circuit, which features seven meetings: the Millrose Games in New York Manhattan (29 January), Staten Island (6 February), Liévin (17 February), Birmingham (19 February), Torun (22 February) and Madrid (2 March).
Watch Indoor Meeting Karlsruhe live stream
Men's pole vault
Many Olympic, World, and European champions have competed in the 38-year history of the Indoor meeting in Karlsruhe. This year's edition will add Armand "Mondo" Duplantis to this prestigious list of stars. Duplantis will make his first appearance at the Init Indoor Meeting.
The 21-year-old Swedish star is aiming to break the meeting record of 5.95m set by 2012 Olympic champion Renaud Lavillenie and jump the first 6 meters clearance in the history of this event.
Duplantis set two world indoor records in February 2020 jumping 6.17m in Torun and 6.18m in Glasgow and went on to break Sergey Bubka's world outdoor record with 6.15m at the Golden Gala in Rome. He was named the Men's World Athlete of the Year in November 2020 after an undefeated season.
During the 2021 season, Duplantis claimed 15 wins and cleared 6.00 meters 14 times. He set world-leading marks of 6.10m indoors in Belgrade and outdoors at the Continental Tour Gold meeting in Hengelo. He attempted the world record height of 6.19m at 12 of his competitions and came close to clearing it several times.
Armand Duplantis: "I am really looking forward to Karlsruhe and the meeting. The indoor season is very important for me, in terms of preparation for the summer. I have never been to Karlsruhe before, but I have already heard about this great meeting from many of my colleagues. If nobody has jumped the 6 meters in Karlsruhe so far, it's about time and I want to be that person".
Duplantis will line up against KC Lightfoot, who finished joint fourth at the Olympic Games in Tokyo with young Greek pole vaulter Emmanouil Karalis, who also competes in Karlsruhe. Lightfoot cleared a world-leading mark of 5.91m in Reno (Nevada) last week.
The starting list also features world outdoor bronze medallist Piotr Lisek, Valentin Lavillenie, European Indoor bronze medallist in Torun 2021, and the best three German pole vaulters Bo Kanda Lita Bahere, who finished fourth at the 2019 World Championships in Doha and won three German titles in 2017, 2018 and 2020, Oleg Zernikel, German outdoor champion in 2021 with 5.80m and 11th in the Olympic final in Tokyo with 5.70m, and Torben Blech, German indoor champion in 2021 with 5.72m.
Men's 3000 meters: Aregawi in the spotlight
Ethiopian middle-distance rising star Berihu Aregawi will be in the spotlight in the men's 3000 meters. Aregawi finished fourth in the 10000m at the Olympic Games in Tokyo, won the Wanda Diamond League record in Zurich last September, and the 10000m at the Ethiopian Trials in Hengelo in 26:50.37. He set the fastest ever indoor time clocking a PB of 7:29.24 in the 3000m in Liévin last February and broke the 5 km record on the road clocking 12:49 in Barcelona on New Year's Eve.
Aregawi will face his fellow 20-year-old Jacob Krop, who improved his 10 km PB on the road in Valencia clocking 27:23 and holds an outdoor PB of 7:30.07 in the 3000 meters, Kenyan middle distance runners Abel Kipsang, who finished fourth in the 1500 meters at the Olympic Games in Tokyo 2021, Justus Soget, who won the world under 20 bronze medal in the 1500 meters in Tampere 2018, and Adel Mechal from Spain, fifth in the 1500m at the Tokyo Olympic Games and gold medallist in the 3000m European Indoor in Belgrade 2017.
Men's 60 meters hurdles: Pozzi clashes against Martinot Lagarde
Reigning world indoor champion Andy Pozzi from Great Britain will clash against French hurdler Pascal Martinot Lagarde.
Pozzi won the 60m hurdles in Karlsruhe in 2017 in 7.44, missing his PB by 0.01, and went on to win the European Indoor in Belgrade in 7.51 later that season beating Martinot Lagarde by 0.01. One year later the British hurdler won the world indoor gold medal in Birmingham in 7.46 in front of his home fans.
Martinot Lagarde won four European Indoor medals: bronze in Gothenburg 2013, gold in Prague 2015, silver in Belgrade 2017, and silver in Glasgow 2019. The Frenchman also won three world indoor medals in Istanbul 2012, Sopot 2014 and Portland 2016, the European outdoor title in Berlin 2018, and the world outdoor bronze medal in Doha 2019 in the 110m hurdles. He will make his fifth appearance in Karlsruhe after racing in the German city in 2012, 2013, 2017, and 2021. Last summer the 30-year-old French hurdler finished fifth in the Olympic final in Tokyo in 13.16.
Martinot Lagarde will be joined by his compatriot Aurel Manga, who won the world indoor bronze medal in Birmingham 2018.
Women's 60 meters hurdles: Jamaican clash between Tapper and Williams
A Jamaican clash is expected between Olympic 100m hurdles Megan Tapper and Danielle Williams. Tapper improved her PB to 12.53 in the heats of the Olympic Games in Tokyo 2021 before winning the bronze medal in 12.55 and finishing third in the Wanda Diamond League final in Zurich.
Williams, who won the 2015 world outdoor title, clocked 7.92 in Clemson in the 60m hurdles in her debut in this indoor season. The Jamaican hurdler set her lifetime best of 12.32 outdoors in the 100m hurdles in London in 2019 and won a Wanda Diamond League race last year in Paris in 12.50.
Former European indoor champion Cindy Roleder will make her return to the 60m hurdles after competing in her first pentathlon competition since 2014. The line-up also features 2018 European outdoor champion Elvira Herman from Belarus, Luminosa Bogliolo, who broke the Italian record in the 100m hurdles with 12.75 in the Olympic semifinal in Tokyo and finished sixth in the European Indoor final in Torun with 7.99, Finnish hurdlers Nooralotta Neziri (winner in Karlsruhe in 7.92, second in Liévin in a national record of 7.91 last year and fourth at the European Indoor Championships in Torun in 7.93) and Reetta Hurske (PB 7.97 in 2019), Hungary's Luca Kozak, who finished eighth at the European Indoor Championships in Torun with 8.01, Cyrena Samba Mayela, who won the French outdoor title in the 100m hurdles in 12.73 in 2020 and Ditaji Kambundji from Switzerland, who won the European Under 20 gold medal in the 100m hurdles in Tallin last July.
Men's 800 meters: Giles takes on Kramer and De Arriba
Elliot Giles from Great Britain will return to Karlsruhe, where he started his indoor campaign winning the 800m in 1:45.50 in 2021. The British middle-distance runner improved his indoor PB to 1:45.49 in Liévin ten days later and crowned his successful World Indoor Tour season with an impressive 1.43.63 in Torun, improving the national indoor record held by Sebastian Coe. Only Wilson Kipketer ran faster with his world indoor record of 1:42.67 at the 1997 World Indoor Championships in Paris Bercy.
Giles will take on Andreas Kramer from Sweden, who finished third in that Torun race improving the national indoor record to 1:45.09, and won the European outdoor silver medal in Berlin in 1:45.03. Giles and Kramer will be joined by Alvaro de Arriba, who won the European Indoor gold medal in Glasgow 2019.
Women's high jump: Levchenko clashes against Jungfleisch
Reigning Olympic and world champion Mariya Lasitskene has been forced to withdraw from the Karlsruhe competition due to a cold. The line-up is led by Ukraine's Yuliya Levchenko, who won the world silver medal in London 2017 with 2.01m. Levchenko will take on 2016 Olympic silver medallists Mirela Demireva from Bulgaria, and German jumpers Marie Laurence Jungfleisch and Imke Onnen. Jungfleisch won seven German outdoor titles, six Naational indoor titles, and the European outdoor bronze medal with 1.96m. Onnen, sister of German high jumper Eike Onnen, won the German Indoor title in Karlsruhe in 2015 and the bronze medal at the World University Games in Neaples in 2019.
Women's 60 meters: Mihambo tests her speed
Olympic and world long jump champion Malaika Mihambo will test her speed in the women's 60 meters. Mihambo, who won the Olympic gold medal with 7.00m in the final jump, holds a 60m PB of 7.22 and clocked 7.37 in Karlsruhe in 2020. She will face her compatriot Tatjana Pinto, who won the 60m in Karsluhe meeting in 7.10 in 2018 and the German indoor title later that year set her lifetime best with 7.06, and Jamile Samuel from the Netherlands, who won the European Indoor bronze medal in Torun in 7.22 last year.
Women's 800 meters: First race for Nakaayi indoors since 2020
Uganda's Halimah Nakaayi will run her first indoor race since February 2020, when she set her PB of 2:01.96 in Liévin. Nakaayi will line up against 2016 European bronze medallist Lovisa Lindh from Sweden and seven-time German champion Christina Hering.
Women's 1500 meters: Hailu starts as a favorite
Freweyni Hailu from Ethiopia is the top name in the women's 1500 meters. Hailu set her PB clocking 3:56.28 in the Monaco Diamond League meeting and finished fourth at the Olympic Games in Tokyo in 3:57.60. Hailu will go up against 2014 world indoor silver medallist Axumawit Embaye, who improved her PB to 4.02.92 in Karlsruhe in 2015, Hirut Meshesha, who clocked an outdoor lifetime best of 3:59.43 in Chorzow last year, Edinah Jebitok from Kenya, who won the World Cross Country Tour Gold race in Elboibar, and Spanish middle-distance runners Marta Perez and Esther Guerrero.
Women's 400 meters: All European field with Swiety Ersetic, Schwab, and Klaver
Reigning European outdoor 400m and 4x400 relay champion Justyna Swiety Ersetic will clash against 2021 European 4x400 relay champion Lieke Klaver from the Netherlands and Germany's Corinna Schwab, who set the fastest time in the world this season in the 400m with 51.95 last week in Chemnitz.
Men's long jump: Montler is chasing his second win in Karlsruhe
Two-time European Indoor silver medallist Thobias Montler from Sweden will be aiming to win for the second time in his career in Karlsruhe after taking first place with 8.08m in 2019. The Swede finished seventh at the Olympic Games in Tokyo with 8.08m and won the Wanda Diamond League final in Zurich with 8.17m. After testing his speed with 6.86 in the 60m sprint last week in Vaxjo, Montler will clash against Olympic fourth placer Eusebio Caceres from Spain, European Indoor fifth placer Maximilian Entholzner from Germany, and last year's world under 20 champion Erwan Konate from France, who improved his PB to 8.12m in Nairobi last August.
Men's triple jump: Hess set to clash against Bebayev and Raffin
Germany's 2016 world indoor silver medallist and European outdoor champion Max Hess will face European Indoor champion Nazim Bebayev from Azerbaijan, and Melvin Raffin from France, who won the world under 20 bronze medal in Bydgoszcz 2016.
-->