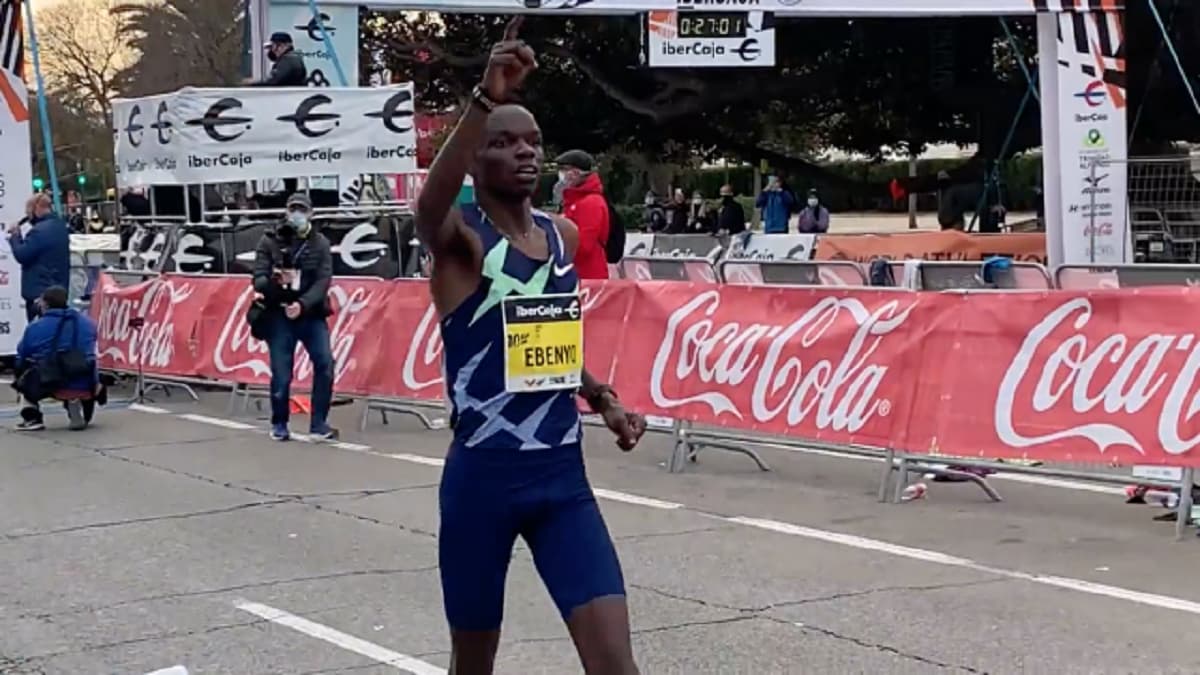 Kenyan's Norah Jeruto and Daniel Simiu Ebenyo were the winners of the windy 2022 Valencia 10K Ibercaja, the World Athletics label road race, on Sunday, January 9.
The candidates for the win in the women's race were clear from the start of the race. The Kenya's Norah Jeruto and Gladys Chepkurui accompanied by Norwegian Karoline Grovdal and Swedish runner Meraf Bahta broke away from the field from the very start. The women's pacemaker ran the first kilometer in 3:03 and second in 3:05 and considering the strong headwind it was clear that it will would be almost impossible to see sub 30 minute performance in Valencia.
Near the 5km marker Sweden's Meraf Bahta tried to pull away from the lead pack crossing the half way in 15:09 just few seconds ahead of Norah Jeruto. Meanwhile Gladys Chepkirui was sitting a few seconds away from the leaders in 2nd place followed by Norway's European cross country champion Grovdal.
Finally, it was a 3000m steeple chaser Jeruto who won the windy Valencia 10k race in 30:35. Grovdal's tactics paid off as she pulled away from Chepkirui in the final kilometer to take second place just 10 seconds ahead of the Kenyan in 30:38 . Meanwhile Meraf Bahta had faded to 5th place in a new Swedish record of 31:22. Anchinalu Dessie Genaneh took 4th place in 31:01.
The men's race was run without a pacemaker. From the first kilometers it was clear that Daniel Simiu Ebenyo and Boniface Kibiwott would duel for the victory in Valencia as they opened a big gap in the early stages of the race. Both Kenya's crossed the half way mark in 13 minutes and 31 seconds. From there it was Ebenyo who took the sole lead and raced against the clock as he broke the tape with the 11th fastest time 10km time in history of 26:57.
Chimdessa Debele Gudeta of Ethiopia ran very strong the last two kilometers to finish 2nd in 27:10. Jacob Krop of Kenya took third in 27:23 followed by his countryman Boniface Kibiwott in 4th in 27:44.
Emile Cairess took the 5th with 27:44 equaling Mo Farah's British record. Carlos Mayo was the first Spaniard to cross the line in 8th place in 28:11 while the European 10km record holder Julien Wanders of Switzerland was 11th in 28:14.
Velancia 10km Ibercaja results 2022
Top results women 10km elite
Norah Jeruto (KEN) - 30:35
Karoline Grovdal (NOR) - 30:38
Gladys Chepkurui (KEN) - 30:48
Anchinalu Dessie Genaneh - 31:01
Meraf Bahta (SWE) - 31:22 NR
Ftaw Zeray Bezabh (ETH) - 32:07
Diana Chesang (KEN) - 32:24
Meritxell Soler Delgado - 32:34
Mahlet Mulugeta Alemu (ETH) - 32:45
Maitane Melero Lacaisa (ESP) - 32:47
Top results men 10km elite
Daniel Simiu Ebenyo (KEN) - 26:57
Chimdessa Debele Gudeta (ETH) - 27:10
Jacob Krop (KEN) - 27:23
Boniface Kibiwott (KEN) - 27:44
Emile Cairess (GBR) - 27:44
Peter Maru (UGA) - 27:58
Kelvin Kibiwott (KEN) - 28:01
Carlos Mayo (ESP) - 28:11
Samuel Barata (POR) - 28:12
Mohammed Benyettou - 29:13
Julien Wanders (SUI) - 28:14