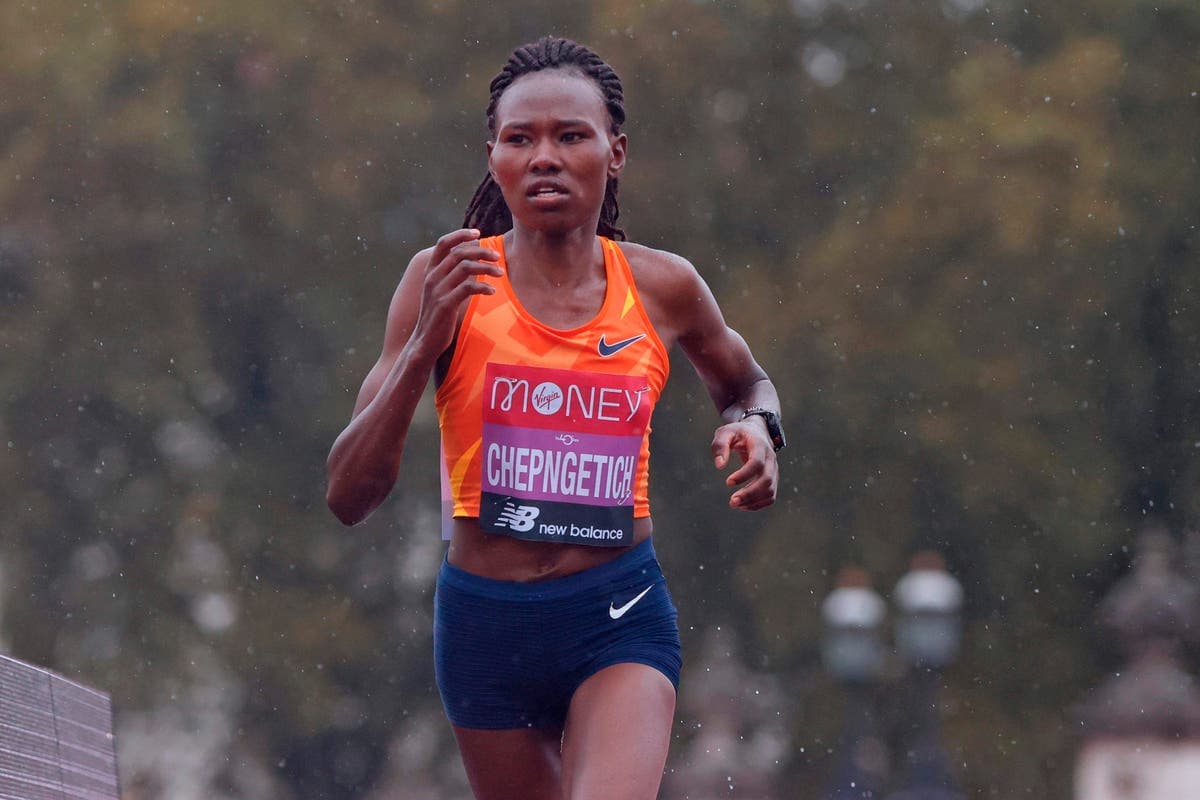 Reigning world marathon champion Ruth Chepngetich will make her debut at the Bank of America Chicago Marathon, a World Athletics Elite Platinum Label Road Race and one of the six Abbott World Marathon Majors races.
Chepngetich won the Dubai Marathon in 2:17:08 in January 2019 and the world marathon title in Doha 2019 in 2:32:43 later that year in hot and humid weather conditions. The 27-year-old Kenyan star broke the world half marathon record clocking 1:04:02 in Istanbul last April. Her record was improved by Yalemzerf Yehualew, who clocked 1:03:44 in Antrim on 29 August. Chepngetich will run her second marathon this year just nine weeks after dropping out of the Olympic race in Sapporo.
Chicago Marathon live stream and results.
The women's race features four women, who have broken 2:25: Sara Hall (2:20:32), Vivian Kiplagat (2:21:11), Keira D'Amato (2:22:56) and Meseret Belete (2:24:54).
Hall is aiming to break Deena Kastor's US record of 2:19:36 set at the 2006 London Marathon. The US runner finished second in the 2020 London Marathon in 2:22.01 ahead of Chepngetich and went on to improve her PB to 2:20:32 at the Marathon Project race in Chandler (Arizona) in December 2020, beating D'Amato, who clocked her lifetime best of 2:22:56 setting the seventh fastest US time in history.
Emma Bates has run four marathon races in her career and set her career best clocking 2:25:27 in Chicago in 2019.
Meseret Belete finished fourth in Houston in 2020 improving her PB to 2:24:54 and clocked 2:28:31 in Prague last May.
Vivian Kiplagat ran a total of seven marathon races and won six of them in Milan twice in 2018 in 2:27:08 and 2019 in 2:22:25. Buenos Aires in 2018 in 2:29:03, Honolulu in 2018 in 2:36:22, in Mexico City in 2:33:27 in 2019 and in Abu Dhabi in 2019 in 2:21:11. Kiplagat recently clocked 1:06:07 at the Copenaghen Half Marathon on 19 September.
Diane Nukuri has reached seven top-10 finishes in World Marathon Majors, including a fifth place at the New York Marathon in 2018.
Lindsay Flanagan clocked 1:10:24 in the half marathon this year and finished seventh in the Chicago Marathon in 2019 in 2:28:08.
Women's elite field
Bib Name Personal best Country

102…… Ruth Chepngetich …. 2:17:08 (Dubai, 2019)….KEN
103…… Sara Hall……… 2:20:32 (Chandler AZ, 2020)……USA
104…… Vivian Kiplagat…. 2:21:11 (Abu Dhabi, 2019)..KEN
105…… Keira D'Amato …. 2:22:56 (Chandler AZ, 2020)……USA
106……Meseret Belete.. 2:24:54 (Houston, 2020)……ETH
107…… Emma Bates …… 2:25:27 (Chicago, 2019)…….USA
108……Diane Nukuri…….. 2:27:50 (London, 2015)……..USA
109…… Lindsay Flanagan…… 2:28:08 (Chicago, 2019)…….USA
110……Bria Wetsch …….. 2:29:50 (Chandler AZ, 2020)……USA
111……Michele Lee .. 2:30:31 (Sacramento, 2018)……USA
112…… Alia Gray……… 2:30:41 (Chandler AZ, 2020)……USA
113……Carrie Dimof…….. 2:30:54 (Sacramento, 2017)……USA
114……Daiana Ocampo……… 2:31:33 (Vienna, 2020)…ARG
116……Maegan Krifchin…….. 2:32:47 (Sacramento, 2018)……USA
117…… Tristin Van Ord… 2:32:56 (Duluth, 2021)…USA
118…… Whitney Macon.. 2:33:21 (Chandler AZ, 2020)……USA
119……Jane Bareikis…….. 2:33:54 (Duluth, 2021)…USA
120…… Polina Hodnette……… 2:35:41 (Sacramento, 2020)……USA
121…… Kate Bazeley…….. 2:36:35 (Toronto, 2019) …….CAN
122……Chirine Njeim…… 2:36:40 (Oregon, 2021)……..LBN
123……Georgia Porter…. 2:36:52 (Frankfurt, 2019) ….USA
124…… Anne-Marie Blaney …Debut……..USA
125……Megan O'Neil ……Debut……..USA
126…… Sarah Pagano……Debut……..USA
127……Olivia Pratt…..Debut……..USA
128……Carrie Verdon ……Debut……..USA
129……Jessica Watychowicz…….Debut……..USA
-->