Valarie Allman celebrates her birthday with huge 71.16m PB at the centennial ISTAF Berlin

Posted by:
Races News Service
Sunday, 12 September 2021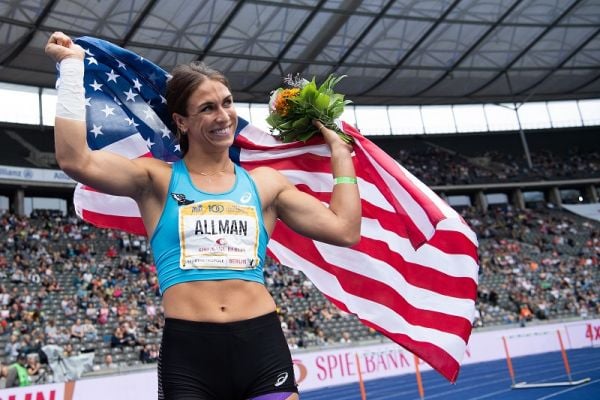 Valarie Allman had a perfect birthday present for the centennial of the ISTAF. At the world's oldest athletics meeting, which was first staged in Berlin in 1921, the US Discus Olympic Champion threw a spectacular 71.16 m. It was not just a meeting record, a personal best and a world lead but also a US record and an area record. While this was the outstanding result in front of 20,000 spectators in Berlin's iconic Olympic Stadium another fine throwing result came in the Javelin. Here Germany's Johannes Vetter won with 88.76 m. Olympic Champions Karsten Warholm and Mariya Lasitskene were superior once more. Warholm cruised to 48.08 seconds in the 400 m Hurdles and Lasitskene took the High Jump with 1.98 m.
"We had more than 20,000 fans happily celebrating, fantastic athletes, spectacular performances - this has really been an incredibly perfect ISTAF birthday. I would like to thank all our partners and sponsors and the city of Berlin. Without their support it would not have been possible to celebrate this amazing anniversary," said Meeting Director Martin Seeber.
See the full ISTAF Berlin results here.
Women's events
Birthday presents are traditionally presented at the start of the party. That must have been the plan of Valarie Allman. The women's discus was the first proper event of the ISTAF and it was in the very first round when the American unleashed the best throw of her career. The discus landed just inside the sector and was measured with 71.16 m, an improvement by 1.01 m for Valarie Allman. While she shocked the other throwers since the competition for victory was all but over so early she passed her second attempt to calm down and concentrate again.
Germany's Kristin Pudenz finished second with 64.52 and Liliana Ca of Portugal took third with 62.45. Both of them had their best throws in round one as well. Allman had a very good last attempt when she achieved 68.80 m.
"Honestly, I am still processing. This stadium, the crowd and the competition were so incredible. This season had so many magic moments," said Valarie Allman. "2021 is coming to an end and I have a PR that is so good. All my work is paying off. My season has been a dream come true."
The High Jump was one of the most promising events on the ISTAF schedule. It was at this meeting where East Germany's Rosemarie Ackermann achieved the first 2.00 m jump in history in 1977. Olympic Champion Mariya Lasitskene (ANA/Russia) looked like clearing such a height today when she made no mistake from 1.70 up to 1.98 m. That was enough to win since Tokyo's silver medallist Nicola McDermott of Australia missed 1.98 m three times. She was second with 1.95 m. However Lasitskene could not get over 2.02 m when there was no more pressure from rivals. Ukraine's Yuliya Levchenko took third with 1.89 m.
"This was a fantastic competition. I am so happy to take part in this 100 years celebration of ISTAF. So many spectators, so many children, it was a nice atmosphere," said Mariya Lasitskene. "We had a great level of competition. I concentrated on doing each height on the first attempt."
There was an upset for Germany's Olympic Long Jump Champion Malaika Mihambo. Great Britain's Jazmin Sawyers took the lead from her in round five with 6.73 m. Malaika Mihambo, who has been outstanding at her final attempts so often, this time could not respond and settled for second with 6.70. "It was great. I was finding my rhythm throughout the competition. Yesterday I competed in Austria, so I thought that it would be more difficult tonight. But it went really well. I enjoyed the stadium and the crowd and loved to finish my season here in Berlin," said Jazmin Sawyers.
But there was another popular German athlete who took victory: European 3,000 m Steeplechase Champion Gesa Krause won with 9:26.00 from Kenya's Fancy Cherono (9:28.81) and fellow-German Elena Burkard (9:28.98).
Men's events
It was obvious that Karsten Warholm could no longer reach peak form, but the Norwegian 400 m Hurdles world record holder and Olympic Champion produced another fine performance at the ISTAF. He cruised to victory in 48.08 and was comfortably ahead of Rasmus Mägi of Estonia (48.73) and Jamaika's Jaheel Hyde, who took third with 48.95.
"It's always great to run here in Berlin. It's one of my favourite stadiums and one of my favourite crowds. So I wanted to come here, although my body was tired from this long season. I wanted to win and also honour the legend Volker Beck, Olympic Champion from 1980. It was really great to meet him," said Karsten Warholm. "Being able to celebrate the 100th birthday of the ISTAF today means a lot to me. I love traditions and this is the most traditional meeting in the world, so it is a great honour for me to be here today and I would definitely love to be back in 2022."
After Olympic disappointment Johannes Vetter quickly recovered and came back strongly. At the ISTAF he confirmed his position. After an opening round throw of 84.64 Vetter improved his lead to 88.76 m in the second round. Unchallenged he followed this with 86.16 in round three and had three invalid attempts afterwards. Vetter was well clear of Andrian Mardare of Moldavia, who took second with 84.44. "It was difficult for me since I am really exhausted. This was my 17th competition this season," said Johannes Vetter.
While Marvin Bracy of the US took the 100 m in fine 9.95 seconds fellow-American Sam Kendricks won the Pole Vault with 5.91 m. Christopher Nilsen just missed out with the same height. The difference was that Nilsen had one more miss early on at 5.41. They both went for 6.01 but could not clear that height. An all USA podium was completed by KC Lightfoot with 5.81 m.
Further information is available at: www.istaf.de
-->