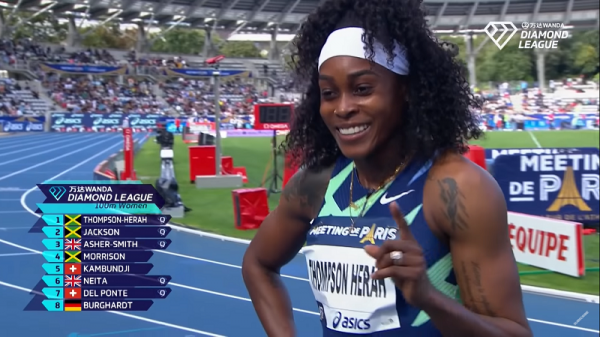 Armand Mondo Duplantis, Elaine Thompson and Francine Nyonsaba highlighted a great edition at the Wanda Diamond League meeting in the Paris Charlety Stadium with two meeting records. Thompson Herah and Duplantis bounced back from their defeats in Lausanne.
See the Paris Diamond League results here.
Women's 100 metres:
Five-time Olympic champion Elaine Thompson Herah won the women's 100m setting a meeting record of 10.72 at the Charlety Stadium in Paris a week after breaking the Jamaican record with 10.54 in Eugene.
Olympic bronze medallist Shericka Jackson finished second in 10.97 ahead of world 200m champion Dina Asher Smith (11.06) and Natasha Morrison (11.09). Mujinga Kambundji finished fifth in 11.12 sharing the same time as Darryl Neita and European Indoor champion Ajla Del Ponte.
Elaine Thompson Herah: "I am thankful I crossed the finish-line healthy. It is more about the time after all the events and my health comes first. I know everybody is thinking I am targeting the world record. I think it is close but for this season I am super happy for that at the end of the season. This time is good for me".
Men's pole vault:
Olympic champion and world record holder Armand Mondo Duplantis cleared a meeting record of 6.01m at the first attempt to take the win. Duplantis bounced back from his defeat in Lausanne, where he had to settle with a fourth place with 5.62m in cold evening.
Ernest John Obiena needed three attempts to clear 5.81m and decided to pass at 5.86m before clearing 5.91m at the first attempt to improve his national record to 5.91m. Duplantis and olympic silver medallist Christopher Nilsen failed their first try at 5.91m and had two attempts left, but they decided to pass on the next attempt. Duplantis vaulted 5.96m and 6.01m at the first time of asking. Nilsen was not able to clear his final two attempts at 5.96m and had to settle with third place with 5.81m.
Duplantis improved the previous meeting record held by Sergey Bubka, Jeff Hartwig and Sam Kendricks with 6.00m. The 21-year-old came close to clearing 6.19m in the third attempt.
Armand Duplantis: "I felt good. I felt like it was really important for me to come back and try to get into the victory mode again, to try to get over the 6m. Especially after the competition in Lausanne, it was very important to do what I did today. The 6.19m, it is a very high bar. You need to have a perfect jump there. I feel like I am jumping really good. I felt like I will have some close attempts right now. It has to be perfect. It is not that I am scared but I have a lot of respect for the height. I know how hard it is. You just have to make sure you are trying for it at the right time.
Women's 3000 metres:
Francine Nyonsaba from Burundi held off Ejgayehu Taye from Ethiopia to win in a world leading time and a new meeting record of 8:19.08. The former 800m runner has moved up to sixth in the world all-time list. Taye finished second setting a national record of 8:19.52. The next four athletes set PBs: Magaret KIpkemboi clocked 8:21.53 beating US Elise Cranny (8:30.30), Fantu Worku (8:30.76). Eilish McColgan from Great Britain finished sixth in 8.31.36 ahead of Karoline Bjerkelli Grovdal (8:33.47) and Kostanze Klosterhalfen (8:36.70).
Men's 200 metres:
Fred Kerley took a very narrow win in the men's 200m over Kenny Bednarek with the same time of 19.79 in the "battle" beween two Olympic silver medallists. Kerley set his lifetime best. Bednarek dipped under the 20 seconds barrier for the 12th time in his very consistent season. Aaron Brown took third place with 20.20.
Kerley avenged his defeat in Lausanne on Thursday, when Bednarek prevailed in 19.65 to 19.77 with a tailwind of +3.2 m/s.
Fred Kerley: "It was a nice PB, but I have still a lot to do. Comparing the events, 200, 400m, every race has its own parts. One is hard and one is just like that, fast. I think the 200m is harder than people think, more technical. I like to beat everybody. If they beat me, I like to beat them too".
Women's 100 metres hurdles:
Former world champion Danielle Williams won the women's 100m hurdles in her seasonal best of 12.50 beating Nadine Visser, who set the Dutch record with 12.58, Megan Tapper from Jamaica (12.66) and Nigeria's Tobi Amusan (12.69).
Men's 110m hurdles:
Olympic champion Hansle Parchment completed the Jamaican hurdles double by winning the men's 110m hurdles race in 13.03 ahead of Lausanne winner Devon Allen (13.08) and Daniel Roberts (13.16) in the final track event of the meeting. Parchment bounced back from his eighth place in Lausanne last Thursday, where he finished eighth in 13.58.
Women's 400 metres:
Olympic silver medallist Marileidy Paulino scored her back-to-back win in the women's 400m in 50.12 two days after taking another Diamond League victory in Lausanne. Sada Williams from the Barbados finished second in 50.30 over 11-time Olympic medallist Allyson Felix (50.47) and Olympic 400m hurdles bronze medallist Femke Bol (50.59).
Marileidy Paulino: "I am very pleased with the result. I felt great and I love Paris. I am really happy with my performance out here because i have only been doing this for a year. Winning was my main goal and I believe this will take me to the Diamond League final".
Men's 800 metres:
Kenya's Wycliffe Kinyamal came through in the final straight to take the win in the men's 800m in 1:43.94 holding off Olympic silver medallist Ferguson Cheruiyot Rotich (1:44.45) and Canada's Marco Arop (1:44.74), Peter Bol (1:44,88) and Elliot Giles (1:44.92).
Women's high jump:
Olympic silver medallist Nicola McDermott had a clean sheet up to 1.98m and took the win on countback over Lasitskene, who cleared this height at the third attempt. McDermott and Lasitskene failed their three attempts at 2.01m.
Nicola McDermott: "I have been second and third so many times this season so I am glad that I finally got the win. I just left my heart for these people in the crowd today. I love to see the full stadium and I love when the people have the chance to enjoy athletics".
Women's discus throw:
Two-time Olympic champion Sandra Petkovic took the early lead with a throw of 66.08m in the second attempt and confirmed the win with a decisive throw of 65.68m in the Final 3 showdown ahead of Yaimé Perez (65.31m) and Valarie Allman (64.51m).
Sandra Perkovic: "With the new formula, a final for three girls to decide the victory. I knew I had to keep something for the last attempt, but I was ready for that. I am a competitor. I throw each attempt as it would be the last one".
Men's javelin throw:
Johannes Vetter produced the best throw of 87.20m in the third attempt. Reigning world champion Anderson Peters improved his seasonal best to 85.98m in the third round. Peters took the win in the Final 3 with a throw of 84.84m beating Vetter, who threw the javelin to 80.23m in the final round.
Men's 3000m steeplechase:
Kenya's Benjmin Kigen claimed the men's 3000m steeplechase in world seasonal best time of 8:07.12 leading a Kenyan sweep. Abraham Kibiwott finished second with 8:09.35 ahead of Leonard Bett (8:10.21). Olympic champion Soufian El Bakkali collided to the first barrier and dropped out of the race.
Women's 400 metres hurdles:
Olympic finalist Gianna Woodruff from Panama won her first Diamond League competition race in the opening running event of the Paris meeting in 54.44 beating Ukraine's Anna Ryzhikova (54.59) and Jamaica's Janieve Russell (54.75).
Men's triple jump:
Yasser Mohamed Triki took the early lead with 17.16m in the first round. World and olympic bronze medallist Fabrice Hugues Zango and Tiago Pereira qualified for the Final 3 jump-off with 16.71m and 16.66m. Zango took the win in the final 3 with his best jump of the day of 16.97m.
Men's 100 metres:
Former world indoor silver medallist Marvin Bracy won the non-DL 100m race in 10.04 beating Jamaica's Nigel Ellis (10.17), Ivory Coast's Arthur Cissé (10.17) and France's Jimmy Vicaut (10.19).
-->