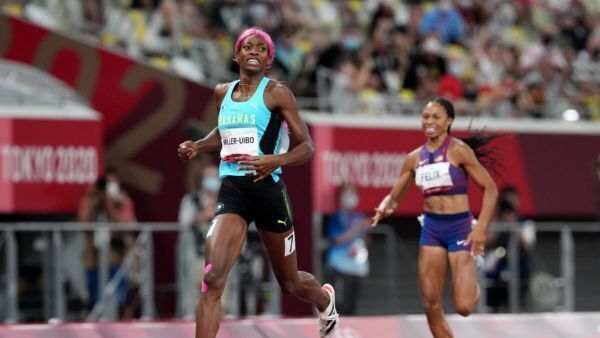 Athletics day 8 Tokyo 2020 Olympic Games.
Shaunae Miller Uibo won her second consecutive Olympic title in the 400 metres improving her PB to 48.36 Five years after her first triumph at this event in Rio de Janeiro. Miller Uibo completed the Bahamian sweep after Steven Gardiner's gold medal in the men's 400 metres yesterday.
Miller Uibo has become the first woman to win back-to-back gold medals in the 400m since Marie Josée Pérec in Barcelona 1992 and Atlanta 1996.
Shaunae Miller Uibo: "I am so happy right now I could cry. I have been dealing with a lot of injuries and to be able to pull this one off is amazing. To be able to pull off matching gold medals, and to get an area record as well, I am so thankful"
Marileidy Paulino from Dominican Republic won the silver medal smashing her national record to 49.20.
Allyson Felix finished third in 49.46 winning the 10th Olympic medal in her fifth appearance at the Olympic Games, the first as mother. Felix improved the record of Olympic medals held by Merlene Ottey, who won nine Olympic medals, and equalled Carl Lewis for most medals held by a US athlete. She has become the most decorated woman in Olympic athletics history.
She has the chance to win a 11th medal on Saturday, when the US team aim to defend their 4x400 relay title.
This year's Jamaican champion Stephanie Ann McPherson finished fourth equalling her PB of 49.61 ahead of Candice McLeod (49.87).
Women's 1500 metres:
Faith Kipyegon won her second consecutive Olympic gold medal in the 1500m smashing the Olympic record with an impressive 3:53.11.
Laura Muir claimed the silver medal breaking the British record with 3:54.20. Muir improved her own record of 3:55.22 set in Paris in 2016. Muir overtook Sifan Hassan down the back-straight. Hassan won the bronze medal in 3:55.86. Eight runners broke the 4 minutes barrier in a race of great depth. Freweny Gebreegzibehr from Etiopia finished fourth in 3:57.60 beating Gabriela Debues Stafford from Canada (3:58.93), Linden Hall from Australia (3:59.01), Winnie Nanyondo from Uganda (3.59.80) and Japanese record holder Nozomi Tanaka (3:59.95).
Faith Kipyegon: "I knew Sifan Hassan is a very strong athlete, and I knew she would go fast because she wanted the gold. I knew she was going to lead very quicky. I really wanted to follow her and see what would happen at the finish line. Once I crossed the finish line, it was very emotional moment for me. I thought about my daughter who I left behind at home. She wanted me to bring home a gold medal and I am happy and excited I did that".
Laura Muir: "Since Rio it's been five years of wanting this medal and missing every time just a little bit. Finally to come away with this medal is great".
Men's 4x100 relay:

Lorenzo Patta, Marcell Jacobs, Eseosa Desalu and Filippo Tortu won the Olympic gold medal for Italy with the Italian record and the world seasonal best of 37.50, edging Great Britain by 0.01. Tortu overhauled British anchorman Nethaneel Mitchell Blake by just 0.01 to claim the fifth Olympic gold medal for the Italian team. Italy set the second fastest time in Europe and fifth in the world in history.
Italy broke the 38 seconds barrier for the second time in history after clocking 37.95 in the heats. Two years ago the Italian team set the National record with 38.11 at the World Championships in Doha, but they just missed out on the final.
Italian Under 23 champion Lorenzo Patta got off to a very fast start, handing over to fresh 100m Olympic champion Marcell Jacobs. Great Britain made a great start with CJ Ujah and Zharnel Hughes in the first two legs. Jacobs handed over to Eseosa Desalu, but Richard Kilty had a slight lead for Great Britain. Canada's Brandon Rodney, China's Su Bingtian and Jamaica's Yohan Blake ran fast legs to keep their team in contention for a medal.
British anchorman Nethanel Mitchell Blake received the baton with a slight lead, but Tortu closed in on Mitchell Blake's lead. Tortu edged ahead with a dip on the finish-line to take a surprising Olympic title with 37.50. Great Britain won the silver medal in 37.51.
André De Grasse anchored Canada to bronze medal in 37.70 ahead of Jamaica and China to add the relay bronze to the 200m gold and the 100m bronze. China equalled the national record with 37.79.
Marcell Jacobs: "I would never have expected this before the Olympics. Before stepping on the track we looked at each other and we were determined to win a medal. This is the year of Italy, this is our year. We won the Eurovision Song Contest, we won the football European championships, we won five gold medals in athletics".
Filippo Tortu: "This squad made me live this dream. I don't have any tears left. I need to recharge them for tomorrow because I need them for the anthem during the medal ceremony".
Women's 4x100 relay final:
Briana Williams, Elaine Thompson Herah, Shelly Ann Fraser Pryce and Shericka Jackson won the gold medal breaking the national record with 41.02. Thompson Herah is the queen of the 2021 Olympic Games with three gold medals in the 100m, 200m and the 4x100 relay. They set the second fastest time in history.
The US team formed by Javianne Oliver, Tehana Daniels, Jenna Prandini, Gabrielle Thomas won the silver medal in 41.45. The British team formed by Asha Philiip, Imani Lansiquot, Dina Asher Smith and Daryil Neita repeated the Olympic bronze medal of Rio de Janeiro with 41.88. The Swiss team featuring Riccarda Dietsche, Ajla Del Ponte, Mujinga Kambundji and Salomé Kora took fourth place with 42.08 missing the national record by 0.04.
Men's 5000 metres:
World record holder Joshua Cheptegei won the first gold medal in the men's 5000m final clocking 12:58.15 one week after finishing second in the 10000 metres. Cheptegei added the Olympic gold medal to his impressive collection of medals, which includes the world titles in the 10000m and in the cross country and two Commonwealth gold medals in the 5000m and 10000m. He also set two world records in the 5000m with 12:35.36 in Monaco and in the 10000m with 26:11.00 in Valencia.
Cheptegei broke away with 600m to go and did not look back. He opened up a metre gap on Nicholas Kimeli, Paul Chelimo and Jacob Kiplimo at the bell and pulled away to take the win in 12:58.15. Ahmed moved from fourth to second down the home straight to claim the silver medal in 12:58.61. Paul Chelimo, who won the Olympic silver medal in Rio de Janeiro 2016, edged Kimeli by 0.12 with a dive at the finish-line to take the bronze medal with 12:59.05.
Joshua Cheptegei: "This medal is really special because it comes at a point that I was feeling that maybe I was fatigued and tired. I had to tell myself: 'For me to become an Olympic champion, it is this year because I am still in my prime age and you never know what could happen in the next three years before Paris". I might have the chance to defend the title, but this is really my special time to win the gold"
Kiplimo finished fifth in 13:0240 beating Birhanu Balew from Barhein (13:03.20), Justyn Knight from Canada (13:04.38) and Mohamded Katir from Spain (13:06.60).
Women's 20 km walking race:
Antonella Palmisano secured the Italian fourth gold medal in athletics competition at this year's edition of the Olympic Games.
Palmisano pulled away at the 17 km mark building up a four-second gap over Erica De Sena from Brazil, 2019 Pan American champion Sandra Arenas from Colombia, Yang Jaiyu and Liu Hong from China.
Arenas moved into second place at 18 km and held on to claim the silver medal in 1:29:37, winning the first Olympic race walk medal for Colombia. Lui Hong moved up in the final stages to win the bronze medal in 1:29:57.
Palmisano completed the Italian 20 km walking race double one day after Massimo Stano's triumph. Palmisano trains with Stano under the guidance of Italian walking coach Patrizio Parcesepe.
Antonella Palmisano: "Today is my day. It's the perfect way to celebrate my birthday. Massimo Stano's gold medal gave me an extra power. In the countdown to the Olympics we both believed very much we could do it. We both come from very small towns in the South of Italy. We wanted to do something big. It will me a few days to realise that I am the Olympic champion ".
Men's 50 km walking race:
Dawid Tomala from Poland claimed a surprising Olympic title in the men's 50 km walking race in Sapporo in 3:50:08. Tomala secured the fourth athletics gold medal for Poland at this year's edition of the Olympic Games. The Polish walker, who was competing for just the third time over this distance, clocked the slowest time since 1972 on a very hot day with a temperature of +35°C. He made his 50 km debut in the Dudince 50 km race in 2017 but he did not finish the race. He clocked 3:49:33 in his only recorded performance over the 50 km distance in Dudince (Slovakia).
Tomala broke from the rest of the field at 30 km and built a nine-second lead ovet a 15-men chasing group. He increased his lead to 1:46 to go through the 35 km mark in 2:34:42. He extended his gap to 2:50 at 40 km and to 3 minutes at 42 km. The rising temperatures began to take their toll on Tomala, who had a lead of 2:03 over Jonathan Hilbert from Germany and Marc Tur from Spain, who were battling for the silver and bronze medals. Tomala was 36 seconds ahead of Hilbert, who broke away from Tur in the final km to finish second in 3:50:44. Evan Dunfee from Canada overtook Tur in the final stages to win the bronze medal in 3:50:59.
Dawid Tomala: "It was an amazing day for me. I can't believe it. It was easy, like a slow training session. Everything was amazing. It was too perfect. So I was thinking maybe we can do something".
Women's javelin throw:
Liu Shiying sealed China's first ever Olympic title in the javelin throw with her seasonal best of 66.34m in the first round. Liu, who won the world silver medal in Doha 2019, was just sixth in the qualifying round with 61.95m.
Liu Shiying: "It means a lot to me and my country. 2020 was a very difficult year for me because of injury and the pandemic".
World leader Maria Andrejczyk from Poland won the silver medal with 64.61m. Wold gold medallist Kelsey Lee Barber clinched the bronze medal with a seasonal best of 64.56m on the sixth round becoming the second Australian javelin thrower to win an Olympic medal since Louise Currey won the silver in Atlanta 1996.
Kelsey Lee Barber: "I never stopped fighting for the gold medal but tonight I am so proud to come away with the bronze medal after some challenging times this year".
Men's 4x400 relay heats:
The US team formed by Trevor Stewart, Randolph Ross, Bryce Deadmon and Vernon Norwood won the first heat in 2:57.77 beating Botswana (2:58.33), Trinidad and Tobago (2:58.60) Italy improved the national record to 2:58.91 to qualify by time. Poland claimed the first place in the second heat with 2:58.55 ahead of Jamaica (2:59.29) and Belgium (2:59.37).
-->