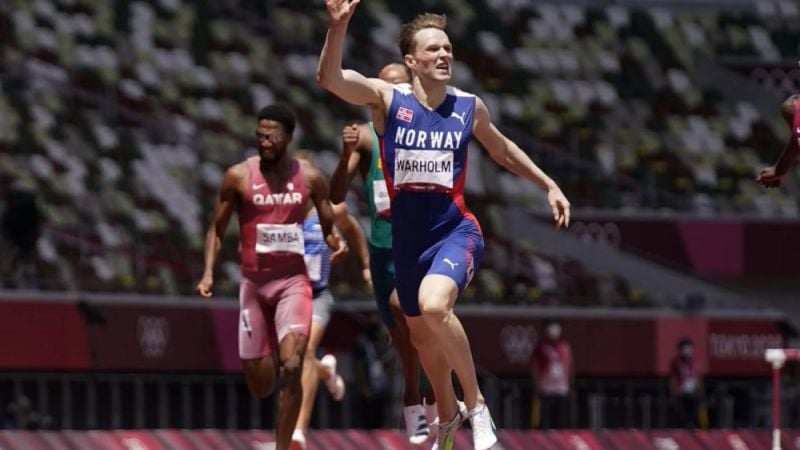 Tokyo Olympic Games athletics day 5 report: Karsten Warholm broke the world record in the 400m hurdles with a sensational 45.94 in the Olympic final in Tokyo. The Norwegian star took 0.76 off the previous record he set on his home track at the Bislett Games in Oslo with 46.70 on 1 July, when he broke the previous world record set by Kevin Young, who won the Olympic gold medal in Barcelona with 46.78 in 1992.
Warholm looked at the scoreboard in disbelief.
Karsten Warholm: "It's crazy. This is so far the biggest moment of my life. I train like a maniac. I use all my time on this. Now I just have to set myself new goals because I am not done yet.".
US Raj Benjamin won the silver medal in another impressive time of 46.17, which was also inside the previous record set by Warholm. Benjamin, who won the world silver behind Warholm in Doha 2019, triumphed in 46.83 at the US Olympic Trials in Eugene in 46.83.
Raj Benjamin: "I don't think Usain Bolt's 9.5 was better than this. I just worked so hard all year. This is what matters. I got a medal, but it just hurts to lose. Next year I am coming. I am going to fight. I made some mistakes that cost me but I am going to fix them".
Alison Dos Santos from Brazil won the bronze medal in 46.72, a time that would have broken the previous world record held by Kevin Young just one month ago. Kyron McMaster from the British Virgin Islands finished fourth in 47.08 smashing the national record ahead of world bronze medallist Abderrahmane Samba (47.12). With this time fifth placer Samba would have won every previous Olympic title except from the 1992 Games in Barcelona.
Yasmani Copello clocked 47.81 to equal the Turkish record. Rasmus Magi set the Estonian record with 48.11. Alessandro Sibilio finished eighth in 48.72.
Alison Dos Santos: "We want to run faster, we want to be better and this is amazing. If Warholm can break 46 seconds, I can break it. I want to run faster. I want to be better".
Men's pole vault:
Armand "Mondo" Duplantis cleared 6.02m to win his first Olympic title. The Swedish star needed just five jumps at 5.55m, 5.80m, 5.92m, 5.97m and 6.02m before coming very close to breaking his world record in two of his three attempts at 6.19m. It seemed for a moment that he had cleared the bar at his first attempt at 6.19m.
Armand Duplantis: "The world record would have been nice and I felt like I was close but I won the Olympics so I am not going to sit and complain about it too much. It's a surreal feeling. It's something that I have wanted for so long and I finally did it. Ever since I was a little kid, I loved this sport so much and I always believed that it would take to some great places and the fact that I am actually here at the Olympics and I have got the Olympics, this sport has given me so much. I can never repay it".
Christopher Nilsen put pressure on Duplantis when he cleared 5.97m in his first attempt. The US vaulter made three unsuccessful attempts at 6.02m and he had to settle with second place.
Reigning olympic champion Thiago Braz Da Silva cleared 5.87m in his first round to claim the bronze medal five years after his gold medal in Rio de Janeiro with the Olympic record of 6.03m.
Greece's Emmanouil Karalis and KC Lightfoot shared the fourth place with 5.80m. Piot Lisek and Henry Coppell cleared 5.80m but they finished sixth and seventh on countback. Former olympic champion Renaud Lavillenie, who injured on his ankle a few weeks ago, ended the competition in eighth place with 5.70m.
Women's 200 metres:
Elaine Thompson Herah became the first woman to score the second 100 and 200m "double double" at the Olympic Games breaking Merlene Ottey's Jamaican record with 21.53. Thompson Herah clocked the second fastest time in the world in both the 100m and 200m. Only Florence Griffith Joyner has run faster with her world record of 21.34 at the Olympic Games in Seoul 1988.
Elaine Thompson Herah: "It's a new PB and a national record. Honestly, I am so tired. My legs just need some rest. I have had a rough week. I have not slept after the 100m".
Christine Mboma broke the world under 20 record for the third time at this edition of the Olympic Games with 21.81. Mboma became the second Namibian to win an Olympic medal after Frankie Fredericks, who won 100m and 200m silver medals in Barcelona 1992 and Atlanta 1996. Mboma entered the Olympic Games with her previous PB of 22.67.
Christine Mboma: "This is my first Olympics. I came here for experience, but I did better than I expected. I am very happy with my performance. I am proud of myself. In the past, every time I ran against the best athletes, I felt nervous.
This year's US Trials champion Gabrielle Thomas claimed the bronze medal clocking the fastest ever time for a third place with 21.87. Shelly Ann Fraser Pryce dipped under the 22 seconds barrier for the second time in her career with 21.94 (the fastest time ever for a fourth place), but she had to settle with fourth place. Marie Josée Ta Lou finished fifth with 22.27 edging out the other Namibian teenager Beatrice Masilingi (22.28) and Mujinga Kambundji (22.30).
Final women's 800 metres:
US 19-year-old Athing Mu won her first gold medal breaking her own US record with 1:55.21. Another teenager Keely Hodgkinson took the silver medal breaking Kelly Holmes' British record and the European Under 20 record with 1:55.88. Mu has become the first US 800m runner to win an Olympic 800m gold medal since Mameline Sims in Mexico City 1968. She is the second youngest Olympic champion after Pamela Jelimo, who won this title in 2008.
Raevyn Rogers was second from last going into the final straight but she launched her kick to clinch the bronze medal with her PB of 1:56.81 overtaking Jemma Reekie (1:56.90) in the final straight.
Chunyu Wang from China took fifth place with her PB of 1:57.00 beating Habitam Alemu (1:57.56), Alexandra Bell (1:57.66) and Natoya Goule (1:58.66).
Athing Mu: "I am satisfied. I came here and did what I had to do. My goal was to be a medallist. I knew it was possible, so I am not shocked. I am accomplishng all the crazy things. Being an Olympic gold medallist , that's insane. I expected it. I knew this is where I was supposed to be at this point in time. I knew this was definitely possible. I am going to break the 800m world record".
Keely Hodgkinsn: "I am quite in shock about that time. From European Indoors to breaking some records to the biggest stage in the world, still a junior, is amazing".
Final women's long jump:
Malaika Mihambo claimed the win with 7.00m in the sixth round to add the Olympic gold medal to the European title in Berlin 2018 and the world title in Doha 2019.
Nigeria's Eze Brume opened the competition with 6.97m in the first round. Former olympic champion Brittney Reese matched this result with 6.97m in the third round. Malaika Mihambo jumped 6.83m in the first round and 6.95m in the third round to move into medal position.
Mihambo produced the winning jump in the final jump to win her first Olympic title.
Malaika Mihambo: "This means really a lot. The last year was not easy for me. I struggled a lot with my run-up. It was not easy to come back, to find my strength, to find my approach, so I am grateful, thankful, overwhelmed and really happy that in the end I was still able to compete on a really high level, show my best and win a gold medal. I knew there was more in me than 6.95m and I knew I wanted to go from the stadium with a smile on my face, knowing that I gave my best, so I was concentrating on the trust I have in myself and my capabilities and my inner strength. Then I I felt just calm".
Brume leapt to 6.90m in her final attempt. Reese ended the competition with 6.84m.
Reese won the silver on countback over Brume, as her second best of 6.95m was better than Brume's 6.88m. The US star has collected 11 world or olympic medals, eight of them are gold. Brume repeated the third place she had already achieved at the World Championships in Doha 2019.
Britney Reese: "It is a great feeling. I had a great career, a great journey. I have been in this sport for 13 years, and I can't complain for finishing my career with a silver. It was a great competition, won by inches, I have 11 medals, and I aimed at my fourth Olympics and got medals in the three of them. There is no need to hang my head, I just got beaten today".
Ivana Spanovic finished fourth in 6.91m missing the medal by 6 cm, beating Maryna Bekh Romanchuk (6.88m), US Tara Davis (6.84m), Australia's Brooke Stratton (6.83m) and Great Britain's Jazmin Sawyers (6.80m).
Final women's hammer throw:
Anita Wlodarczyk from Poland became the first woman to win three consecutive Olympic gold medals with her seasonal best of 78.48m. China's Zheng Wang moved up to second with 77.03m to beat Poland's Malwina Kopron, who produced her best throw of 75.43m in the fifth round. Three more throwers produced throws over the 74m barrier: Alexandra Tavernier from France (74.41m), Camryn Rogers from Canada (74.35m) and Bianca Florentina Ghelber (74.18m). World champion DeAnna Price, who has been plagued by a foot injury since the US Trials, finished eighth with 73.09m.
Wlodarczyk took the lead in the third round with a 77.44m throw and she improved to 78.48m in the fourth round. After fouling in the fifth round, she ended the competition with 77.02m. She also won four world titles, four European gold medals and set six world records. Five years ago the Pole won the Olympic gold medal with a world record of 82.29m.
Anita Wlodarczyk: "I feel good. I was dreaming of becoming the queen of the hammer throw".
Men's 200 metres semifinals:
Olympic 100m bronze medallist André De Grasse from Canada set the Canadian record with 19.73 in the the third semifinal beating Kenneth Bednarek, who clocked 19.83. Aaron Brown took a very narrow win in the second semifinal with 19.99 clocking the same time as this year's NCAA champion Joseph Fanbulleh from Liberia and world champion Noah Lyles. World under 20 record holder Erryion Knighton won his first olympic semifinal with 20.02 beating Rasheed Dwyer (20.13).
Men's 110m hurdles:
World champion Grant Holloway clocked the fastest time of the 110m hurdles heats with 13.02 beating Hanle Parchment (13.23). The fastest qualifiers were Ronald Levy from Jamaica (13.17) and US Devon Allen (13.21).
Men's triple jump qualifying round:
European Indoor champion Pedro Pablo Pichardo from Portugal led the men's triple qualifying round with 17.71m. The other 17m performers were Necati Er from Turkey (17.13m), China's Yaming Zhu from (17.11m), Cuba's Christian Napoles (17.08m), Algeria's Yasser Triki (17.05m) and US Donald Scott (17.01m). Fabrice Zango got through to the final with the 12th best qualifying mark of 16.83m.
Women's 400m heats:
Marileidy Paulino from Dominican Republic ran the fastest time in the 400m heats with 50.06m. Shaunae Miller Uibo and Allyson Felix won their heats clocking 50.50 and 50.84 respectively.
Men's shot put qualifying round:
Reigning olympic champion Ryan Crouser led the qualifying round with 22.05m ahead of Tom Walsh from New Zealand (21.49m), Mesud Pezer from Bosnia (21.33m), Darlan Romani from Brazil (21.31m), Zane Weir fom Italy (21.25m PB), Mostafa Hassan from Egypt (21.23m) and Chukwebuka Enekwechi from Nigeria (21.23).
Men's 5000m heats:
Spanish record holder Mohamed Katir clocked the fastest time in the 5000m heats with 13:30.10 beating Paul Chelimo (13:30.15) in the second heat.
| | | | | |
| --- | --- | --- | --- | --- |
| 1 | WARHOLM Karsten | NOR | 45.94 | WR |
| 2 | BENJAMIN Rai | USA | 46.17 | AR |
| 3 | dos SANTOS Alison | BRA | 46.72 | AR |
| 4 | McMASTER Kyron | IVB | 47.08 | NR |
| 5 | SAMBA Abderrahman | QAT | 47.12 | SB |
| 6 | COPELLO Yasmani | TUR | 47.81 | =NR |
| 7 | MAGI Rasmus | EST | 48.11 | NR |
| 8 | SIBILIO Alessandro | ITA | 48.77 | |
-->