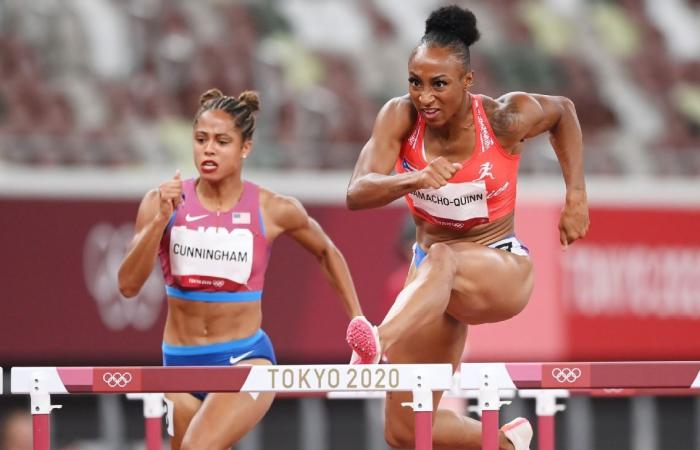 Tokyo Olympic Games athletics day report:
Jasmine Camacho Quinn became the first-ever Puerto Rican track and field athlete to win an Olympic gold medal by claiming the women's 100m hurdles final in 12.37. Camacho Quinn had set the Olympic record by clocking 12.26 in the semifinal on Sunday.
World record-holder Kendra Harrison won the silver medal in 12.52 beating Megan Tapper from Jamaica (12.55). Tobi Amusan from Nigeria repeated his fourth place from the 2019 World Championships in 12.60. Nadine Visser took fifth place in 12.73 edging Devynne Charlton from the Bahamas by 0.01.
Camacho Quinn was aiming to break the world record, but she clipped the ninth hurdle and stumbled across the finish line. She bounced back from the disappointment of missing the final at the 2016 Olympic Games in Rio, where she hit a hurdle and crashed out in the semifinals. She has become the second Olympic gold medallist from Puerto Rico in any sport after Monica Puig clinched the women's singles tennis title.
Jasmine Camacho Quinn: "I did it. Everything happens for a reason. I came through with my first gold medal. Puerto Rico is such a small country, but this will give little kids hope, and I am glad I am the person who does that. This year had its ups and downs. My coach came all the way from Ireland to coach me. I really do appreciate that. It's been a rollercoaster since I became a professional athlete. Anything is possible and everybody here has been training hard for this moment. Honestly, I think all of us should be awarded for this. It's been a hard year, but I am really thankful".
Results athletics/track and field Tokyo Olympics
Men's long jump final:
Miltiadis Tentoglou from Greece claimed the Olympic gold medal in the men's long jump with 8.41m in the sixth round beating Cuba's Juan Miguel Echevarria on countback in a thrilling competition.
Maykel Massò from Cuba took the early lead with 8.21m in the first round. Echevarria started his competition with 8.09m and took the lead in the third round to jump 8.41m. Tentoglou was sitting in third place with 8.11m in the opening round until the fourth round. Ju'Vaughn Harrison sailed out to 8.15m to move into bronze medal position. Eusebio Caceres from Spain jumped 8.18m to take third place.
Tentoglou, who was ranked fourth until the final jump, saved his best for last to match the young Cuban jumper in the sixth attempt with 8.41, taking the win on countback.
Tentoglou won a thrilling competition thanks to his second-best jump of 8.15m. Echevarria produced a second-best jump of 8.09m. Maykel Massò won the bronze medal with 8.21m.
Tentoglou set the world seasonal best of 8.60m last May in a local meeting.
Miltiadis Tentoglou: "What an incredible competition. What an incredible jump. I wasn't able to get it right at the start, but in the end, I managed to pull something out to get a medal"
Juan Miguel Echevarria: " It's not what I expected, but it's a very welcome prize. It was a spectacular competition. I hope everyone enjoyed it".
Ju'Vaughn Harrison finished fifth with 8.15m one day after finishing sixth in the high jump with 2.33m. The world under 20 champion Yuki Hashioka leapt to 8.10m to beat Thobias Montler from Sweden.
Women's 5000 metres:
Sifan Hassan won the first Olympic gold medal of her career in 14:36.79 ahead of Hellen Obiri from Kenya (14:38.36) and Gudaf Tsegay from Ethiopia (14:38.87). Hassan, who is aiming at a historic triple win in the 1500, 5000m and 10000m, has become the first Dutch woman to take an Olympic medal in a long-distance competition.
Hassan launched her kick down the back straight and took the lead with 250 metres to go.
Agnes Tirop from Kenya finished fourth with 14:39.62 ahead of Ejgayehu Taye (14:41.24).
Nadia Battocletti finished seventh in 14:46.29 becoming the second-fastest Italian runner in history behind Roberta Brunet, who won the Olympic 5000m bronze medal in 1996.
Hassan returned to the track just 12 hours after falling to the track in the 1500m heats in the morning session. The Dutch runner was able to get up and caught up with the leading pack before taking the win in her heat in 4:05.17. Reigning Olympic champion Faith Kipyegon cruised through to a comfortable win in 4.:01.40, setting the fastest ever heat time.
Sifan Hassan: "I can't believe it. I used all my energy this morning and I was tired. I could not believe what happened. I felt terrible after the 1500m fall and I never thought I was going to be Olympic champion. I was so scared I was not going to do it".
Men's 3000m steeplechase:
Soufiane El Bakkali won the Olympic gold medal in the men's 3000 metres steeplechase in 8:08.91 ending an Olympic gold medal drought for Morocco. El Bakkali finished fourth in his previous appearance at the Olympic Games in Rio de Janeiro and won two world medals (silver in London 2017 and bronze in Doha 2019).
El Bakkali has become the first Olympic athletics gold medallist from Morocco since Hicham El Guerrouj scored the 1500m and 5000m double at the 2004 Olympic Games in Athens.
The Moroccan steeplechaser has become the first non-Kenyan olympic champion since 1980. Kenya had won this event at all but two Olympic Games since 1968. These were the two editions Kenya boycotted. El Bakkali won the Wanda Diamond League in Florence in 8:08.54 and improved his 1500m PB to 3:31.95 in Doha earlier this year.
Lemecha Girma from Ethiopia finished second in 8:10.38 ahead of Benjamin Kigen from Kenya (8:11.45). Getnet Wale clocked 8:14.97 to take fourth place ahead of Yemane Haileselassie from Eritrea (8:15.34). Matt Hughes improved on his 10th by taking sixth place in 8:16.03. Japanese record holder Ryuji Miura crossed the finish line in seventh place with 8:16.90.
Soufiane El Bakkali: "I am so used to seeing Kenyans win, it's a big accomplishment for me. I have been aiming for this for years and this was my opportunity to show that Morocco is capable of winning the prize in front of the Kenyans. I have been thinking about being more confident, working on my self-confidence and also trusting that I can win. I have tried so many times to compare myself with the Kenyans and Ethiopians to see whether I could reach this gold".
Women's discus throw:
Valarie Allman threw to 68.98m in the opening round to become the first US athletics gold medallist at this edition of the Olympic Games. Kristin Pudenz from Germany moved into silver medal with a PB of 66.86m in the fifth round to beat Yaimé Perez from Cuba, who claimed bronze with 65.72m. Sandra Perkovic, who was aiming to become the first woman to win three Olympic gold medals in an individual athletics event, finished fourth with 65.01m. The competition was suspended for 57 minutes due to heavy rain.
Valarie Allman: "I am so honoured that this has been the first gold medal for the US in Tokyo. I could not be happier or more proud. I am still waiting for my feet to touch the ground."
Women's 400m hurdles semifinal:
Olympic champion Dalilah Muhammad won the first semifinal with 53.30 in rainy conditions beating Janieve Russell (54.10) and Paulien Cockuyt, who set the Belgian record with 54.57.
World record holder Sydney McLaughlin clocked the fastest time of the three semifinals with 53.03. Gianna Woodruff from Puerto Rico broke the national record with 54.22 beating Anna Ryzhikova by 0.01.
European 400m indoor record Femke Bol from the Netherlands won the third semifinal with 53.91 beating NCAA champion Anna Cockrell (54.17) and Viktoriya Tkachuk (54.25).
Men's 400 metres semifinals:
Former Olympic champion Kirani James from Grenada won the first heat with 43.88 edging world silver medallist Anthony Zambrano, who broke the 44 seconds barrier for the first time in his career with 43.93. Liemarvin Bonevacia set the Dutch record with 44.62.
Michael Cherry claimed the win in the second semifinal with 44.44 beating Christopher Taylor (44.92). Reigning world champion Steven Gardiner took the win in the third semifinal with 44.14 holding off US Trials winner Michael Norman (44.52) and Isaac Makwala (44.59). Olympic champion Wayde Van Niekerk did not get through to the final with his third place in 45.14.
Women's 200 metres semifinal:
Double 100m Olympic champion Elaine Thompson Herah won the second semifinal equalling her PB with 21.66. The Jamaican star clocked this time when she won the world silver medal in Beijing 2015. Christine Mboma from Namibia set two worlds under 20 records with 22.11 in the heats and 21.97 in the semifinal. Mboma held off this year's US Trials champion Gabby Thomas (22.01).
Shelly-Ann Fraser Pryce won the first semifinal with 22.13 beating Beatrice Masilingi from Namibia, who improved her PB to 22.40.
Marie Josée Ta Lou claimed the third semifinal with her seasonal best of 22.11 beating Shaunae Miller Uibo by 0.03. Mujinga Kambundji equalled her own Swiss record clocking 22.26 twice in the heats and in the semifinal.
Women's pole vault qualifying round:
Sandi Morris broke her pole as she made an attempt at 4.55m and picked a hip injury. Fifteen vaulters cleared 4.55m to advance to the final. The list of qualifiers included defending champion Katerina Stefanidi, world champion Anzhelika Sidorova, this year's US Trials champion Katie Nageotte and 2015 world champion Yarisley Silva.
Men's hammer throw qualifying round:
Wojciech Nowicki led the qualifying round with 79.78m. Four-time world champion Pawel Fajdek from Poland got through to his first Olympic final with 76.46m. This year's US Trials Rudy Winkler qualified for the final with the second-best throw with 78.81m.
-->