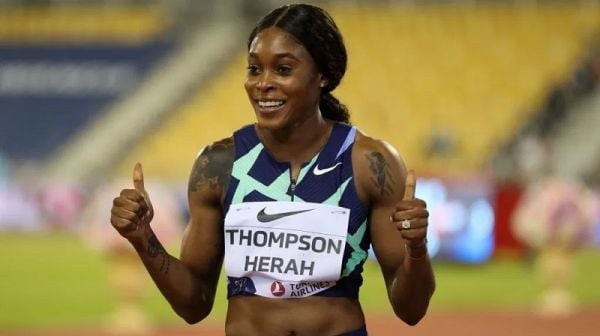 Elaine Thompson Herah's win in the women's 100m over Shelly Ann Fraser Pryce, the second sub-53 second run from Femke Bol and Akani Simbine's African 100m record were the highlights of an outstanding edition of the Memorial Istvan Gyulai in Szekesfehrvar, which produced nine meeting records.
Thompson Herah beats Fraser Pryce in the 100m in Szekesfehrvar
Double olympic champion Elaine Thompson won the women's 100 metres in 10.71 missing her lifetime best by just one-hundredth of a second. Thompson beat double Olympic champion Shelly Ann Fraser Pryce, who clocked 10.82. Marie Josée Ta Lou and Blessing Okagbare dipped under 10.90 clocking 10.86 and 10.89 respectively. Thompson Herah and Fraser Pryce are 1-1 in their two head-to-head 100m races this year.
Elaine Thompson Herah: "I am very happy with 10.71. It's no quite a PB, but I am very happy".
Men's 100 metres:
Akani Simbine from South Africa set the African record of 9.84 ahead of US sprinters Mike Rodgers (10.00), Marvin Bracy (10.02) and Isiah Young (10.04). Simbine has extended his unbeaten streak to 11 consecutive races. Simbine finished fifth at the 2016 Olympic Games in Rio de Janeiro in 2016 and at the World Championships in London in 2017 and fourth at the 2019 World Championships in Doha.
Akani Simbine: "This result gives me a lot of confidence. We were hoping to for something to happen this week. To break the African record is really great. It's something we have been working towards for a number of years. I set my previous PB in Szekesfehervar. It's always a pleasure to compete in this meeting".
Women's 400m hurdles:
This year's 400m European indoor champion Femke Bol from the Netherlands and Shamier Little went head-to-head in another exciting battle two days after their close clash in Stockholm.
Bol broke the 53 seconds barrier for the second consecutive race with 52.82 holding off Shamier Little, who has also dipped under the 53 seconds with 52.85.
Femke Bol: "It's another 52 second race, but I am tired now. It's nice to race against someone so close to you"
This year's Jamaican Trials champion Janieve Russell finished third with 53.68 ahead of Viktoriya Tkachuk (54.02m).
Women's 100m hurdles:
Jasmine Camacho Quinn from Puerto Rico won the women's 100m hurdles in 12.34 missing her recent PB by 0.02. Camacho Quinn clocked her third sub-12.4 this season.
European champion Elvira Herman took second place in 12.67 ahead of Gabby Cunningham (12.75), Sharika Nelvis (12.80) and Britany Anderson (12.80).
Jasmine Camacho Quinn: "I felt the pressure before the race. I was here to win the race".
Women's 200 metres:
Shericka Jackson clocked the second fastest time of her career with 21.96 into a slight headwind of -0.3 m/s beating Shaunae Miller Uibo (22.15), Dafne Schippers (22.70) and Mujinga Kambundji (22.74). Miller Uibo lost her first race over this distance since the 2017 World Championships.
Men's 200 metres:
André De Grasse came through in the second half to claim the men's 200m in 19.97 holding off Kenneth Bednarek (19.99) and the world under 20 record holder Erriyon Knighton (20.03) in a world-class 200m race.
Simbine won the second race with 20.25 edging Alonso Edward from Panama by 0.04.
Men's shot put:
Tom Walsh set the meeting record to 22.22m, his best throw since taking the bronze medal in the 2019 World Championships in Doha. Walsh opened the competition with 21.73m before breaking the Hungarian all-comers record. The shot putter from New Zealand produced another throw over the 22 metres in the third round with 22.09m.
Filip Mihaljevic took second place with 21.77m ahead of US Josh Awotunde (21.70m) and Chukwebuka Enekwechi (21.43m) and Serbia's Armin Sinancevic (21.22m).
Men's triple jump:
Pedro Pablo Pichardo from Portugal bounded out to 17.82m in the second round, improving Christian Taylor's previous meeting record of 17.68m. Zango responded with 17.66 in the second round before equalling Pichardo's world seasonal best with 17.82m in the third round to take the lead on countback. Pichardo leapt to 17.92m in the fourth round to win a high-quality men's triple jump competition. Mohamed Yasser Triki from Algeria improved his own national record to 17.33m to take third place.
Men's high jump:
European Indoor champion Maksim Nedasekau won the men's high jump equalling the world seasonal best with 2.37m in a preview of this summer's Olympic Games in Tokyo. Ilya Ivanyuk cleared 2.33m to beat Mikhail Akimenko on countback. European Indoor silver medallist Gianmarco Tamberi cleared 2.30m to finish fourth ahead of Brandon Starc and Donald Thomas (2.27m).
Ivanyuk had a clean sheet until 2.33m before failing his first attempt at 2.35m. Nedasekau cleared 2.35m on the first attempt to take the lead before setting the national record at 2.37m at the second time of asking. The 2021 European Indoor champion made three unsuccessful attempts at 2.41m.
Men's 110 metres hurdles:
World champion Grant Holloway won the 110 metres hurdles in 13.08 taking the second victory of his career in Szekesfehervar. Orlando Ortega, who beat Holloway in Szekesfehervar last year, improved his PB to 13.15 to beat Sergey Shubenkov (13.19) and Ronald Levy (13.25).
European Indoor bronze medallist Paolo Dal Molin won the second race of the 110m race with 13.31 missing his fresh Italian record by 0.04. Dal Molin beat David King from Great Britain (13.49) and US Freddie Crittenden (13.52).
Men's 400 metres:
Reigning world champion Steven Gardiner from the Bahamas won his fourth 400m race in Szekesfehervar equalling his seasonal best with 44.47. Bryce Deadmon finished second in 44.58 holding off US Trials champion Michael Norman (44.65) and Michael Cherry (44.69). Wayde Van Niekerk was a late withdrawal from the race.
"Hey Dreamers! I am still well. I had discomfort in my lower back in my warm-up before the race last night so Coach and my team decided to pull me out of the race as it is not worth risking anything so close to #Tokyo2020," Van Niekerk wrote on his Twitter page.
Women's 400 metres:
Stephanie Ann McPherson broke the 50 seconds barrier for the second time this year in the women's 400m with 49.99 a few days after claiming the Jamaican title in 49.61. World Championships fourth placer Wadeline Jonathas took second place with 50.70m ahead of Lieke Klaver (51.23).
Stephanie Ann McPherson: "I ran a good race. It was very warm, but I am used to this kind of weather".
Men's discus throw:
Daniel Stahl won his ninth consecutive competition in the men's discus with 67.71m in the third attempt beating Andrius Gudzius from Lithuania (66.71m) and Fedrick Dacres (65.06m).
Men's 3000 metres:
Double 5000m world champion Muktar Edris bounced back from the disappointment of missing the Olympic team, smashing his previous PB set four years ago and the meeting record with 7:30.96 beating his compatriots Tadese Woku (7:34.75) and Addieu Yihune (7:39.27).
Muktar Edris: "I tried to improve my previous PB of 7:33. I am happy that I managed to break it. This result is a confidence booster fo me."
Men's 800 metres:
British Indoor record holder Elliot Giles took a close win in the men's 800 metres in 1:44.89 holding off his compatriot Jamie Webb (1:45.12) and this year's US Olympic Trials champion Clayton Murphy (1:45.20).
Men's 400 metres hurdles:
Turkey's European gold medallist Yasmani Copello from Turkey clinched the men's 400m hurdles in a meeting record of 48.35 with a big margin over US Amere Lattin (49.06) and Constantin Preis from Germany (49.19).
Women's long jump:
European indoor champion Maryna Beck Romanchuk won the women's long jump with 6.79m in the third round beating Abigail Irozuru from Great Britain (6.64m).
Women's javelin throw:
Liveta Jasunaite from Lithuania set a meeting record with 62.73m in the women's javelin throw ahead of Nikola Ogrodnikova from Czech Republic (62.56m) and Elizabeth Gleadle from Canada (61.90m).
See the full meet results here.
-->