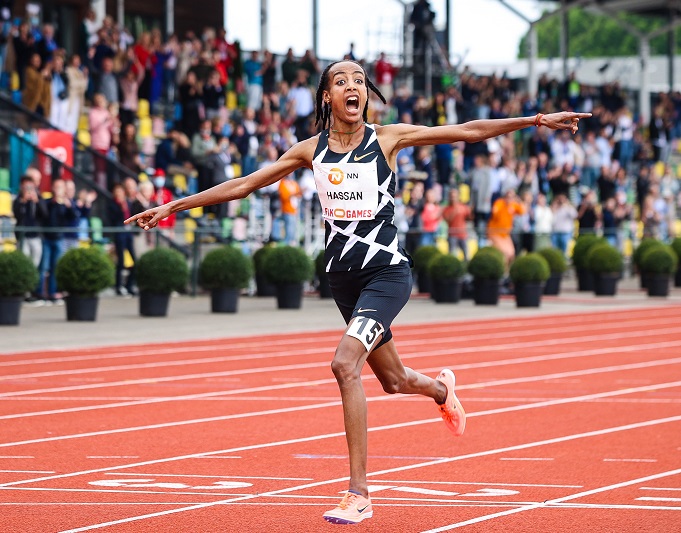 Sifan Hassan made history by smashing the world record in the 10000 metres with 29:06.82 at the FBK Games in Hengelo, a World Athletics Continental Tour Gold meeting.
Hassan took more than 10 seconds off the previous world record of 29.17.45 set by Ethiopia's Almaz Ayana at the 2016 Olympic Games in Rio de Janeiro.
Hassan set a world record pace from the start. Pacemaker Diane Van Es took the leading group through the 1000m mark in 2:56.12. The second pacemaker Jackline Rotich led through the 3000m mark in 8:47.91. Hassan decided to push the pace and passed the pacemakers. The Dutch running star went through the 5 km mark in 14:38.75 and continued to push the pace.
Hassan passed the 9 km in 26:21.05 and clocked an impressive 2:45 in the final km to cross the finish-line in 29:06.82 to set her fourth world record following her 4:12.33 over the mile distance in Monaco in 2019, her 18.930 km in the one hour distance and 14:44 in the 5 km on the road.
Hassan had already set the European record in the 10000m last year with 29:36.67 on the Hengelo track.
Sifan Hassan: "Wow, to run this world record here today in Hengelo is something I could only dream of. It's the perfect confirmation of the hard work we have put in getting ready for Tokyo. I am so happy to share the record in front of my Dutch fans. I am so happy !".
Irine Jepchumba finished second with 30:37.24 ahead of her compatriot Daisy Cherotich (30:37.31).
See the complete FBG Games results here
Men's pole vault:
World pole vault record holder Armand "Mondo" Duplantis cleared 6.10m in his third attempt improving Sam Kendricks' meeting record of 5.91 set in 2019. Duplantis set the world seasonal best and the sixth best performance in history. Duplantis made three attempts at the world record height of 6.19m. Ernest John Obiena from the Philippines took second place with 5.80m to beat Menno Vloon from the Netherlands on countback.
Women's 100 metres:
World and European 200m champion Dina Asher Smith won the women's 100m race improving Dafne Schippers' meeting record by 0.02 with 10.92. The British record holder improved her seasonal best of 11.35 set in Gateshead into a strong headwind of -3.1 m/s and booked her spot in the British Olympic team for Tokyo. Blessing Okagbare from Nigeria finished second in 11.02 ahead of the other British sprinter Darryl Neita, who also set a qualifying mark for Tokyo with 11.04.
Women's 100 metres hurdles:
Jasmine Camacho Quinn from Puerto Rico won her third Continental Tour race in the women's 100m hurdles race setting the meeting record with 12.44. Pia Skrzyszowswka from Poland improved her PB to 12.80 to finish ahead of Italian indoor champion Elisa Maria Di Lazzaro, who clocked the second fastest time in her career with 13.00.
Men's 110 metres hurdles:
Olympic champion Omar McLeod from Jamaica set the second fastest time in the world this year with 13.08, missing the world leading time held by Grant Holloway by just 0.01. Three-time US champion Devon Allen finished second in 13.32 edging European Indoor champion Wilhelm Belocian by 0.02.
Men's 400 metres:
Fred Kerley won his second Continental Tour Gold race of the season in the men's 400m in 44.74 ahead of Dutchmen Jochem Dobber (45.51) and Liemarvin Bonevacia (45.77), Zakithi Nene from South Africa (45.87) and Ricky Petrucciani from Switzerland (45.94).
Women's 400 metres hurdles:
European 400m and 4x400 relay champion Femke Bol made a winning debut over her favourite 400m hurdles distance in 54.33 beating 2018 European silver medallist Anna Ryzhykova (54.59) and Wanda Nel from South Africa (55.25).
Women's 400 metres:
Belgian record holder Cynthia Bolingo Mbongo took the win in the women's 400 metres in 51.16 holding off Liaval Nielsen from Great Britain (51.44) and Lieke Klaver from the Netherlands (51.46).
Men's 400 metres hurdles:
World bronze medallist Abderrahman Samba claimed his first win this season in the men's 400m hurdles with 48.56 beating Yasmani Copello from Turkey (48.88) and Dutchman Nick Smith (49.43).
Women's discus throw:
Reigning world champion Yaime Perez followed up her win in Doha with a winning mark of 65.91m. The Cuban thrower beat double Olympic champion Sandra Perkovic (65.80m), Liliana Ca (65.07m) and 2015 world champion Denia Caballero (62.46m).
Men's 200 metres:
Reigning Commonwealth Games champion Isaac Makwala clinched the win in 200 metres in 20.37 ahead of Italy's Eseosa Fausto Desalu (20.63).
Women's 800 metres:
Great Britain claimed the top three spots, as double European Under 23 champion Jemma Reekie launched her kick in the final straight to win the women's 800m in 2:00.77 holding off her friend and training partner Laura Muir (2:00.95) and Ellie Baker (2:01:02). Renelle Lamote from France finished fourth sharing the same time as Baker.
Men's 1500 metres:
British middle distance runner Jake Wightman completed a British middle distance double by claiming the win in the 1500m in 3:34.67 beating Kenya's Abel Kipsang (3:35.63) and Jesus Gomez from Spain (3:35.71).
Men's 800 metres:
Mateusz Borkowski from Poland won a tactical 800m race in 1:47.02 holding off Benjamin Robert from France (1:47.15) and British Indoor record holder Elliot Giles (1:47.22).
Men's long jump:
Frenchman Augustin Bey won his second long jump competition in the Continental Tour Gold this year with 8.16m ahead of South Africa's Rushwal Samaai (8.10m), Australia's Christopner Mitrevski (8.04m) and this year's Gateshead Diamond League winner Filippo Randazzo (8.01m).
Men's high jump:
European indoor champion Maksim Nedasekau from Belarus was the only jumper to clear 2.24m before missing three attempts at 2.30. Reigning Commonwealth champion Brandon Starc finished second with 2.20 to beat European Indoor silver medallist Gianmarco Tamberi, Donald Thomas, Olympic champion Derek Drouin, Thomas Carmoy, Dowue Amels, Edgar Rivera and jamal Wilson on countback.
-->