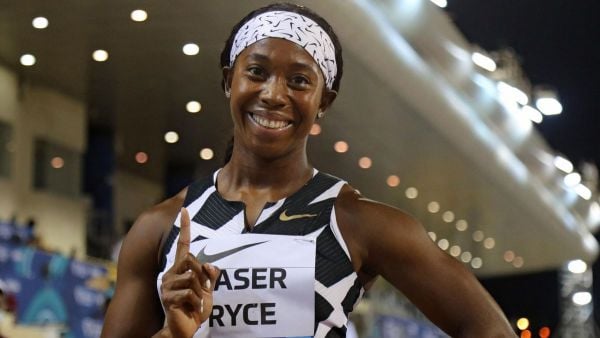 Jamaican Shelly-Ann Fraser-Pryce became the 2nd fastest woman in the 100m of all time after clocking 10.63 seconds in Kingston on Saturday.
"Honestly, no, I wasn't coming out here to run that fast," said Fraser-Pryce who improved her previous personal best by 0.07 seconds from 2012. "Thank God that I finish healthy.
"There was no pressure. I just wanted to get one more race in before the national trials."
Natasha Morrison finished in second place with another sub-11seconds performance this season of 10.95.
American Florence Griffith-Joyner holds the world record at 10.49 seconds set back in 1988.
Top 10 women 100m all time
| | | | | | |
| --- | --- | --- | --- | --- | --- |
| 1 | 10.49 | 0.0 | Florence Griffith-Joyner | USA | 16 Jul 1988 |
| 2 | 10.63 | | Shelly-Ann Fraser-Pryce | JAM | 05 Jun 2021 |
| 3 | 10.64 | +1.2 | Carmelita Jeter | USA | 20 Sep 2009 |
| 4 | 10.65A | +1.1 | Marion Jones | USA | 12 Sep 1998 |
| 5 | 10.70 | +0.3 | Elaine Thompson-Herah | JAM | 1 Jul 2016 |
| 6 | 10.72 | +1.6 | Sha'Carri Richardson | USA | 10 Apr 2021 |
| 7 | 10.73 | +2.0 | Christine Arron | FRA | 19 Aug 1998 |
| 8 | 10.74 | +1.3 | Merlene Ottey | JAM | 7 Sep 1996 |
| 8 | 10.74 | +1.0 | English Gardner | USA | 3 Jul 2016 |
| 10 | 10.75 | +0.4 | Kerron Stewart | JAM | 10 Jul 2009 |
-->