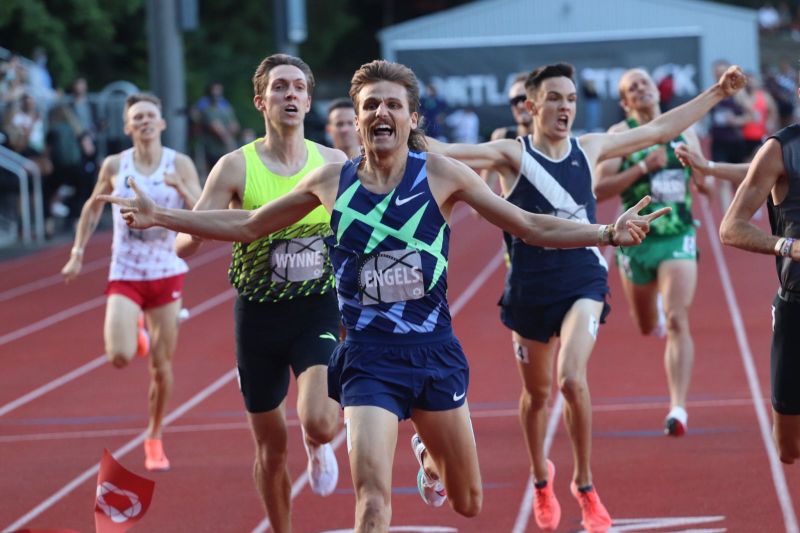 18-year-old Hobbs Kessler who is still in high school shocked with a new US high school record of 3:34.36 at the Portland track festival on Saturday (28).
Watch the full men's 1500m video here
Kessler who goes to Ann Arbor Skyline highschool finished 5th in a stacked men's 1500m race and clocked an insane 3:34.36, to break Alan Webb's US HS record of 3:38.1 by 4 seconds. His 3:34.36 is also inside the 3:35 Tokyo Olympics qualifying standard.
Craig Engels was the winner of the top men's 1500m section with a new season's best time of 3:33.64. Jake Heyward (GBR) claimed third place with 3:33.99.
Elise Cranny claimed the women's 1500m in 4:02.62.
Men's 1500m top 8 performances at Portland Track Festival:
1. Craig Engels 3'33''64
2. Jake Heyward 3'33''99
3. Henry Wynne 3'34''08
4. Hobbs Kessler 3'34''36
5. Vincent Ciattei 3'34''57
6. Amos Bartelsmeyer 3'35''24
7. Will Paulson 3'35''42
8. Mason Ferlic 3'35''45
See the full meet results here
Men's and women's 800m
Donovan Brazier clocked had to world hard in the final 100m to beat Tonatiu Lopez of Mexico for the win in 1:45.09. The reigning World 800m champion only in the final meters managed to defeat Lopez by just 0.05 and to secure the win. Emmanuel Korir took third place in the men's 800m high-performance section with 1:45.74.
A 1500m runner Gabriela Stafford of Canada clocked a massive personal best of 1:58.70 to win the women's top 800m section. A total of 6 women went under the 2:00 minute barrier. Sabrina Southerland was 2nd (1:58.82), followed by Kate Grace (1:59.04), Chanelle Price (1:59.12), Cory McGee (1:59.17), and Raevyn Rogers (1:59.72).
-->