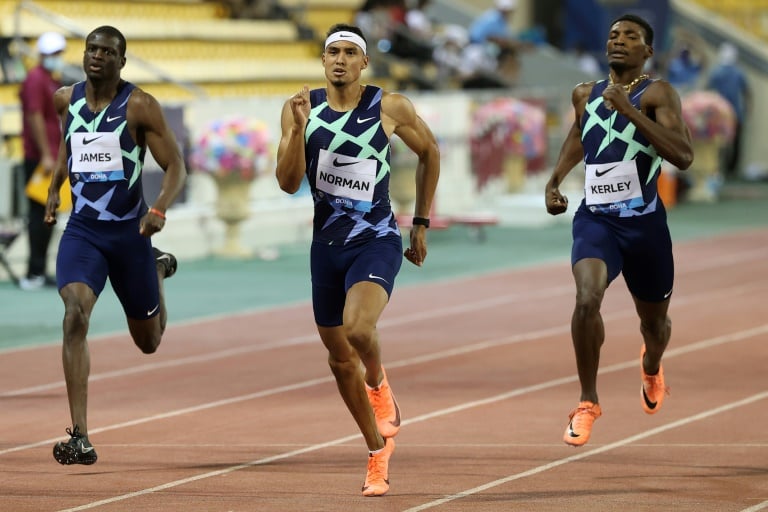 Five world leading performances were set by Michael Norman in the 400m (44.27), Beatrice Chebet in the women's 3000m (8:27.49), Wycliffe Kyniamal in the 800m (1:43.91), Timothy Cheruiyot in the 1500m (3:30.48) and Norah Jeruto in the women's 3000m steeplechase (9:00.67) in an outstanding edition of the Doha Diamond League meeting on Friday night.
The Doha meeting was also highlighted by Shelly-Ann Fraser Pryce's win in the women's 100m in 10.84, a meeting record set by Raj Benjamin in in the men's 400m hurdles with 47.38, and Yulimar Rojas, who broke the meeting record in the women's triple jump with 15.15m. There were some upsets, as Sandi Morris and Ekaterini Stefanidi were beaten by Katie Nageotte in the women's pole vault and Beatrice Chebet beat Hellen Obiri in the women's 3000 metres.
See the complete meet results here.
Women's 100 metres:
Jamaica's multiple world and Olympic champion Shelly-Ann Fraser Pryce won the women's 100m sprint race setting a seasonal best of 10.84 ahead of Blessing Okagbare from Nigeria (10.90), 2018 US Indoor champion Javianne Oliver (11.03) and three-time world medallist Marie Josée Ta Lou (11.12).
Shelly-Ann Fraser Pryce: "It is the second time that I win the 100m in Doha. I am happy that I put together a good race. I am satisfied that I won, because it's far away from the fourth place that I achieved the last time in Gateshead. I am excited about this season. I am progressing. It's going to be my final olympic appearance so I hope it will be good. I was able to stand on the podium in the last three Olympic Games. I am hoping to be able to make there again God willing".
Men's 400 metres:
Reigning Diamond League champion Michael Norman got his title defence off to a winning start in the men's 400m in a world leading time of 44.27 holding off 2019 world silver medallist Anthony Zambrano from Colombia (44.57), Fred Kerley (44.60), 2012 Olympic gold medallist Kirani James from Grenada (44.61) and US Vernon Norwood (44.67).
Michael Norman: "I was happy to be back here because the last time I did not do a good performance here in Doha. I am happy with the progress I made. I give a lot of credits to my coach for everything he does for me. We are on the right path. My next focus is on Monaco. I hope that my schedule will allow me to go there".
Women's triple jump:
Yulimar Rojas bounded out to a meeting record of 15.15m in the first attempt. The reigning world champion took the win in the final 3 jump-off with 15.11m with 29 cm behind the board at take-off. Kimberly Williams from Jamaica set her PB with 14.69m in the fifth round. Shanieka Ricketts came close to the 15m barrier with 14.98m in the fifth round. In the final 3 jump-off, Williams leapt to 14.45m, while Ricketts produced a foul. Thea Lafond from Dominica finished fourth with 14.57m.
Yulimar Rojas: "I am satisfied with the result and the hard work. We are on the right path, so I feel good physically and it's good for me. I am happy to leave a footprint here in Doha. I will be prepared in Tokyo and I will try to win the gold medal".
Men's 400m hurdles:
Raj Benjamin set a meeting record of 47.38 beating Alison Dos Santos, who broke the South American record with 47.57. Kyron McMaster also dipped under the 48 seconds barrier with 47.82 to finish third ahead of local favourite Abderrhaman Samba (48.25).
Raj Benjamin: "It was a good and decent race, but not for me. I always try to do my best. Doha is warm so it is perfect for running. My next focus is the US National Championships".
Men's 200 metres:
Kenny Bednarek won his second consecutive 200m Diamond League race of the season in 19.88, edging olympic and world silver medallist André De Grasse by 0.01.
Kenny Bednarek: "I felt good. I was a bit nervous, but I am excited that I got the first place. I will try to be even better again next time".
Women's 3000 metres:
Reigning 5000m world under 20 champion Beatrice Chebet set her lifetime best and a world seasonal best of 8:27.49 to take the first Diamond League win of her career. World 5000m silver medallist Margaret Kipkemboi Chelimo and Lilian Rengeruk also broke the 8:30 barrier clocking 8:28.27 and 8:28.96 respectively. Two-time world champion Hellen Obiri finished fourth in 8:33.98.
Men's 1500 metres:
World champion Timothy Cheruiyot won for the first time in his career in the Doha Diamond League meeting setting a meeting record of 3:30.48. Stewart McSweyn finished second with his seasonal best of 3:31.57 ahead of 3000m world silver medallist Soufiane El Bakkali from Morocco, who set his PB of 3:31.95 beating world indoor champion Samuel Tefera from Ethiopia (3:32.52) and Bethwell Birgen (3:33.64).
Timothy Cheruiyot: "I tell my fans thank for always supporting for me.I had a small issue on my right leg, so I started slowly. It was a very good race, anyone could have won. My next focus is the Diamond League meeting in Monaco"
Women's 3000m steeplechase:
Norah Jeruto claimed the win in the women's 3000m steeplechase with a world seasonal best of 9:00.67 after Hyvin Kyeng stumbled at the water jump. Mekides Abebe finished second setting the Ethiopian record with 9:02.52 beating Winfred Yavi Mutile (9:02.64), 2015 world champion Hyvin Kyeng (9:07.58) and US Emma Coburn (9:08.22). Marusa Mismas set the Slovenian record with 9:16.82 holding off world bronze medallist Gesa Felicitas Krause (9:16.89).
Men's 800 metres:
Kenya's Wyclife Kinyamal made a successful comeback by winning the men's 800m in a world seasonal best of 1:43.91 ahead of 2019 world bronze medallist Ferguson Cheruiyot Rotich (1:44.45), Daniel Rowden from Great Britain (1:44.60) and two-time world world silver medallist Amel Tuka (1:44.76).
Women's 800 metres:
Reigning 1500m olympic champion Faith Kipyegon won the 12th Diamond League race of her career setting a seasonal best of 1:58.26. The 27-year-old Kenyan star had already won the 800m in Doha last year setting a meeting record of 1:57.68. Natoya Goule from Jamaica finished runner-up in 1:59.70 ahead of Rababe Arafi from Morocco (1:59.83), Habitam Alemu from Ethiopia (2:00.02) and European Indoor champion Keely Hodgkinson from Great Britain (2:00.63).
Faith Kipyegon: "I am very excited to be here. I set my personal best here in Doha, so it's really great to be here.I am training so hard and hoping to do my best, I am putting all my mind on it. The pandemic wasn't easy but we alway try to be great".
Women's pole vault:
Both Katie Nageotte and Sandi Morris cleared 4.84m to equal the meeting record. Nageotte won the pole vault competition on countback, as she cleared all the heights at the first attempt before failing three attempts at 4.90m. Nageotte clinched the second Diamond League competition of her career.
Morris needed two attempts to clear 4.84m. European indoor bronze medallist Holly Bradshaw had a clean sheet until 4.74m before failing three attempts at 4.84m.
Reigning Olympic champion Ekaterini Stefanidi cleared 4.64m at the final attempt to avoid an early exit and 4.74m at the first time of asking to share the fourth place with Iryna Zhuk from Belarus, who cleared 4.74m in the second attempt to set a national record.
World outdoor champion Anzhelika Sidorova vaulted 4.64m in the first attempt, but failed to clear three attempts at 4.74m.
Katie Nageotte: "You can expect anything in pole vault. I was ready to come in and jump. I wasn't sure I could win, but I knew I was ready. I am happy for that. I think I did pretty good tonight. I always try to stay humble and give my best. I had Covid in the summer, but I have felt better than I have ever in the last weeks. I am extatic".
Men's high jump:
World seasonal leader Ilya Ivanyuk cleared 2.33m in his first attempt to win the men's high jump ahead of two-time world champion Mutaz Barshim, who had a clean sheet until 2.30m before failing one attempt at 2.33. The bar was raised at 2.36m, but neither Ivanyuk nor Barshim managed to clear 2.36m. Andiy Protsenko from the Ukraine cleared 2.27m in his first attempt to take third place beating 2018 Diamond League champion Brandon Starc on countback. Olympic champion Derek Drouin from Canada finished fifth with 2.24m in his come-back competition from injury.
Mutaz Barshim: "It was not good, but I say okay. My target is definitely Tokyo, so I will be working for the next competition. My goal for Tokyo is to win, not necessarily to break a record, but to win".
Men's shot put:
World bronze medallist Tom Walsh took the lead with 21.59 in the first round. Filip Mihaljevic from Croatia came very close with 21.57m in the fourth round. Armin Sinancevic equalled the Serbian record with 21.88m to overtake Walsh. Walsh won the Final 3 showdown with 21.63m to clinch the win.
Women's discus throw:
World champion Yaimé Perez went to the lead with 63.75m in the first round. US Valarie Allman overtook the Cuban throw with 65.57m in the fourth attempt. Two-time Olympic champion Sandra Perkovic produced her best throw of 63.60m in the first attempt. Perez won the Final 3 showdown with 61.
-->