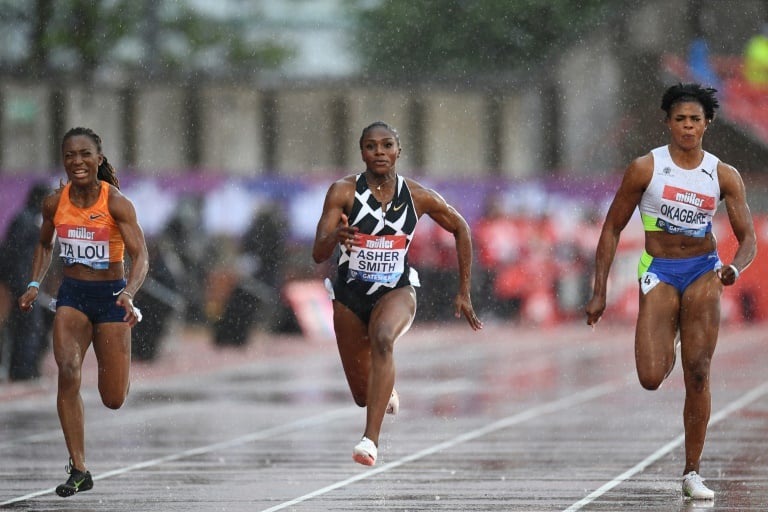 World 200m champion Dina Asher-Smith stormed to an impressive win in the women's 100m final in 11.35 on a windy and rainy evening at the first leg of the Wanda Diamond League holding off world seasonal leader Sha'Carri Richardson (11.44), world bronze medallist Marie Josée Ta Lou (11.48) and two-time Olympic champion Shelly-Ann Fraser Pryce into a headwind of -3.1 m/s and in wet conditions.
Dina Asher-Smith: "Today was more of an experience. The only thing that can indicate Tokyo is the final itself. I feel really good. Conditions were far from ideal for sprinting but the most important thing is to come away with a good result and a win and I was very happy to do that."
Sha'Carri Richardson: "It was a pleasing learning experience. I am happy with the race. I am definitely proud that I was able to execute it and now I know what I need to go back and work on and what I need to better at.
Women's 1500 metres:
European outdoor champion Laura Muir opened her Diamond League campaign with a win in the women's 1500m in 4:03.73 with a margin of four seconds over Rababe Arafi from Morocco (4:07.73) and Katie Snowden (4:08.92).
Laura Muir: "The win gives me a lot of confidence. Today it wasn't about times. It was about getting out there and getting a win in front of a home crowd. I am really pleased. I just wanted to sit in and use my strength over the last half, which I did. I will have to watch the race back but it went really well. It was lovely to compete on home soil and in front of a crowd. It's been such a long time"
Men's 1500 metres:
Double 1500m and 5000m European outdoor champion Jakob Ingebrigtsen took the win in the men's 1500m in 3:36.27 holding off in-form Oliver Hoare (3:36.58) and Stewart McSweyn (3:37.52).
Jakob Ingebrigtsen: "This is the normal weather back in the west coast of Norway. I am used to these conditions. It's really tricky to run fast in these conditions and it turned to be a tactical race. Today really didn't have anything to do with times".
Men's 200 metres:
US Kenny Bednarek claimed his first ever Diamond League win in 20.33 into a headwind of -3.0 m/s ahead of Canadian sprinters Aaron Brown (20.79) and André De Grasse (20.85).
Kenny Bednarek: "I felt very good despite the terrible weather conditions. My coach told me to work on my technique and that's what I did so I am really pleased. I would have liked to run faster but it was rainy and it was very cold. I am happy with the performance. I am in a really good place at this point in the season. I am heading back after Doha for the US Trials and I have some things to work on now"
Women's 400 metres:
World 4x400 relay champion Kendall Ellis held off Stephanie Ann McPherson from Jamaica to win the women's 400m in 51.96 in very unfavourable conditions.
Kendall Ellis: "This gives me confidence heading into the US Trials and the Olympic Games in Tokyo".
Women's 100m hurdles:
European Indoor silver medallist Cindy Sember from Great Britain won the women's 100m hurdles in 13.28 ahead of European Indoor finalists Luca Kozak (13.37) and Luminosa Bogliolo (13.45) into a strong headwind of -3.9 m/s.
Cindy Sember: "I am very pleased with that race. To keep it together in those conditions was pleasing. That negative 3.9 wind, I don't think I have ever run in that much wind so keep it together and execute the race well, it really could have been a lot worse. I have one more race before the Trials. I am going back to train and get ready".
Men's pole vault:
Double world outdoor champion Sam Kendricks vaulted 5.74m in his second attempt in tricky weather conditions for pole vaulting to beat world record holder Armand Duplantis, who cleared 5.55m at the first time of asking. Kendricks made two unsuccessful attempts at 5.80m. Duplantis failed two attempts at 5.74m and one final try at 5.80m.
Sam Kendricks: "That was the most fun I have had all year. You had people, and had rainy conditions and we all had a good old rousing time out there. I saw the crowd, sitting there, all in pairs, all out in the rain. The British people are amazing. They really know how to enjoy their sport.
Armand Duplantis: "The conditions were what they were today, and I wasn't able to adjust quickly enough"
Women's triple jump:
World silver medallist Shanieka Ricketts from Jamaica jumped 14.40m to take the lead over Patricia Mamona (14.37m). The Jamaican jumper leapt to 14.29m in the showdwon to secure the win ahead of European Indoor champion Patricia Mamona from Portugal and Naomi Ogbeta.
Shanieka Ricketts: "It was brutal. I am just happy I didn't end up injured. It was hard to focus on technical things and not very conductive to getting good jumps. I just wanted to get myself into the position to have an extra jump and the only that mattered was to get the best jump."
Men's long jump:
Italy's Filippo Randazzo took a surprising win in the men's long jump with a wind-assisted 8.11m in the final shoot-out beating world champion Tajay Gayle from Jamaica, who managed only 7.91m in his final jump. Gayle produced the best mark from the first five rounds with 8.00m (+2.00 m/s). Eusebio Caceres from Spain jumped 8.04m in the showdown, but Randazzo sailed to 8.11 (+2.8 m/s)
Randazzo, who won the European Under 23 silver medal in Bydgoszcz, won his second competition this year after Savona, where he jumped 8.05. He has become the fourth Italian athlete to win a Diamond League competition in the history of the circuit after Fabrizio Donato in the triple jump in Zurich 2012, Marco Fassinotti in the high jump in London 2015, Gianmarco Tamberi in Montecarlo 2016.
Filippo Randazzo: "I can't believe. I was very close to my PB of 8.12m. In this wind 8.11m is a good jump. For me it's a dream. I watched the Diamond League when I was young and today I have won. I have no words".
Women's high jump:
Former world indoor champion Kamila Lichwinko clinched the win in the women's high jump with 1.91m to beat surprising British jumper Emily Borthwick on countback. Morgan Lake finished third with 1.88m to beat three-time world champion and Diamond League Trophy holder Mariya Lasitskene and Italy's Alessia Trost on countback. Lasitskene lost for the first time after a winning streak of 14 consecutive victories.
Women's shot put:
European indoor champion Auriol Dongmo from Portugal continued her good period of form setting a seasonal best of 19.08m in round four ahead of world silver medallist Danniel Thomas Dodd (18.46m). Dongmo secured the win in the final showdown with 18.16m.
Men's javelin throw:
Marcin Krukowski from Poland took the lead with his third round of a seasonal best of 82.61m. The European Championships finalist saved the best until last to win the showdown with 81.18m beating 2012 Olympic champion Keshorn Walcott (77.78m) and Kim Amb from Sweden (76.96m).
Men's 5000 metres:
Spain's Mohamed Katir from Spain won the 5000m setting his lifetime best of 13:08.52 ahead of Nicholas Kimeli from Kenya (13:10.11) and Michael Kibet (13:20.52)
Men's 3000m steeplecahse:
Kenyan born Hillary Bor, now representing the USA, claimed the first Diamond League win of his career with 8:30.20 to pick eight points for the Diamond League ranking.
Women's 400m hurdles:
Olympic silver medallist Sara Slott Petersen from Denmark took the win in 56.32 ahead of Jessica Turner from Great Britain (56.56).
World-class athletics returned to Gateshead for the first time since 2010. The opening meeting of the Diamond League was attended by 2000 spectators. It was a welcome return after a very difficult year.
See the full meet results here.
-->