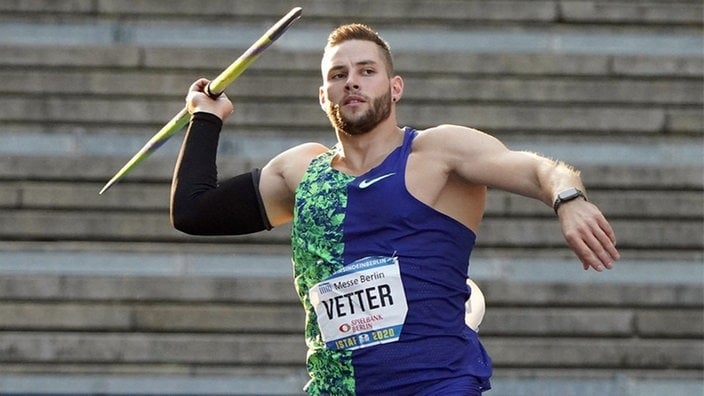 German record holder Johannes Vetter highlighted the 60th edition of the Golden Spike meeting in Ostrava with a world seasonal best of 94.20m in the first round. Vetter produced the third biggest throw in his career.
The 2017 world champion also produced his second-best throw of 91.33m and three more throws over the 88 metres barrier (88.53m, 88.47m, 88.45m). Vetter beat reigning world champion, Anderson Peters, from Grenada, who set his seasonal best of 83.39m in the sixth round to finish runner-up ahead of Olympic champion Keshorn Walcott (82.75m).
Johannes Vetter: "It was a great throw, but of course the world record would be even better. It was great training for me. I made only small mistakes and managed to hit the javelin very clean".
Men's pole vault:
World record holder needed two attempts at both 5.50m and 5.70m before clearing 5.90m at the first time of asking. Duplantis failed one attempt at 5.95m and two at 6.00m on a windy night. Double world champion Sam Kendricks had a clean sheet until 5.70m and cleared 5.85m in his second attempt before one unsuccessful attempt at 5.90m and two at 5.95m. European Indoor bronze medallist Valentin Lavillenie finished third with 5.60m.
Armand Duplantis: "It was my first meeting of the summer so I just needed to get the rust away. I had a problem with the running part and just could not feel the legs doing the job I needed, but it showed me I am in pretty good shape".
Men's 3000 metres:
World 5000m and 10000m record holder Joshua Cheptegei made an attempt to break Daniel Komen's long-standing 3000m world record, but he missed his target by 13 seconds setting a world seasonal best and a PB of 7:33.24 on a cold evening. Cheptegei went through the 1000m mark in 2:26 on pace to break Komen's world record set in Rieti in 1996. Cheptegei followed his second pacemaker Stewart McSweyn through the next two laps before running alone to go through the 2000 metres mark in 4:56.19 and the world record slipped out of reach. Paul Chelimo finished a distant second in 7:41.69.
Joshua Cheptegei: "It was a speed test for me. I will run against Jacob Kiplimo at the Golden Gala in Florence on 10 June".
Men's 10000 metres:
World half marathon champion Jacob Kiplimo from Uganda set the Olympic qualifying standard smashing his PB with 26:33.93, the best performance of the meeting on the track. Kiplimo went through the halfway mark in 13:27.43 before running the second part of the race alone in 13:06.
Jacob Kiplimo: "I did not expect to run that time. I was hoping to run under 27:00. I will double the 5000m and the 10000m at the Olympic Games. My goal is to reach the podium in Tokyo".
Birhanu Balew from Barhein took second place in 27:07.49. The 20-year-old Ugandan set the seventh-fastest time in history. Italian cross country champion Iliass Aouani improved his PB by seven seconds with 27:45.81 to finish third.
Men's 800 metres:
Max Burgin won his first Continental Tour race smashing his PB with an impressive world seasonal best of 1:44.14 one day before his 19th birthday. The 2018 European Under 18 champion improved Yuriy Borzakovskiy's 21-year-old European under 20 record of 1:44.33.
Burgin pulled away from the rest of the field after the 400m to take a huge lead in the second lap. Tony Van Diepen from the Netherlands took second place in 1:45.36 edging last year's Golden Spike 800m winner Jake Wightman (1:45.47).
Max Burgin: "I knew I was in good shape but it's different getting it out on the day. The pacemaker did an amazing job. It was a perfect race. I could no task more. I saw the race of my good friend Keely Hodgkinson who ran just before me and she ran so fast, so I thought: I just have to match it at least. "
Women's 800 metres:
European 800m Indoor champion Keely Hodgkinson pulled away with 200m to go to complete the British 800m double with a European Under 20 record of 1:58.89 ahead of Ethiopia'Diribe Welteji, who improved her seasonal best to 1:59.79. Lovisa Lindh finished a distant third with 2:01.10. Hodginson, who turned 19 last March, smashed Charlotte Moore's long standing British under 20 record by almost a second.
Burgin and Hodgkinson won the 800m European Under 18 titles in Gyor in 2018. Hodgkinson went on to win the European Under 20 gold medal in 2019 and British indoor and outdoor titles in 2020. Burgin started the 2020 season with his previous PB of 1:44.75 last August
Men's 200 metres:
US Kenny Bednarek won the men's 200 metres dipping under the 20 seconds barrier for the second time this year with 19.93 into a headwind of -0.6 m/s. Fred Kerley finished a distant second with 20.27 ahead of Canada's Aaron Brown (20.40).
Women's 200 metres:
Sha'Carri Richardson made a winning start to her European campaign with 22.35 into a headwind of -1.1 m/s beating Nigeria's Blessing Okagbare (22.59), world 200m bronze medallist Mujinga Kambundji (22.85) and two-time world champion Dafne Schippers (22.91).
Sha'Carri Richardson: "It was a good result for the conditions and the weather, the girls definitely gave me a push. I just continue to make a statement that nothing I do is a fluke. It comes from hard work for me and my coach. Gateshead definitely will be a race to make a statement, not just for myself. Anyone that comes out on top will make a statement for the world to see"
Men's 100 metres:
World 400m bronze medallist Fred Kerley sprinted to 9.96 in the first 100m race of his career on European soil, missing his recent PB by just 0.05 on cold evening with a temperature of +14°C . World 100m champion Justin Gatlin finished second with 10.08 ahead of 200m world silver medallist André De Grasse (10.17).
Fred Kerley: "I got two good runs here. I cannot complain. I can get ready for the 400m. To run both was part of the training cycle".
Men's 400 metres:
Former olympic and world champion Kirani James from Grenada won the 400m at the Golden Spike in Ostrava for the second time in his career improving his seasonal by 0.12 with 44.76. US Vernon Norwood took second place in 45.28 ahead of 4x400 relay European Indoor champion Jochem Dobber from the Netherlands (45.30) and 4x400 mixed World Relay winner Edoardo Scotti from Italy (45.73).
Kirani James: "I still have some work to do. There are things we can improve. The time was important, but the main thing was to perform well and stay healthy".
Men's triple jump:
World indoor record holder Fabrice Hugues Zango leapt to 17.14m in the first round and increased his best mark to 17.20m in the fourth attempt to take the win in the men's triple jump ahead of Max Hess from Germany (16.97m) and Melvin Raffin from France (16.71m). Double olympic champion Christian Taylor sustained an injury during the fifth round.
Men's 1500 metres:
World 1500m bronze medallist Marcin Lewandowski launched his kick in the final straight to take the win in 3:35.57 ahead of Jesus Gomez (3:35.70) and Ethiopia's Samuel Abate (3:36.48).
Marcin Lewandowski: "Those who know me know I start slowly, but I will get better during the next weeks and months".
Women's 1500 metres:
Ethiopia's Freweyni Hailu took the first place setting her PB with 4:04.20 ahead of Slovenia's Marusa Mismas Zrimsek (4:07.50) and Hirut Meshesha (4:07.52). Italian indoor champion Gaia Sabbatini finished fourth improving her PB by three seconds to 4:08.14. World record holder Genzebe Dibaba stepped off the track midway through the last lap.
Men's 3000m steeplechase:
Ethiopia's Getnet Wale ran alone in the second half of the men's 3000m steeplechase to win by 11 seconds in 8:09.47. Phil Norman from Great Britain finished second edging Italy's Osama Zoghlami by 0.17 in 8:20.12.
Men's shot put:
European Indoor bronze medallist Filip Mihaljevic from Croatia improved his seasonal best to 21.58m in the third round to beat European outdoor gold medallist Michal Haratyk from Poland (21.30m) and Wictor Petterson (20.90m).
Women's hammer throw:
World silver medallist Malwina Kopron produced her seasonal best of 74.74m to win the hammer throw ahead of France's Alexandra Tavernier (73.30m) and two-time Olympic champion Anita Wlodarczyk (72.72m).
Malwina Kopron: "The weather was great because the circle was faster after the rain and it suited me well. I do not think I am in top shape yet, but it should come just before the Olympics. I think it will be necessary to throw over 76 metres to get a medal in Tokyo"
Women's javelin throw:
European champion Christin Hussong from Germany produced a best throw of 66.58m to beat Nikola Ogrodnikova from Czech Republic (65.13m). World record holder Barbora Spotakova finished fourth with 59.49m.
Women's 400 metres hurdles:
British champion Jessie Knight held off European silver medallist Anna Ryzhikova in the final straight to win the women's 400m hurdles with her PB of 54.74. Ryzhikova finished second in 55.09 ahead of olympic silver medallist Sara Slott Petersen (55.76).
Men's 400 metres hurdles:
Olympic bronze medallist Yasmani Copello from Turkey won the men's 400m hurdles in 49.21 ahead of 2017 European Under 20 champion Alessandro Sibilio (49.62) avenging his recent defeat against the Italian hurdler, who beat him in Savona last week.
Augustin Bay from France took the win in the men's long jump with 8.02m.
See the full meet results here.
-->