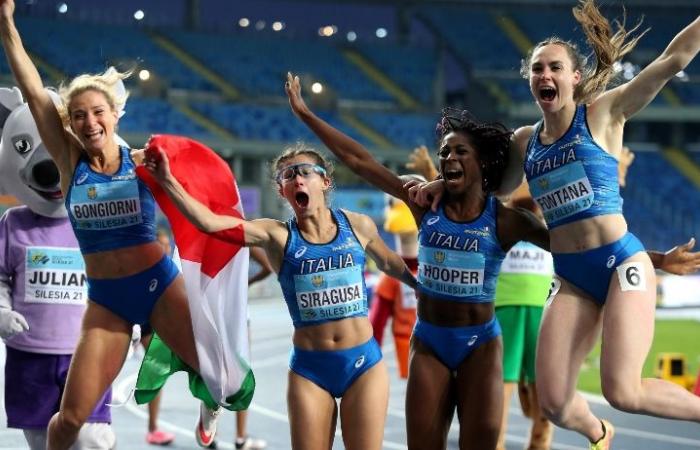 A double win for Italy in the women's 4x100 and mixed 4x400 relay and victories for Cuba in the women's 4x400, South Africa in the men's 4x100, the Netherlands in the men's 4x400, Poland in the women's 4x200 and Germany in the men's 4x200 highlighted the second day at the World Relays in Chorzow.
Mixed 4x400 relay:
The Italian quartet formed by Edoardo Scotti, Giancarla Trevisan, Alice Mangione and Davide Re stormed to win in 3:16.60 ahead of Brazil (3:17.54) and Dominican Republic (3:17.58) in the opening competition of the evening. Italy claimed the first title and the second medal in the history of this event after the bronze won by the women's 4x400 in Yokohama two years ago. After Edoardo Scotti built a narrow lead at the first changeover, Giancarla Trevisan broke away to take a solid lead ahead of Brazil and Great Britain. Italian 400m champion Alice Mangione increased the lead, before handing over to Italian 400m record holder Davide Re, who pulled away in the final straight to beat Brazilian 400m hurdles specialist Alison Dos Santos. Brazil edged the Dominican Republic by 0.04 in a close finish. Kevin Borlée anchored Belgium to fourth place in 3:17.92 ahead of Great Britain.
Davide Re: "I had said yesterday that we could win. We ran a very good race. We did not do anything wrong. My teammates did a very good job".
Women's 4x100 relay:
Irene Siragusa, Gloria Hooper, Anna Bongiorni and Vittoria Fontana earned Italy the second gold medal of this edition with 43.79 ahead of home team Poland and the Netherlands, who finished second and third sharing the same time of 44.10. Two-time world 200m champion Dafne Schippers clocked 10.19 in the second leg.
The Netherlands built a big lead, as two-time world 200m champion Dafne Schippers handed over to European 60m hurdles champion Nadine Visser on the third leg. Visser could not catch anchorwoman Naomi Sedney, who had to stop to receive the baton. Anna Bongiorni safely handed over the baton to reigning 100m European Under 20 champion Vittoria Fontana, who stormed through to win. Hurdles specialist Pia Skrzyszowska from Poland held off Sedney by just 0.005 to win the silver medal for the home team. Japan finished fourth in 44.40 ahead of Ecuador. Denmark finished in 6th place and qualified for the Olympic Games for the first time since 1948.
Vittoria Fontana: "We are speechless. It was a great teamwork. It is the greatest feeling in our life. Our goal is to reach the Olympic final in Tokyo".
Men's 4x100 relay:
Olympic and world 100m finalist Akani Simbine anchored South Africa to win the men's 4x100 relay in 38.71 in chilly weather conditions. Simbine edged Paulo Camilo André de Oliveira by 0.01, but Brazil was later disqualified along with Ghana. This meant that Italy moved up into second ahead of Japan.
Tiotliso Leotlela and Clarence Munyai ran solid second and third legs for South Africa, but Brazilian anchorman Paulo Camilo de Oliveira received the baton with a lead of over one metre ahead of South Africa. Simbine caught De Oliveira just before the line to take the win. Brazil crossed the finis-line in 38.72, but the South American team was later disqualified due to a lane infringement. Italy was promoted to second in 39.21 ahead of Japan (39.42). European indoor 60m champion Marcell Jacobs clocked the fastest leg with 8.91.
Tiotliso Leotlela: "Last time we did not even make the final, so this victory means a lot for us. Our trip from South Africa was difficult, but we recovered well. This competition is very important for us as preparation for the Olympic Games. It's a way to test yourself on the big stage".
Women's 4x400 relay:
Zurian Hechevarria, 800m specialist Rose Mary Almanza, Lisneidy Veitia and Roxana Gomez won the women's 4x400m relay in 3:28.41 ahead of Poland (3:28.81) and Great Britain (3:29.27). Cuba made a huge step forward compared to the previous edition in 2019, when the Caribbean team finished a distant sixth in their heat in Yokohama.
Jessie Knight from Great Britain was leading with one leg to go, but European 400m indoor champion Femke Bol ran the third leg in 50.58 to hand over to her training partner Lieke Klaver in second place behind Knight on the anchor leg. Cuban anchorwoman Roxana Gomez clocked 50.96 to surge through to win ahead of Poland's Natalia Kazmarek.
Zurian Hechevarria: "It was extremely tough but I did my best to hand over the baton as smoothly as possible. This is the biggest achievement in my career".
Men's 4x400 relay:
Jochem Dobber, Liemarvin Bonevacia, Ramsey Angela, Tony Van Diepen from the Netherlands triumphed for the second time this year on Polish soil two months after their gold medal at the European Indoor Championships in Torun. The Netherlands, Japan, Botswana and Italy were still in contention with a lap to go in a close race. Oscar Mavundla went to the lead in the back straight, but he began to fade with 120m to go, as Van Diepen surged past with a final leg of 45.47 to anchor the Dutch team to win in 3:03.45 ahead of Japan (3:04.45) and Botswana (3:04.77). Vladimir Aceti anchored a young Italian team to fourth in 3:05.11 with the fastest time of 45.38.
Women's 4x200m relay:
Paulina Guzowska, Kamila Ciba, Klaudia Adamek and Marlena Gola claimed the second gold medal for Poland at this edition of the World Relays in a national record of 1:34.98 ahead of Ireland (1:35.93, also a national record) and Ecuador (1:36.86).
Men's 4x200 relay:
Owen Ansah ran a great last leg to anchor Germany to win in 1:22.43 ahead of Kenya (1:24.26) and Portugal (1:24.53). Ecuador finished fourth setting a national record of 1:24.89.
See the complete World Athletics Relays championships results here.
-->