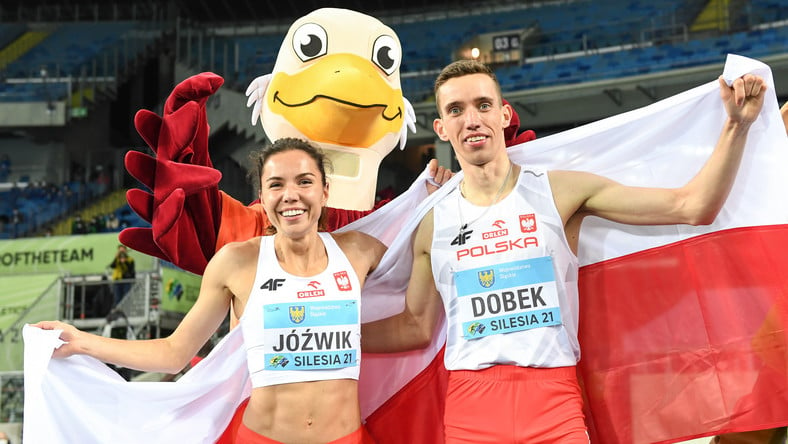 Host nation Poland won the first gold medal in the 2x2x400m relay in a packed first day at the World Relays Silesia 21 in Chorzow. German won the shuttle hurdles relay. The first day was highlighted by competitive 4x100 and 4x400 relays.
2x2x400m relay:
Joanna Jozwik and Patryk Dobek from Poland won the first final of this year's edition of the World Relays in the 2x2x400m relay with 3:40.92 ahead of a Kenyan team formed by Ferguson Rotich Cheruyiot and Naomi Korir (3:41.79) and Slovenia (3:41.95). Former 400m hurdler Dobek won the 800m European Indoor title on home soil in Torun last March.
Mixed shuttle hurdles relay:
Monika Zapalska, Erik Balnuweit, Anne Weigold, Gregor Traber won the gold medal for Germany in the mixed shuttle hurdles relay in 56.53 ahead of Poland (56.68) and Kenya (59.89).
Men's 4x100 relay heats:
Reigning World Relay champions Rodrigo Do Nascimento, Felipe Bardi Dos Santos, Derick Silva and Paulo André Camilo de Oliveira from Brazil won the second heat setting the fastest time with 38.45 beating Germany (38.70) and Japan (38.98). Denmark set a national record of 39.06 to secure their spot in the final.
A strong Italian team featuring Eseosa Desalu, Marcell Jacobs, Davide Manenti and Filippo Tortu equalled Brazil's time winning the third heat in 38.45 holding off a South African team by Akani Simbine by 0.04. Brazil was just one thousandth slower than Italy.
Marcell Jacobs: "It was a very cold evening, but we achieved our goal to qualify for the Olympic Games. We have made the first step. We did very good changeovers. Tomorrow will be another day, hoping that the weather will be warmer.
Filippo Tortu: "The good performance is the result of our good work in the bulid-up to this event. The thought that I will be in Tokyo with my teammates in a few months moves me".
Women's 4x100 relay heats:
The Dutch team formed by Jamile Samuel, Dafne Schippers, Nadine Visser and Marije Van Hunenstjin won the second heat leading the qualifiers with 43.28 beating Poland (43.64), and Ecuador, who set a national record of 43.86 in third place to advance on time.
France (Orlann Ombissa Dzangue, Cynthia Leduc, Maroussia Paré and Sarah Richard Mingas) claimed the win in the third set with 43.51 ahead of Switzerland (43.71). Brazil crossed the finish line in first place in the first heat, but they were later disqualified promoting Italy to first place in 44.02 ahead of Japan (44.17).
Women's 4x400 relay heats:
Home team Poland won the first heat in 3:28.11 ahead of Belgium (3:28:27) and Italy (3:30.04). A Cuban team formed by Zurian Hechevarria, Rose Mary Almanza, Lisneidy Veitia and Roxana Gomez led from gun to tape to clock the fastest time in the second heat with 3:27.90 ahead of the Netherlands (3:28.40). European 400m indoor champion Femke Bol clocked the fastest overall time of the first round with 49.81.
Great Britain and Germany claimed the first two qualifying spots in the third heat clocking 3:28.83 and 3:29.73
Men's 4x400 relay heats:
European indoor champions Jochem Dobber, Liemarvin Bonevacia, Ramsey Angela and Tony Van Diepen from the Netherlands set the fastest overall time in the second heat of the 4x400 relay with 3:03.09 beating South Africa (3:03.79) and Belgium (3:04.01). The Japanese team formed by Rikuya Ito, Kentaro Sato, Kazuma Iguchi and Kaito Kawabata won the first heat in 3:03.31 securing the qualifying spot for the home Olympic Games in Tokyo. World silver medallist Anthony Zambrano anchored Colombia to second place in 3:04.64.
Botswana featuring Isaac Makwala, Leungo Scotch, Boitumelo Masilo and Ditiro Nzamani took the the win in 3:04.03. Vladimir Aceti from Italy surged past Karol Zalewski to earn Italy second place in 3:04.81 ahead of Poland.
4x400 mixed relay:
The Italian 4x400 mixed relay team formed by Edoardo Scotti, Giancarla Trevisan, Alice Mangione and Davide Re won the second heat setting the fastest qualifying time with 3:16.52. It was a good first day for Italian athletics, that qualified all five teams for the Olympic Games.
Belgium featuring Jonathan Sacoor, Cynthia Bolingo, Camile Laus and Kevin Borlée finished second in 3:17.23. Colombia finished third in 3:17.61, but this time was not enough to qualify for the final.
Davide Re: "My teammates ran very fast. I controlled the race in the final leg to save energy for tomorrow's final".
Brazil formed by Anderson Freitas Henriques, Tiffani Silva Marinho, Geisa Coutinho and Alison Dos Santos ran just 0.01 slower than Italy to win the third heat in 3:16.53 ahead of Dominican Republic (3'16"67).
Femke Bol ran the second leg in 50.72 to lead the Netherlands to win in the second heat in 3:18.04 ahead of Spain (3:18.98).
-->