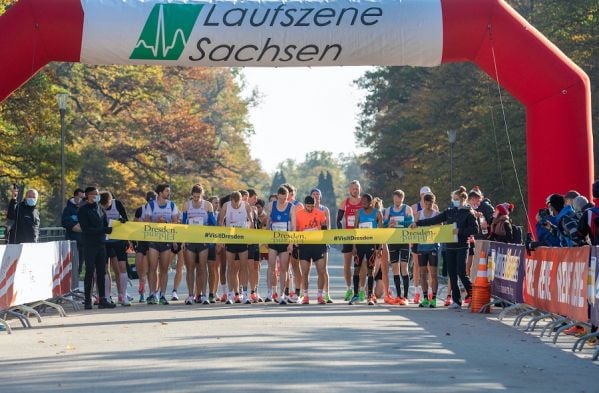 Strong fields in three different events promise thrilling races at the Itelligence Citylauf Invitational in Dresden on Sunday. While the half marathon features a number of top European runners a 10 k event and a marathon with athletes chasing Olympic qualification will also be staged during an eight hour show of road running. Norway's former European marathon record holder Sondre Moen, Belgium's European Marathon Champion Koen Naert, Daniele Meucci of Italy and the German marathon record holder Amanal Petros are among the top contenders in the half marathon. The race has a depth only seen a few times before in Germany at this distance and will be the best quality elite road race ever staged in the city of Dresden.
Due to the current Covid restrictions in Germany and strict hygiene regulations in place spectators will not have access to the races which will take place on a flat 2.5 k loop inside a large park near the city centre (Großer Garten). The event will be streamed live by regional TV station MDR, however it will likely be geo-blocked internationally.
"It is somehow paradoxical. Due to the corona pandemic a lot has come to a complete standstill but we are able to start such an extraordinary race here in Dresden. We will give everything to make it a great success," said André Egger of the event organizer "Laufszene Events". Usually his team would organize a 10 k mass race in the city centre at this time of the year. "When we realized in December that this was unlikely to happen we thought we should switch to another elite only race after having successfully organized one in November last year. We wanted to offer athletes the chance to compete and to qualify for the Olympic Games. The feedback we got is simply incredible," explained André Egger who aims to lift his Dresden races up to higher international significance once things return to normal. Strong elite fields will surely be a major step in that direction. And "Laufszene Events" has teamed up with Berlin's elite road running management ISS of Christoph Kopp to achieve this.
Three of Europe's best marathon runners will compete in the half marathon on Sunday. Sondre Moen, Norway's former European marathon record holder with 2:05:48, is the fastest on the start list with a PB of 59:48. The 2014 European Marathon Champion Daniele Meucci of Italy has a half marathon personal best of 61:06. His successor Koen Naert - the Belgium took the marathon gold medal in Berlin in 2018 - may well attack his personal best of 61:42 on Sunday. Scotland's Callum Hawkins planned to run his first race of the Olympic year in Dresden. However due to German travel restrictions it was not possible for the organizers to get him over.
A number of strong German runners are expected to do very well on Sunday. New national marathon record holder Amanal Petros, who clocked 2:07:18 three months ago in Valencia, should be able to significantly improve his PB of 62:18. Richard Ringer, who moved from the track to road racing, should be in a similar position. He has a personal best of 62:10. "We will not have pacemakers in this race. However I still expect a fast race with times of sub 61 minutes," said elite race coordinator Christoph Kopp.
Fabienne Schlumpf is the strong favourite in the women's half marathon. The runner from Switzerland heads the start list with a personal best of 68:38. Behind Schlumpf Croatia's Bojana Bjeljac hopes to break 70 minutes for the first time. She has a PB of 71:12.
For most of the athletes in the marathon, the goal is Olympic qualification. While the international entry standard is 2:11:30 for the men it will not be enough to just break this time for a number of runners. National competition for a maximum of three places per country can be intense. This is why Germany's debutant Simon Boch opts to go with the first group in Dresden. He has a half marathon PB of 61:36 and the likely pace on Sunday will be between 64:30 and 64:40 for the first half. While Norway's Weldu Gebretsadik has a PB of 2:09:14 but has not run the qualifying time in the qualifying window there are two more debutants who are likely to go with the first group: Belgium's Soufiane Bouchikhi and Hlynur Andresson of Iceland. A second group will run a pace leading towards a sub 2:11:30 time.
A German debutant is the favourite in the women's race. Miriam Dattke, who improved her half marathon time to 69:42 when she took the Dresden elite race last November, is in a similar position as Simon Boch. Breaking the international standard of 2:29:30 by a couple of seconds will not do her any good with regard to Olympic qualification. In fact even if she would break it by two minutes it would still not be enough. Miriam Dattke showed promising form with a world leading 10 k of 31:38 in Berlin recently. "The plan for her is to run the first half slightly below 73:00," said Christoph Kopp. A small group of runners behind her are expected to go for a sub 2:29:30 pace.
In the 10 k race Ilyas Osman of Somalia and Dutchman Richard Douma hope to break 28 minutes for the first time. Their personal bests stand at 28:03 and 28:08 respectively. Sweden's Sarah Lahti (PB: 31:57) and Germany's Katharina Steinruck (32:16) are the favorites in the women's race.
Selected elite runners with personal bests
Marathon
Men:
Weldu Gebretsadik NOR 2:09:14
Camilo Santiago Gimenez ESP 2:09:56
Blazej Brzezinski POL 2:11:27
Valentin Pfeil AUT 2:12:55
Soufiane Bouchikhi BEL Debüt
Hlynur Andresson ISL Debüt
Simon Boch GER Debüt
Women:
Vaida Zusinaite-Nekriosiene LTU 2:32:50
Alexandra Brzezinska POL 2:34:51
Anna Bankowska POL 2:34:57
Miriam Dattke GER Debüt
Half Marathon
Men:
Sondre Moen NOR 59:48
Daniele Meucci ITA 61:06
David Nilsson SWE 61:40
Koen Naert BEL 61:42
Arne Gabius GER 62:09
Richard Ringer GER 62:10
Amanal Petros GER 62:18
Patricio Castillo MEX 62:33
Samuel Fitwi GER 62:34
Bernard Wambua KEN 62:34
Björn Koreman NED 62:45
Hendrik Pfeiffer GER 63:17
Peter Herzog AUT 63:22
Nils Voigt GER 64:00
Women:
Fabienne Schlumpf SUI 68:38
Bojana Bjeljac CRO 71:12
Domenika Mayer GER 71:30
Fabienne Königstein GER 71:39
Rabea Schöneborn GER 71:40
Jill Holterman NED 71:41
Mekdes Woldu ERI 71:57
Sanna Mustonen SWE 72:24
Jasmijn Lau NED 72:33
Blanka Dörfel GER Debüt
10 k
Men:
Ilyas Osman SOM 28:03
Richard Douma NED 28:08
Juan Pacheco MEX 28:34
Clement Deflandre BEL 28:51
Jose Santana MEX 28:52
Florian Orth GER 28:53
Women:
Sarah Lahti SWE 31:57
Katharina Steinruck GER 32:16
Carolina Wikström SWE 32:38
More information is available at: www.laufszene-events.com
-->