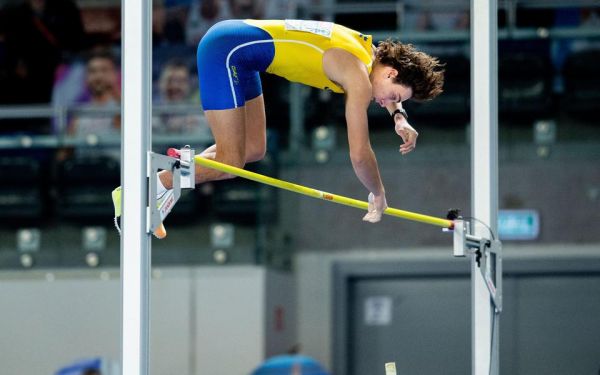 The championship record set by Armand Duplantis in the men's pole vault, four world-leading performances by Maksim Nedasekau in the men's high jump, Ajla Del Ponte in the women's 60 metres, Nadine Visser in the women's 60m hurdles and Kevin Mayer in the men's heptathlon highlighted the final day of the European Indoor Championships in Torun.
Men's pole vault:
World record holder Armand Duplantis won his first European Indoor title in the men's pole vault with 6.05m improving the championship record held by Renaud Lavillenie, who cleared 6.04m in Prague 2015. The Swedish star had a clean-sheet clearing 5.60m, 5.80m and 5.85m in his first attempt to secure the win. Duplantis vaulted 6.05m at the second time of asking before coming close to the world record height of 6.19m in his second attempt. Duplantis broke Lavillenie's world record with 6.17m at last year's World Indoor Tour meeting in Torun. Lavillenie, who was forced to withdraw from these championships by a calf injury, was watching the competition from the stands.
Renaud's younger brother Valentin Lavillenie cleared 5.80m on his first attempt to beat Poland's Piotr Lisek on countback.
Men's high jump:
Maksim Nedasekau from Belarus won his first senior international gold medal with 2.37m in an epic men's high jump competition beating defending champion Gianmarco Tamberi from Italy, who equalled his seasonal best with 2.35m. The 23-year-old Belarusian high jumper has won the European Under 20 and Under 23 titles in 2017 and 2019 and the European outdoor silver medal in Berlin 2018.
Nedasekau started the season with an indoor PB of 2.31m and improved it to 2.34m in the same Torun Arena during the World Indoor Tour meeting in mid-February, when he beat Andiy Protsenko and Tamberi on countback.
Maksim Nedasekau: "I love the arena in Torun. It's amazing. I already set a PB here earlier this year. I like the game of passing heights. It makes me angry and that makes me jump better. That's why I passed here again after one failure at 2.35m".
Tamberi had a clean-sheet clearing 2.23m, 2.29m and 2.31m in his first attempt to take the lead. Nedasekau needed two attempts at 2.23m and 2.29m but he cleared 2.31m and 2.33m at the first time of asking to take the lead. Tamberi jumped the next two heights at 2.33m and 2.35m in his second attempt. Nedasekau failed his first two attempts at 2.35m and decided to pass his final try at this height. The Belarusian jumper set the world leading mark of 2.37m in his only remaining jump to clinch the win after a fantastic competition. Tamberi failed three attempt at 2.37m.
Gianmarco Tamberi: "It was an amazing competition. I expected a great competion but Nedasekau made it such a high level. I am happy for him. He is a really a really great competitor. He achieved great results when he was very young winning gold medal at European Under 20 at 2.33m. It's an amazing result at this age. He always performs well in the biggest events. It was like an Olympic final. I have a bitter sweet feeling. I would have liked to win a medal of a different colour but I cannot have regrets when I jump 2.35m. At this height you normally win the gold medal, not today. I needed a very high level competition. It's a bit disappointing to lose this competition, but I have learnt from it. In the past three competitions I jumped 2.34 once and 2.35m twice. It's very good result"
Thomas Carmoy from Belgium cleared 2.26m in his first attempt to take the bronze medal on countback over Germany's Tobias Poyte.
Women's 60 metres final:
Ajla Del Ponte from Switzerland won the biggest title of her career setting the world seasonal best with 7.03. It was one of four world leading performances set during a highly entartaining fourth day at the Arena Torun. Del Ponte moved up to fifth place in the European all-time list.
Del Ponte equalled the Swiss record set by Mujinga Kambundji, who clocked the same time in 2018. Lotta Kemppinen from Finland finished second with 7.22 edging Jamile Samuel from the Netherlands by just 0.004.
Ajla Del Ponte: "I knew I could run 7.03 all season. I had it in my legs. To do it with this margin against so many fast girls is great".
Men's 3000m final:
Jakob Ingebrigtsen completed the middle-distance double winning the 3000m final with his indoor PB of 7:48.20 beating Belgium's Isaac Kimeli (7:49.41) and 2017 European Indoor champion Adel Mechaal (7:49.47). Ingebrigtsen added this win to his 1500m win on Friday becoming the only double individual winner at this edition of the European Championships. The Norwegian star had already won two titles in the 1500m and 5000m at the European outdoor Championships in Berlin 2018.
Jakob Ingebrigtsen: "My goal in these championships was to improve my performance from two years ago and that obviously meant getting two gold medals. I was surprised my competitors let me do my own thing, without interrupting me".
Men's 60 metres hurdles final:
Wilhelm Belocian won his first European Indoor gold medal in the men's 60 metres hurdles final setting the fourth fastest European time in history with 7.42. Only Colin Jackson (7.30), Falk Balzer and Dimitri Bascou (equal 7.41) ran faster than Belocian in history at the European level.
The Frenchman held off reigning world indoor champion Andy Pozzi, who equaled his PB with 7.43. Italy's Paolo Dal Molin claimed the second medal of his career at this event with 7.56 eight years after winning a silver in Gothenburg in a national record of 7.51.
Wilhelm Belocian: "To run a PB in the final is great. I am very happy with my first senior title and to run a PB in a European final. I can't tell you how the race went, just that I owned it".
Andy Pozzi: "I was doing well at the start and just lost a little rhythm in the middle. The best man won and I did all I could. I am in the best shape of my life and I am happy where I am at. I really enjoyed the championships".
Women's 60 metres hurdles final:
Nadine Visser from the Netherlands won her second consecutive European Indoor 60m hurdles final setting a world leading time with an impressive 7.77. Visser also improved the national record of 7.81 she set in Madrid last week. Cynthya Sember Ofili from Great Britain set her PB with 7.89 to beat her sister Tiffany Porter Ofili by 0.03. The last time two sisters shared the 60m hurdles podium at the European Championships dates back to 2005 when Susanna Kallur beat her twin sister Jenny.
It was a high-quality final with six hurdlers under the 8 seconds barrier. Finnish record holder Nooralotta Neziri missed the podium by just 0.01 holding off Pia Skrzyszowska, who clocked 7.95 after setting her PB with 7.88 in the semifinal, and Italy's Luminosa Bogliolo, who repeated her PB for the second time today with 7.99.
Women's high jump:
Yaroslava Mahuchik from Ukraine produced a clean sheet up to 2.00m claiming her first senior European Indoor title. Mahuchik failed three attempts at the championship record height of 2.07m. The Ukrainian teenager completed her collection of continental titles after winning gold medals at the European Under 18 and Under 20 Championships. Iryna Herashchenko completed the Ukrainian double, winning the silver medal setting her PB with 1.98m. Ella Junnila from Finland took the bronze medal with a national record of 1.96m beating Ukraine's Yulia Levchenko (1.94m).
Men's heptathlon:
Kevin Mayer set a world lead with 6392 points to win the second European Indoor gold medal of his career.
Mayer started the second day of the men's heptathlon with a win in the 60m hurdles with 7.78. Mayer remained on target to attack his European Indoor record set at the European Indoor Championships in Belgrade 2017, but this goal was put of reach after clearing 5.20m in the pole vault. He retired from the pole vault competition after failing two attempts at 5.30m.
Mayer clocked 2:45.72 in the final 1000m event to win the gold medal with a margin of over 200 points over defending European Indoor champion Jorge Urena, who won the silver medal 6158 points after performing well in the second day with 7.87 in the 60m hurdles, 4.90m in the pole vault and 2:43.16 in the 1000m. Pawel Wiesolek finished third setting his PB with 6133 points.
Kevin Mayer: "It's a great feeling, not because of the medal, but because of my feeling during the two days. Since 2018 I have not won a medal. I didn't show what I had in me in the sprints but my time will come at the Olympic Games. I had a problem in my neck during the high jump. That's why I stopped. It was also a problem in the pole vault. I came here for technical training. I wanted the title and also the European record, but that was a bonus".
Reigning European under 20 champion Simon Ehammer clocked 7.82 in the 60m hurdles, but he no-heighted at the opening height of 4.50, as he was ranked second to Kevin Mayer in the overall standing with two events to go. Ehammer also no-heighted in the pole vault at the Swiss Indoor Championships in Magglingen where he was on course to a world sesonal best.
Simon Ehammer: "I don't know what it is all about the jumping in the last months. In Frankfurt my pole vault was really good and also during training. I can't explain it. I had just a blackout."
Women's 800 metres:
British 19-year-old Keely Hodgkinson took the gold medal in the women's 800 metres final in 2:03.88. Hodgkinson led for much of the race and held off Polish middle distance runners Joanna Jozwik (2:04:00) and Angelika Cichocka (2:04.15). Hodgkinson claimed her second major senior title after winning the British outdoor crown last summer. The British teenager is coached by Trevor Painter, the husband of 2011 European 800m indoor champion Jennifer Meadows.
Keely Hodgkinson: "I didn't think about the pressure because I am only 19. I still have things to learn. I kept the relaxed state that I was in during the semifinals".
Men's 800 metres:
Former 400m hurdler Patryk Dobek and Mateusz Borkowski scored the double for Poland finishing first with 1:46.81 and second in 1:46.90. Jamie Webb from Great Britain held off three-time European Indoor champion Adam Kszczot from Poland in the final straight to take the bronze medal with 1:46.95.
Men's triple jump:
Pedro Pablo Pichardo won his first gold medal for Portugal with 17.30m beating another former Cuban jumper Alexis Copello from Azerbaijan (17.04m) and 2016 European outdoor champion Max Hess (17.01m). Pichardo produced his winning mark in the first round and backed it up with two more jumps over the 17 metres barrier (17.09m in the second round and 17.06m in the fourth round). The competition did not undergo any major significant changes until the sixth round when 35-year-old Copello and Hess improved their seasonal best performances to 17.04m and 17.01m. Pichardo capped the competition with 17.12m in the sixth round.
Pedro Pablo Pichardo: "The victory is something that everybody wants. I am very happy. This medal is very important because it's my first medal representing Portugal. This is also a very important for Portugal. The competition was great. It was a great rivalry between Copello and Hess".
Women's triple jump:
Patricia Mamona completed the Portuguese double by winning the women's triple jump with 14.53m in the third round. Neele Ekhardt from Germany set a personal best with 14.52m in her third attempt, but Ana Peleteiro from Spain also jumped 14.52m to win the silver medal on countback.
4x400 relays:
The Netherlands claimed the relay double win in the men's 4x400 and in the women's 4x400. Jochem Dobber, Liemarvin Bonevacia, Ramsey Angela and Tony Van Diepen won the men's final in a European leading time with 3:06.06 holding off the Czech Republic (3:06.54) and Great Britain (3:06.70).
Femke Bol anchored the Dutch women's 4x400 team to an impressive win in the women's 4x400 relay in a championship record of 3:27.15 ahead of Great Britain (3:28.20) and Poland (3:29.94). Italy finished fourth setting a national record with 3:30.32.
The Dutch athletics won the medal table with seven medals (four gold, 1 silver and two bronze) ahead of Portugal (three gold) and Great Britain (2 gold, 4 silver and six bronze).
See the results, live stream, start lists, and schedule.
-->